As the year comes to an end, let's remember Pakistani citizens and those with Pakistani lineage who made the country proud with their remarkable achievements in different fields.

Kanza Azeemi
Setting an example and making history at the same time, Pakistan's Kanza Azeemi achieved the highest honour (the Saïd Prize) as an MBA student at the University of Oxford. She achieved this position among a class of 327 students from 58 countries.
Samar Khan
Cyclist and athlete Samar Khan became the first Pakistani woman to summit Africa's highest peak Mount Kilimanjaro this year. Samar Khan, who hails from Dir, Malakand Division of Khyber Pakthunkhwa, was sponsored by Pakistan Army for the trip.
Haroon Yasin, Hassan Mujtaba Zaidi, Mahnoor Syed

Haroon Yasin, Hassan Mujtaba Zaidi, and Mahnoor Syed made Pakistan proud after being chosen for the award – that recognises and celebrates exceptional people aged 18-29 from across the Commonwealth who are taking the lead in their communities and using their skills to transform lives.

Samana Rahim, Sultana Amiruddin, Komal Uzair
Defying all odds and circumstances, the three female mountaineers from Pakistan accomplished the first national women expedition by climbing 5,500-metre Kuksil peak in Khunjrab region.
The three mountaineers include Samana Rahim, Sultana Amiruddin and Dubai-based Komal Uzair, who – under the guidance of Mirza Ali – first attempted to climb the Passu Peak but unfavourable weather conditions forced them to continue their expedition at Kuksil Peak
Dr Saad Gulzar
Dr Saad Gulzar, an alumnus of Lahore University of Management Sciences was appointed as Assistant Professor of Political Science at Stanford University.
Hanaa, Moneed, Hasan, Gia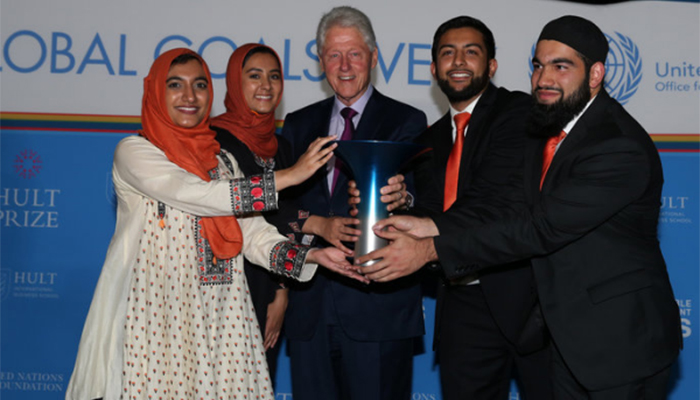 The four Pakistani-American students won the prestigious Hult Prize challenge and a $1 million award for their idea to tackle the global refugee crisis with Roshni Rides – a transportation network to empower refugees overseas.
Dr Adil Haider
Dr Adil Haider, a Pakistani-American doctor, was awarded Ellis Island Medal of Honour, one of the highest civilian awards for US immigrants.
Pakistanis featured in Forbes 30 under 30
Raza Munir, Sarah Ahmed, Khizer Hayat, S Zayd Enam, Abbas Haider, and Anna Khan were featured in the Forbes '30 under 30' list.
Pakistani students at iGEM2017
Students from Pakistan were awarded with a silver medal for their project at the iGEM [International Genetically Engineered Machine] 2017, which was held at Boston's Hynes Convention Centre Monday afternoon. The team included Muhammad Dawood, Ushma Farooq, Hassan Raza, Hassnain Qasim, Ayesha Khan and Babar Nawaz.
Awais Shafique, Hooriya Anam,  Arsalan Javed
Team TAME from Pakistan won the Stanford Longevity Design Challenge beating teams from the United States, Brazil, Canada and China in the competition.
Team TAME comprising Awais Shafique, Hooriya Anam and Muhammad Arsalan Javed from National University of Sciences and Technology (NUST) won the contest against teams from world renowned educational institutes such as Massachusetts Institute of Technology (MIT), Cornell University, Stanford University, Virginia Tech, University of Sao Paolo and Beijing University.
Saliha Mahmood-Ahmed
Saliha Mahmood-Ahmed wooed judges at the prestigious cookery competition Masterchef with her visually appealing and equally delicious platter in the final round to finally win the competition
Shawana Shah

Co-founder of Da Hawwa Lur, Shawana Shah, was honoured to receive an award at the fourth annual Muhammad Ali Humanitarian Awards were held on September the 17th in Louisville, USA.
Shabnam Chaudhri
British-Pakistan Shabnam Chaudhri became the first ever Muslim and Asian woman to be appointed as detective superintendent of the Scotland Yard. Chaudhri, who moved to Britain with her parents from Karachi at the age of two, has been appointed detective superintendent of the Metropolitan Police Service for her 'outstanding contribution' to the fight against hate crime and gangsters.

Muhammad Asad Raza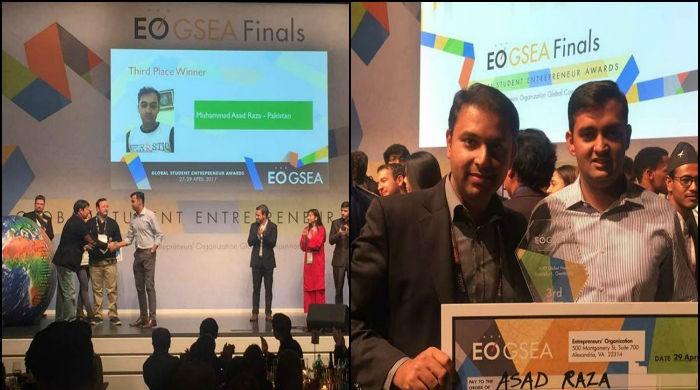 Muhammad Asad Raza, a student of National University of Science and Technology (NUST), bagged the third position at the Global Student Entrepreneur Award (GSEA) 2017 in Frankfurt, Germany.
Prof Shahida Hasnain
Professor Shahida Hasnain from Pakistan was awarded with the prestigious 2017 Carlos J Finlay UNESCO Prize for Microbiology.
Pakistan's female powerlifters
Saniha Ghafoor, Twinkle Sohail and Sybil Sohail secured four gold medals each in their respective categories at the Oceania Pacific Powerlifting Championship, which was held in Singapore.