KP industries jeopradised by plunge in Pak-Afghan trade
Updated Monday Feb 26 2018
PESHAWAR: The industries in Khyber Pakhtunkhwa benefitted the most with flourishing trade between Pakistan and Afghanistan, but plummeting graph of the activity has now jeopardised the production units in the province causing many of them to even shut down.
"The downward trend in exports to Afghanistan [from KP] shows that within two years it will completely end," Sarhad Chamber of Commerce and Industries (SCCI) President Zahidullah Shinwari said while talking to Geo.tv.
According to Shinwari, who also owns industries in KP, there are many factors responsible for the decline in exports to Afghanistan, ranging between infrastructural to policy issues.
"Political relations play a vital role in trade activities, the tense relation with Afghanistan resulted into a direct negative impact on bilateral trade," he said. "Pakistan's border management, imposition of regulatory duties on 731 items, passport restrictions, infrastructural issues, Federal Bureau of Revenue list of documentation and complication in transit trade has a role in the decline of trade with Afghanistan."
Shinwari believes both the countries are responsible for the decline in trade.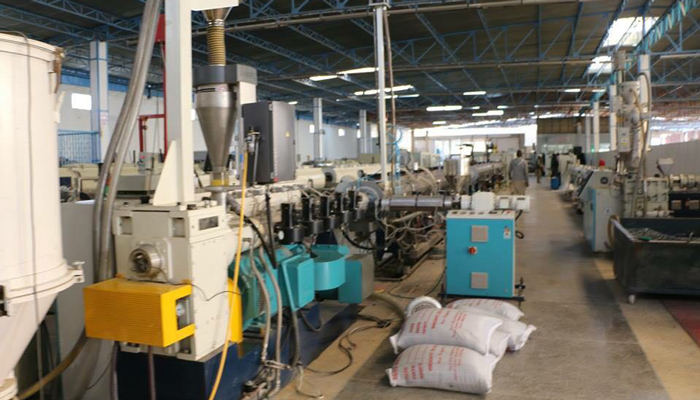 On Pakistan's part, the government has not kept Afghanistan on its priority list despite the country being its third largest destination for exports after United States and European Union, the SCCI president said. Moreover, he added, the difficulties faced by Afghanistan in transit trade results into negative sentiments due to which it looks out for alternatives to import goods.
In turn, Afghanistan also targetted Pakistan's specific products — which had a strong presence in the country, like food, plastic and construction material — by imposing import duties on them. Subsequently the export volume declined, affecting industries in KP where more than 50 units closed down.
But goods did not stop being exported across the Durand Line.
The commerce chamber president lamented that hurdles in the official path sparked informal trade.
Closing units in Peshawar
One of the people affected from decline in Pakistan-Afghanistan trade is Muhammad Tahir, who runs a chipboard sheet and illumination factory at Industrial Estate Hayatabad in Peshawar.
According to Tahir, there was a time when 70% of his production would be exported to Afghanistan, but now this ratio has dropped to nearly 45%. Subsequently, Tahir said, he had to cut down on production activity in his unit, where now work is done in only two shifts instead of three.
Tahir added that since he has lost a lucrative market — in Afghanistan — for his production, he has started focusing on local sales.
Even the exporters in Afghanistan who would take products from Peshawar to their home country have felt the gradual blow to their businesses.
Samiullah, known by the name of Kaka Sami, is an Afghan exporter who lives in Kunduz city of the country.
Since the last decade, Kaka Sami is engaged with the medicine industry, regularly exporting to Afghanistan from Peshawar. But the drop in export volume has left the Afghan exporter to worry about his bread and butter.
"A few years back my export volume from Peshawar to Afghanistan was more than Rs6 million but now it has come down to Rs2 million," Kaka Sami told Geo.tv. "But reasons behind the drop lie in the cost of transportation, occasional border closure and imposition of new taxes on products [from Pakistan] in Afghanistan after every few months."
While remembering the days when trade was a smooth process between both the countries, Kaka Sami said around 700 good carriages would go from Pakistan to Afghanistan on a daily basis. But the count has now fallen to 200, he added.
This drop in Pakistan-Afghanistan trade has largely affected KP has 90% of the products would go from the province.
The importance of KP in trade between both the countries can be gauged from the fact that Industrial Estate Hayatabad in Peshawar, was established on the basis of proximity of Afghanistan with Pakistan, said vice president of the estate, Haris Mufti. "Most of the industries were export oriented, but the current decline in exports has resulted in closure of many industrial units, while production of many has suffered."
Beginning of exchange
Pakistan's land route trade with Afghanistan set in motion after 9\11 with arrival of allied forces into the landlocked country. Over the time bilateral trade ties boosted and reached to almost $3 billion in 2011.
The statistics of Pakistan Economic Survey Report 2017 show that the export volume to Afghanistan went down from $2 billion in 2014-15 to $0.9 billion in 2016-17. Thus, pushing Afghanistan from third to fourth position in the list of top export oriented countries.
According to Afghanistan year book 2015-16, export from Pakistan decreased from $1.74 billion in 2013-14 to $1.34 billion in 2015-16, a decline of 23%.
On the other hand, Iranian exports increased from $1.5 billion in 2013-14 to $1.8 billion, a 20% rise. Similarly, the volume of exports from China increased by 138% – from $437 million to $1.04 billion.
Data retrieved from World Integrated Trade Solution shows that apart from food products, fuel, footwear and chemicals, most of the products exported from Pakistan have seen a downward track from 2012 to 2016.
Among the exports that were decreased, are hides, matchsticks, metal, minerals, plastic or rubber, stone and glass – all of which went down by 50% to 70%, while raw material, textile, vegetable, wood decreased by 20% to 45%.
'Separate trade from politics'
In the past, premiers of both the countries vowed to increase bilateral trade to $5billion, but the promise has yet to be fulfilled, said Pakistan-Afghanistan Joint Chamber of Commerce head Zia-ul-Haq Sarhadi.
The joint chamber was established to ensure smooth trade between both the countries.
Nevertheless, efforts are under way to boost trade between the neighbouring countries.
On the proposal of SCCI, Federal Minister for Commerce and Industry Muhammad Pervaiz Malik agreed to form a jirga to discuss how hindrances could be removed from the bilateral process. He also ensured the chamber that the government would consider removing regulatory duties on certain raw material and essential items.
While talking to Geo.tv, Malik said the government was interested in increasing exports to Afghanistan and other countries. However, he added the crests and troughs in trade were normal for any business.
But on Pakistan's part, the industries should gear up to meet the demands that are changing at a fast pace, in order to remain a part of the competition.
However, he added, for the past plans to be put in action politics will have to be separate from trade.
While speaking about reasons behind decline in trade, Sarhadi said that the presence of India in Afghanistan is one of the factors.
India has invested millions in Chabahar port and now 70% of the transit trade has shifted to Bandarabas and Chabahar in Iran.