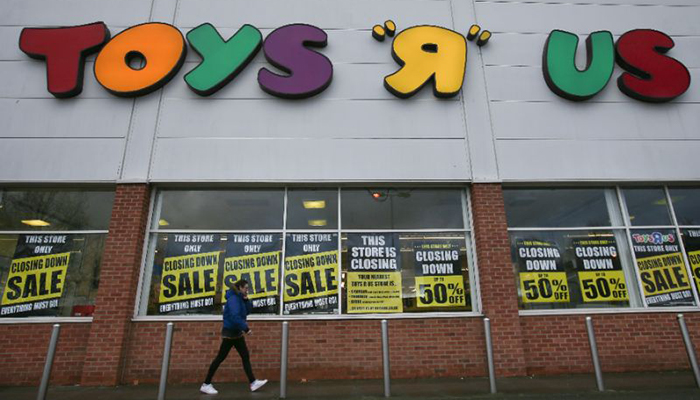 LONDON: The troubled British arm of US retailer Toys'R'Us is winding down its activities, administrators said Wednesday, threatening up to 3,200 jobs through store closures.
"Following the failure to attract a buyer for the business... administrators are conducting an orderly wind-down of the company's store portfolio," said a statement announcing the collapse into administration, or the process whereby a troubled company seeks independent financial advice regarding its future.
"Whilst this process is likely to affect many Toys'R'Us staff, whether some or all of the stores will close remains to be decided," said Simon Thomas of administrators Moorfields.
The British arm of Toys'R'Us narrowly avoided entering administration in December after a key creditor embraced its plan to already begin shutting stores and plug its pensions deficit.
It was agreed ahead of the New Year that at least 26 of the 105 shops in Britain would close in early 2018, as the wider Toys'R'Us group faces increasing pressure from online retailers such as Amazon.
Toys'R'Us filed for Chapter 11 bankruptcy protection in a US court in September, while its British branch has lost money for seven of the last eight years.
The cost of operating the group's warehouse-style stores, opened in the 1980s and 1990s, has become prohibitive in recent times.