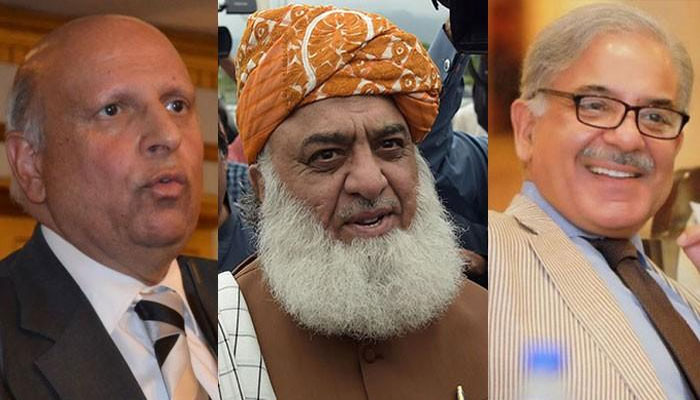 Political leaders have expressed mixed reactions over Senate elections that saw the Pakistan Muslim League-Nawaz gaining majority in the upper house with 32 seats.

The PML-N secured 15 seats in Saturday's elections, followed by Pakistan Peoples Party's 12 seats. Pakistan Tehreek-e-Insaf won 6 seats, while Jamiat Ulema-Islam-Fazl and National Party each secured 2 seats in the upper house.
Pakistan Muslim League-Functional and Muttahida Qaumi Movement-Pakistan each had one of its nominees elected as a senator on Saturday.
PML-N backed independent candidates secured 11 out of 12 seats from Punjab, however, one seat was secured by Pakistan Tehreek-e-Insaf's Chaudhry Mohammad Sarwar.
Shehbaz felicitates successful candidates
Punjab Chief Minister Shehbaz Sharif congratulated successful candidates urging them to utilise their energies for the supremacy of the constitution and play an effective role in legislation.
He said the Senate elections are writing on the wall for the ones drawing their support from lies and chaos, adding that the PML-N will again emerge victorious in the next general elections.
"A strong PML-N is central to a strong and democratic Pakistan," the Punjab CM said in a tweet late Saturday.

'Stop us if you can'
Maryam Nawaz expressed pleasure over her party's victory in the Senate election saying, "No worldly power or conspiracy can defeat the one who has support from the Almighty Allah."
"Stop us if you can," she said in her tweet.
'Victory proved Nawaz can't be subtracted'
Punjab Law Minister Rana Sanaullah said on Saturday that Pakistan Muslim League-Nawaz's victory in Senate elections proved that Nawaz Sharif cannot be subtracted.
Speaking to media outside Punjab Assembly, the provincial minister said his party's victory in Saturday's elections is Nawaz's triumph. "It was in accordance with the PML-N's majority in Punjab and without horse-trading," he said.
Rana described the successful conduct of Senate elections as "democracy's victory and defeat of its enemies."
'Next target is Punjab'
PTI's Sarwar said their next target is Punjab and the centre in the general elections scheduled to be held later this year.
"I thank Tehreek-e-Insaf, Jamaat-e-Islami, independents and all friends, who voted for me in the Senate elections," Sarwar said while speaking to media after winning Senate seat.
"After this victory our next target is Punjab government. PTI will form government in Punjab and in centre too."
The PTI leader said he will try to improve Pakistan's image internationally and they will transform the country into a "new Pakistan."
Kirmani vows to investigate Sarwar's win
PML-N's Asif Kirmani said they would investigate as to how Sarwar was elected as senator.
"PTI did not have enough votes [to get Sarwar elected]. We will find out the names of PML-N members who switched sides," he said.
Kirmani vowed action against the ones found responsible.
Uzma Bukhari said that money was used to influence Saturday's elections. "How could the ones with 31 votes receive 44 votes?"
MQM-P factions admit defeat
Both factions of the MQM-P admitted defeat in Saturday's elections, with Farooq Sattar saying that 14 MPAs of his party sold out their loyalties ahead of the polls.
Kunwar Naveed Jamil also admitted that after desertion by members, his party could only win a single seat and that was what they deserved.
'Stigma for elections'
JUI-F chief Maulana Fazlur Rehman, in his response, said that horse-trading does not take place in his area, urging newsmen to inquire about it where it takes place.
Responding to claims by a PTI candidate regarding offer of Rs320 million for a single vote, he said if this was the case then it is a "stigma for elections."
Asked about Imran staying away from Senate polling, the JUI-F chief remarked when did Imran come to Parliament earlier.