In Karachi's Lyari, women break barriers one punch at a time
The families are enormously supportive and the neighbourhood too has wholeheartedly embraced the dreams and aspirations of these women
Updated Friday Mar 09 2018
As the world celebrates Women's Day 2018, spectacular women in Karachi's impoverished Lyari continue their struggle to break gender barriers – one punch at a time.

The day began with a stroke of luck when I found out about a women's boxing contest happening later in the day at the Kakri Ground in Lyari.
Barely able to contain my amazement, the rest of the day was spent waiting for 5pm and imagining women from the city's impoverished area — mostly populated by people of the Baloch ethnicity — engaging in a sport not many choose as a profession or pastime.
Battling through a traffic jam and walking half a mile toward our ride on the busy II Chundrigar Road, I heard a few catcalls but I was prepared for that. What awaited us upon reaching the venue was the real surprise.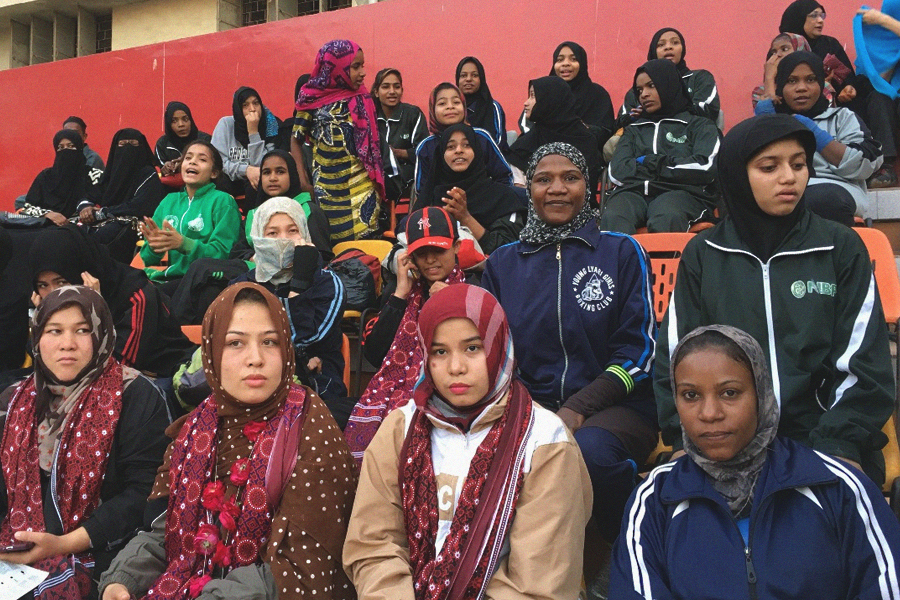 Over 50 women, dressed in their sports gear, complete with scarves covering their heads, cheer on the boxers in the ring.
I blink twice to make myself believe I am in the same vicinity of the metropolis where I thought women would hardly be allowed to step out of their homes for an activity categorised as leisure; it is the same area once known for bloodshed, firing, and gang wars.
Women boxers of all ages, from six to 30-years old, greet us in high spirits. Their excitement to meet a woman dressed in western attire, sporting short hair, and with traces of (quite a lot of) makeup (owing to the on-camera appearance) was obvious. 
I am barraged with questions about my profession, followed by many innocent assumptions for being different…if only they could be told enough times it is them not me who are different in ways that truly matter.
"Take our pictures and run them on Geo TV," Fatima Ismael, one of the more shy boxers who has travelled all the way from Quetta's inner eastern suburb Mariabad, quips in response to granting permission to photograph the players.
Ismael, who belongs to the Hazara community, has been practicing for the past eight months at Taji Khan Sports Complex on Quetta's Alamdar Road. Bruises from her first fight in Karachi are visible, but they seem to be the least of her concerns.
"I have not won a match yet, but I know I will," she tells me confidently before receiving a dose of painkillers from her coach to numb down the pain from injuries sustained in the fight.

Most of the boxers, locals of the Lyari vicinity, have supportive families that encourage their participation in the sport. Even more surprising was the confidence that many of the players exude with their body language. But then again, they have no reason to be any way other than how they carry themselves.
Not only are the families enormously supportive, the neighbourhood has also wholeheartedly embraced the dreams and aspirations of these women.
"My neighbours and [extended] family have never been discouraging," young Maria tells me. Off-camera, her mother Shazia shares how she wants her daughter to break all barriers and make a name for herself and Pakistan. She shies away from the camera when I request to record her but, on my insistence, agrees and quickly dons her burqa.

As we move ahead to taking a group photo of all the boxers, I request a boy to step away from the benches. My request is met with squeals of laughter, as Malaika's father–smiling at my mistake–not only corrects my assumption about her gender but also tells me that she is a participating contestant.

As his daughter continues to smile at all the attention my comment has gotten her, Zahid shares about their experiences and journey all the way from Quetta to Karachi.

"Malaika has won twelve championships overall," he tells me with pride in his voice. "How will we make a name for ourselves until our talented daughters and sisters don't step out and test their limits?"
The coach of the Lyari boxing club and her own trainer team up to tease Malaika about her short 'boyish' hair, and after a few laughs, her father's protective instinct jumps into the conversation.
"Look at madam's [points at me] short hair, it doesn't matter! She is looking good and so are you…all you need to focus on is your diet. Champions can't survive with eating habits like yours," he says before silently signalling me to reinforce the same message.

The matches end just before sunset and my wristwatch tells me to wrap it up and go back to work where my editor's clock is loudly ticking, till I file my story. But there's another boxer waiting on the sidelines. I ignore my internal clock, bellowing to me, that it is time to be back home and in bed and invite Razia Abdul Aziz to the ring for an interview.
She asks me if I want her to converse in English or Urdu and then rapidly starts speaking the former as she tells me about her ambitions.
"Boxing is my life," she responds to a question about what the sport means to her.
"I have won eleven of the twelve matches I have participated in," Razia says. Among her other achievements is a gold medal in the first women's championship, recently held in Lahore.
Tired, sleepy, and famished by now and in a hurry to wrap things up, I ask her the same question that I have been asking all the participants — have you faced any problems, any barriers to live your dream of being a boxer?
Her beautifully worded response takes my thoughts away from getting done with work. 
"My teacher, Sir Shahid Ahmed Khan told me that if you are alive, you will face challenges," Razia, hopeful of winning gold in the Olympics someday soon, says with a visible spark in her eyes. 
"Champions never make excuses and excuses never make champions."
And I am forced to think how a few women from a neighbourhood, struggling to redefine itself, have broken all barriers, come what may.

---
—Video editing by Abdul Aziz Soomro and visuals by Haseem uz Zaman.