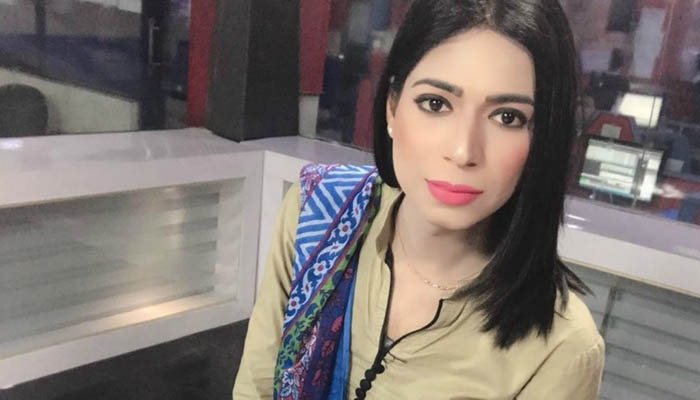 Marvia Malik, the first transgender news anchor of Pakistan, is breaking stereotypes and leading a change in attitudes in the country.

But it was not an easy journey.
The anchor whose first appearance on local channel Kohenoor TV on Saturday went viral on social media, recalled her struggle growing up as a transgender.
"My story is not different from any other transgender person's," she said while speaking to Geo.tv.
Reveling in the love and appreciation showered at her, Malik said she's overwhelmed by the positive response. "I have lost count of the numerous calls and messages I have received from media outlets world over," she said.
"Just yesterday, I did a few Skype interviews with media channels in India and everyone's talking about it," the 21-year-old added.
Malik ventured into TV after she became the first transgender model to walk the ramp in Pakistan during the annual Pakistan Fashion Design Council (PFDC) fashion show this month.
"I was shocked to receive so much love and support when I walked the ramp at PFDC," Malik said.
Saying that before this "nobody accepted or loved transgender people", she was moved by people's reaction to her taking to the ramp.
There was no looking back then. In a bid to change the future of her community and get them involved in the mainstream, Malik then joined the media.
"Similar to the response from the fashion industry, I was welcomed warmly in the media."
Happy that the behaviour of society in Pakistan is changing and that people are becoming more accepting, she said, "Our Pakistani society has space to accept us, only laws are needed."
"I've created a mindset that if given opportunities, transgender persons can do anything," she added.
The Lahore-based anchor said she had decided as a child that she will bring change and not beg or dance on streets. "The main reason for entering the media was to bring visibility and representation of the transgender community to the mainstream."
Malik recalled she was abandoned by her family when she was in 10th grade. "After that I joined a beauty salon and earned just about enough to put myself through college."
She graduated with a degree in journalism from Punjab University where she has also applied for a Master's. But none of it came easy.
"I faced a lot of hurdles and struggled constantly as I had no support from my family," she said.
Not one to give up, the courageous anchor said, "There was also no social acceptance but I did not back down."
Malik said she faces the same issues as those faced by transgender persons begging on the streets. "If my issues are solved then it means theirs are too and vice versa."
Claiming she wants to highlight the rights of her community, she said, "I don't want us to be considered as third gender but as Muslims and Pakistanis."
"I want to end the notion that we are aliens," she asserted.
Education for transgender persons
Malik further elaborated that the future of transgender persons in Pakistan cannot change till they are educated.
"Everyone talks about education but my question is how can transgender persons acquire education," she asked.
Stating that transgender persons are abandoned by their families, Malik said they have no means to pay for their schooling.
"We are given to gurus who have to pay the rent and bills by dancing and entertaining people. They have to feed us and themselves so how can you expect them to pay for education too? They don't earn enough," she stressed.
'Laws needed against abandoning transgender children'
To promise a bright future for transgender people, Malik said she has designed a law which will change the future of her community completely if implemented.
"I have designed a law that bars people from giving up their child till they're 15 or 18 years old."
She stressed that if people are ashamed and can't accept their transgender children then they should at least give them property rights so they're comfortable in their life.
"If this can't happen then Pakistan's future can't change. We'll continue to beg and be a source of entertainment for people or do prostitution," Malik said.
'Pakistan did the exact opposite of Trump'
Hailing the opportunity given to her to present news, Malik said, "While US President Donald Trump banned transgender people from US military service, I was given a job by Kohenoor TV."
She said the bold move is a reflection of the fact that "Pakistan has the ability and space to accept its people and to hire them for their talent and not their gender."
A home which houses transgender people
Lamenting that she still faces a lot of difficulties, Malik said it's mainly because she has no family support.
"I don't have any family support and am doing a job but it's not enough to be able to afford a home," she said.
"I am homeless," she said.
The 21-year-old said she wants her own house, "one in which transgender persons can come any time and there's no gender discrimination."
"I want to make my own house and keep all those transgender persons who don't have anywhere to go," she said.
The anchor who's breaking stereotypes each day despite struggles is confident and determined to bring change — a journey she has already embarked on.