Karachi's neighbourhoods most populated among those of other cities
The densest areas per square kilometre in nine major Pakistani cities help one appreciate urban form, street patterns, and geographical features
Updated Monday Apr 09 2018
LONDON: Pakistani cities are considered to be compact despite being high density, with almost each of them known for one thing or another.

With an aim to appreciate the urban form, street patterns, and geographical features of the nation's compact localities, the densest areas per one square kilometre — in nine major cities — have been highlighted here.
The metropolises' tightly-packed neighbourhoods have been selected using data from Global Human Settlement Layer (GHSL), a novel European research project that computes residential densities across the globe using satellite images and international census estimates.
My work has been inspired by a recent study by a British university professor who used the same data to pinpoint Europe's most densely-packed locations and bring to the limelight the beauty of the continent's cities — as seen from the sky.
Karachi
Locality: Gulbahar, Rizvia Society; Density: 50,240 people per square kilometre
Lahore
Locality: Bilal Ganj; Density: 27,300 people per square kilometre
Quetta
Locality: Pashtunabad; Density: 13,595 people per square kilometre
Peshawar
Locality: Jahangir Abad; Density: 11,095 people per square kilometre
What is interesting to note here is that the most compact square in a city is not always located in the old downtown or inner city location. Rather, it is dependent on a range of factors, including accessibility to transport and the number of economic opportunities nearby.
Nevertheless, the compactness and density come at a cost in Pakistan.
Most of the area in any dense neighbourhood is occupied by hard structures, popping up and piling upon one after the other, with open spaces next-to-none. And even if there is a green area or an urban park, it would most likely be small.
Hyderabad
Locality: Tando Agha; Density: 33,587 people per square kilometre
Islamabad Capital Territory (rural)
Locality: Bahara Kahu; Density: 20,057 people per square kilometre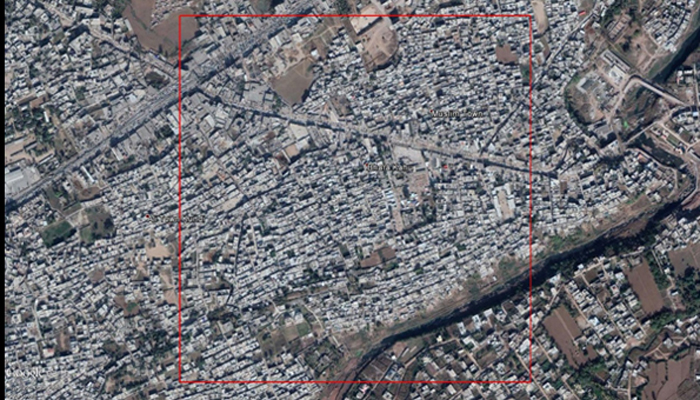 Islamabad Capital Territory (urban)
Locality: G-7/4; Density: 18,443 people per square kilometre
The most populated areas are segregated with the help of a red square in the aerial views presented below. This study shows that organic street pattern is the most prominent feature of Pakistan's most tightly-knit urban zones.
Narrower streets take less space, enabling a more efficient consumption of the area.
Individual buildings' ground area is usually small in the densest neighbourhoods, where houses in rows occupy the most space and there is a significant number of apartment complexes.
A proximity to transport infrastructures — such as highways, railway stations, and main bus stops — is another prominent feature, implying that dense areas, wherefrom a city usual sprouts out, are either formed around its major transport hubs or lie very close to it.
Multan
Locality: New Multan Colony; Density: 27,007 people per square kilometre
Faisalabad
Locality: Rachna Town; Density: 30,650 people per square kilometre
Gujranwala
Locality: Peoples Colony, Abdullah Colony; Density: 27,872 people per square kilometre
While the data used here is based on population estimates from 2015, the results can be enhanced with the inclusion of statistics from the 2017 national census, when its spatial datasets become available. This will truly reveal the densest urban region in the country.
Nonetheless, Karachi, it seems, leads the way at the moment, featuring multiple jam-packed areas.
The GHSL scientifically calculates the number of people living in each cell. However, its results may be confusing in some areas.
For example, it shows that Lahore's most dense area is not as closely-knit as that of Rawalpindi, Faisalabad or Hyderabad. While it may or may not be factual, it manages to catch attention.
Yet, one thing remains certain: it reflects the beauty of Pakistani settlements!
—Images via Google. Area density ~ estimate as per 2015 statistics; COVER IMAGE: Bamboo scaffolding is fixed to a building — built in the British colonial period — in Karachi, Pakistan, February 9, 2018. REUTERS/Akhtar Soomro/Files