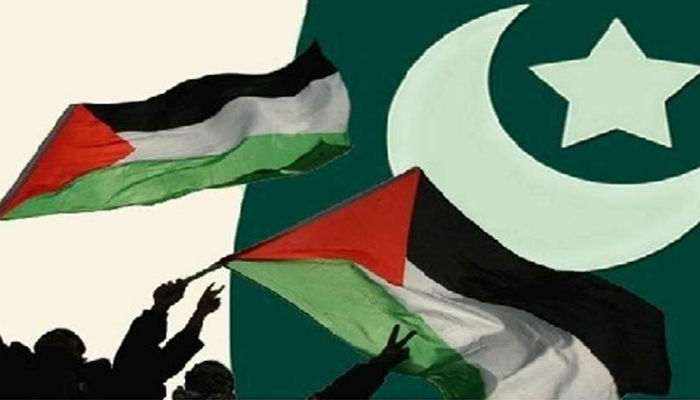 ISLAMABAD: Pakistan is observing Palestine Solidarity Day today (Friday) to express solidarity with the Palestinian martyred in the recent violence in Gaza.
The day is being observed upon the directions of Prime Minister Shahid Khaqan Abbasi.
In a statement, the Prime Minister Shahid Khaqan Abbasi said Pakistan will continue to support Palestinian brethren on every forum.
Special rallies and gatherings will be organised to express solidarity with the oppressed people of Palestine and to condemn Israel's state terrorism in Gaza.
Israeli troops shot dead dozens of Palestinian protesters on the Gaza border on Monday when the high-profile opening of the US embassy to Israel in Jerusalem raised the tension to boiling point after weeks of demonstrations.
In the bloodiest single day for Palestinians since 2014, Palestinian Health Ministry officials said 60 protesters were killed and 2,700 injured either by live gunfire, tear gas or other means.
'Israeli state terrorism should be investigated'
On Wednesday, Pakistan's Ambassador to the United Nations Maleeha Lodhi on Wednesday called for an independent inquiry into Israeli "state terrorism" in Gaza.
"I raised the issue of the massacre of Palestinians due to Israeli state terrorism in Gaza," Lodhi said while speaking to the media after her address at the UN General Assembly during the Sixth Review of the UN Global Counter-Terrorism Strategy.
"Pakistan condemns the massacre of Palestinians and calls on the United Nations to conduct an independent investigation into the tactics used by Israeli forces," Lodhi added.
Pakistan's ambassador to the UN further said, "Israel is already an occupying power and peace has not been restored in the Middle East because of it."
"No condemnation is enough of the brutal massacre of women and children by Israeli forces," she added.