LAHORE: More than a hundred local leaders and workers of Pakistan Muslim League-Nawaz (PML-N) were detained in a "midnight operation" late Wednesday ahead of party supremo Nawaz Sharif and his daughter Maryam Nawaz's return to the country on Friday.

Several UC chairmen, vice chairmen and councilors are among those arrested from various areas of Lahore.
Following the arrests, a large number of PML-N workers protested outside police stations and key party leaders — Saad Rafique, Sardar Ayaz Sadiq and Pervaiz Malik — held an emergency press conference at 3:30am.
Slamming the arrests of party workers, former railways minister Rafique said, "There can be a reaction to this taunting but we do not want things to get out of hand and the upcoming polls to become controversial."
"Our workers wish to go to Lahore airport in a peaceful manner to welcome the party supremo who is scheduled to return to Lahore tomorrow (July 13), however, all of a sudden arrests are being made" he added.
Rafique claimed, "Over 100 of our leaders and workers have already been arrested and orders have been given for the detention of 300 others." 
Demanding the interim Punjab government and the caretaker prime minister to "immediately release arrested workers", the former railways minister said his party would announce its next plan of action should the arrested workers not be released by noon today (Thursday).
Implementation on Nawaz, Maryam's arrest warrants to be ensured: Chairman NAB
Chairman National Accountability Bureau Justice (retd) Javed Iqbal has said that the implementation on the arrest warrants of Nawaz Sharif and his daughter Maryam should be ensured.
Action will be taken against those who try to create hurdles, added the chairman of the probe authority.
Earlier sources informed Geo News that the NAB has arranged two helicopters for shifting former premier Nawaz and his daughter to Islamabad, after arresting them upon arrival in country.
If you have courage, arrest me: Ayaz Sadiq
Further, former National Assembly speaker Sadiq held the interim Punjab chief minister responsible for the surprise detentions.
"If you have courage, I dare you to arrest me," the former NA speaker said while addressing the presser.
"We will complete the mission of going to Lahore airport to receive Nawaz," Sadiq vowed.
Emergency steps taken to ensure polls peaceful: DIG Lahore
Meanwhile, deputy inspector general (DIG) Lahore Shahzad Akbar said that "emergency steps" are being taken to ensure that the July 25 polls are held in a peaceful environment following the suicide attack in Peshawar which claimed the lives of 21, including Awami National Party (ANP) leader Barrister Haroon Bilour.
"The Ministry of Interior prepared a list and division officers were directed to arrest problematic workers of political parties," DIG Lahore added.
Further, containers have been placed at Mall Road in an expected bid to seal major routes leading to the airport in order to thwart political rallies on Friday.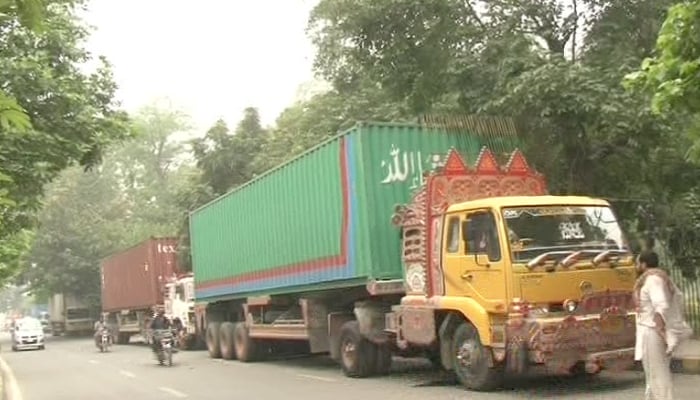 Nawaz and Maryam are expected to leave London today evening and land in Lahore around 6:00pm on Friday (July 13).