Former Prime Minister Nawaz Sharif has had a taste of prison life, unlike his daughter, Maryam Nawaz Sharif. On July 6, the two were convicted by an anti-graft court to 10 years and seven years' imprisonment, respectively. On arrival in Pakistan today, they will be arrested and shifted to the Central Jail in Rawalpindi.

This whole episode evokes a déjà vu. In the past, when Sharif arrived in the country, Pervez Musharraf, the military ruler, sent him back. But this time, a team of officials from the National Accountability Bureau (NAB) are at the airport, ready to cuff him.
Nawaz Sharif is not like the late Sultan Mahmood Qazi of the Pakistan Peoples' Party. During Gen. Zia ul Haq's tenure, the three feet tall jiyala was imprisoned in Lal Qila, where he was tortured with a chain around his neck and rolled around in a drum. Nor is he Masroor Ahsan, a former senator also from the PPP who was blindfolded and handcuffed at the airport, or the left-wing Jam Saqi, who was taken into custody also during the Zia years and tortured continuously.
But maybe none of that matters. Because, as Ahsan once said, "A prison is prison, whether it is in Attock (Punjab) or the Machh Central Jail (Balochistan). The conditions are almost always the same. It depends on who the jailer is and what he wants."
So what does the jailer want for Sharif and his daughter?
If the state insists on sending a tough message, it could keep the PML-N Quaid in a filthy room. While Sharif maybe be accorded some privilege being the former prime minister of Pakistan, Maryam Nawaz Sharif is unlikely to be provided better facilities, since she has never held a public office.
Former President Asif Ali Zardari, who spent several years in prison, had a mix of experiences, during which he spent money to not only have his own room spruced up but that also of his comrades.
In comparison, Sharif has only spent 16 months behind bars in Landhi, Sindh, and Adiala, Rawalpindi, after he was arrested in 1999. While there was no torture involved, he was allegedly humiliated by the senior officer who escorted him to Karachi. He was lodged at Landhi, along with his younger brother Shehbaz Sharif, party leader Syed Ghous Ali Shah, Shahid Khaqan Abbasi, Rana Maqbool, and Saeed Mehdi.
There were around six rooms in the compound where Nawaz Sharif was being held. His was the same cell where previously Zardari, the late Mir Murtaza Bhutto, and the late Nasir Hussain, Sanam Bhutto's husband, were also kept.
Back then, Sharif's senior lawyer, Khawaja Naveed, told me that he was not allowed to meet his brother in prison. "There were a lot of restrictions, but at times the jailer would let us sit together in the compound," he shared with me. "Sometimes, in order to get our mind off the ordeal, Sharif would sing and ask me to tell him Punjabi jokes."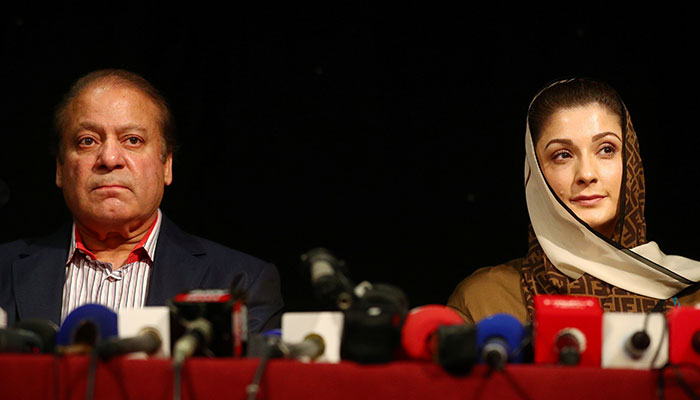 Interestingly, Imran Khan, the man who most wants to see Sharif locked up, has too had a small stint in prison—27 hours during which he went on a hunger strike. Khan recounted the experience in his biography, admitting that while he wanted to go on a hunger strike he found it tough since he had no experience of it.
Pakistan's prison rules dictate that the day a prisoner, in this case Nawaz and Maryam Sharif, are handed over to the jail authorities, their names must be added to the prison register. Thereafter, Sharif maybe allowed to receive food from home and will not be asked to wear a prisoner's uniform. Family visits will be permitted only once or twice a week. "Irrespective of the case or conviction, political prisoners are treated with respect," a jail official told me on condition of anonymity.
Sources say that Maryam's husband, Capt. (r ) Safdar Awan, who was arrested last week and convicted by the same court to a year in prison, is currently being kept at the Special Security section of the Adiala jail, which is meant for dangerous prisoners involved in terrorist attacks.
One will have to wait and see how long this prison term lasts and what political implications it has for both Nawaz Sharif and his daughter. Will a new PML-N emerge after today?
---
Abbas is a senior columnist and analyst with GEO, The News and Jang. He tweets @MazharAbbasGEO