Heritage Trail Project: An unfulfilled promise
Only three months after the project was completed, the renovated road turned into just another street
Updated Friday Sep 21 2018
PESHAWAR: Paved road, well-lit paths lined with plants and shining exterior of renovated buildings, this is what the area between Gor Gathri Archaeological Complex and Ghanta Ghar in the city looked like for a few days following completion of the Heritage Trail Project.

But efforts of labourers who worked on the project went down the drain three months after the project completed as the trail turned into a crooked path.
The 1.5-kilometre-long road in the city was renovated on the Mughal era theme, but heavy flow of vehicles throughout the day soon turned the track into just another street, despite millions being spent on it.
However, it is difficult to keep the path free of vehicles as its route leads to main areas of the city, including Ghanta Ghar, Kareempura and Meena Bazaar, said a local, Abid, while talking to Geo News.
The path also serves as parking for vehicles of locals as they have no other place to use as an alternative.
"We were told that a parking space would be constructed but since that did not happen, people are forced to park their vehicles on the street," said Iqbal Mohmand, a resident of Peshawar.
The use of space by hawkers selling their merchandise on carts is also criticised, but they have no other place to go.
"We have been here with our pushcarts since years, where do we go now?" questioned Najeeb Khan, a hawker. "The government should provide us with an alternative place if our presence in the area is bothersome."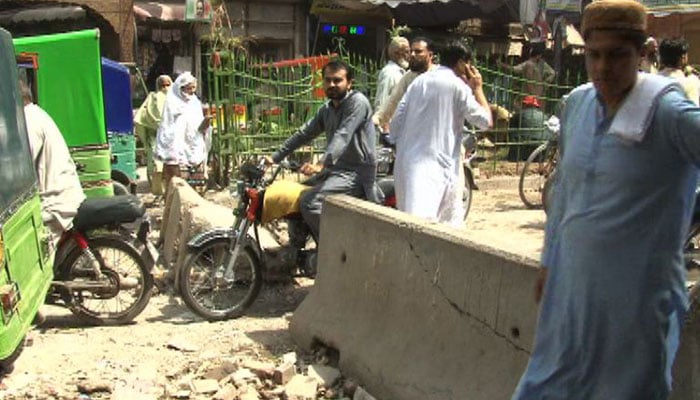 The traders and shopkeepers in the area are also not very pleased with the Heritage Trail project as it affected their income.
Javed, a shopkeeper, said they would get fewer customers as the road where their shops are located was closed down.
Failure of the project has not only put the government's funds at stake – the patience and compromise made by shopkeepers has also gone to waste.
Business at over 400 shops situated in Meena Bazaar and Bazaar-e-Kalan — in the area between Gor Gathri and Ghanta Ghar — was affected ever since roads were dug up for the project. 
Cover image taken from insaf.pk