Weapons factories of KP to have single industrial estate in Peshawar
It would be located in Mattani area of Peshawar, which touches Darra Adam Khel and Khyber district of erstwhile FATA
Updated Wednesday Oct 17 2018
PESHAWAR: The northern province of Pakistan is dotted with arms factories, where weapons of various kinds are produced, not only to be supplied within the country, but for international markets as well, where they are in high demand.
But since the factories are sparsely located, illegal supply of weapons from there can hardly be kept under check.
The federal government has therefore decided to move these factories to a single industrial estate that would be located in Mattani area of Peshawar, which touches Darra Adam Khel and Khyber district, erstwhile Khyber Agency of the now-defunct Federally Administered Tribal Areas.
At present, the arms factories of Peshawar are spread in different areas of the provincial metropolis, including Kohat Road and GT Road.
Funds for the industrial project, sprawling over 150 acres, are expected to be received by the KP government by 2019, after which the project will complete within two years.
Once operational, more than 200 arms-producing units will be transferred to the industrial zone, the cost of which has been estimated to be around Rs4 billion.
Weapons will be bought and sold in this zone, but not all factory owners are pleased with the idea of all the factories being in the same estate. While speaking to Geo.tv, Asadullah, a factory worker, appreciated the idea of a single industrial estate, but said it would negatively affect the small-level dealers.
Powerful dealers would get more orders, which will leave small-level ones will less business, he added.
Gunsmiths' bread and butter  
These arms factories, more than 300 in number, are mainly situated in the provincial metropolis and Darra Adam Khel of the erstwhile Frontier Region Kohat, which provide bread and butter for families of over 9,000 gunsmiths.
Those working at the factories are expert in their skills of weapon-making, producing arms that are also in demand in United States, London, Australia and Gulf countries.
But production process at these arms factories does not follow the usual assembly line.
The procedure is complicated and requires the gunsmiths to be skilled at all the steps, often taking them years to complete and send a single order of weapons.
Firearms based on ancient models, rifles and hunting guns are also made in these factories.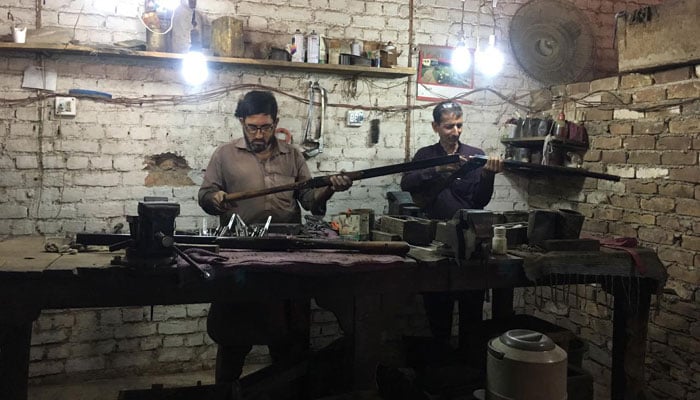 Speaking about the industrial estate, another factory owner, Waqar Akbar, said he was pleased with the plan but was of the view that the government should work on exports of the arms they produced. "The defence ministry should provide no-objection certificate on urgent basis."
Moreover, there would be no need to import weapons after once the industrial estate that is expected to have better standards, will be operational. The factories in Peshawar's estate will also manufacture and supply weapons for national security institutions.