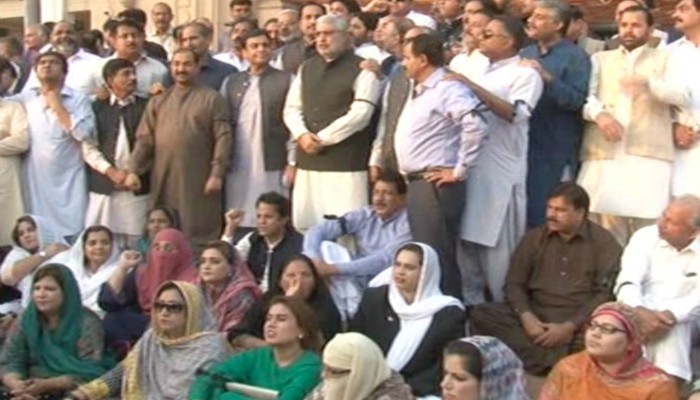 LAHORE: Pakistan Muslim League-Nawaz (PML-N) lawmakers continued on Monday boycott of Punjab Assembly proceedings in protest of suspension of six party MPAs last week.

The MPAs were barred from entering the House after they allegedly caused a ruckus and destroyed government property during a budget session on October 16.
The PML-N has since staged protests outside the House and called for an end to the ban.
"These are amateurs, not ace players"
Opposition leader Hamza Shehbaz also attended the protest today, where he addressed the gathering.

PML-N leader Hamza Shehbaz while criticising the government said that this government comprises amateurs not ace players, alleging that the new ruling government is ruining the economy.
Hamza Shehbaz alleged that those siting in the federal cabinet are facing several inquires.
Party workers and leaders were seen during the October 16 protesting on the staircase outside the assembly, while a woman also fell unconscious during the demonstration. However, the session in the Punjab Assembly continued.

On the other hand, circular and photos of banned MPAs were given to security staff to stop them from entering the building.
The ban being criticised was imposed when opposition protested during the budget speech of Punjab Finance Minister Makhdoom Hashim Bakht on October 16 for fiscal year 2019-20.
The opposition members tore budget copies and damaged the furniture placed near the speaker's dais.