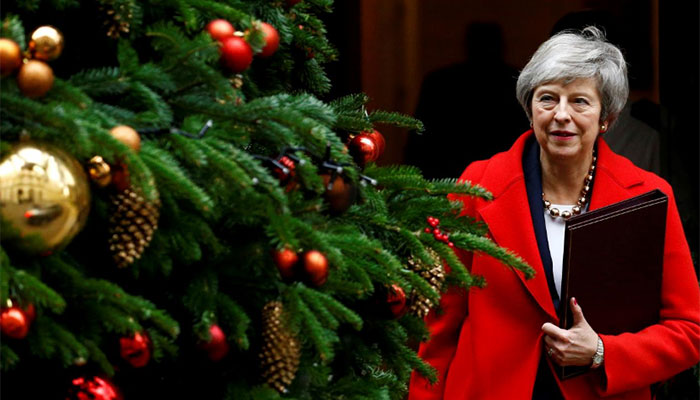 LONDON: Parliament's vote on British Prime Minister Theresa May's Brexit deal will go ahead on Dec. 11, her office said on Thursday, despite a newspaper report ministers had sought a delay to prevent a defeat so big it might bring down the government.

May has repeatedly said that if lawmakers reject her deal with Brussels, which would see Britain exit the EU on March 29 with continued close ties, the only alternatives are leaving without a deal or reversing Brexit.
The British parliament is mid-way through a five-day debate on the Brexit deal, ahead of the crunch vote which will define Britain's departure from the EU and could determine May's own future as leader. She currently looks set to lose that vote.
The Times newspaper reported that senior ministers were urging the prime minister to delay it for fear of a rout.
"The vote will take place on Tuesday as planned," May's spokeswoman said. The House of Commons leader, Andrea Leadsom, also told parliament the vote would go ahead on Dec. 11.
The day before the vote, on Dec. 10, the European Union's top court will deliver a judgment on whether Britain can unilaterally halt Brexit. 
EU negotiator Michel Barnier said on Thursday that the only deal available was the one agreed with Brussels.
"The agreement that is on the table — the withdrawal agreement and the agreement on the future relationship — are, in our view, the only and best possible to organize an orderly withdrawal," Barnier said.
May used an interview on BBC radio on Thursday to press on with her bid to persuade lawmakers to back her deal.
"There are three options: one is to leave the European Union with a deal ... the other two are that we leave without a deal or that we have no Brexit at all," she said.
In one small potential change, May said she was speaking to lawmakers about giving parliament a bigger role in deciding whether to trigger a so-called Northern Irish backstop.