Iran: A strangulated nation
Would people like Farhad stand against their government? Would Shahrbanou or Soudabeh come out for regime change?
Updated Monday Dec 24 2018
"You better ask him," said the receptionist, his eyes welling up and an index finger pointing towards the portrait of Ayatollah Ali Khamenei, Iran's Supreme Leader. I felt perplexed to involve that young man, who, otherwise, looked smart and confident, into a personal conversation.

As a first time visitor to the country, my intention was to simply ask Farhad, who works for a three-star hotel in Central Tehran, about how he manages his family.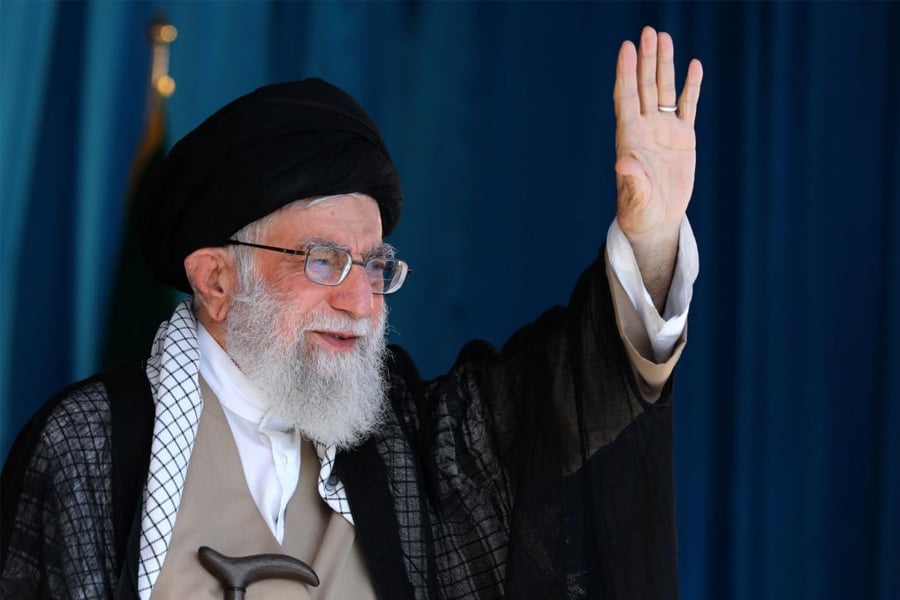 Early morning, on November 26, I was the first guest to Farhad's hotel, which had some reminiscent of its golden days. Still, a $100 bill was enough to enjoy a three-day stay there.
Initially, I had made my mind to pay for one night, primarily to check the room service and the food they offered. Upon finding out that the front desk representative was out of change, I decided to deposit the full amount — but not without deeply inquiring him about his earnings and expenditures.
Before I wrapped up my visit, it turned out that Farhad had depicted, in our conversations during the course of my stay, the real story of Iranians under sanctions.
Until recently, Farhad was a student aspiring to establish his own business venture. However, the untimely death of his father had landed him into that hotel job. Along with his dreams, Farhad carries a picture of his handsome father, Jamshid, who sported a Chevron moustache.
Jamshid was an engineer by profession. When he was Farhad's age, he had gone to study aerospace engineering in New York, where the modern United States of America had offered him lots of attractions.
Yet, as fate would have it, long before touching down in the land of opportunities, Jamshid fell in love with an Isfahani damsel, Nasrin, who hailed from a distinguished carpet-weaving family that had settled in western Tehran.
On Jamshid's day of departure, the girl met him in Laleh Park to give him a handmade rug as a symbol of her love for him. The elaborate colours and artistic designs were enough to keep Jamshid mesmerised and as bounded as the delicate knots it sported.
Every time Jamshid touched the piece, he could feel it still soaked with pearl-shaped tears that had dropped from her luminous eyes.
Eager to marry the love of his life, Jamshid returned to his homeland. All seemed promising as the couple started a new chapter in their lives. The US degree helped Jamshid build a career in helicopter maintenance, and soon enough, the couple bought a small house in the suburbs of Tehran.
Jamshid and Nasrin couldn't be happier when 10 years into their marriage, they were blessed with a girl, Shahrbanou. Then came another little princess, Soudabeh. A year later, with the birth of a boy, the couple had been on cloud nine. In honour of their own love, they named him Farhad.
Providing the best education to their kids became their only desire.
The war with Iraq had just ended and Iran was struggling to stand back on its feet. With a deteriorated economy, it was an era when life became harder every passing day. Anti-American rhetoric was feeding into the struggling nation's isolation as people took refuge in a religious outlook. 
By this time, Jamshid wore an Imperial beard and Nasrin opted for a saffron-base floral scarf over a white coat.
While the children were growing fast with their ever-increasing demands, it remained a joy to deal with such a challenging situation. The family still enjoyed picnics around the country on weekends and vacations in their French sedan. And continued to save some money for the rainy days.
And then they felt the first tremor in 2011 when Jamshid started complaining of excessive fatigue, loss of appetite, and experiencing blood in his urine.
Fast-forward two months, and he was diagnosed with cancer. It took him less than a year to admit defeat and seek retirement from the overly-strenuous job. Savings started to slip away as treatment costs became unbearable.
By then, Iran was already producing 95 percent of the drugs its citizens needed. However, medication for asthma and cancer was still imported. It was the time when conservative president Mahmoud Ahmadinejad's actions had drawn the most severe and strictest American sanctions ever imposed on Iran. The cost of imported items, including medicines, was sky high and on top of that, some remained out of stock.
Although Jamshid turned to local medicines, even those depended on some imported ingredients. The tightening belt did not work and, so, the retired engineer started driving a taxi.
It was a little joy when Shahrbanou, the eldest daughter, graduated. She wanted to pursue a Masters degree in English literature but had failed to obtain enough marks to obtain admission at Tehran University. The helpless father could not afford to send her to private universities or to another city.
Fluent in English and good in French, Shahrbanou found an excuse to work as a receptionist in a four-star hotel. Soudabeh, on the other hand, was lucky to get a governmental job in the tourism department.
Jamshid's day-dreaming came to an end when his young Farhad opted to become a receptionist in a three-star hotel. The old, ailing man had wished to see him rising as a successful entrepreneur but watching him leave college for a menial job made the frail father fall silent as a grave.
Jamshid had lost every hope.
Even driving the taxi became a burden. He started pretending to forget taking his much-needed medicines. The only few words he used to exchange were with Nasrin. Jamshid would ask his stunned soulmate: "Does it really matter if I live for another month or two?"
The day Jamshid took his last breath, Nasrin had prepared his favourite dessert, the Persian tut. Looking deeply into her eyes, he told her to keep it for the guests.
The poor lady burst into tears.
To comfort her for the last time, Jamshid quipped that he meant to imply Shahrbanou's boyfriend, who had visited them with his parents last week. Then he asked her, "Honey, bring that handmade rug that is still kept in the closet.
"That symbol of love should be passed from one generation to the other," Jamshid exclaimed.

The family's mourning days came to an end but the void that Jamshid had left in the lives of his wife and kids did not disappear. Over the next few years, Nasrin had both of her daughters married according to their will. Her family was kind enough to loan some money on both occasions. The lady was confident that her son would pay back that amount in two years.

The hard-working man he was, Farhad took life as a challenge. But in February, he noticed in his mother some signs of the same disease that had afflicted his father.
Rapid weight loss had reduced his mother to a skeleton. Knowing that her son was in huge debt, she would find one excuse after another to avoid going for check-ups.
On my last day in the Iranian capital, Farhad took me to his home. I took a small packet of saffron as a token of my respect to the family. Over a cup of tea, I asked her how the life of an ordinary Iranian family had changed over the years. The elderly lady wondered if I really didn't know the answer.
No doubt Iran is under crippling sanctions that are shrinking its economy and strangulating even the lower-middle class.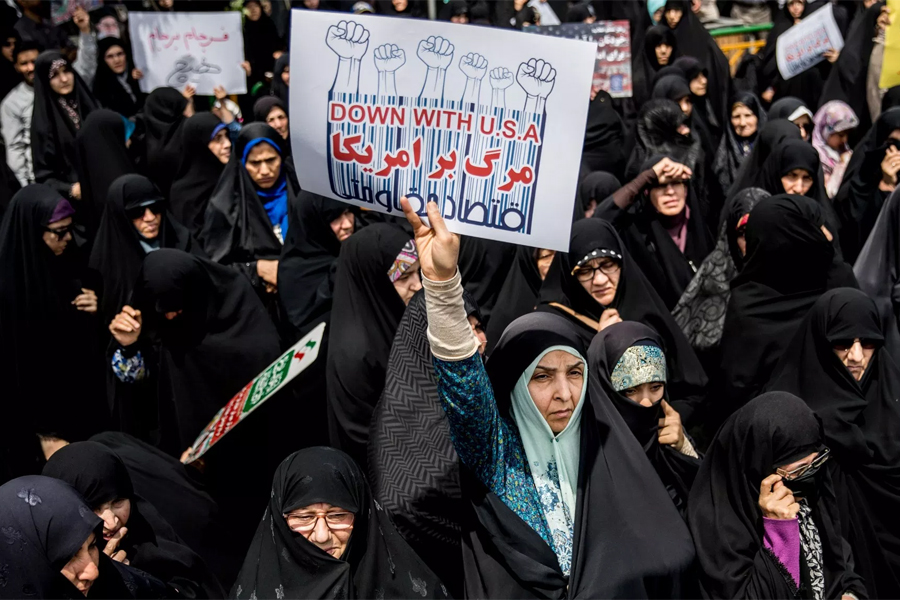 Narrating my window-shopping trip to Manouchehri Street, I explained how a man was wandering from one shop to another to purchase imported hair colour. And the one shop that had it in stock was selling it for two hundred percent the original price since there was little chance of any further consignments.
While the posh Palladium Mall still had customers, the shopkeepers feared that even the rich Iranians would be unable to escape this economic meltdown.
She kept nodding her head.
I inquired if the government was trying to make every possible effort to rise up to the challenge? I mentioned a monumental exhibition organised by M Neamati and Maryam Yazdi in Tehran, where businessmen from Central and South Asia were invited, as well as the deals facilitated by bilingual experts and translators like Sharareh and others.
It seemed that after getting disappointed by Europe, Iran had focused on a regional approach.
The old lady remained emotionless.
I brought up the issues of Syria and Yemen where her country's influence was increasing ever more. I asked if it was not a relief for her that China and Russia were standing with Iran. But looking at her son, she said only her son, Farhad, stands with her.
Before I left her house to catch my flight next morning, Farhad confessed that his mother was suffering from cancer. In almost the $200 that he earns a month, it is impossible to afford her treatment.
It is merely the love of a mother that she claims her son stands with her.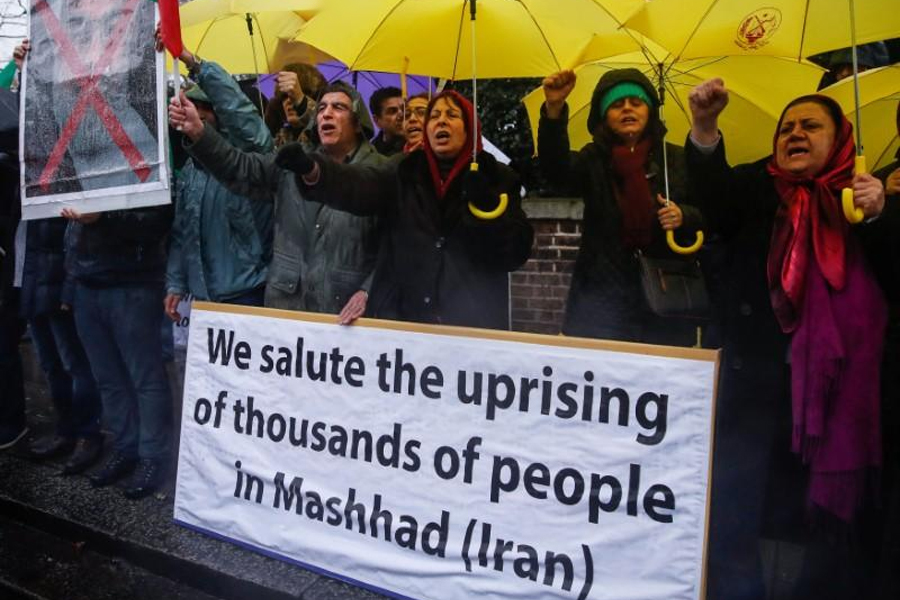 In a few weeks, imported drugs will be out of stock. Local ones that have imported ingredients will also vanish. Eventually, all he would be left with will be painkillers.
Sitting in the cab, I kept thinking. Would people like Farhad stand against their government? Under the impact of these crippling sanctions, would Shahrbanou or Soudabeh come out for regime change?
The answer is: At some point, yes.
But is it also the beginning of a new revolution? No.
The reason is simple. For their miseries, people like Farhad blame the American administration more than their own government.
---
—Editing by Haseem uz Zaman

—COVER IMAGE: REUTERS/Raheb Homavandi/Files; THUMBNAIL: Iranian Supreme Leader Ayatollah Ali Khamenei. Khamenei.ir/Handout via REUTERS/Files