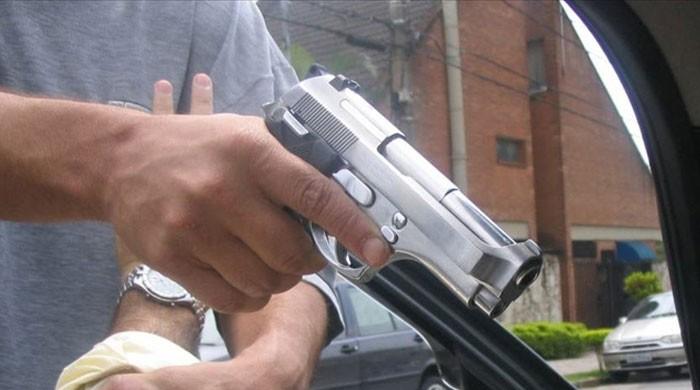 For Saeed, crime is a habit, a job and a way of life.

On the day he was to be released from prison, he quickly dialled his friend. "Bring my motorcycle and samaan (weapon)," Saeed told his friend over the phone. "I can't go home empty-handed. I have to take something for my family."
For many street criminals in Karachi, prison is a second home.
According to a recent survey, 80 per cent of people who commit burglary, carjacking, mobile snatching or other serious predatory street crimes, are largely young, aged 15-20-years. Saeed is now 25-years-old and has been in this business for the last 10 years.
Over 40 per cent of these boys have never passed their matriculation examinations, while 40 per cent are illiterate, according to another survey. A major chunk of them are from ethnic communities with no political or religious affiliations and are addicted to a drug.
In Pakistan, there are no rehabilitation centres or programs for street criminals, like the ones for terrorists.
Previous governments in Sindh often ignored street crime. For them, it was business as usual, except in cases of car or motorcycle snatching because in such cases the victims would go the police stations and lodge a complaint. The same is true when purses and wallets are stolen, as the individuals would report the theft of his/her identity cards.
But in incidents of mobile snatching, the victims avoid reporting the crime. This is primarily why mobile and motorcycle theft has continued to grow in the city of 15 million. If the police get serious, it would not be difficult to control the crime. There are close to 7,000 slums in the city and the law enforcement agencies know which of these are frequently visited by street criminals after they steal a cell phone or vehicles.
A senior official told me that one proposal that remained pending for years was to engage telecommunication companies. If a cell phone can be fitted with a tracking device, then it can be easily traced and blocked after theft. Moreover, shops that sell and buy mobiles can be given special forms to record the data of those who sell used phones.
In the case of motorcycle robberies, which is the highest in street crimes, it was suggested to make it compulsory to attach trackers in all such vehicles. Simultaneously, markets such as the Sher Shah colony in Karachi can be routinely monitored, as it is here that most criminals sell their stolen goods.
Strangely, despite the uptick in the crime, no investigation or study has been conducted about the average earnings of a street criminal. If that was done, it would help security agencies trace where these men get the money for their bails, which can range from Rs5,000 to Rs20,000. Also, who provides their surety?
Young boys and girls who end up on the streets are also vulnerable to sexual assault and rape, especially when the youngster are addicted to some kind of a drug. According to a prison source, dangerous criminals particularly those involved in rape, murder, or even in terrorist activities, sexually exploit young boys.
Saeed's story is no different from the other young men who turn to street crime. He left school in grade 8. One day, his father, who was a school teacher, found him smoking with his friends. He beat Saeed, who then ran away from home. For the first few days on the run, he would eat at Abdullah Shah Ghazi's shrine. "I would sleep on the sidewalks," he told me, "Sometimes older men would give me Rs50 to go with them."
The boy returned home only after his father passed away. Today, he provides for his mother and three sisters. "I think my mother knows what I do for a living," he said, "But she has accepted it now since I put food on the table."
Saeed is part of mobile snatching gang. While he carries a gun he rarely puts bullets in it so he does not end up hurting anyone. His main targets are young girls or women, whose bags and purses are easy to snatch.
Street crime is controllable if there is a will. But sadly, it seems, no one wants to save these young boys and girls.
Abbas is a senior columnist and analyst for GEO, The News and Jang. He tweets @MazharAbbasGEO