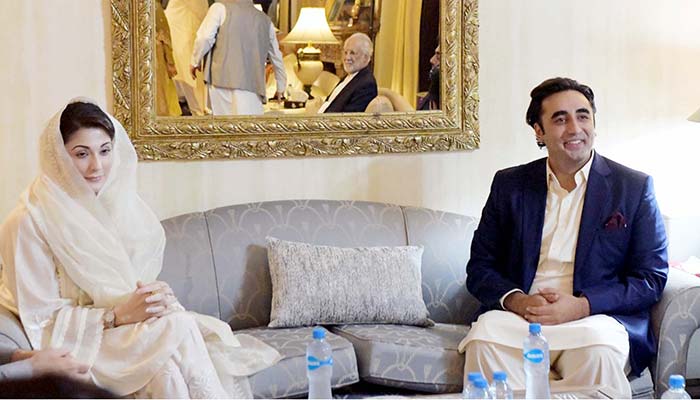 On Sunday, Bilawal Bhutto Zardari and Maryam Nawaz Sharif, scions of Pakistan's most influential political dynasties, sat side-by-side for a post-sunset meal. There were others too. Leaders from a variety of political parties, not allied with the government, and independent lawmakers, who neatly arranged themselves around the dining table.

Still, all eyes were on Bilawal and Maryam.
The meeting had been a long time coming. Previous efforts to bring the national and regional rivals to take on the ruling-Pakistan Tehreek-e-Insaf (PTI), since the general ballot, had fragmented and collapsed. There was the initial attempt in July, to form a grand opposition alliance against a "rigged election", which came to naught. Reboots in January and April didn't fare much better. But this was the first time Bilawal and Maryam were in the same room.
Both children of former prime ministers. Both young. Both touted as the next generation's political hopefuls.
At a press conference, Bilawal said that a multi-party conference would be convened in June, to decide on a course-of-action against the PTI. The date of the gathering will be fixed by Maulana Fazlur Rehman, head of the religious Jamiat Ulema-e-Islam (F), in consultation with those attending.
But even if the sit-down is held, will it succeed in ousting the PTI, which captured power only eight months back? Will the opposition be able to fire up its base, and take to the streets in large numbers? The answer may not be that clear cut.
On Sunday, after dinner, when the 20 or so leaders began to chart a path, there were disagreements.
"Different views on the way forward emerged," Farhatullah Babar, a senior leader of Bilawal's Pakistan People's Party (PPP) told Geo.tv. "One view was to put enough pressure on the incumbent government that it prompts an in-house change. Another was to demand fresh elections. A third was to remove [the PTI] from power." While the final decision would be reached at the June conference, Babar added that those who want to chase out the government should also consider "that there will be a [political] vacuum and it could be filled by other forces".

Sacking the government through sit-ins, a move that is not a rarity in Pakistan's politics, had come up for discussion at last year's post-electoral meet as well. Rehman had put the suggestion forward, when he attempted to convince the PPP and the Pakistan Muslim League-N (PML-N) to boycott the parliament's oath taking. "The PPP leadership asked, 'What would happen if the government is removed?'" Babar recalls. "Fresh polls will be held, Rehman said. And then we asked, 'What happens if new elections are not held?'"
Pervaiz Rasheed, a PML-N leader, agrees with PPP's concern. "If we topple the government, then what?" he says. "What if the next person who comes to power cannot be removed?" Which may be why his party is sending out mixed signals.
Speaking to reporters yesterday, Shahid Khaqan Abbasi, a senior leader of the PML-N said that his party would be launching countrywide protests after Eid, against inflation, unemployment and the recent price hike. He did not clarify though, if the agitation will be a unity march or a solo flight.
One option, says Rasheed, is to demand that the government hold free, fair and transparent general election. "And that demand can only be met with the use of street power."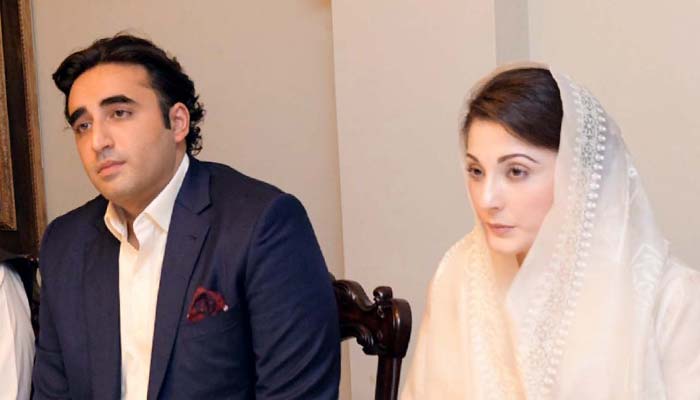 Another question that remains unanswered after Sunday's meeting is: How significant is Bilawal Bhutto Zardari and Maryam Nawaz Sharif's meeting and are they both relevant enough within their own parties?
Bilawal is the chairman of the PPP. In comparison, Maryam Nawaz Sharif is one among 16 vice presidents in the PML-N. The president of her party is still her uncle, Shehbaz Sharif, who is also the leader of the opposition in the parliament. Shehbaz is currently in London for medical treatment, which is why recent party huddles have been held without him.
A party leader says, on the condition of anonymity that Shehbaz Sharif is unlikely to return to Pakistan in time for the post-Eid opposition convergence. "There is also a possibility that he could resign as opposition leader."
For now, Nawaz Sharif, Maryam's father and the lifelong Quaid of the PML-N, is behind bars, serving out a seven-year sentence. Seven other senior PML-N leaders are under probe by the anti-corruption watchdog.
The Quaid, the PML-N unanimously agrees, still calls the shots. On the other hand, Asif Ali Zardari, the co-chairman of the PPP, holds the reigns of his own party. He is under investigation for allegedly funneling money through fake bank accounts.
With the older generation dodging legal landmines, does it really matter if the new generation meets for Iftar?
One thing is clear though: Similar attempts to cobble together an opposition alliance will continue to be made until the next general election, when each will go their separate ways.