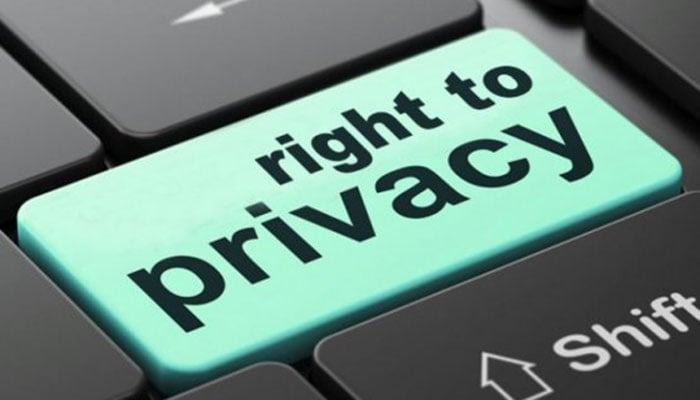 In a recent case of privacy breach, intimate footage of couples at cinema houses was leaked, sparking concerns about how private companies handle surveillance data. Outraged, Salman Sufi, activist and the former director of the Punjab chief minister's strategic reforms unit, promised to draft a much-needed legislation to criminalise the breach of private data.

Geo.tv talks to Sufi about the right to privacy and data protection in the digital age.
What does the constitution say about right to privacy?
Pakistan's constitution guarantees right to privacy as a fundamental right. Yet, the overwhelming increase of social media has exhausted this right. It can no longer match the speed of the over-encompassing surveillance that is in place in Pakistan due to security threats.
Is there no legislation currently that safeguards the privacy of Pakistani citizens in public places?
The Prevention of Electronic Crimes Act, 2016, prescribes up to three years in jail or up to Rs1 million in fine, or both, for making videos and pictures, and distributing them without consent. Furthermore, it fixes up to five years in prison or up to Rs5 million in fine or both for making or spreading explicit images or videos of an individual, and up to three years in jail or Rs1 million in fine for cyber stalking. The problem is that this law is mostly dependent on the Federal Investigation Agency (FIA) to implement, which makes it difficult for the general public to access.
How will the new legislation that you are working on ensure that camera surveillance does not undermine the right to privacy?
The proposed legislation we are working on with the help of the AGHS Legal Aid Cell aims to guarantee an individuals right to privacy regardless of the venue where the breach is happening. We are focusing on public places, which use excessive CCTV cameras, without explicitly warning the public that they are being filmed.
The law will mandate a warning, so anyone who wants to opt out can do so. Secondly, the law will propose barring residences or offices from placing the cameras at angles which record passing by citizens or cars on public roads, since they do not have their consent. A homeowner or office will have the right to film their own premises for security but not an area that does not fall into their domain. Also, the law will propose barring private entities from holding the recording of the public for an indefinite period of time, if there has been no violation of the law or security-related incident.
We are also pushing for regulating the sale of spying equipment to citizens, which can then be used against fellow citizens to blackmail. Such equipment should only be allowed to be purchased by law enforcement agencies. Under the new law, the owner of a premises will be held responsible for any leak of videos without court order and it will further make it necessary for the owner to only give the responsibility of monitoring cameras to a person who has been vetted.
What about recording people with your phone camera? Can that also be criminalised?
The law will propose barring individuals from recording anyone without their permission, unless a crime is happening or about to happen. We will propose that only public officials' actions should be allowed to be recorded, when they are on the job, as it is of public interest. Other than that, no one should be allowed to record anyone, publicly or privately, from personal phones or devices.
Have you approached lawmakers from the ruling party to help get this bill through the parliament?
Yes. We are in contact with lawmakers from both the treasury and the opposition benches. In addition, we are working on a module that will help this bill be supported across the board.