There is nothing wrong with sticking to tradition, but when traditions become a stumbling block in the path to progress — when they start hindering the evolution of a society — then it may be time to review them.

As in other parts of the country, there remain areas in Sindh where the writ of the state does not hold; where tribal conflicts continue to destroy the peace and cause needless bloodshed, all the while strengthening the hands of the feudal overlords who 'rule' these areas.
This special report sheds light on why tribalism continues to exist and why people continue to turn to feudal lords to solve their problems.

Troublemakers having a field day
On a patch of the Indus Highway in Karampur, Shikarpur district, a Geo News team finds itself stranded in the middle of a massive traffic jam.
Upon inquiry, the team learns that the highway has been shut down by locals protesting against the kidnapping of a man the previous evening. The protesters are demanding his immediate recovery.
Law enforcement agencies' vehicles are among the hundreds of cars waiting for the highway to re-open, but the law itself is nowhere to be seen in the chaos unfolding around them.

The Geo team manages to take a detour to circumvent the protest and rejoin the Indus Highway — only to get held up by another roadblock in Khanpur.
This time, the protesters are agitating against increased incidence of vehicle snatching.
The police blame felons on the run from tribal disputes for both the kidnapping and vehicle snatching incidents.
The 'other' Pakistan
A sense of lawlessness and chaos prevails in some of the most well-recognised districts of Sindh — including Kashmore, Shikarpur, Larkana, Jacobabad, Ghotki and Sukkur.
Injuries, permanent physical impairment and deaths from tribal conflicts are much higher in these districts compared to others.
Full-blown tribal feuds can be sparked by both big and small issues — the stealing of livestock, demarcation of land, a rival's cow ruining your crop, somebody throwing you a sideways glance, for example.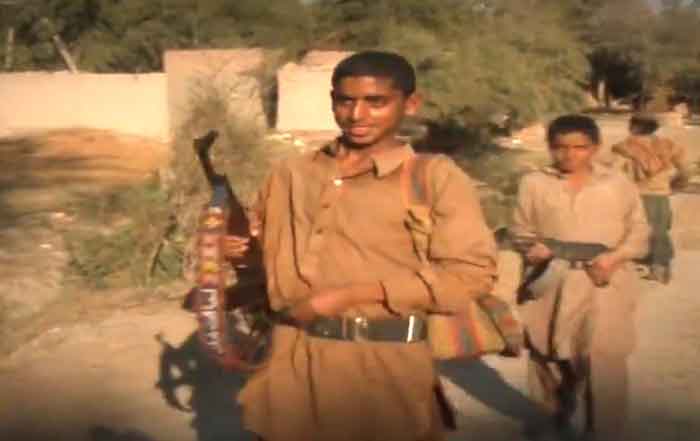 Sometimes, minor insults can turn into religious matters of life and death, or a petty slight can turn into an issue of 'tribal honour'. These disputes are then settled with sticks and stones, or guns and bullets.
To policymakers, they do not seem like major issues — but their negligence has resulted in hundreds of thousands living in absolute misery as violence rages around them.
Petty disputes, oversized egos
"Sometimes its theft of livestock; other times it's land demarcation or social problems turned into something completely different," explains Sardar Ibrahim Jatoi.
"They are usually small problems turned into big ones. A big reason is our people's egos [can't handle an insult] because they are illiterate."
Sardar Mehbub Bijarani agrees.
"There's too much illiteracy here. Even if a wild animal strays into a field, they kill it, because they're uneducated and they live in impoverishment.
But how does a petty dispute take on abnormal proportions?
"Actually, when a person suffers a loss, they go and take it out on a third person instead of taking the dispute to the person who actually caused the loss," explains Sardar Teghu Khan Teghani.
"Then the person [who was unfairly targeted] settles his scores."
Hidden agenda?
Some tribal conflicts also have hidden objectives, and some people actively benefit from them.
"People turn to the sardars when they are helpless; when they have lost all hope. [These sardars] let people die so that their sardari [authority and power] survives," alleges Mian Mithu.
"They [the sardars] also take money [from the warring parties]," he continues.

"I believe that, if these sardars wanted, all of this death and destruction would never take place. The sardari system thrives because the people keep fighting among themselves."
However, Sardar Teghu Khan disputes the allegation that the sardars extort money or protect criminals.
"This is just a mere allegation that has no truth to it. No sardar has ever been proven to have taken money [to resolve disputes]," he says.
"I have been facing similar accusations since 1994, but nobody has been able to prove them yet. Sardars always get blamed for this [taking money] because they are the leaders of their people — but to accuse them without proof is unfair.
"If someone has proof, there should be no hesitation [in executing a punishment], but I have been to jail for three months on this charge and was eventually let go by the courts, who discharged me honourably from the case.
"We always support the poor, not the criminals. My record is that I have handed over every criminal and dacoit that I have caught," he said.
Ghous Bakhsh Mehar agreed.
"This is a baseless charge against the sardars — no sardar would want their tribes to kill and fight each other. It is a worrisome situation [when that happens] — we fear God when people die. I do not think any sardar thinks like this," he said.
No escaping the system

The system seems to be designed in a way to compel people to seek their sardar's help.
"Our politics is strongly based on the biradari (tribal) system. Every sardar rises to the top in politics thanks to the people of their tribe," explains journalist Jan Muhammad Mehar.
"Till we have this system, biradari-ism (tribalism) will remain a strong force and people will keep turning to their tribal leaders for help.

"Small disputes will keep turning into bigger ones, and hundreds will keep dying for them."