Coronavirus updates, March 18: Latest news on the coronavirus outbreak from Pakistan and around the world
Pakistan records 2 deaths in KP; GB retracts statement on patient's death; AJK reports first case; nation-wide toll rises to 304
Updated Wednesday Mar 18 2020
KARACHI / LAHORE / ISLAMABAD / PESHAWAR / QUETTA: Pakistan's tally of COVID-19 cases rose to 304 on Wednesday, with new cases reported in Sindh, Punjab, Balochistan and Khyber Pakhtunkhwa.

Azad Kashmir also reported its first case today.

The province-wide break up of cases as of 9:00pm, March 18, is as follows:
---
Total confirmed cases:  304
• Sindh: 208

• Punjab: 33

• Khyber Pakhtunkhwa: 19
• Balochistan: 23
• Islamabad Capital Territory: 7

• Gilgit-Baltistan: 13
• AJK: 1
Deaths: 2

Khyber Pakhtunkhwa: 2

---
Globally, 164 countries have been affected, more than 8,200 people have died and more than 200,000 infected by the disease as it spreads rapidly to new territories.
The epicentre of the outbreak has now shifted to Europe, which is recording a rapid rise in new cases every day.
Read on for the latest updates from Pakistan and around the world.
Disclaimer: There may be some discrepancy in the number of confirmed cases reported at the country level due to differences in figures quoted by federal and provincial authorities.
Geo News is constantly gathering fresh information from concerned authorities and striving to keep our readers up to date with the most accurate information available.
Orange: All general updates coming in from Pakistan
Red: All reports on new cases in Pakistan
Maroon: All reports on new deaths in Pakistan
---
END OF LIVE UPDATES FOR MARCH 18

Live updates for March 19 to continue here.
---
11:12pm — London, UK — UK closes schools as coronavirus deaths rise

Britain has announced it would be closing schools in the coming days to stem the spread of coronavirus, as the death toll topped 100 and Londoners braced for tougher measures to tackle the outbreak.
Prime Minister Boris Johnson had held off following the lead of other European countries in shutting schools, because of the impact it would have on the workforce.
But as the outbreak spreads and the death toll reached 104, up from 71 in a day, he said schools would be closed indefinitely later this week.
"After schools shut their gates from Friday afternoon, they will remain closed," he told his daily news conference, without giving a date for their re-opening.
Exceptions will be made for key workers — including healthcare staff, police and delivery drivers — and for the most vulnerable children.
---
10:46pm — Peshawar, Pakistan — KP reports second death
Khyber Pakhtunkhwa health minister Taimur Khan Jhagra has confirmed the province's second death, moments after the first was reported.

The second victim was a 36-year-old patient being treated at the Lady Reading Hospital in Peshawar. The patient was a resident of Hangu.
---
10:45pm — Islamabad, Pakistan — PM's health advisor confirms Pakistan's first death from virus
Advisor to the prime minister on health, Dr Zafar Mirza has confirmed the country's first death from COVID-19.
According to Dr Mirza, the deceased was a 50-year-old man who had recently returned from Umrah, after which he developed a fever and cough, besides experiencing difficulty in breathing. Subsequently, he tested positive for the virus.

The health advisor said that the man's contacts are being screened.

---
10:19pm - Afghan leader thanks Pakistan for keeping border open for trade

Afghan leader and disputed president Abdullah Abdullah has thanked the Pakistan government for keeping the Chaman-Boldak border open for trade.

"I thank Imran Khan and Pakistan government for accepting our people and traders' call to keep the Chaman-Boldak border open for the flow of foodstuff and key comodities at this critical time," wrote Abdullah Abdullah.

Abdullah said the gesture "further strengthens our bilateral ties".

---
09:53pm — Peshawar, Khyber Pakhtunkhwa — Patient dies in Mardan: KP health minister
The Khyber Pakhtunkhwa health minister has said that a patient has died in Mardan, without elaborating any further.
"Sad to report one patient who passed away in Mardan," wrote Taimur Khan Jhagra in a post on Twitter.
---
9:00pm — Quetta, Balochistan reports 7 new cases

Seven new cases of coronavirus cases were reported, provincial chief secretary said.
The number of confirmed coronavirus cases in the province now stands at 23. 
08:16pm — Islamabad, Pakistan —PM's aide on health denies first coronavirus death, GB retracts earlier statement
The prime minister's advisor on health has denied that a death from the coronavirus took place in Gilgit, Gilgit-Baltistan earlier in the day, the first officially reported in Pakistan.

In a post on Twitter, Dr Zafar Mirza said that the test of the patient is negative.
The death had been confirmed by the spokesperson for the GB government, Faizullah Faraq.
Later in the day however, as Mirza refuted reports run by the media, the GB government also issued a "clarification".

According to a statement by the media coordinator of the GB chief minister, Rasheed Arshad, the report that the 90-year-old man had died from the virus is "unverified".

"The man had kidney-related issues as well as pneumonia," he said, adding: "The provincial spokesperson had issued the statement without verification."
---
08:15pm - Shops in Punjab to close at 10pm

According to Punjab Chief Minister Usman Buzdar, all shops across the province will shut at 10pm. Government offices will see a skeleton crew present.

---
07:50pm — Sindh, Pakistan — Sindh's total rises to 208
According to Senator Murtaza Wahab, the total number of cases in Sindh has risen to 208.

Of the 208, 151 are Taftan pilgrims in Sukkur, 56 are in Karachi and one case is in Hyderabad.

With the additional number of cases, the nationwide tally now stands at 297.


---
07:12pm — Islamabad, Pakistan — Punjab govt rolls out hand sanitisers made by PCSIR
Minister for Science and Technology Fawad Chaudhry has said that the Punjab government will be making WHO-approved hand sanitisers available at the "mass level".
The hand sanitisers have been made by the Pakistan Council of Scientific and Industrial Research (PCSIR).

"All provincial governments are advised to contact PCSIR in provincial HQs for mass supplies and it will also be made available at utility stores," wrote Chaudhry on Twitter.
---
6:40pm - Dear Ghazi Khan, Punjab — Punjab reports two new cases, nationwide tally rises to 270
Chief Minister Punjab Usman Buzdar announced that the proivincial toll of the cases has risen to 28 after two new cases were reported.
The CM made the announcement while speaking to the media in DG Khan. He added that they have decided to close shops in the province at 10pm and have imposed a health emergency.
Buzdar also announced that the province has set up a fund of 236 million to stop the spread of the virus in the province.
---
6:35pm - Madrid, Spain — Spanish royals cancel US visit
Spain's King Felipe VI and Queen Letizia cancelled on Wednesday a planned visit to the United States on April 21 where they were due to meet with US President Donald Trump due to the coronavirus outbreak.
The royal palace said in a statement that the goal was to allow "the United States and Spain to continue to dedicate all of their resources and attention to the response to COVID-19."
Trump and his wife Melania hope to host the Spanish royal couple in the United States in the future, the statement added.
---
6:32pm - Berlin, Germany — Germany to double intensive respiratory care capacity
Germany will seek to double its intensive respiratory care capacity to cope with the escalating coronavirus pandemic, a government spokeswoman said on Wednesday.
"Doubling it is the aim, and federal states have been asked to work towards this plan," said Ulrike Demmer. Germany currently has 25,000 intensive beds with respiratory capacity.
---
6:26pm - Karachi, Sindh — Eight new cases reported, nationwide tally goes to 258 
Sindh announced that it has received eight new coronavirus cases taking the nationwide tally to 258.
Chief Minister Sindh Murad Ali Shah was told of the new cases while chairing a meeting of the task force formed to tackle coronavirus pandemic. The new cases were found in the pilgrims station in Sukkur taking the provincial tally to 189.
---
6:13pm - Gilgit, Gilgit Baltistan — Pakistan reports first death from virus 
The first death from the coronavirus has occurred in Pakistan, according to the GB government spokesperson, Faizullah Faraq.
According to the spokesperson, the patient was a 90-year-old man and belonged to Chilas area of the GB. Firaq said he was under treatment at the CMH Gilgit for the last four days.
The spokesperson added that the victim had no travel history. He added that the province has 10 new cases taking the tally to 13
Pakistan recorded its first death after the worldwide death toll from the virus crossed 8,000.
---
6:04pm - Dera Ghazi Khan, Punjab — PM Imran briefed on quarantine centre facilities
Prime Minister Imran Khan was briefed on Wednesday about the process of screening pilgrims at the central command room established in DG Khan.
The premier visited the quarantine facility set up for the pilgrims coming from Iran and met the people over there during his visit.
---
6:01pm - Washington DC, USA — Trump to hold presser on 'very important' virus news
US President Donald Trump said he will hold a news conference Wednesday on "very important news" from the Food and Drug Administration related to the new coronavirus.
Trump, who referred to the disease as the "Chinese virus" in one of a series of tweets, shed no light on the development to be disclosed.
"I will be having a news conference today to discuss very important news from the FDA concerning the Chinese Virus!"
---
5:59pm - Ramallah, Palestine — Israel slaps virus closure on Palestinian-ruled areas of West Bank
Israel closed off Palestinian-administered areas of the occupied West Bank on Wednesday to limit the spread of the coronavirus, an official said.
"From today, a closure has taken place in the West Bank," said Yotam Shefer, who heads the international department of COGAT, the Israeli military body responsible for civilian affairs in the Palestinian territories.
He told journalists the decision had been taken in conjunction with the Palestinian government, based in Ramallah.
The border crossing with the Gaza Strip has been closed in recent days and will remain so, Shefer added.
---
5:57pm - Paris, France — More than 850 million students worldwide not at school: UNESCO
More than 850 million young people, or nearly half the world's student population, are barred from their school and university grounds because of the coronavirus pandemic, UNESCO said on Wednesday.
Calling it an "unprecedented challenge" for education, UNESCO said schools had been closed in 102 countries, with partial closures in 11 more — and there would be more closures.
---
5:55pm - Islamabad, Pakistan — ECP postpones hearings till March 26
The Election Commission of Pakistan (ECP) has postponed hearing of cases that was scheduled to be heard till March 26.
The ECP has said that the concerned parties will notified on the new hearing dates.
---
5:52pm - Karachi, Pakistan — Sindh asks Centre to suspend train services 
Sindh government has requested the federal government to shut down the train service and factories in the country to control the spread of the coronavirus.
In the letter, the Sindh government spokesperson has stated that the train service should be suspended because they fear virus may spread due to the thousands of people travelling within the country.
---
5:47pm - Brussels, Belgium — Virus forces EU and China to cancel summit
The EU and China have decided to cancel their upcoming summit in Beijing because of the coronavirus epidemic, a spokeswoman for the bloc said on Wednesday.
The heads of the EU's main institutions along with the bloc's diplomatic chief had been due to travel to China — where the pandemic began — later this month to lay the groundwork for a second summit with all 27 European leaders in Germany in September.
But the Beijing meeting has been postponed as governments battle with the catastrophic fallout of COVID-19.
"The EU and China have decided jointly that the EU-China summit will not take place for the moment to allow both sides to concentrate on their response to the COVID-19 pandemic," EU spokeswoman Virginie Battu-Henriksson told AFP.
---
5:35pm - Karachi, Pakistan — SBP directs banks to waive charges on online banking
The State Bank of Pakistan (SBP) has directed banks to waive all charges on fund transfers through online banking channels such as Inter Bank Fund Transfer and SBP's real time gross settlement system for customers. This will allow customers to transfer funds through internet banking and free of cost.
According to a press release, the banks have been advised to facilitate their customers in using online banking while taking all necessary precautions to ensure the safety and security of customer's funds.
The central bank has also directed the financial industry to immediately facilitate education fee and loan repayments through internet banking or mobile devices. It has also directed banks to run awareness campaigns to educate consumers to use internet banking and avoid branch visits.
SBP has also directed the banks to increase the vigilance of digital channels in view of the decisions taken today.
---
5:18pm - Peshawar, Khyber Pakhtunkhwa — KP announces multiple restrictions to restrict spread of virus 
Khyber Pakhtunkhwa's Taskforce formed on the coronavirus on Wednesday took important decision to stop the outbreak of the disease in the province. The following decisions were made by the meeting held under the chairmanship of KP Chief Minister Mahmood Khan:
- Entry of general public has been banned in all secretariats, directorates, district offices (except district administration) of the province
- Grocery, medicine and other essential item shops will remain open in the province 24/7. While the other shops can only be opened from 10:00am till 7:00pm.
- The provincial government has decided to vacate all tourists spots.
- Only essential offices of the government will remain open from 10:00am to 4:00pm from Monday to Thursday. With offices closing at 12:00pm on Fridays.
- Official meetings of more than five people has been suspended. The meetings if needed will be held through video conference.
- Only offices of minister for health and CM's adviser on information will remain open and offices of all other minsters, advisers and special assistants will be closed.
- Restaurants, eateries and fast food joints have been closed till April 5. They will only be allowed to provide takeaway and home delivery services.
- Barber shops and beauty parlours will be closed for the next 15 days.
- Banks have been directed to install hand sanitizers at all ATMs.
---
5:10pm - Mirpur, AJK — AJK confirms first case, nationwide tally goes to 250
Azad Jammu and Kashmir Prime Minister Raja Farooq Haider announced on Wednesday that the region has received its first coronavirus patient.
In a press conference, the AJK PM said that the patient had come to Azad Kashmir from Taftan and is being kept in an isolation ward set up in Mirpur.
Haider in the press conference also urged the Pakistani government to keep the pilgrims coming from Taftan in Dera Ghazi Khan
---
4:48pm - Quetta, Pakistan — Provincial govt releases Rs200mn to tackle COVID-19
Balochistan government spokesperson Liaquat Shahwani said Wednesday the provincial government had released Rs200million to tackle the coronavirus.
In a tweet Shahwani said: "Balochista Govt has released 200 M to combat #CoronaVirusChallenge. 35K N95 Masks 36000 Surg Masks, 2 PCR machines."
---
4:26pm - London, United Kingdom — Glastonbury cancels 50th anniversary festival 
The organisers of the annual Glastonbury music festival said on Wednesday they had cancelled this year's 50th anniversary event due to the coronavirus pandemic.
"We are so sorry to announce this, but we are going to have to cancel Glastonbury 2020," organisers said in a statement on Twitter, adding tickets for the 2020 event will roll over to 2021.
---
4:25pm - Islamabad, Pakistan — PM Imran to visit Dera Ghazi Khan today
Prime Minister Imran Khan will visit Dera Ghazi Khan today to get a briefing regarding the steps being taken against Coronavirus.
According to a press release of PM office media wing, during the visit, the prime minister would review arrangements made for the Coronavirus affected people.
Special assistant to PM on Health Dr Zafar Mirza, Chairman National Disaster Management Authority (NDMA), Special Assistant to PM Dr Moeed Yusuf and Shahbaz Gill accompany the prime minister
---
4:20pm - Murtaza Wahab shares video of quarantine facility set up by Sindh govt
---
4:17pm - Tokyo, Japan — Country expands entry ban, quarantine over virus
Japan's prime minister said on Wednesday the country will expand quarantine measures and a ban on entry from parts of countries including Italy and Spain affected by the coronavirus outbreak.
The announcement by Prime Minister Shinzo Abe adds parts of Italy, Spain and Switzerland and all of Iceland to existing rules banning the entry of foreign travellers coming from hard-hit parts of China, South Korea and elsewhere.
The new measures also expand a list of countries subject to quarantine on arrival, although the 14-day isolation is a request, with no specific enforcement features.
---
4:15pm Vatican City — Pope urges hugs, phone calls to fight off isolation
Pope Francis stressed the importance of families and friends making small gestures such as hugs and phone calls during times of isolation in a pandemic.
"We must rediscover the concrete nature of small things, of making small gestures toward those around us — family, friends," the 83-year-old pontiff told the La Repubblica newspaper.
"They are gestures of tenderness, of affection, of compassion, which are nonetheless decisive and important — for example, a hot dish, a caress, a hug, a phone call."
---
4:10pm - Madrid, Spain — Virus infections top 13,700 with 558 deaths
The number of people infected by COVID-19 in Spain soared past 13,700 on Wednesday with the number of deaths rising to 558, the health ministry said.
"We have 13,716 cases in Spain, which is 2,538 more than yesterday, which implies an increase of 18%," said the ministry's emergencies coordinator Fernando Simon, indicating the number of deaths had risen by 67 over the same period.
---
4:07pm - Lahore, Pakistan — 40 isolation wards set up in Punjab 
Punjab Health Minister Dr Yasmin Rashid announced on Wednesday that the province has 40 isolation wards in government hospitals.
In a tweet, the minister stated that the province has two government testing facilities and one private testing facility set up at the Shaukat Khanum Hospital. The private hospital is assiting the government without any charges.
Dr Rashid also stated that three quarantine hospitals have been set up for critical patients in Punjab, with one each North, Central and South Punjab.
---
4:00pm - Johannesburg, South Africa — Virus cases jump to 116
South Africa on Wednesday recorded its highest 24-hour increase in coronavirus infections to date, with 31 new cases taking the country's tally up to 116, government announced.
Africa's most industrialised economy is the most affected in sub-Saharan Africa and second-most impacted on the continent after Egypt, which has recorded 196 cases.
The country's first coronavirus infection, confirmed on March 5, was detected in a man who had arrived from Italy -- the new centre of a pandemic that has infected more than 19,000 people worldwide and killed over 7,800.
"As of this morning, 18 March 2020, South Africa now has 116 confirmed cases of COVID-19," Health Minister Zweli Mkhize said in a statement.
---
3:53pm - Tehran, Iran — 147 new deaths bring Iran's total to 1,135
Iran said that the novel coronavirus has killed 147 more people, a new single-day record in the virus-stricken country that raised the overall toll to 1,135.
"Now everyone knows about this disease, and what is very strange is that some don't take it seriously," Deputy Health Minister Alireza Raisi said in a televised news conference.
"If people help, we can control it, and if not, then expect it to last more than two months."
---
3:51pm - Ouagadougou, Burkina Faso —  First virus death reported in sub-Saharan Africa
The Sahel state of Burkina Faso on Wednesday announced its first death from coronavirus, which is also the first known fatality in sub-Saharan Africa.
"We recorded the death overnight of a female patient aged 62, who suffered from diabetes and was in intensive care," Burkina's national coordinator for responding to the virus, Professor Martial Ouedraogo, told the press.
---
3:44pm - Peshawar, Khyber Pakhtunkhwa — Three new cases reported, nationwide tally goes to 249
The nationwide tally of coronavirus cases now stands at 249 after three new cases were reported in Khyber Pakhtunkhwa.
Khyber Pakhtunkhwa's Health Minister Taimur Khan Jhagra announced on Twitter that cases were reported from Buner, Hangu and Mardan districts of the province. The total provincial tally now stands at 19.
"Out of the three, one case is being treated at DHQ Buner, and the other two have been admitted to LRH and MMC Mardan, respectively," said Jhagra.
Meanwhile, Punjab government spokesperson Mussarat Cheema reported that no new cases were found in Punjab as of 2:00pm today.
---
3:35pm - Peshawar, Pakistan — PHC excuses clients from court hearings 
Peshawar High Court Chief Justice Waqar Ahmed Seth has directed lawyers to ask their clients to not come for hearings to the court.
Only the lawyers need to be present for the hearings, Justice Waqar said, adding that no cases would be postponed as the judges are not taking any time off.
---
3:25pm - Lahore, Pakistan — Pilgrims decry poor conditions at quarantine camp in Taftan
Hundreds of pilgrims from Iran stuck in coronavirus quarantine camps at Taftan near the border with limited medical care, fear poor conditions is helping the spread of the disease.
Speaking to AFP, current and former residents of Taftan camp said the facility lacks running water or flushable toilets, with detainees only able to wash every few days.
Government figures show half of the 241 confirmed cases of novel coronavirus in Pakistan are in people who went on pilgrimages to Iran — one of the countries hardest-hit by the disease.
Read more here
---
3:24pm - Lahore, Pakistan — Malindo Airways last flight to depart from Lahore today
Malindo Airways last flight for Malaysia will depart from Lahore airport today, after the airline announced the suspension of its flight operations till March 31.

---
3:13pm - London, United Kingdom — Mideast states not communicating insufficiently: WHO
The World Health Organisation (WHO) said on Wednesday that some information about coronavirus cases was being "insufficiently communicated" by Middle East states.
Ahmed Al-Mandhari, WHO Regional Director for the Eastern Mediterranean, said there were "uneven" approaches across the region in fighting coronavirus and that "much more needs to be done".
---
2:55pm - Berlin, Germany — Angela Merkel to give first TV address Wednesday evening
Chancellor Angela Merkel will for the first time deliver a televised address to German citizens on the growing coronavirus crisis on Wednesday evening, a government spokesman said.
The German leader is expected to urge the public to heed government recommendations to stay home, after Europe's biggest economy announced sweeping new measures to slow the spread of the novel coronavirus.
---
2:51pm - Frankfurt, Germany — BMW to shut down European factories over virus
German carmaker BMW announced that it would close European and South African factories accounting for half its output for a month, matching other car giants stricken by coronavirus containment measures.
It also warned that profits this year would be significantly lower as a result of the crisis.
"From today, we will shut down our European car factories and the Rosslyn factory in South Africa," chief executive Oliver Zipse said, adding that the interruption is expected for now to last "until April 19".
---
02:30pm - New Delhi, India — India says 276 citizens have tested positive overseas
A total of 276 Indians have tested positive for coronavirus overseas to date, an Indian government minister said on Wednesday.
The vast majority, 255, tested positive in Iran, with others in the United Arab Emirates, Italy, Kuwait, Sri Lanka, Rwanda and Hong Kong, V. Muraleedharan, minister of state for external affairs, said in a written reply to a question in India's parliament.
---
02:18pm - Dubai, UAE — Emirates asks pilots to take unpaid leave
DUBAI: Emirates, one of the world's biggest international airlines, has asked pilots to take unpaid leave to help it mitigate the impact of the coronavirus pandemic that has shattered demand for global travel.
"To this end you are strongly encouraged to make use of this opportunity to volunteer for additional paid and unpaid leave," the airline said in an internal email to pilots, seen by Reuters.
Emirates earlier this month asked some staff to take unpaid leave, although at that time it was not available to pilots.
---
1:20pm- Karachi, Pakistan — Sindh reports nine more cases, provincial tally at 181
The number of confirmed coronavirus cases in Sindh rose to 181 after nine more cases were reported in the province.
The number of confirmed cases in the country now stands at 246. 
---
1:00pm - Islamabad, Pakistan — No exams in country before June 1: education minister
Education Minister Shafqat Mehmood on Wednesday said that no exam will be held in the country before June 1.
"All exams will be held in the country from June 1-15," Mehmood told a press conference.
"We have also recommended the universities to empty their hostels, however these directives will not apply to foreign students," the minister said, adding that the foreign students' movements will be limited to the university campus.
Responding to a question about some schools still calling their teachers, the minister said it was not necessary for the teachers to show up, however, if the institute needed them they if the institute required it.
"We are also working with education institutes to come with alternate plans on how students can continue with their education till school are shut in the country till April 5. We are trying to work on a plan in which we can have PTV broadcast some lectures on TV," he said.
Mehmood added the Higher Education Committee (HEC) had also established three committees — a tech support committee, a content committee and a preventive measures committee — to oversee things.
In response to another question about postponement of the Cambridge International Exams (CIEs), the education minister said no exams will be held before June 1 as announced by the government.
"I have spoken to the authorities and have requested them to take the May exams in June rather than the second batch in October," he said.
Mehmood also said they were cancelling all events Lok Virsa and Pakistan National Council of Arts (PNCA).
---
12:45pm - Beijing, China — One new domestic virus infection reported 
China reported just one new domestic case of the coronavirus on Wednesday but a dozen more imported infections.
For the second consecutive day there was only one more fresh infection in Wuhan, the central city where the virus first emerged late last year, the National Health Commission said.
New cases in surrounding Hubei province have now been in the single digits for the past seven days, down from a peak of several thousand per day in early February.
Imported cases are a rising concern for China, with 12 more reported Wednesday, bringing the total number to 155 and fuelling fears of an influx.
---
12:30pm - Karachi, Pakistan — SHC to hear only urgent cases
Sindh High Court on Wednesday announced it will hear only urgent cases amid the coronavirus pandemic.
"In light of coronavirus pandemic in the country and likelihood of its spread in overcrowded places, the chief justice has been pleased to order that only cases of urgent nature will be heard and decided in this court while in case of absence of any counsel, in any matter, no adverse orders shall be passed," a circular said.  
---
12:20pm- Lahore, Pakistan — Quarantine centre set-up in Punjab University
A Punjab University spokesperson on Wednesday said a quarantine centre will be setup in the university's Centre of Excellence in Molecular Biology.
"Hostels in the Centre of Excellence in Molecular Biology, others will be used as a quarantine centre," the spokesperson added. 
---
12:05pm- Taftan, Balochistan — Pak-Iran border closure enters third day, trade activities remain suspended
The closure at the Pakistan-Iran border entered a third straight day on Wednesday amid the coronavirus outbreak.
Levies officials said 750 pilgrims have been sent to their native areas. "All of the pilgrims belong to different areas in Sindh. They have been shifted via buses to Sukkur," officials said.
"Five of the pilgrims are in isolation centres," officials added. 
---
11:55am - Coronavirus deaths cross 8,400 worldwide
The global death toll from coronavirus crossed past 8,400 on Wednesday, with cases and deaths outside China overtaking those in the country where the outbreak began, according to a Reuters tally.
The number of infections also jumped past 198,000. 
Infections outside China have been reported by 164 countries.
---
11:15am - President Arif Alvi on China visit
---
11:00am - Islamabad, Pakistan — CJP admonishes authorities for weak measures
Chief Justice of Pakistan Gulzar Ahmed on Wednesday admonished the federal authorities for not taking appropriate measures at the airports in view of coronavirus outbreak.
The virus is being discussed everywhere in the country, the CJP remarked.
"Coronavirus came here from airport, this happened because of the irresponsible attitude of the government and Pakistan International Airline."
If such is the state of security then don't know what sort of diseases would come here, he said.
The government did not take any step to contain the outbreak and asking us to stop working, the chief justice noted.
---
10:45am - Islamabad, Pakistan — China to provide Pakistan with testing kits, protective gears, ventilators, says Qureshi
China has decided to provide Pakistan with testing kits, protective gear and portable ventilators as the country tries to grapple with the coronavirus outbreak.
"China has decided it will provide us with a cash grant to set up a state-of-the-art isolation centre to combat the coronavirus outbreak in the country," Foreign Minister Shah Mehmood Qureshi told Geo Pakistan.
The foreign minister who was part of a delegation comprising President Arif Alvi had travelled to Beijing, to meet with the Chinese leadership and to sign several Memorandums of Understanding (MoUs) between the two countries.
"They are ready to help us and have even offered to share their medical expertise to combat the spread," Qureshi said.
The foreign minister added he will go under five-day isolation after his trip to China. 
Read more here. 
---
10:35am - Karachi, Pakistan — Trading halted at PSX
Trading has once again been halted at the Pakistan Stock Exchange (PSX) when the benchmark KSE-100 plunged 1,682 points in the morning session.
This is the fifth time in the last eight days when the halt has been triggered.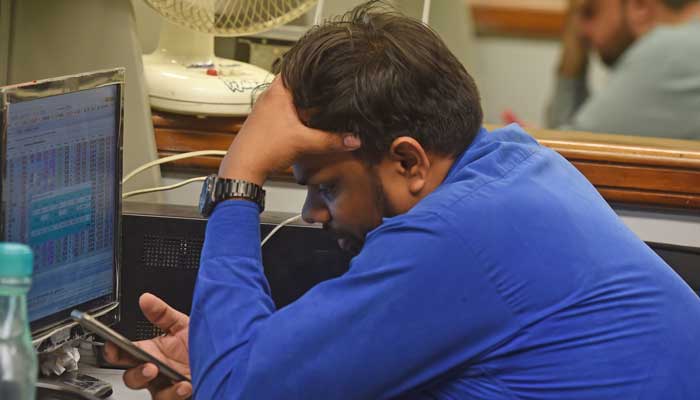 Read more here. 
---
10:15am- San Francisco, US — Facebook offers $100mn to virus-hit small businesses
Facebook said Tuesday it was offering $100 million to help small businesses in 30 countries cope with the economic impacts of the coronavirus pandemic.
The social networking giant said it will be giving cash grants and ad credits to as many as 30,000 enterprises.
"We've listened to small businesses to understand how we can best help them," chief operating officer Sheryl Sandberg said.
"We've heard loud and clear that financial support could enable them to keep the lights on and pay people who can't come to work."
---
9:56am - Karachi, Pakistan — Streets give deserted look
The streets of Karachi were giving a deserted look on Wednesday after the Sindh government imposed more restrictions on the movement in an attempt to slow down and contain the coronavirus outbreak in the province.
The authorities on Tuesday announced closure of intercity transport, public offices, all the Out-Patient Departments (OPDs) at public hospitals, shopping malls, restaurants, food streets, public parks for 15 days in the entire province, except for essential services.
The restaurants were, however, allowed to offer home delivery services.
The Sindh chief minister announced the closure of shopping malls, restaurants, public parks and offices while presiding over the 20th meeting of Task Force on Coronavirus here at the CM House.
---
9:45am - Manila, Philippines — CNN Philippines goes off-air
CNN Philippines stopped broadcasting on Wednesday after a coronavirus case was confirmed in the building where the television channel is based, forcing it off the air while the offices are disinfected.
"CNN Philippines will temporarily stop broadcasting on Wednesday after a COVID-19 case was confirmed in the building (in Manila) where the company is located," the franchise said on its website.

"We have prepared for this emergency. For more than two weeks, many of our colleagues have been isolated and working from home already," a company statement said.
The Philippines has reported just a fraction of the infections seen in hotspots such as China and Italy, with 187 confirmed cases and 14 deaths.
---
9:30am- Hanoi, Vietnam — New case linked to Malaysia mosque event reported
Vietnam has confirmed an additional case of coronavirus linked to a mosque event in Malaysia, its health ministry said on Wednesday, bringing its total number of cases to 67.
The man, identified only as "Patient 67", attended a 16,000-person mosque gathering in Kuala Lumpur and is the second patient in Vietnam linked to the event, the health ministry said in a statement.
---
9:20am - Ottawa/Washington, Canada, US — Borders to be closed to non-essential travel
Canada and the United States will announce a deal to partially close their borders on Wednesday, which will allow trade and commerce to go on, reported The Globe and Mail, on Tuesday, citing sources.
The two countries are finalising a deal to close the borders to non-essential travel in order to control the spread of thecoronavirus, the report said.
Canada closed its borders to all foreign nationals except US citizens and permanent residents on Monday.
---
9:00am - Sydney, Australia — Emergency declared in country, citizens urged to abandon overseas travel
Australian Prime Minister Scott Morrison on Wednesday declared a "human biosecurity emergency" and said the country's citizens should abandon all overseas travel because of the coronavirus epidemic.
The formal declaration gives the government the power to close off cities or regions, impose curfews and order people to quarantine, if deemed necessary to contain the spread of the virus.
"Life is changing in Australia, as it is changing all around the world," Morrison said during a televised news conference. "Life is going to continue to change, as we deal with the global coronavirus. This is a once in a hundred-year type event."
According to Reuters, Australia has recorded around nearly 500 coronavirus infections and six deaths. New South Wales, the country's most populous state, reported its biggest one-day surge in new cases on Wednesday.
Morrison said the tighter ban on indoor social gatherings, down to 100 people from 500 people, did not include essential services like schools, public transport and shopping centres.
---
8:45am- Brussels, Belgium — Lockdown to be imposed from March 18 to April 5
Belgium will impose a lockdown from today until April 5 that will restrict the movement of people to contain the spread of coronavirus, Belgian television RTBF reported.
According to Reuters, Belgians' travel will be limited to visits to supermarkets, pharmacies and banks or for cases of emergency.
Gatherings of people will be forbidden but physical activity will be allowed outside, provided a distance of 1.5 metres between people is respected.
---
8:30am - Washington, US — Trump calls for national unity against coronavirus
US President Donald Trump on Tuesday called for a unified national response to the coronavirus threat, after coming under fire for downplaying the pandemic and allowing states to go their own way.
"We are looking to save the maximum number of lives. Everything else is going to come back, but a life is not going to come back," Trump said.
The number of US cases has surged to almost 6,400, according to a tracker maintained by Johns Hopkins University, with 100 deaths according to an AFP tally.
The outbreak has spread to all 50 US states after West Virginia confirmed its first case Tuesday..
"It's been a great thing to see... getting along with Democrats, getting along with Republicans," said Trump.
"There's been a lot of spirit with things happening that I haven´t seen in almost three and a half years."
Read more here. 
---
8:15am - Bishkek, Kyrgyzstan — First cases confirmed in country
Kyrgyzstan has confirmed its first three coronavirus cases, Healthcare Minister Kosmosbek Cholponbayev said on Wednesday.
Three Kyrgyz nationals tested positive after arriving from Saudi Arabia, he told a briefing.
09:40pm/March 17 — Karachi, Pakistan — Sindh orders major hospitals' OPDs shut down
The government on Sindh late Tuesday ordered all major public hospitals to shut down their out-patient departments (OPDs) for the next 15 days, with the decision coming into effect tomorrow (Wednesday).
---
07:32pm/March 17 — Karachi, Pakistan — CIEs postponed
Sindh Education Minister Saeed Ghani has announced that all exams under Cambridge International Exams (CIE) for the upcoming May/June session have been postponed.
"CIEs exams scheduled to be held in May/June will be postponed as per decision of meeting held today. Official announcement will come from Cambridge," he wrote on Twitter.
---
07:12pm/March 17 — Karachi, Pakistan — Sindh's restaurants, shopping malls to remain closed for 15 days
The Sindh government has announced that restaurants, shopping malls, parks, and Karachi's Sea View will remain closed for the next 15 days.
The decision came after the national tally of confirmed coronavirus cases soared to 230.
According to Senator Murtaza Wahab, Section 144 will be imposed at beaches and parks.
"It is clarified that shopping stores and chemists will remain open," he wrote.
According to Wahab, customers will not be able to dine in but will be able to place orders for delivery and take away.
COVER IMAGE: A health official checks the body temperature of a train passenger — amid concerns over the spread of the COVID-19 novel coronavirus — at the railway station in Karachi, Pakistan, March 15, 2020. AFP/Asif Hassan
---
For March 17 coverage of coronavirus click here.
For March 16 coverage of coronavirus click here.
For March 15 coverage of coronavirus click here.