Coronavirus updates, March 19: Latest news on the coronavirus outbreak from Pakistan and around the world
Updated Friday Mar 20 2020
KARACHI / LAHORE / ISLAMABAD / PESHAWAR / QUETTA: Pakistan's tally of COVID-19 cases rose to 456 on Thursday, after new cases were reported in Sindh, Balochistan, Khyber Pakhtunkhwa and Punjab. 
The province-wide break up of cases as of 10:56pm, March 19, is as follows:

---
Total confirmed cases: 456

• Sindh: 245
• Punjab: 78
• Khyber Pakhtunkhwa: 23
• Balochistan: 81

• Islamabad Capital Territory: 7
• Gilgit-Baltistan: 21

• AJK: 1
Deaths: 2
Khyber Pakhtunkhwa: 2
---
Globally, 176 countries have been affected, more than 9,000 people have died and more than 220,000 infected by the disease as it spreads rapidly to new territories.
The epicentre of the outbreak has now shifted to Europe, which is recording a rapid rise in new cases every day.
Read on for the latest updates from Pakistan and around the world.
Disclaimer: There may be some discrepancy in the number of confirmed cases reported at the country level due to differences in figures quoted by federal and provincial authorities.
Geo News is constantly gathering fresh information from concerned authorities and striving to keep our readers up to date with the most accurate information available.
Orange: All general updates coming in from Pakistan
Red: All reports on new cases in Pakistan
Maroon: All reports on new deaths in Pakistan
---
END OF LIVE UPDATES FOR MARCH 19

Updates for March 20 continue here
---
11:45pm - Sukkur, Pakistan— A preview of the isolation facility set up in the city
---
11:44pm - Washington, US — Concerns mount on Capitol Hill as lawmakers catch virus
With two US lawmakers testing positive for coronavirus and others entering quarantine Thursday, concerns are mounting in Congress — where 200 members are 65 or older — over the pandemic's impact on Capitol Hill.
There are 10,700 confirmed cases across the United States and more than 150 deaths. The crisis is far greater in American hotspots like New York City and Seattle.
But institutional Washington is not immune, and fears have grown in the halls of the Capitol, where lawmakers have been conducting votes in the Senate chamber and House of Representatives — often in close quarters.
---
11:41pm - Europe — Coronavirus cases pass 100,000

The number of cases of the new coronavirus reported in Europe has surpassed 100,000, according to an AFP tally at 1700 GMT on Thursday.
Europe has at least 100,470 recorded infections, including 4,752 deaths, overtaking Asia with 94,253 cases and 3,417 deaths.
This number of diagnosed cases reflects only a fraction of the actual number of infections as many countries test only those with the most severe symptoms.
---
11:38pm - Washington, US — 'Millions could die if virus allowed to spread unchecked'
Millions of people could die from coronavirus, particularly in poor countries, if it is allowed to spread unchecked, UN Secretary-General Antonio Guterres warned Thursday, appealing for a coordinated global response to the pandemic.
"If we let the virus spread like wildfire — especially in the most vulnerable regions of the world — it would kill millions of people," Guterres said.
"Global solidarity is not only a moral imperative, it is in everyone's interests," he said.
Guterres stressed the need for a coordinated global response to contain a "health catastrophe" that already has claimed the lives of more than 9,000 people and infected more than 217,500 around the world.
"We need to immediately move away from a situation where each country is undertaking its own health strategies to one that ensures, in full transparency, a coordinated global response, including helping countries that are less prepared to tackle the crisis," he said.
---
11:35pm - Washington, US — Trump claims US accelerating anti-malarial drug to treat virus
The US is fast-tracking the anti-malarial drug chloroquine for use as a treatment against the new coronavirus, President Donald Trump said Thursday.
"We're going to be able to make that drug available almost immediately, and that's where the FDA (Food and Drug Administration) has been so great," Trump told reporters.
"They've gone through the approval process — it's been approved. They took it down from many, many months to immediate. So we're going to be able to make that drug available by prescription."
---
10:35pm — Quetta, Pakistan — Five more cases reported, taking provincial total to 81
The Balochistan government spokesperson Liaquat Shahwani has confirmed 5 new cases in the province, taking its total to 81.
"The patients are being shifted to isolation rooms," he wrote.

---
10:05pm — New Delhi, India — one-day curfew imposed to combat virus
India's government on Thursday announced a one-day curfew for the 1.3-billion population and banned international flights to test the country's ability to fight the coronavirus pandemic, reported AFP.
Prime Minister Narendra Modi called on Indians in a nationwide address to observe a "Janata (civil) curfew" on Sunday from 7:00am to 9:00pm as he warned that the deadly virus could spread further.
"No-one should leave their homes, roam around the streets or in their neighbourhoods... This self-imposed curfew attempt will be a strong symbol to show self-restraint in the interest of the country," he said.
---
9:54pm — Gilgit, Pakistan — Eight new infected with virus, regional tally hits 21
Deputy Commissioner Gilgit Baltistan confirmed eight more cases of the coronavirus in the region, taking the regional tally to 21.
The commissioner confirmed that the new patients had reached GB via Taftan border.
Four of the patients hail from district Gilgit, while the remaining are from Nagar district.
---
09:48pm — Karachi, Pakistan — Another patient recovers, taking total to 3
A patient from Hyderabad, who had been diagnosed in Karachi, has been sent home, making it the third patient to have recovered from COVID-19 in the country.
---
09:35pm — Quetta, Balochistan — 31 new cases takes provincial tally to 76
Balochistan government spokesperson, Liaquat Shahwani has confirmed 31 new cases in the province, taking its total to 76.
"The new patients are being taken to Sheikh Zayed Hospital," he said.
Shahwani said that the new cases had emerged from the Mian Ghundi quarantine centre.

---
09:19pm — Karachi, Pakistan — 28 new cases in city take Sindh's total to 245
According to a statement by the spokesperson for Chief Minister Sindh Murad Ali Shah, 28 new cases have emerged in Karachi, taking the province's total to 245. 

08:41pm — Islamabad, Pakistan — China provides $4 million grant, medical equipment to Pakistan
Federal Minister for Economic Affairs Hammad Azhar has just confirmed that China has provided Pakistan a $4-million grant alongside medical face masks and much-needed equipment, including ventilators.
"They have also undertaken to arrange for a much greater number of ventilators," he wrote.
---
08:02pm — Quetta, Balochistan — Balochistan govt sends staff to Taftan for testing quarantined patients
The Balochistan health department has sent staff for taking samples of quarantined persons in Taftan, where pilgrims from Iran had crossed over.

Six laboratory technicians have been sent, along with 20,000 masks, 1,000 surgical gloves, 25 items of personal protection and 70 Viral Transport Media (VTM) which is used to transport nasal swab samples from medical facilities to coronavirus-testing laboratories.
---
07:25pm — Islamabad, Pakistan —  National dashboard to provide 'verified' total of cases: Dr Mirza
The prime minister's advisor on health, Dr Zafar Mirza has announced that a national dashboard will provide the latest tally of cases in the country.

He urged citizens to take stock in these figures as they will be the only "verified" source of information.

At the same time, Dr Mirza said: "We don't need to be obsessive about the number as there are thousands of confirmed coronavirus cases in other countries."

---
07:12pm — Karachi, Pakistan — 4 more cases surface in Karachi
According to an update by the Sindh health department, the total number of cases in Karachi has risen by 4 to 66.

The number of cases in Sindh now stands at 217.
---
6:33pm — New Delhi, India — India confirms death of citizen in Iran
India has confirmed the death of one of its citizens residing in Iran, marking it the first death of an Indian national outside the country.

A link to a live press conference by the Press Information Bureau was shared by Rezaul Hasan Laskar, the foreign editor at Hindustan Times.

---
6:08pm - Karachi, Pakistan — Sindh releases Rs60m for Sukkur quarantine facility
The Sindh government released Rs60 million to take care of the pilgrims currently residing in the Sukkur quarantine facility, the provincial spokesperson said Thursday.
"We will arrange funds from somewhere, but will take care of quarantined pilgrims," the spokesperson said.
5:51pm - New Delhi, India — India bans incoming international flights for a week over virus
All incoming international flights to India will be banned for one week starting Sunday, the government said on Thursday as it announced the latest raft of measures to combat the spread of the coronavirus pandemic.
Ahead of a national address by Prime Minister Narendra Modi late Thursday, the government said in a statement that "no scheduled international commercial passenger aircraft shall be allowed to land in India from March 22".
All citizens above 65 and children under 10 were advised to "remain at home".

---
5:45pm - London, UK — London mosques to be shut down 
London's Mosques Committee announced the closure of all mosques in the city due to the coronavirus outbreak.
The committee also decided to close down Friday prayer, five-time prayer congregations and madarsah's as well. It also banned all sort of gatherings in the mosques. 
---
5:38pm - Islamabad, Pakistan — Pakistani missions establish 24/7 hotline
Foreign Office spokesperson Aisha Farooqui has said that Pakistani missions abroad have established 24/7 hotlines to assist the diaspora.
In the tweet, the spokesperson said that the decision has been taken as part of the ministry's COVID-19 safety and coordination measures. She added that the missions have also designated focal persons.
---
5:30pm - Lahore, Pakistan — Punjab reports 45 new cases, nationwide tally goes to 380
Punjab Health Minister Dr Yasmin Rashid announced that the province has received 45 new cases, taking the nationwide toll to 380.
The minister stated that the provincial tally of the coronavirus cases of Punjab now stands at 78.
---
5:25pm - Lahore, Pakistan — Buzdar appoints Barrister Nabeel Awan as focal person for Punjab 
Punjab Chief Minister Usman Buzdar on Thursday appointed Secretary of Specialized Healthcare and Medical Education Department Barrister Nabeel Awan as the focal person for coronavirus in the province.
According to the notification, Awan would brief the media everyday regarding the situation of the virus in the province.
---
5:07pm - Quetta, Balochistan — 83 arrested from Pak-Iran border at Turbat, sent to quarintne centre 
Authorities near the Pakistan-Iran border near Turbat apprehended 83 citizens trying to enter the country illegally.
The apprehended people have been arrested and have been sent to the quarantine centre in Turbat. The officials added that the citizens belong from different areas of Sindh and tried to enter the country illegally after the closure of legal routes.
---
4:58pm - Ankara, Turkey — Ankara sends 500,000 coronavirus test kits to US
Turkey has sent 500,000 coronavirus test kits to the United States upon their request, Health Minister Fahrettin Koca said on Thursday.
In a speech to parliament, Koca said that Ankara aimed to increase rapidly its own testing within Turkey and had a target of carrying out 10,000 to 15,000 tests per day. He said more than 10,000 tests have so far been carried out in total.
---
4:45pm - Karachi, Pakistan — NDMA disinfects Karachi airport
NDMA officials on Thursday disinfected the Jinnah terminal at the Karachi's airport, said a spokesperson for the authority.
The official said that the operation for cleanliness was started at 11:00am. The spokesperson added that all concerned departments and cargo areas of the airport were also disinfected. He added that Governor Sindh Imran Ismail also reviewed the operation.
---
4:40pm - Madrid, Spain — Spain virus death toll hits 767, 30% jump in 24 hours
Spain on Thursday announced deaths due to the novel coronavirus had risen about 30 percent over the past 24 hours to 767.
A total of 17,147 people have contracted the disease in the country, a roughly 25 percent increase over the previous day, according to the health ministry, with the figure expected to rise further in the coming days as testing for COVID-19 becomes more readily available.
---
4:38pm - Pakistan facing one of its gravest crises: Maryam Nawaz
Pakistan Muslim League-Nawaz leader Maryam Nawaz has stated that the country is facing one of the gravest crises in its recent memory.
Maryam said that the spread of coronavirus poses a serious threat, adding that it needs to be fought at all levels.
"In the hour of trial, we must take precaution, follow the medical guidelines & pray to Allah SWT for His protection," said Maryam.
---
4:29pm - Global death toll from coronavirus tops 9,000
The coronavirus pandemic has killed more than 9,000 people across the globe.
A total of 9,148 deaths were recorded, with 4,134 in Europe and and 3,416 in Asia, where the outbreak first emerged in China in December.
While the total number of cases now stands at 222,973.

---
4:25pm Karachi, Sindh — We are heading towards a lockdown: Bilawal
Pakistan Peoples Party Chairman Bilawal Bhutto Zardari has announced that the country is heading towards a lockdown due to the coronavirus.

The PP chairman was addressing a press conference at the Sindh Assembly with Chief Minister Sindh Murad Ali Shah.
---
4:21pm - Peshawar, Pakistan — KP reports four new cases, nationwide tally goes to 335
Khyber Pakhtunkhwa reported four new cases of coronavirus in the province, taking the nationwide toll to 335.

According to the health department, the two patients have no foreign travel history, one is a relative of a previously confirmed case and one has no travel history or known contact with a confirmed case. 
The provincal tally of KP now stands at 23. The health department has also dismissed reports of 15 new cases in the province.
---
4:15pm - Islamabad, Pakistan — 12 trains stop operating in from March 22: Shaikh Rasheed  
Railways Minister Shaikh Rasheed has announced that 12 train stations will stop operating in the country from March 22.
The minister also announced that if there was a need then 20 more trains will be stopped. The minister also announced that cleanliness was being improved at all train stations.
---
4:08pm - Brussels, Belgium — EU's Brexit negotiator Barnier says he has COVID-19
The EU's chief Brexit negotiator Michel Barnier has the coronavirus, he announced on Thursday.
"I tested positive yesterday for Covid-19. I'm as well as I can be, strictly confined to my home," Barnier, 69, said in a video posted on his Twitter account. "I'm fine, morale is good," he added.
---
3:56pm- Islamabad, Pakistan — Authorities ban gathering of more than 10 people
---
3:54pm - Tehran, Iran — Death toll rises from virus rises to 1,284
Iran's death toll from the coronavirus outbreak jumped to 1,284 on Thursday, a health ministry official told state TV.
The total number of people infected from the virus now stands at 18,407. 
---
3:41pm- Karachi, Sindh — Two new cases reported, provincial tally rises to 213
Sindh on Thursday reported two new cases of coronavirus, taking the provincial tally to 213.
The two new cases were reported in Karachi. 
The number of confirmed cases in Pakistan now stand at 331. 
---
3:37pm - Lahore, Pakistan — Trains to stop at stations for 2 mins only amid virus fears
The Railway Department on Thursday announced that in a bid to lessen the rush at the Lahore Station, all trains will at Lahore Cantt, Walton and Kot Lakhpat will only stop at the station for only two minutes.
---
3:23pm - Islamabad, Pakistan — Govt to give relief package to exporters 
Adviser to Prime Minister on Commerce Abdul Razzak Dawood announced that the government will be giving a relief package to the exporters.
In a tweet, Dawood said that the package would be given "to ease the liquidity problems faced" by the exporters.
"I want to assure our exporters that the government is fully aware of the difficulties faced by you due to the coronavirus," said Dawood
---
3:15pm - Islamabad, Pakistan — Govt suspends training program for Hajj pilgrims
The government has suspended training program for intending Hajj pilgrims as part of a preventive measure against spread of coronavirus.
In a statement on Thursday, Minister for Religious Affairs and Interfaith Harmony Dr Noor-ul-Haq Qadri said the decision has been taken following ban on gatherings in wake of coronavirus outbreak in the country.
He said all Haji camps across the country have been informed about this decision.
He said arrangements for Hajj 2020 are underway as per routine and the government is in contact with Saudi government in this regard.
---
2:47pm - Islamabad, Pakistan — Wagah Border closed over virus fears
Pakistan on Thursday closed the Wagha Border in its bid to prevent the spread of virus in the country, the interior ministry said.
According to the notification by the interior ministry, the border will be closed for 2 weeks.
Border closure is in the interest of both Pakistan and India, the notification added. 
---
2:41pm - Quetta, Balochistan — 22 new cases reported, provincial tally rises to 45
Balochistan government spokesperson on Thursday confirmed that the province had reported 22 new cases, taking the provincial total to 45.
This takes the total number of cases to 329. 
---
2:30pm - Port of Spain, West Indies — Windies offer to host Pak-Eng series
The Caribbean cricket board has offered to host England's three-test series against Pakistan, which is scheduled to be begin at Lord's on July 30, according to ESPNcricinfo.
Cricket West Indies (CWI) CEO Jonny Grave has spoken to his English counterpart and offered to host the three-test series, ESPNcricinfo reported.
Read more here. 
---
2:00pm - Manchester, England — Pakistani diaspora in UK unhappy with new travel condition
Pakistani diaspora in United Kingdom has objected to the new restriction on passengers travelling to any airport in Pakistan.
According to a notification by Pakistan International Airlines (PIA), entry within Pakistan's Territorial limits would not be allowed without an authentic coronavirus negative test result.
This means that all passengers, including Pakistani expatriates, will have to get a coronavirus test result certificate before they travel to Pakistan within 24 hours of travel.
Dr Ansar Hayat a GP based in Maybush Medical Centre in Wakefield said, "We have had so many people asking for this certificate today, we have advised people not to travel unless it's essential. Currently, there is no such facility available even for frontline staff within NHS unless they show symptoms. NHS is only testing those patients at hospitals who are showing symptoms. However private patients can be tested and given a certificate with their passport details at a cost of £375 but arranging all of this within 24 hours is very difficult."
"This decision is extraordinary as no hospital or clinic tests a healthy person for COVID-19," said Dr Hayyat. 
---
Dr Umar Saif's proposal for containing corona outbreaks
---
Here's why you shouldn't take ibuprofen if you have COVID19
---
1:40pm- Hyderabad, Pakistan — Inter-city bus service suspended
The inter-city bus service has been suspended in Hyderabad after a notification was issued by the transport authorities.
The suspension of service has led to rush at bus stations with the passengers complaining that taxis and rickshaws were charging exorbitant fares.
---
1:30pm- India locks down Kashmir region over virus fears
India blocked roads in Kashmir on Thursday after the region reported its first case of coronavirus, as several other parts of the country imposed restrictions on public gatherings in attempts to prevent its spread.
In Kashmir, dozens of people told Reuters they had been prevented from leaving their neighbourhoods on Thursday because roads were blocked by police and paramilitary units.
Srinagar's senior superintendent of police Haseeb Mughal told Reuters that road blockades across the valley had been imposed to prevent the spread of the virus.
"I had to go to take my mother to hospital in Srinagar but the police has closed the road," said Mohammed Ayub, from the nearby town of Budgam.
---
1:15pm - UAE suspends entry of valid residence visa holders abroad
United Arab Emirates will suspend entry of valid residence visa holders who are still abroad starting at noon on Thursday for two weeks, over coronavirus concerns, state news agency WAM said on early Thursday.
The UAE has recorded 113 cases on the flu-like disease.
---
KE gears up to maximise customer facilitation during outbreak
K-Electric has said it will ensure seamless customer support in the midst of the coronavirus outbreak, whilst taking all necessary precautions and safety measures.
The power utility said it was working according to stipulated World Health Organisation (WHO) guidelines, to ensure the safety of its employees as well as its customers.
"The health and safety of KE employees as well as customers is a primary focus at K-Electric and the company has ensured the isolation of all critical sites including power stations and load dispatch centers. KE is also working in close coordination with the Government of Sindh to ensure uninterrupted power supply to all critical sites such as hospitals, health and rescue services, water pumping stations and other key government functions," the power supplier said. 
---
1:00pm - Lahore, Pakistan — Services Hospital closes OPD, establishes coronavirus counter
The Services Hospital administration on Thursday announced it was closing the out-patient department (OPD) at the health facility and establishing a coronavirus counter.
Patients will be treated in the emergency ward, the administration said.
---
12:45pm - Quetta, Balochistan — CM responds to criticism over Taftan quarantine centre
Chief Minister Balochistan has responded to criticism over lack of facilities at the quarantine centres established in Taftan by the provincial government for the pilgrims coming from Iran.
---
Protective equipment provided to Services Institute of Medical Sciences staff 
---
12:30pm- Karachi, Sindh — Govt to provide one month ration to the needy
The Sindh government on Thursday announced it will provide one-month ration to the needy amid the coronavirus outbreak in the country.
"We want to send ration bags to the needy at their homes," Chief Minister Murad Ali Shah said during a meeting here today, adding that  2000,000 ration bags would be provided in the first phase.
He added the ration bags would contain rice, flour and three different kinds of pulses, oil, sugar, tea, dry milk and spices.
---
12:15am - Lahore, Punjab — Police raid factory, seize counterfeit sanitizers
Punjab authorities on Thursday raided a factory and seized counterfeit sanitizers from Lahore.
The suspect was making counterfeit sanitizers at home, police said, adding that the suspect was supplying fake sanitizers to corner stores in streets. 
---
12:00pm - Lahore, Pakistan — Punjab imposes emergency
Punjab on Thursday imposed emergency in the province after more cases were reported in the province.
"The provincial government has established a Rs5 billion fund to fight coronavirus," Chief Minister Usman Buzdar said, adding that three hospitals in Muzaffargarh and Rawalpindi have been specified for coronavirus.
The chief minister also issued orders to shut markets in the province by 10pm. 
---
11:56am — Coronavirus deaths cross 8,900 worldwide
More than 219,385 people have been infected by the novel coronavirus across the world and 8,970 have died, with cases and deaths outside China overtaking those in the country where the outbreak began, according to the latest tally.
Infections outside China have been reported by 172 countries.
---
11:48am - Lahore, Pakistan — Civil Services Academy closed till April 5
Civil Services Academy Walton has been closed down till April 5, announced the academy's Director General Sohail Ahmed.
Ahmed said that the under training officers hostel has been emptied and the probationary officers have been sent home.
---
11:42am - Karachi, Pakistan — Sindh reports three new cases, nationwide tally goes to 307 
The Sindh government on Thursday reported three new cases of coronavirus, taking the nationwide tally to 307.
According to the provincial government, the three new cases were reported in Karachi. The emergence of the new cases takes the provincial tally to 211.
---
11:38am - Lahore, Pakistan — PCB says all 128 COVID-19 tests are negative
The Pakistan Cricket Board has confirmed that the 128 COVID-19 tests conducted on the players, support staff, match officials, broadcasters and team owners on Tuesday have come in as negative. The tests were conducted as part of the PCB's duty of care, following a suspect COVID-19 case.
Additionally, Multan Sultans underwent 17 COVID-19 tests on March 16 have also come in as negative. 
Read more here. 
---
11:35am - Karachi, Pakistan — Sindh government issues notification for salary cut of government employees
The Sindh government on Thursday issued a notification for salary cut of provincial officers.

The salary will be included it in the fund created to fight the coronavirus.
Officers from grade 1 till grade 16 will face a pay cut of 5%, while officers from grades 17 till 20 will face a pay cut of 10%.
The notification also stated that 25% of salaries will be cut of Grade 21 officers, while grade 22 officers will contribute 100% of their salaries in the fund.
---
11:25am - Washington DC, USA — US suspends routine visa services: State Dept
The United States is suspending routine visa services in most countries because of the coronavirus pandemic, the State Department announced late Wednesday.
It said embassies and consulates in "most countries worldwide... will cancel all routine immigrant and non-immigrant visa appointments as of March 18, 2020."
It did not specify which countries would be exempted from the suspension, which was in response to "worldwide challenges" related to the deadly pandemic.
---
11:22am - Peshawar, Pakistan — KP suspends polio drive in five districts 
Khyber Pakhtunkhwa has suspended the ongoing five-day polio drive in five districts of the province after two deaths were reported in the province.
According to the coordinator of the Emergency Operation Centre, the drive had begun on March 16. The drive was ongoing in Charsadda, Mardan, Naushera, Swabi and Mohmand districts.
---
11:09am - Mexico City, Mexico — Country reports first death
Mexico registered its first death from coronavirus on Wednesday, the health ministry said in a statement, saying the deceased was a diabetic whose symptoms began last week.

---
11:07am - Mardan, KP — Union Council Manga put under lockdown
Union Council Manga in Mardan has been put under lockdown after a coronavirus patient died due to the coronavirus in the area.
District officials said all exit and entry points of the UC have been shut down.
The lockdown has been placed for an indefinite period.
---
11:05am - Sydney, Australia — Country bans entry of non-residents
Australian Prime Minister Scott Morrison said on Thursday all non-citizens and non-residents would be banned from entering the country from 9pm (10:00 GMT) Friday.
"The overwhelming proportion of cases in Australia have been imported.," Morrison told a televised briefing in Canberra.
Australia has recorded around 600 coronavirus infections and six deaths, a relatively small number compared to other countries, but officials are growing increasingly concerned about the prospect of a rapid spike in cases.
---
11:00am - Wellington, New Zealand — Government shuts border to all foreigners
New Zealand closed its borders to all foreigners from midnight on Thursday, as it stepped up efforts to contain the spread of the coronavirus in the country.
Prime Minister Jacinda Ardern told a press conference that citizens and permanent residents can still return, but their options are running out as many commercial airlines are cancelling flights.
---
10:55am - Gujranwala, Punjab — Medical college turned into quarantine centre 
Government medical college and its affiliated hospital in Gujranwala has been turned into a quarantine centre, said the deputy commissioner of the area.
The DC also added that the hostels of Government Home Economics College and Girls College Satellite Town have also been converted into a quarantine centre. He added that the centre can house 1,000 people.
The official also said that the isolation wards have been set up in the district headquarter hospital and two private hospitals.
---
10:45am - Lahore, Punjab — Restaurants violating section 144 sealed
District officials in Lahore sealed restaurants violating the section 144 imposed in Punjab, said an official. The DC added that the raids were carried out in main boulevards, Hussain Chowk, Gulberg Road and Kasuri Road areas of Lahore.

---
10:40am - Rawalpindi, Pakistan — DC orders closure of hotels, restaurants tourists spots in Murree 
Deputy commissioner Rawalpindi has ordered the closure of all hotels, motels, restaurants, rest houses and tourists spots in the Murree until further notice.
According to a notification, the DC took the decision in view of public interest due to the coronavirus emergency.
---
10:15am -  Taftan, Balochistan — 500 pilgrims belonging to Balochistan in quarantine centre
The Balochistan government on Thursday said currently 500 pilgrims belonging to Balchistan were in quarantine centres at the Taftan border.
"1,651 travelers were sent home last night. Of these 1,223 belonged to Punjab, 239 to KP and 189 from Gilgit-Baltistan," the government said.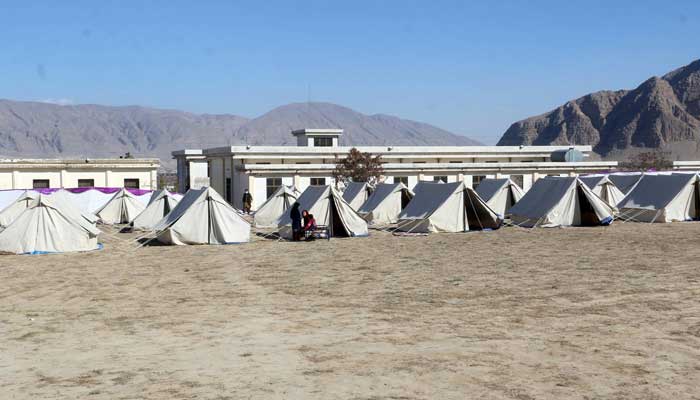 Washington, US — Practicing social distancing
09:42am - Karachi, Pakistan — PSX halts trading
Trading has once again been halted at the Pakistan Stock Exchange (PSX) when the benchmark KSE-100 plunged 1,719 points in the morning session.
This is the sixth time in the last nine days when the halt has been triggered.
Read more here. 
---
9:30am - Karachi, Pakistan — Doctors reach Sukkur quarantine centre
A team of specialist doctors from Karachi reached the quarantine centre in Sukkur on Thursday.
According to the district management, screening off pilgrims from Taftan is underway. "The number of pilgrims in the quarantine centre is 1,050 pilgrims," they said.  
---
9:15am - Washington, US —Trump signs $100 billion emergency aid package
US President Donald Trump on Wednesday signed a $100-billion emergency aid package that ensures sick leave to Americans workers who fall ill from the new coronavirus, with more federal assistance in the pipeline.
The bipartisan House-passed measure easily cleared the Senate by a vote of 90 to eight earlier Wednesday.
The package provides for free coronavirus testing for those who need it, sick pay and paid family leave, and bolsters unemployment insurance for millions of Americans.
The virus has killed more than 110 people in US, where more than 7,300 cases have been confirmed.
Read more here.
---
9:00am - Beijing, China — Zero new domestic virus cases reported
China on Thursday marked a major milestone in its battle against the coronavirus pandemic as it recorded zero domestic infections for the first time since the outbreak emerged, but a spike in imported cases threatened its progress.
---
---
There were no new cases in Wuhan — the central city where the virus first emerged in December — for the first time since authorities started publishing figures in January, according to the National Health Commission.

There were eight more deaths in China — all in Hubei — raising the nationwide total to 3,245, according to the commission.
There have been nearly 81,000 infections in China but only 7,263 people remain sick with the COVID-19 disease.
Read more here. 
---
8:45am - Washington, US —Two Congress members test positive
Two US lawmakers including a Florida representative on Wednesday became the first members of Congress to announce they have tested positive for the novel coronavirus.
Congressman Mario Diaz-Balart´s office said in a statement that "just a short while ago, he was notified that he has tested positive for COVID-19."
The Republican who represents part of Miami follows that city´s Mayor Francis Suarez, who announced that he had tested positive for coronavirus last week.
---
8:30am - Ouagadougou, Burkina Faso — First virus death in Sub-Saharan Africa
Sub-Saharan Africa has recorded its first COVID-19 death, a high-ranking politician in Burkina Faso.
Africa has lagged behind the global curve for coronavirus infections and deaths, but in the past few days has seen a significant rise in cases.
Medical authorities in the poor Sahel state of Burkina Faso announced Wednesday that the number of infections there had risen by seven to 27.
South Africa, the continent´s most industrialised economy, reported a more than one-third jump in cases, with 31 new infections bringing its tally to 116.
Nearby Zambia announced its first two confirmed cases — a couple that returned to the capital Lusaka from a 10-day holiday in France.
As of Wednesday, a tally of reported cases compiled by AFP stood at more than 600 for all of Africa.
---
8:15am - Suva, Fiji — First virus case reported
Fiji confirmed its first coronavirus case Thursday, sparking panic buying in major centres on the Pacific island nation.
The announcement followed rampant speculation across the country of 930,000 that the global pandemic had arrived on its shores.
"There is a single confirmed case of COVID-19 in Lautoka that was imported from a patient who had recently travelled abroad," Health Minister Ifereimi Waqainabete said on Twitter.
---
10:46pm/March 18 — Peshawar, Pakistan — KP reports second death
Khyber Pakhtunkhwa health minister Taimur Khan Jhagra has confirmed the province's second death, moments after the first was reported.
The victim was a 36-year-old patient being treated at the Lady Reading Hospital in Peshawar. The patient was a resident of Hangu.
---
10:45pm/March 18 — Islamabad, Pakistan — PM's health advisor confirms Pakistan's first death from virus
Advisor to the prime minister on health, Dr Zafar Mirza has confirmed the country's first death from COVID-19.
According to Dr Mirza, the deceased was a 50-year-old man who had recently returned from Umrah, after which he developed a fever and cough, besides experiencing difficulty in breathing. Subsequently, he tested positive for the virus.
The health advisor said that the man's contacts are being screened.
---
10:19pm/March 18 - Afghan leader thanks Pakistan for keeping border open for trade
Afghan leader and disputed president Abdullah Abdullah has thanked the Pakistan government for keeping the Chaman-Boldak border open for trade.
"I thank Imran Khan and Pakistan government for accepting our people and traders' call to keep the Chaman-Boldak border open for the flow of foodstuff and key comodities at this critical time," wrote Abdullah Abdullah.

Abdullah said the gesture "further strengthens our bilateral ties".

---