Coronavirus updates, March 20: Latest news on the coronavirus outbreak from Pakistan and around the world
Updated Friday Mar 20 2020
KARACHI / LAHORE / ISLAMABAD / PESHAWAR / QUETTA: Pakistan reported its third death from the coronavirus on Friday and the nationwide tally crossed 500.

The province-wide break up of cases as of 10:57pm, March 20, is as follows:

---
Total confirmed cases: 501

• Sindh: 252
• Punjab: 96

• Khyber Pakhtunkhwa: 23
• Balochistan: 92

• Islamabad Capital Territory: 07
• Gilgit-Baltistan: 30
• AJK: 01
Deaths: 03
• Khyber Pakhtunkhwa: 02
• Sindh: 01

---
Globally, 176 countries have been affected, more than 10,000 people have died and more than 245,000 infected by the disease as it spreads rapidly to new territories.

The epicentre of the outbreak has now shifted to Europe, which is recording a rapid rise in new cases every day.
Read on for the latest updates from Pakistan and around the world.
Disclaimer: There may be some discrepancy in the number of confirmed cases reported at the country level due to differences in figures quoted by federal and provincial authorities.
Geo News is constantly gathering fresh information from concerned authorities and striving to keep our readers up to date with the most accurate information available.
Orange: All general updates coming in from Pakistan
Red: All reports on new cases in Pakistan
Maroon: All reports on new deaths in Pakistan
---
END OF LIVE UPDATES FOR MARCH 20

Live updates for March 21 will continue
here.
---
11:59pm — New York, USA — New York shutters, but Trump says no national lockdown
New York followed California on Friday in locking down to stem the coronavirus pandemic as President Donald Trump declared the United States was already "winning" the war despite a rapid rise in confirmed cases and deaths.
Governor Andrew Cuomo ordered non-essential businesses to close and banned all gatherings in New York state, a day after his counterpart Gavin Newsom told California´s 40 million residents to stay at home.
"We´re all in quarantine now," Cuomo told reporters, warning of civil fines and mandatory closures for anyone violating the order, which takes effect on Sunday evening.
The escalation came as the total number of COVID-19-linked deaths in the US rose to 210 — more than doubling in three days — with more than 14,600 confirmed infections, according to a tally by Johns Hopkins University.
Despite the surge, Trump said the world´s number one power was "winning" and "going to win this war," and there was no need for a national lockdown mirroring the action taken in California and New York.
---
11:53pm — Geneva, Switzerland — Italy virus toll hits one-day record as Wuhan reports 'hope'
Italy reported a dramatic surge in coronavirus deaths on Friday as the pandemic spread further across the planet, but Wuhan in China reported no new cases, sparking a glimmer of hope.
Worldwide fatalities from the pandemic swept past 10,000, with the number of infected people topping 250,000, according to an AFP tally.
Italy, already the worst-affected country in the world, added another 627 fatalities, taking its reported total past 4,000 despite government efforts to stem the pandemic's spread.
The nation of 60 million now accounts for 36.6% of the world´s coronavirus deaths.
Governments and central banks continued to throw unprecedented sums of money into the economic battle, hoping against hope that a deep global recession could somehow be dodged.
In a rare incident of encouraging news Wuhan, the Chinese city where the new coronavirus first emerged in December, reported no new cases in 24 hours.
---
10:57pm — Quetta, Pakistan — Balochistan tally hits 92 after 11 new cases emerge
According to an update by the Balochistan health department, 11 new cases of the virus have surfaced in the province, taking its total to 92.

---
10:46pm — Karachi, Pakistan — 3 new Karachi cases take Sindh's total to 252
The Sindh health department spokesperson has reported three more cases in Karachi.
With the addition of these, the city's tally has risen to 101 and the provincial total stands at 252.
---
10:29pm — Washington, USA — Pompeo tells China to share virus details with 'whole world'
US Secretary of State Mike Pompeo has urged Beijing to make details of the emergence of the novel coronavirus "available to the whole world" after accusing the communist regime of initially covering up the outbreak.
"The Chinese government was the first to know of this risk to the world. And that puts a special obligation to make sure that data gets to our scientists, our professionals," Pompeo told reporters at the White House.
"This is not about retribution," Pompeo said. "We're in a live exercise here to get this right. We need to make sure that even today, the data sets that are available to every country, including data sets that are made available to the Chinese communist party, are made available to the whole world. It's an imperative to keep people safe."
In an earlier interview on Fox News, Pompeo said Beijing "wasted valuable days" after identifying the novel coronavirus by letting "hundreds of thousands" leave the epicenter of Wuhan to places including Italy, which has surpassed China as the country with the highest death toll.
---
10:07pm — Karachi, Pakistan — Murtaza Wahab urges people to self-isolate after 72 people test negative for virus
Law adviser to the chief minister of Sindh, Murtaza Wahab has shared some "good news", saying that 72 people have tested negative for COVID-19 in Karachi.

"These people had exercised social distancing and quarantined themselves and the result is in front of you," said Wahab, urging people to follow their example and be "responsible citizens".

---
09:09pm — Karachi, Pakistan — 51 out of 87 cases in Karachi 'contact cases': Sindh health dept
The Sindh health minister's media coordinator has confirmed that 51 cases of the 87 in Karachi are those that resulted out of social contact.

"For God's sake stop being irresponsible. Maintain a social distance. Stay at home as much as possible," tweeted the spokesperson.
---
09:05pm — Karachi, Pakistan — Inside view of Karachi Expo Centre quarantine facility
Adviser to the Sindh chief minister on law, Senator Murtaza Wahab has shared images of the newly established quarantine centre at Karachi's Expo Centre.

The facility can accommodate 1,100 patients "as of now" and has been set up by the Army.
Wahab has urged all citizens to exercise caution and stay indoors so the "use of this facility doesn't come into play".

---
08:28pm — Gilgit, Gilgit-Baltistan — Nine new coronavirus cases emerge in Gilgit-Baltistan
Gilgit-Baltistan reports nine new cases of the coronavirus, taking the province's affected toll to 30. This increases the national toll of affected persons to 487. 
Among the nine, eight persons who tested positive for the virus are Taftan pilgrims. One person hails from District Nagar. Chief Minister Gilgit-Baltistan confirmed that one person among the affected does not have any travel history. 
He said that results for 182 persons who were tested for the virus are yet to come. 
The chief minister revealed that 1,330 isolation wards in hotels have been reserved for coronavirus patients while 330 of the wards have been reserved for the Taftan pilgrims. 
The CM announced that all business centres of the province will be closed from tomorrow and all medical stores and shops selling food items will be allowed to remain open. 
---
08:20pm — Luxury store Harrods, which remained open during WWII bombing, announces its shutting
The coronavirus has managed to scare the popular Harrods, a luxury store that remained open even during the horrifying WWII bombing, into closing as the pandemic disrupts public gatherings and economic activity everywhere around the globe. 
"The welfare of our community of colleagues, customers and partners has been our absolute priority throughout this time of uncertainty," Harrods managing director Michael Ward said in a statement. 

Food Halls and pharmacy will remain open for the public. 

---
07:55pm — Jordan announces curfew amid coronavirus outbreak
Jordan announced a curfew on Friday to contain the novel coronavirus, which has affected more than 200,000 people worldwide and killed an estimated 10,000. 
The curfew will begin from 07: 00AM Saturday and continue until further notice, said Amjad Al Adailah, a government spokesman.
---
07:46pm — 11 new coronavirus cases confirmed in Karachi
Eleven new cases of the coronavirus have been reported in Karachi. This takes the national toll to 478 of the affected and Sindh's numbers to 249, according to the Sindh health department. 
The health department spokesperson said that all 11 persons belonged to Karachi hence these were cases of local transmission. 
Positive = 98
Cured=3
Death=1
Under treatment = 94
Pilgrims Sukkur
Total tests conducted 302
Negative 151
Positive 151
Repeat for testing 1
Current Number under treatment:
Grand Total 249
---
07:18pm — Karachi, Pakistan — CM Sindh appeals to citizens to self-isolate for three days
Chief Minister Sindh Murad Ali Shah has appealed to the province's citizens to stay indoors for the next three days.

Disspelling rumours that a lockdown was being enforced, Sindh Minister for Education and Labour Saeed Ghani said that no decision of the sort had been taken.

---
05:50pm — Islamabad, Pakistan — Fight will be won by the people through self-discipline, not by the govt: PM Imran
Prime Minister Imran in a briefing to the media has underscored that people will need to exercise self-discipline if the fight against COVID-19 has to be won by Pakistan.
"The fight will be won by the people, not the government. The delegation we met in China praised their people, who showed great self-discipline," said the premier.

He has reiterated the need for all Pakistanis to avoid socialising and self-isolate at home.


---
Helplines you can call in Pakistan for coronavirus-related inquiries
Below is a list of helplines you can call — based on your location — for any inquiries related to the coronavirus outbreak in Pakistan:
Sindh - 021-99204405/0316-0111712
Punjab - 0800-99000
Khyber Pakhtunkhwa - 1700
Balochistan - 1166

---
05:03pm — Tehran, Iran — Iran's death toll rises to 1,433
Iran has reported that the coronavirus has killed 149 more people in the Islamic republic, raising the country's official death toll from the disease to 1,433.
Deputy Health Minister Alireza Raisi said 1,237 more cases have been confirmed over the past 24 hours and 19,644 people are now known to have been infected in Iran, one of the world´s worst-hit countries.
The latest figures come as Iranians celebrate Nowruz, the Persian New Year which ushers in a two-week holiday during which Iran´s roads are normally filled with people visiting family.
The authorities had urged the public to avoid family visits or days out this year to stem the spread of the coronavirus.
But footage aired by state television showed hundreds of vehicles pouring out of Tehran on Thursday evening.
---
04:55pm — Karachi, Pakistan — 10 doctors suspected to have virus moved into isolation
At least 10 doctors at the Abbasi Shaheed Hospital Karachi have been moved to isolation over the suspicion that they are infected with the novel coronavirus, which has so far affected 238 people in Sindh and 467 all over Pakistan — including three dead.
The medical facility's administration said the doctors in isolation have been referred to the screening department, following which they would likely undergo further tests.
The doctors have been advised to self-isolate at their homes.
---
04:49pm — Islamabad, Pakistan — Federation needs to improve communication with provinces: WHO official
World Health Organisation's (WHO) Country Representative in Pakistan, Dr Palitha Gunarathna Mahipalain during a briefing in Islamabad called on the federal government and provincial governments to coordinate better in order to effectively deal with the coronavirus outbreak.
"We need to play our individual roles at this time," he said. "We need to take further action and improve communication with the provinces."
Dr Mahipala said a crucial meeting was held in Islamabad today and that the coronavirus issue was significant. He said the pandemic was making people concerned, but that the WHO was providing complete data to everyone.
Around the world, a total of 298,778 people have been infected with the novel coronavirus, or COVID-19, whereas 8,778 have died so far, the WHO official said. He added that 208 hospitals have been registered to treat the pandemic.
Furthermore, 13 laboratories in Pakistan are working on finding ways to combat the coronavirus. However, he emphasised that there was no vaccine or medicine to treat COVID-19 to date, although other drugs were being used to aid the treatment.
---
04:39pm — Islamabad, Pakistan — Agriculture minister calls on govt for bills waiver

Agriculture Minister Muhammad Ismail Rahu has said that the provincial government should consider waiving off gas and electricity bills for citizens for two months.
Citizens should not be charged for 300 units of electricity and Rs1,000 worth of gas for two months, he has proposed.

"People are restricted to their homes and business have been shut down; therefore, this is the only way relief can be provided to the citizens.
"Small businesses, employees, daily-wagers are facing challenges in terms of livelihoods
"Even if [Prime Minister Imran] Khan sahab doesn't release any funds for Sindh, he should provide relief to the people," he said.
---
04:30pm — Lahore, Punjab — Punjab toll rises to 96
Chief Minister Punjab Usman Buzdar has confirmed 96 cases in the province.
"I can confirm that there are currently 96 #COVID19 positive cases in Punjab.
"Out of which 71 are Zaireen, 15 in Lahore, 2 in Multan, 3 in Muzafargarh, 3 in Gujrat and 1 each is in Rawalpindi and Jehlum," he wrote.
Buzdar has urged everyone to practice social distancing and "stay safe during this global pandemic".

---
4:23pm — Brussels, Belgium — Belgium passes 2,000 coronavirus cases
The number of coronavirus cases recorded in Belgium have surged past 2,000 and the number of deaths attributed to the disease COVID-19 jumped up by 16 to 37, reported AFP.

According to the country's national crisis centre, 462 new confirmed cases of the virus have been reported, bringing the total to 2,257 in a country of 11.4 million people.
Two-thirds of the new cases overnight were in Dutch-speaking Flanders, in northern Belgium.
---
4:10pm - Islamabad, Pakistan — FO sets up crisis management unit
Foreign Office Spokesperson Aisha Farooqui announced that the crisis management unit has become operation at the ministry from today onwards. 
The spokesperson said that the unit will be coordinating COVID-10 updates and reaching out to the Pakistani diaspora through its missions abroad.

---
4:03pm - Tehran, Iran — Iran reports 149 new deaths nationwide toll reaches to 1,433
Iran's death toll from the new coronavirus outbreak rose by 149 to 1,433 on Friday, a health ministry official tweeted, adding that that total number of confirmed infections had increased by 1,237 to 19,644.
Iran is one of the countries outside China most affected by the pandemic.
---
3:57pm Lahore, Punjab — Provincial govt to set up Expo Centre Lahore into a field hospital
Chief Minister Punjab Usman Buzdar has ordered the conversion of Expo Centre Lahore into a 900-bed field hospital as a measure to counter the coronavirus outbreak in the province.
The CM also announced that Rs8 billion fund will be set up for the Provincial Disaster Management Authority. He also formulated a ministerial committee to coordinate with the Balochistan government. He added that the Punjab government will help the Balochistan government in every way possible.
---
3:50pm - Islamabad, Pakistan — CII calls for early distribution of zakat
The Council of Islamic Ideology has urged the people for the early distribution of zakat to support the destitute due to the slowdown of local and global economic activity triggered by the coronavirus outbreak which is expected to impact the most vulnerable sections of society.
In a statement issued today, the Council of Islamic Ideology has urged that all zakat and dues owed to labourers ought to be cleared before the Islamic year ends.
In view of the present situation, it is better to distribute zakat earlier than usual, the statement adds. 
Read more here
---
03:15pm Makkah, Saudi Arabia —  Ban on prayers at Grand Mosque and Prophet Mosque
The Spokesperson for the General Presidency for the Grand Mosque and the Prophet's Mosque, Hani bin Hosni Haider, stated that the Presidency and the security and health authorities have decided to suspend the presence and prayers in the outer squares of the Grand Mosque and the Prophet's Mosque starting tomorrow, Friday, as part of precautionary and preventive measures to prevent the spread of the Novel Coronavirus.
The Spokesperson emphasized that the General Presidency of the Grand Mosque and the Prophet's Mosque calls upon everyone to cooperate with all precautionary measures taken to preserve the health and safety of the pilgrims of the Grand Mosque and the Prophet's Mosque, and to work to limit the spread of Coronavirus infection (COVID-19) among worshipers.
---
02:45pm - Islamabad, Pakistan — President Arif Alvi offers Zohar at home, skips Friday prayers
---
02:35pm - Milan, Italy — Chinese expert says Italy not doing enough to contain virus
A Chinese official, who was posted in Milan to help the authorities contain the virus has said that Italy was not doing enough.
"Lockdown policy is very lax in the city. Public transportation is still on and people are moving. I don't know what you are thinking. We need to stop all the activities."
---
2:18pm - Islamabad, Pakistan — Govt redirects $40 million non-utilised sums from WB projects to fight coronavirus 
The government on Friday redirected $40 million non-utilised sums from World Bank projects that can be used by the federal and provincial government to battle the coronavirus, announced Minister for Economic Affairs Hammad Azhar.
According to the breakdown shared by the minister, Punjab has $7.5 million, Sindh has $10 million, Khyber Pakhtunkhwa has 7 million, Balochistan has 2 million, while the federal government has $13.5 million. 
---
2:00pm - Colombo, Sri Lanka — Island set to impose national curfew, as cases surge in South Asia 
Mosques in Sri Lanka were shut indefinitely from Friday, and the island is set to impose a countrywide curfew over the weekend, as South Asian countries step up efforts to check the spread of COVID-19 cases.

The densely populated region of some 1.9 billion people has been less badly affected than other parts of the world, but new coronavirus cases in Pakistan, India and Sri Lanka are all accelerating, with the total across South Asia now exceeding 750. Seven people have died.
A police curfew is set to be imposed nationwide in Sri Lanka from 6 pm local time on Friday until 6 am on Monday, as authorities on the island moved to slow the spread of the virus, which has infected 65 people there.

The religious body that oversees mosques in the nation directed all of them to shut indefinitely. About 10% of the country's 22 million people are Muslims.
Meanwhile, mosques elsewhere in the region screened people for high temperatures using thermometers and urged their faithful to practice greater social distancing during Friday prayers.
---
1:57pm - Manila, Philippines — Philippines reports 13 new coronavirus infections, one new death
The Philippines' health ministry on Friday recorded 13 new coronavirus cases and one death as the country's main island is under strict quarantine measures.
The new coronavirus has infected 230 people in the Philippines, resulting in 18 deaths, Health Undersecretary Maria Rosario Vergeire told a regular news conference.
---
1:55pm -Karachi, Pakistan — Sindh govt offers six-month contract to doctors
Sindh government has announced that it is offering a six-month contract to doctors who are willing to volunteer during the coronavirus emergency.

---
1:51pm - Islamabad, Pakistan — Govt to issue advisory for Islamabad
Special Assistant to Prime Minister on Health Dr Zafar Mirza has said that they will issue an advisory for residents of Islamabad.
Dr Mirza passed the remarks in a meeting regarding the current situation of coronavirus in the country. The SAPM said that they were trying to ensure that the decisions made in the National Security Committee are implemented.
Dr Mriza stated that Pakistan can defeat the disease by ensuring the cleanliness of the environment.
---
1:45pm - Hunza, Gilgit Baltistan — Tourists asked to leave Hunza in two days
District officials in Hunza ordered tourists to leave the district in two days due to the coronavirus.
The officials have also ordered the closure of all markets in the district.
---
1:32pm - Islamabad, Pakistan — PM Imran to chair NCC meeting today
Prime Minister Imran Khan will chair a meeting of the National Coordination Committee (NCC) in Islamabad on Friday to discuss the latest situation regarding coronavirus, reported Radio Pakistan .
Foreign Minister Shah Mahmood Qureshim, in a statement, said the meeting will review implementation of the decisions taken earlier at the National Security Committee meeting.
---
1:27pm - Paris, France — 130,000 French nationals trying to return home
France is trying to facilitate the repatriation of 130,000 of its nationals stuck overseas due to the coronavirus outbreak, Foreign Minister Jean-Yves Le Drian said on Friday.
"The fundamental principle is that for the 130,000, we want to bring them back to the national territory, but we ask them to be calm and patient," Le Drian told France Info radio, adding that it would be up to them to pay for their return tickets.
Le Drian urged the more than 3 million French expatriates to stay where they are and warned that the government was ready to toughen up restrictions in France to limit people's movements if existing guidelines were not adhered to sufficiently.
---
1:26pm - Bengaluru, India — Maharashtra to close shops, offices in financial capital Mumbai
India's westerly state of Maharashtra on Friday decided to close all shops and offices except those providing essential services in India's financial capital Mumbai, Pune and Nagpur until March 31 in an attempt to restrict the spread of coronavirus, the chief minister of the state said.
The state, which has recorded the highest number of confirmed cases in India, has excluded banks and shops that are selling essential commodities were excluded from the restriction, Uddhav Thackeray said.
---
1:25pm - Karachi, Sindh — Provincial govt has 550,000 masks
Sindh's additional secretary health has said that the provincial government has close to 550,000 masks at this time.
The official has said that protective gear related to coronavirus has been provided at different hospitals. He added that they will try to ensure that hospitals in Sindh do not face a shortage of protective gear.
---
1:22pm - Islamabad, Pakistan — IHC tells stressed-out parents to trust the state
Islamabad High Court Chief Justice Athar Minallah has asked the parents of Pakistani students stranded in China to trust the state as it is taking the right measures given the circumstances.
Justice Minallah made the remark while hearing a case related to the repatriation of Pakistanis stranded in China.
During the hearing, high-level officials from the Foreign Ministry and Cabinet division presented the government's response, which had earlier been sought by the court.
Read more here
---
1:18pm - Death toll crosses 10,000
The virus has infected more than 245,000 people globally and the death toll exceeds 10,000.
Italy's death toll has overtaken China, where the virus first emerged. Italy registered 427 deaths over the past 24 hours, bringing the total nationwide to 3,405 since the outbreak surfaced on February 21.
---
1:13pm - Peshawar, Khyber Pakhtunkhwa — Health department sens notice for procurement of essential items 
Khyber Pakhtunkhwa health department called out all vendors and suppliers to contact the ministry for the procurement of essential items in the province.
---
1:05pm - London, UK — Govt hopes newly-made ventilators will be ready by next week
Britain said on Friday its scramble to produce thousands of ventilators to fight the coronavirus outbreak was achieving results as top companies have already produced a prototype and it should be ready for use in hospitals by the end of next week.
"More than half a dozen companies have already made one in prototype, to check with us that we are happy with the quality ," UK Health Secretary Matt Hancock told BBC TV.
"It's unbelievable. In a matter of days some of these top engineering companies have already turned their hand to this effort and already got their prototypes out.
"We need as many as you can possibly make and we will buy them because if we end up with too many for the NHS (National Health Service) that is a great problem to have and there's other countries round the world that needs ventilators. No number is too big."
---
1:03pm - Islamabad, Pakistan — Dawood  requests business community to look after their workers 
---
1:00pm - Islamabad, Pakistan — Pakistan calls for lifting sanctions against Iran
Foreign Minister Shah Mahmood Qureshi on Friday called for the lifting of sanctions against Iran due to the coronavirus.
The minister said that global leaders must show 'utmost compassion' at a time of such great challenge.
"Sanctions must be lifted against Iran, in this moment of peril so that it can use its resources to save precious human lives," said Qureshi.

---
12:57pm - Karachi Pakistan — Magistrate releases those arrested for minor crimes
Judicial magistrates in Karachi's East, Central, Korangi and West districts released suspects arrested in minor cases on bail.

---
12:50pm - Karachi, Pakistan — NDMA provided separate zone at Airport Hotel: PIA spokesperson 
The National Disaster Management Authority has been given a separate zone at the Airport Hotel in Karachi, said a spokesperson for the PIA.
The spokesperson said that the person zone has 34 rooms and has a separate entry and exit point.
The official added that PIA is ready to provide every possible help to the people.
---
12:45am - Lahore, Pakistan — Police arrests 207 people for violating Section 144, selling overpriced masks and sanitizers 
Punjab Police has arrested 207 people for violating Section 144 imposed in the province, and selling masks and hand sanitizers at a higher rate.
The police said cases against 72 people have been registered. They added 187 out of the 2017 suspects were arrested for violating section 144 and 48 cases have been registered against them.
While 20 cases have been registered against those selling masks and hand sanitizers at an expensive rate.
---
12:35pm - Islamabad, Pakistan — DC distributes 150,000 masks for free
Deputy Commissioner Islamabad has said that 150,000 masks have been distributed for free in the city.
He added that his teams were constantly checking the shops to ensure that hand sanitizers, masks and temperature guns were not being sold at exorbitant rates.
The DC added that they are also trying to make sure that the goods are not sold for more than 10% to the wholesale rate.
---
12:33pm - Beijing, China — China reports record number of imported coronavirus cases
China's imported coronavirus cases have risen to a record level, according to data released on Friday, with infected travellers reaching ever more provinces adding to pressure on authorities to step up tough entry rules and health protocols.

For a second day in a row, China found no domestically transmitted cases of the virus, which is believed to have emerged in a central province late last year, according to new daily figures on the disease, registered on Thursday.
Now the focus is on guarding against cases arriving from abroad as the spread of the coronavirus in Europe and North America sparks a rush home by Chinese expatriates, many of them students, raising fears of a second wave of infections just as China brings its epidemic under control.
Mainland China had 39 new confirmed cases on Thursday, the National Health Commission said, all of them imported.
Of the new imported infections, 14 were found in Guangdong, eight in Shanghai and six in Beijing, the health authority said in a statement.
---
12:30pm - Moscow, Russia — Scientists starts testing coronavirus vaccine prototypes on animals
Russian scientists have begun testing prototypes of potential vaccines against the new coronavirus on animals in a laboratory in Siberia, Russia's consumer health regulator said on Friday.
Russia has reported 199 coronavirus cases so far, less than in many other European countries, but the figure has risen sharply in recent days. One person diagnosed with the virus has died.
Scientists in the Vektor State Virology and Biotechnology Centre in the city of Novosibirsk have developed vaccine prototypes based on six different technological platforms and began tests on Monday to try to work out how effective they are and in what doses they could be administered, the regulator said.
Scientists around the world have warned that the development of a vaccine is a lengthy and complex process that might only yield something for broader use in the next 12-18 months.
---
You can now chat with the WHO on WhatsApp about the coronavirus
The World Health Organization (WHO) and the United Nations Development Program (UNDP) have partnered with WhatsApp to set up a central messaging platform which provides valuable and up-to-date information about the novel coronavirus.
As per the Geneva-based WHO's instruction, people around the world are recommended to save the official number (+41 798 931 892) on WhatsApp.
Read more here.
---
12:10pm - St Lucia — Darren Sammy goes into self-isolation after returning from Pakistan 
Peshawar Zalmi's coach Darren Sammy has put himself under self-isolation after arriving in St Lucia on Thursday.
Earlier, Pakistan Cricket Board had confirmed that all the 128 tests of match officials and players who participated in Pakistan Super League were negative.
Sammy took to social media to tell his fans about the precautions he is taking to stop the spread of coronavirus.
"Did my social distancing, washed my hands thoroughly, didn't touch my mouth eyes and nose with my hands now I gotta wait 14 days before seeing the love ones even though my covid19 test came out negative a day before leaving Pakistan."

"We have to do what's best to stop the spread. At least I'm home," he added.
---
12:07pm - Quetta, Balochistan — Polio vaccination stopped at transit points
Balochistan government has decided to suspend polio vaccination at permanent transit points due to the coronavirus.
According to the health department, vaccinations were being conducted at 37 transit points. The points included railway stations, airports and bus stops.
---
11:57am - Karachi, Pakistan — Sindh revises number of cases, nationwide tally now stands at 451
Sindh government on Friday said that the total number of cases in the province are 238, taking the countrywide tally to 451.
The provincial government revised its figures after discovering some tests were counted twice on Thursday.
---
11:45am - Karachi, Pakistan — Army arrives at Expo Centre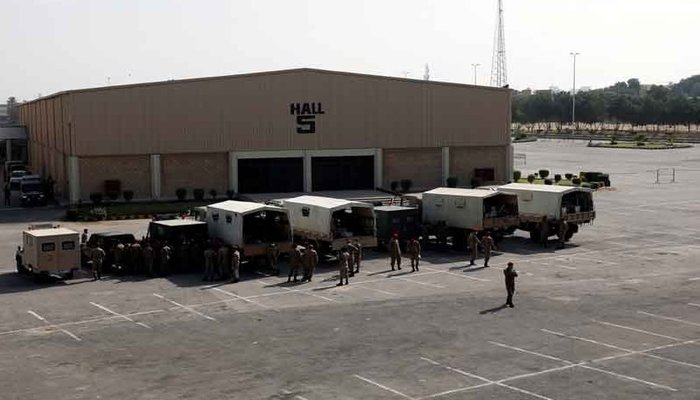 A battalion of Army Medical Corps from Malir Cantonment, comprising doctors, paramedics, nurses, pathologists and technicians, will arrive at the Expo Centre Karachi today to help establish a 10,000-bed field hospital.
The hospital will be established to isolate and treat confirmed patients of the coronavirus in a safe and secure environment, away from common people and other patients in the city.
Read more here 
---
11:41am - Quetta, Balochistan — Doctors provided with masks: Balochistan government
Balochistan government has announced that doctors in all hospitals have been provided with masks.
The spokesperson of the provincial government said that those doctors that are unwilling to treat the coronavirus patients have been issued a show-cause notice.
---
11:37am - Islamabad, Pakistan — Ration dispatched for Pakistani students in Wuhan
Special Assistant to Prime Minister on Overseas Pakistani Zulfi Bukhari has announced that ration for the Pakistani students in Wuhan has been dispatched.
Bukhari added that they are focusing on taking good care of the students on the instructions of Prime Minister Imran Khan. He added that special arrangements will be made for the students for the holy month of Ramazan.
---
11:07m - Karachi, Pakistan — Sindh confirms third death of coronavirus patient, countrywide tally goes to 3
Sindh Health Minister Dr Azra Fazal Pechuho has confirmed the death of a 77 year old COVID-19 patient in the province.

The minister said the patient was was a cancer survivor and had diabetes and hypertension when he contracted the virus. She added that the patient did not have any travel or contact history.

The minister said that the patient had died last night.
The patient was a resident of Karachi. This is the first death reported in the province, which has been the most affected by the virus.
---
11:02am - Washington DC, USA — CDC reports 10,491 coronavirus cases, 150 deaths
The US Centers for Disease Control and Prevention (CDC) on Thursday reported 10,491 cases of coronavirus, an increase of 3,404 from its previous count, and said the death toll had risen by 53 to 150, the biggest one-day jump so far.
The CDC reported its tally of COVID-19 cases as of 4 pm ET on March 18, compared with its count a day earlier. 

Coronavirus cases have been reported in all 50 states and the District of Columbia.
The CDC figures do not necessarily reflect cases reported by individual states.
---
10:22am - Lahore, Pakistan — 

Punjab confirms two more case, tally reaches 80
Punjab on Friday confirmed two more cases of coronavirus in the province.
Spokesperson of Punjab government Musarrat Cheema tweeted that the number of coronavirus patients has risen to 80.
---
09:47am - Worst-hit California goes under lockdown to fight coronavirus
Los Angeles: California became the first US state to put its 40 million inhabitants under lockdown to battle the coronavirus pandemic.
The statewide directive, which Governor Gavin Newso