Coronavirus updates, March 28: Latest news on the coronavirus pandemic from Pakistan and around the world
One more death in KP takes national tally to 12; Punjab overtakes Sindh with 557 cases; Cases in US cross 100,000
Updated Saturday Mar 28 2020
KARACHI / LAHORE / ISLAMABAD / PESHAWAR / QUETTA: The number of confirmed COVID-19 cases in Pakistan rose to 1,496 on Saturday after more people tested positive in Sindh, Khyber Pakhtunkhwa, Punjab, Islamabad Capital Territory and Balochistan. 
The province-wise break up of the total number of cases as of 11:01pm, March 28, is as follows:
---
Total confirmed cases: 1,496
• Sindh: 469
• Punjab: 557
• Khyber Pakhtunkhwa: 180
• Balochistan: 138
• Islamabad Capital Territory: 39
• Gilgit-Baltistan: 111
• AJK: 2
Deaths: 12
• Khyber Pakhtunkhwa: 4
• Sindh: 1
• Balochistan: 1
• Gilgit-Baltistan: 1
• Punjab: 5
---
More than 27,000 deaths have been recorded globally, more than 15,000 of which are in Europe since the virus first emerged in December.
More than 600,000 declared virus cases have been registered in 199 countries and territories of which at least 268,191 are in Europe, the worst-hit continent.
The countries with the most deaths include Italy with 8,165 deaths out of 80,539 declared infections, Spain with 4,089 deaths out of 56,188 cases, mainland China with 3,295 deaths out of 81,285 cases, Iran with 2,234 deaths out of 29,406 cases, and France with 1,696 fatalities out of 29,155 cases.
Read on for the latest updates from Pakistan and around the world.
Disclaimer: There may be some discrepancy in the number of confirmed cases reported at the country level due to differences in figures quoted by federal and provincial authorities.
Geo News is constantly gathering fresh information from concerned authorities and striving to keep our readers up to date with the most accurate information available.
Orange: All general updates coming in from Pakistan
Red: All reports on new cases in Pakistan
Maroon: All reports on new deaths in Pakistan
---
END OF LIVE UPDATES FOR MARCH 28
Live updates for March 29 will continue here.
---
11:58pm — Lahore, Pakistan — Buzdar shares latest Punjab figures

According to the latest update, Punjab has carried out 13,380 tests of which 557 came back positive.
Of the 557, 282 are quarantinees in Dera Ghazi Khan and Multan.
---
11:24pm — Washington, USA — Trump says he might 'quarantine' New York state 
US President Donald Trump has said he is considering placing coronavirus-stricken New York state and adjacent areas under "quarantine," to prevent people there from spreading the virus to other parts of the US.
"There's a possibility that sometime today we'll do a quarantine — short-term, two weeks — on New York, probably New Jersey, certain parts of Connecticut," he said as he left the White House.
The measure would be aimed at restricting travel from one of the country's most heavily populated regions to other parts of the United States, especially the southern state of Florida, which is popular with New Yorkers in winter.
"Because they're having problems down in Florida. A lot of New Yorkers are going down. We don't want that. Heavily infected," Trump said.
Later the US leader confirmed the idea on Twitter. A decision "will be made, one way or another, shortly," he said.
The New York city area has been the most seriously hit by the COVID-19 virus in the United States.
---
11:10pm — Karachi, Pakistan — 106 Sukkur pilgrims released from quarantine
Sindh chief minister's law adviser Murtaza Wahab has said that 106 pilgrims at the quarantine facility in Sukkur have been released after a 14-day quarantine period and testing negative.
---
11:01pm — Karachi, Pakistan — Sindh tally surges to 469
According to an update by the Sindh health department, the province's total cases now number 469.
Of these, 189 are in Karachi, seven in Hyderabad and one in Dadu.
---
10:45pm — New York, USA — American Pakistani Advocacy Group hands out free meals to at-risk groups
Asad M Khan, Pakistan's ambassador to the Unites States, has revealed that the American Pakistani Advocacy Group (APAG) has begun to serve free meals during lunch every day at the Dera Restaurant in New York.

Heroic first responders such as doctors, paramedics and firefighters are welcome to partake. Food is also being taken home to at-risk groups.
09:55pm — Lahore, Pakistan — Punjab tally for infections hits 557
According to the Punjab health department, the number of confirmed cases in the province have rocketed past 500 and hit 557.
Of these, 119 are in Lahore.
---
09:30pm — Islamabad, Pakistan — Govt to allow international flights to operate from April 5
The government will allow international flights to bring home stranded Pakistanis w.e.f. April 5, 2020. According to a notification issued from the Prime Minister's Office, the passengers will be brought into the country where they will be screened for the coronavirus and suspected patients of the virus will be quarantined at designated hotels. 
The flights will operate at Karachi, Islamabad, Lahore, Multan, Peshawar, Quetta and Faisalabad airports.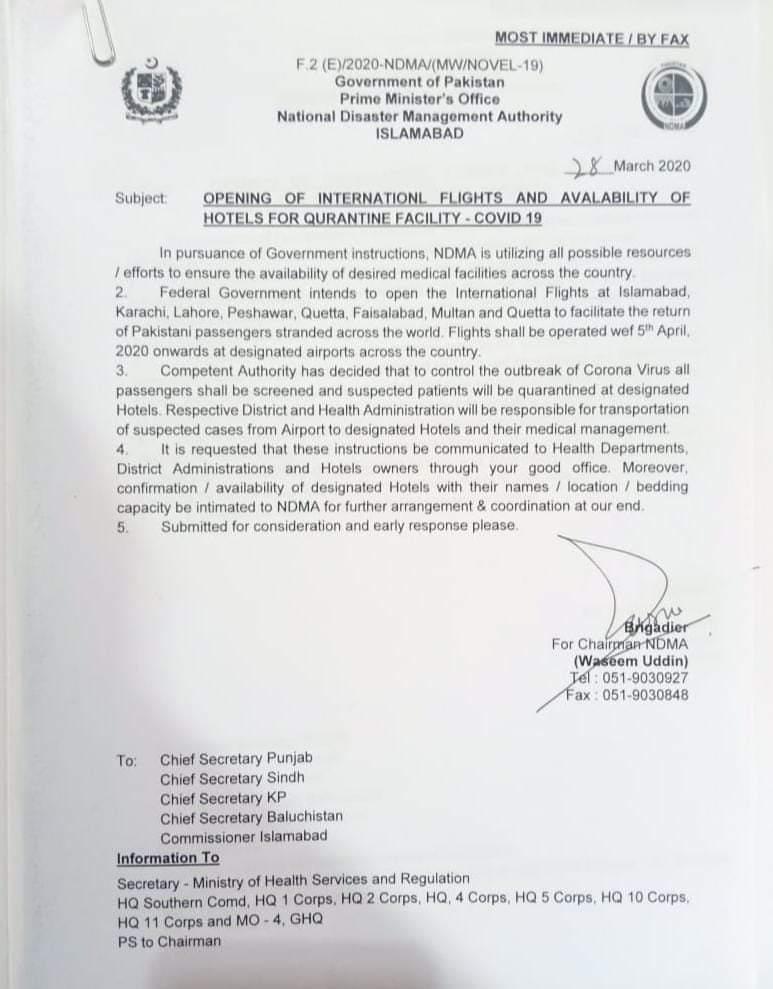 ---
08:49pm — PM Imran wishes Boris Johnson, Prince Charles quick recovery
Prime Minister Imran Khan has wished UK's Prince Charles and Prime Minister Boris Johnson "speedy recovery, good health and long life".
"This deadly virus #COVID19 has hit people beyond borders. We need an internationally coordinated response to counter it. #TogetherWeCan," wrote the premier.
---
08:41pm — Quetta, Pakistan — Balochistan spokesperson confirms 5 new cases
According to an update by Balochistan government spokesperson Liaquat Shahwani, five new cases have emerged taking the provincial tally to 138.
He said that so far there have been two recoveries and one death in the province.
"Tests of 276 people are awaited," added Shahwani.
---
08:37pm — Singapore — 70 new coronavirus cases take tally to 802
Singapore has reported 70 new coronavirus cases, the health ministry has said, taking the city-state's total infections to 802.

---
08:30pm — Tashkent, Uzbekistan — Uzbek doctor, 39, dies after coronavirus self-treatment

A doctor in Uzbekistan has died after unsuccessfully trying to treat a coronavirus infection that he kept secret, Reuters reported, citing the Central Asian nation's healthcare ministry.
The 39-year-old man had been in contact with Uzbek "patient zero", it said in a statement, who appeared to have infected him.
He was hospitalised on March 26 in grave condition and died two days later, becoming the second coronavirus patient to die in the former Soviet republic.
Uzbekistan has confirmed 104 cases of the virus and has locked down all of its provinces and barred citizens from leaving their homes except for work or essential shopping.
---
Pakistan has 12,218 suspected infections: Dr Mirza

In his daily briefing to the media, the PM's aide on health Dr Zafar Mirza has said that it is suspected 12,218 more people in Pakistan have the coronavirus.
---
08:15pm — Gilgit, Gilgit-Baltistan — New cases take region's tally to 111
According to the latest update provided by the GB information department, the region's tally has hit 111 after eight more people tested positive for the coronavirus.
---
8:05pm — London, Britain — UK coronavirus deaths pass 1,000: official
The number of coronavirus deaths in Britain have jumped by 260 in one day to pass 1,000, official data has showed Saturday, a day after Prime Minister Boris Johnson himself tested positive.
At 5pm (1700 GMT) on Friday, the death toll was 1,019, up from 759 at the same time on Thursday, the health ministry figures showed.
As of 9am on Saturday, a total of 120,776 people in Britain had been tested, of whom 17,089 were confirmed positive.
Johnson and his health minister, Matt Hancock, were confirmed on Friday to be among those infected, although both said they had only mild symptoms.
---
07:55pm — Rawalpindi, Pakistan — Pak Army provides nationwide deployment details
In a statement issued by the Inter-Services Public Relations (ISPR), the Pakistan Army has provided a break up of "troops deployed across the country in aid of civil power under article 245".

The troops are assisting federal and provincial governments in Azad Jammu and Kashmir, Balochistan, Gilgit-Baltistan, Islamabad, Khyber Pakhtunkhwa, Punjab and Sindh in "ensuring enforcement measures", "contact tracking, tracing to identify and isolated suspected individuals" and in managing the 182 quarantine facilities set up across the country.
---
07:29pm — Islamabad, Pakistan — Fawad Chaudhry tells research universities to 'up their game', gets flak for it
Minister for Science and Technology Fawad Chaudhry has landed in hot waters after urging Pakistan's research universities to "up their game" in the country's response to COVID-19.
Users across the Twitterverse didn't take the pep talk too kindly and asked him to reflect on his own actions. Many questioned how it was possible for universities to "provide guideline" to the government with the meager funds allotted for education.

Read more here.
---
06:35pm — Lahore, Pakistan — Punjab chief minister assures daily wagers 'govt will not abandon them'

Punjab Chief Minister Usman Buzdar, in his daily briefing, has assured labourers and daily wage workers that the Punjab government "will not abandon them".
He said that from a sum of Rs10 billion, 2.5 million homes will receive Rs4,000 per month.
Buzdar also announced a provincial tax relief of Rs18 billion.
"Doctors and healthcare professionals are our heroes," he said. "We will provide them an additional salary of one month."
Buzdar said that over the past 24 hours, 82 new cases had surfaced in the province.
---
06:29pm — Johannesburg, South Africa — Cops fire rubber bullets at shoppers during lockdown
South African police enforcing a coronavirus lockdown on Saturday fired rubber bullets towards hundreds of shoppers queueing outside a supermarket in Johannesburg, an AFP photographer said.
Between 200 and 300 people gathered outside a popular grocery store, Shoprite, in Yeoville, a crime-prone area in Johannesburg's gritty central business district on day two of a nationwide lockdown.
But as they scrambled to secure their spots, many did not observe the recommended safe distance between them. Police arrived in 10 patrol vehicles and started firing rubber bullets towards the shoppers.
Startled shoppers trampled on each other and a woman with a baby on her back fell to the ground. Later the police used whips to get the shoppers to observe social distancing rules.
President Cyril Ramaphosa has ordered South Africa's 57 million people to stay at home for 21 days and deployed the police and the military to enforce the lockdown. But many people, especially from poor neighbourhoods, have defied the order, going out in numbers looking for food.
While jogging and dog-walking are banned, shopping for food and other basics, but not alcohol, is permitted. South Africa, which has 1,170 confirmed coronavirus cases, recorded its first death from the virus on Friday.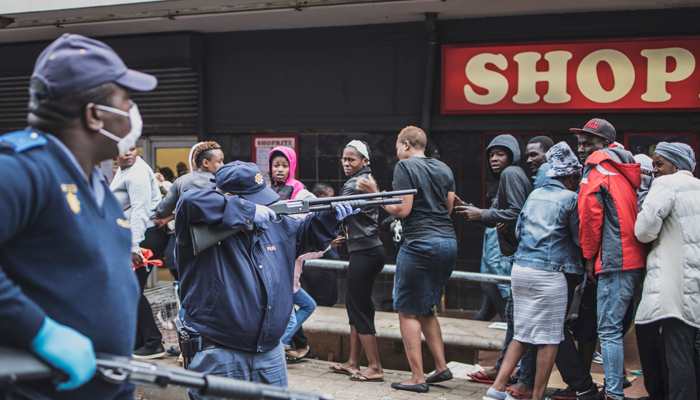 05:46pm — Islamabad, Pakistan — Dr Zafar Mirza defines priorities for PCR testing for virus
Adviser to the prime minister on health, Dr Zafar Mirza, has said that to avoid testing individuals who do not actually need testing and owing to a shortage in testing kits, certain priorities have been outlined to ascertain who will undergo PCR testing:
1. Those patients who exhibit symptoms of respiratory illness or those who had spent time with positive patients or in areas where the virus was present.
2. Those admitted to the hospital with fever or respiratory infections and also have compromised immunity due to chronic illnesses (Eg. HIV) or the elderly.
3. Those complaining of respiratory problems and who are playing a vital role in the eradication of COVID-19 such as medical or health workers.
4. Those admitted to the hospital who are severely ill and undiagnosed.
5. Those who, after coming to the hospital, fit the definition of positive patients, especially those who have other illnesses such as diabetes and lung diseases.
6. People being monitored in quarantine facilities or taking care of patients or those conducting research into the disease.
---
Pakistan Post delivers pensions to 1.5 million elderly
---
05:41pm — Islamabad, Pakistan — NDMA to put out ad,  give 4-6 month contract to lab technicians
NDMA Chairman Lt Gen Afzal has said that the National Institute of Health has informed the authority that there is a severe shortage of lab technicians. 
To bridge this gap, NDMA will put out an advertisement on Monday, inviting applications from molecular biologists. Chosen candidates will be inducted at Grade-14 of the government service level and will be given contractual employment for four to six months.
---
05:35pm — Islamabad, Pakistan — NDMA chairman says 15 ventilators to arrive from Wuhan tonight
National Disaster Management Authority Chairman (NDMA) Lt Gen Muhammad Afzal has assured the nation that more ventilators, beside the 15 to arrive tonight, will also soon be made available.
"An order for 679 has been made," he said.
Lt Gen Afzal said that five ventilators have been sent to Gilgit-Baltistan. He said China had especially sent aid for the region.
---
05:30pm — Islamabad, Pakistan — PM's aide on national security says all outgoing flights banned
Beginning March 29, a ban on all outgoing flights will become effective till April 4, the prime minister's aide on national security Moeed Yusuf has said.
A ban till the same date has already been in place for all incoming passenger flights.
He said an exception may be made if countries wish to charter special flights to take their citizens home from Pakistan.
---
05:10pm — Peshawar, Pakistan — One more death in KP; provincial death tally at 4
Khyber Pakhtunkhwa spokesperson Ajmal Wazir Khan has confirmed the death of a woman from Dir district, saying that her coronavirus test result came back positive after her demise.
"As of now, there are 180 positive coronavirus cases in Khyber Pakthunkhwa. Tests of 195 persons came back negative while 345 results are pending," said Wazir.
Read more here.
---
04:50pm — Karachi, Pakistan — 17 new cases take Karachi's tally to 181
Seventeen new cases have emerged in Karachi, the Sindh health department has said.
According to the department's spokesperson, the total number of cases in Karachi is now 181 and the total in the province is 457.
Of the total, one person tested positive in Dadu and three in Hyderabad.
So far, one person from Karachi lost the battle to the virus, whereas throughout the province there have been 14 recoveries: 13 from Karachi and one from Hyderabad.
---
3:50pm — Karachi, Pakistan — Spend pilgrimage money on charity amid health crisis, says Ashrafi
Chairman Pakistan Ulema Council Tahir Mehmood Ashrafi on Saturday urged people who intended to go to Saudi Arabia for pilgrimage this year to spend money on the welfare of poor people affected by the coronavirus in Pakistan.
"The money should be spent on poor people, daily wage earners, and laborers who are affected by the coronavirus crisis," Ashrafi said in a message to his followers.
---
3:44pm — Peshawar, Pakistan — Government stands by people in their hour of need: CM KP Mehmood Khan
Chief Minister Khyber Pakhtunkhwa (KP) Mehmood Khan on Saturday afternoon said that the government would provide help to the people stuck in their homes in case of a bigger emergency of the coronavirus.
"We are obtaining the services of retired officials as a back-up to the health workers currently deployed in the province," he said. "The government stands with the people in their hour of need," he added.
"If need be, the government will also deduct money from the annual development fund to spend on the welfare of the people during a health crisis," Khan maintained.
---
3:15pm — Islamabad, Pakistan — PSQCA starts sampling sanitizers being sold in open market
Federal Minister for Science and Technology Fawad Chaudhry on Saturday said that he had instructed the Pakistan Standards and Quality Control Authority (PSQCA) to start sampling the sanitizers being sold in the open market amid the spread of the coronavirus in the country.

"I had received complaints that low quality sanitizers were being sold in the market. PSQCA will act on these complaints," he said on Twitter.
The sale of sanitizers has sky-rocketed in recent weeks as people stock up on the commodity to stay protected against the virus.
---
2:50pm — Lahore, Pakistan — Number of confirmed coronavirus cases in Punjab rises to 497, national tally increases to 1,415
The number of confirmed coronavirus cases in Punjab rose to 497 on Saturday afternoon, according to the Punjab health department. The nation-wide tally of positive cases stood at 1,415 after the increase in Punjab.
In a post on the social networking platform Twitter, the department said that of the 497 confirmed infections, 116 were in Lahore, 51 in Gujrat, 19 in Jhelum, 15 in Rawalpindi, 9 in Gujranwala, 9 in Faisalabad, 5 in Dera Ismail Khan, and 3 in Multan, among others. 
207 cases of the virus have been identified in the pilgrims housed at the quarantine center in Dera Ghazi Khan, the department said.
---
2:35pm — Peshawar, Pakistan — Government unaware of whereabouts of 2,887 Pakistani nationals who returned from Saudi Arabia recently: document
A document on Saturday claimed that the government was unaware of the whereabouts of at least 2,887 Pakistani nationals who had recently returned to the country from Saudi Arabia. 
The federal and provincial governments have advised Pakistani nationals returning from abroad to self-quarantine for two weeks as the novel coronavirus spreads in Pakistan. Most of the confirmed cases of the virus in Pakistan have been identified in travelers returning from abroad, authorities claim. 
Chief Minister Khyber Pakhtunkhwa Mehmood Khan on Saturday urged people returning to Pakistan from abroad to inform the government of their whereabouts. 
"The people can share information related to the virus by calling helpline 1700, or calling toll free at 080001700," he said.
2:30pm — Islamabad, Pakistan — FM Qureshi phones British counterpart Dominic Raab to discuss coronavirus
Foreign Minister Shah Mehmood Qureshi held a telephonic conversation with British Secretary of State for Foreign and Commonwealth Affairs Dominic Raab on Saturday to discuss matters related to the global outbreak of the coronavirus.
A statement released by the Foreign Office in Islamabad said that FM Qureshi conveyed deep condolences over the tragic loss of innocent lives in the United Kingdom (UK) due to COVID-19. 
"The Foreign Minister lauded the steps being taken by the UK authorities to combat the infectious virus and thanked British authorities for taking care of Pakistani community in the UK," the statement read.
"The Foreign Minister underscored that the pandemic was one of the greatest challenges to confront humanity in the century," the statement added.
---
2:20pm — Karachi, Pakistan — City court approves bail of New Memon mosque clerics 
A city court on Saturday afternoon approved the bail of three clerics, including those belonging to the New Memon Masjid in Karachi, in connection with a case on the restriction of congregational prayers in Karachi. 
The court approved the bail of the clerics against surety bonds worth Rs5,000 each. The clerics had yesterday been arrested after leading congregational prayers at the New Memon Masjid and other mosques around the city. 
The Sindh government had late on Thursday restricted congregational prayers at mosques across the province in a bid to contain the spread of the novel coronavirus. However, congregational prayers were held at several places on Friday, leading to dozens of arrests.
---
1:55pm — Islamabad, Pakistan — Three journalists test positive for virus, confirms SAPM Awan 
Special Assistant to Prime Minister on Information and Broadcasting Firdous Ashiq Awan on Saturday confirmed that three journalists belonging to Punjab had tested positive for the coronavirus.
"Journalists visiting quarantine centres will be provided with safety gear," Awan said while addressing a meeting via video-link. "The national disaster management authority will provide safety kits to journalists."
---
1:50pm — Los Angeles, United States — Tom Hanks returns to LA after a bout of coronavirus
Tom Hanks and his wife Rita Wilson returned to Los Angeles on Friday after spending more than two weeks in quarantine in Australia. 
Hanks had earlier this month said that he and his wife had tested positive for the coronavirus. The Forrest Gump and Toy Story actor, and Wilson were photographed smiling as they drove a vehicle in the city.
Hanks, a double Oscar winner and one of America's most beloved stars, and Wilson, were the first big celebrities from Hollywood to announce they had tested positive for the disease.
---
1:45pm — Tokyo, Japan — More than 50 new coronavirus cases recorded
Tokyo has confirmed more than 50 new coronavirus cases, which is a record daily increase, national broadcaster NHK reported on Saturday.
Tokyo Governor Yuriko Koike has requested that tens of millions of people in the capital and surrounding regions should avoid non-essential, non-urgent outings until April 12, following a surge in coronavirus infections this week that she said put Tokyo on the brink of an emergency. 
---
1:40pm — Beijing, China — Communist Party offers to help PTI combat coronavirus
The Communist Party of China has assured the ruling Pakistan Tehreek-e-Insaf (PTI) of its complete support amid the coronavirus outbreak in the country.
In a letter to the Arshad Dad, Secretary-General of PTI, the Chinese ruling party said it was grateful to PTI for standing with them.
"A united front against coronavirus helped the country. We are ready to share our expertise with PTI," the letter read.
---
1:30pm 

—Tehran, Iran — Health system strong, ready for possible escalation in cases: Rouhani

Iran's health infrastructure is strong and ready to cope with a possible escalation in coronavirus cases, President Hassan Rouhani said Saturday on state TV.

Iran is among the few countries worldwide severely affected by the pandemic. On Friday, the health ministry reported a death toll of 2,378 and total confirmed infections at 32,332.
---
1:20pm — Riyad, Saudi Arabia — US working with Saudi authorities to arrange repatriation flights
The US embassy in Riyadh said on Saturday it was working with the Saudi authorities to arrange repatriation flights to the United States on a commercial airline as the coronavirus crisis disrupted regular air travel.
"No flights or departure/arrival locations have been confirmed at this time," it said in a statement. "It is likely that flights will be scheduled with little advance notice."
---
1:15pm — Islamabad, Pakistan — SAPM Zafar Mirza visits PIMS
Special Assistant on National Health Services Dr Zafar Mirza visited an isolation centre for coronavirus patients at Pakistan Institute of Medical Sciences (PIMS) in Islamabad today and expressed satisfaction over the arrangements made to deal with coronavirus patients.
Speaking to the media after his visit, Mirza said appropriate facilities were being provided to the patients, adding that the number of isolation rooms had been increased from ten to thirty at the hospital.
Expressing solidarity with doctors, nurses and paramedics, Dr Mirza said the fight against the pandemic could only be won with the efficient working of medical staff and the government's cooperation.
He assured the medical staff that every possible measure would be taken for their safety.
---
1:00pm — Karachi, Pakistan — Plane carrying aid from China lands in port city
A flight carrying medical supplies from China has landed at Karachi airport. The flight, YG-9067, was sent by Chinese firm YTO Cargo.
This is the third flight carrying virus-related aid from China to land in the country in three days.
---
12:55pm — Hyderabad, Pakistan — Virus-positive Chinese national shifted to isolation ward at hospital
A Chinese national associated with a religious gathering in Lahore who tested positive for the coronavirus has been shifted to the isolation ward of the Civil Hospital in Hyderabad. 
"The Chinese national arrived in Hyderabad on March 21," a doctor at MS Khosar said. "Eight of his friends have been put in an isolation ward."
---
12:40pm — Multan, Pakistan — 15 doctors, paramedics at Nishtar Hospital test positive for coronavirus
Fifteen doctors and paramedic staff have tested positive for the novel coronavirus at the Nishtar Hospital in Multan, a spokesperson for the hospital told the media on Saturday afternoon.
The spokesperson added that tests were being done to ascertain whether any other doctors or medical staff had the virus. "The doctors tested positive had treated a patient with a heart disease who passed away and tested positive for the virus afterwards," the spokesperson added. 
---
12:20pm — Number of confirmed virus cases in Pakistan rises to 1,408
The number of confirmed cases of the coronavirus in Pakistan rose to 1,408 on Saturday morning after new cases were reported in Sindh, Islamabad Capital Territory, and Balochistan. 
The national dashboard on the virus showed that there were 457 coronavirus patients in Sindh, up from 440 the previous day. Balochistan's tally stood at 133, and Islamabad's at 39, up from 27 the previous day.
---
12:10pm — Washington, United States — US Secretary of State Mike Pompeo praises Pakistani doctor for leading coronavirus response
United States Secretary of State Mike Pompeo has praised a Pakistani doctor designated as a District Health Officer for leading the response to the coronavirus epidemic in Pakistan. 
The doctor, namely Muhammad Zaeem Zia, is a District Health Officer in Islamabad, according to Deputy Commissioner Islamabad Muhammad Hamza Shafqat.
"Thank you Dr Zia for all you are doing for #Pakistan," Pompeo tweeted on Friday. 
---
11:55am — Xinjiang, China — Eight-member medical team departs to help Pakistan fight virus
The Chinese government on Saturday sent an eight-member medical team to Pakistan that will help with prevention, control, diagnosis, and treatment of coronavirus patients. 
"An 8-member medical team sent by Chinese Government is warmly seen off in Xinjiang before leaving for Pakistan. They will bring expertise in prevention, control, diagnosis, and treatment on COVID-19," the Chinese embassy said in a post on Twitter.
---
11:34am — New Delhi, India — Stranded by virus lockdown, migrant workers in India walk home

Thousands of migrant workers are walking long distances in India to get back to their home villages after all transport was stopped except for essential services as authorities struggle to contain the coronavirus outbreak, which has infected more than 700 people in India.
Huge numbers had crammed onto trains and buses before the country of 1.3 billion people ground to a halt for three weeks, but many others were left stranded.
Now they are trying to get home any way they can, often on foot, with little money or food, and eateries and guesthouses closed along the way, reports AFP.
---
11:06am — Sukkur, Pakistan — 11 more pilgrims sent home from quarantine centre
11 pilgrims, who were isolated at the quarantine centre in Sukkur earlier this month as a precautionary measure to contain the spread of the coronavirus, have now been sent back to their homes. 
Deputy Commissioner (DC) Sukkur Rana Adeel told the media on Saturday morning that those sent back to their homes on Saturday hailed from Karachi and Tando Adamjaam. 
"The tests of those who were sent back home have come out normal," Adeel said. The total number of pilgrims, who arrived at the centre after visiting Iran, sent back from the facility now stands at 651.
---
10:30am — London, United Kingdom — British government to set up two more emergency hospitals
The British government on Saturday announced that it will convert two facilities in the country into emergency hospitals as the coronavirus crisis in the country escalates.
Kent Minister Michael Gough said on Saturday that the number of positive cases of the virus in Britain was doubling every three days, and that the new hospitals would be set up in Birmingham and Manchester. 
---
10:20am — Worldwide tally of virus cases nears 600,000, death toll tops 27,000

The number of confirmed cases of the novel coronavirus rose to 594,489 on Saturday morning, as the death toll from the deadly infection rose to 27,255. 
The virus has now spread to 199 countries since it was first detected in the city of Wuhan, China. 133,006 people have so far successfully recovered from the illness caused by the virus worldwide.
---
10:10am — Peshawar, Pakistan — UC Manga most affected by coronavirus in KP
The Union Council of Manga in Khyber Pakhtunkhwa (KP) is the most affected area by the novel coronavirus in the province, according to figures released by Director-General Health on Saturday. 
79 people in the union council have been tested positive for the virus so far, as residents of the area prepare for a tenth straight day under lockdown.
---
10:00am — Peshawar, Pakistan — 231 schools in KP converted into quarantine centres
231 schools across Khyber Pakhtunkhwa (KP) have been converted into quarantine centers as the number of positive cases of the coronavirus rise across the province, a report claims.
133 schools that previously served as educational institutes for boys, and 98 schools that previously functioned as educational institutes for girls, have been converted into quarantine centers, the report adds.
---
9:50am — Karachi, Pakistan — Port city under lockdown for sixth straight day
Karachi is under lockdown for a sixth straight day to contain the spread of the novel coronavirus in the city. General stores, vegetable and fruit shops, and pharmacies remain open to cater to essential needs of citizens.
Law enforcement agencies have established checkpoints at various points in the city to enforce the lockdown. Pillion riding has been banned as well, and people are being advised to stay indoors.
The Wholesale Chemist Council has announced that all medical stores in the city will remain open from 9:00am to 4:00pm. 
IG Sindh has said that on the orders of Chief Minister Sindh Murad Ali Shah, all shops in the city will be closed by 5:00pm today. CM Shah had yesterday issued orders to limit shop timings from 8:00am to 5:00pm.
---
9:44am — Hyderabad, Pakistan — 210 people who attended religious gathering told to isolate
Authorities in Sindh on Saturday asked 210 people who recently attended a religious gathering in Raiwind to go into isolation as a precautionary measure against the coronavirus. 
SSP Hyderabad told the media that a Chinese national who attended the gathering had been tested positive for the virus, and as a precautionary measure, people who might have come into contact with him were being told to self-isolate.
---
9:39am — Karachi, Pakistan — Police register cases against 29 clerics for flouting prayer ban
Police in Karachi on Friday registered cases against 29 clerics for failing to enforce provincial government orders to limit the number of people praying in congregation at their mosques. 
29 cases were registered in District Central and District East against prayer leaders who led dozens of people in congregational prayers at mosques on Friday despite orders to the contrary, police officials said.
---
9:30am — Washington, US — Trump signs $2 trillion economic rescue package 

US President Donald Trump on Saturday signed a rescue package worth $2 trillion to ward off the impact of the novel coronavirus on the US economy. 

"I am thankful to the Democrats and the Republicans for support," he said while signing the package. The rescue package had earlier won bipartisan support in the US legislature.
---
9:17am — Lahore, Pakistan — Punjab reports one more death from virus as 42 new cases identified
One more person has died of the novel coronavirus in Punjab, Chief Minister Usman Buzdar confirmed on Saturday, increasing the provincial death tally from the virus to five and the national count to 11.
CM Buzdar confirmed that a person had died of coronavirus, as the provincial infected toll bumped to 490. Pakistan's total cases stand at 1,373 after the latest tally.
In a tweet, Buzdar said: "With heavy heart, I am confirming that we have lost a 22 years old patient in Faisalabad. Total loss of lives is at 5 now. Currently we have 490 confirmed cases across Punjab."
---
9:00am — Washington, US — Confirmed coronavirus cases in US reach 100,000
Confirmed coronavirus cases in the United States reached 100,040 on Friday, the highest number in the world, a Reuters tally showed.
Italy is second with 86,498 cases and China is third with 81,340 confirmed cases. 
---
8:45am — Beijing, China — 54 new coronavirus cases reported
China's National Health Commission said on Saturday that 54 new coronavirus cases were reported on the mainland on Friday, all involving so-called imported cases. 
The total number of infections for mainland China now stands at 81,394, with the death toll rising by 3 to 3,295, it said.
---
8:30am — Seoul, South Korea —146 new coronavirus cases reported 
South Korea reported 146 new coronavirus cases on Friday, the highest number in a week, its disease control agency said on Saturday, with the country suffering a rise in imported cases from Europe and the United States during recent days.
The daily tally brought the country's total infections to 9,478 according to the Korea Centers for Disease Control and Prevention (KCDC). The death toll rose by five to 144.
---
8:15am — Melbourne, Australia — Australia tightens quarantine rules to combat virus
Australian troops will begin on Saturday taking citizens returning from overseas to compulsory quarantine places to prevent the spread of the coronavirus, as Victoria officials closed beaches on a warm autumn day amid public resistance, warning of fines.

The compulsory self-isolation for travellers in hotels and other lodgings across Australia comes as the country gradually tightens its social distancing rules, which have so far confused many.
---
9:30pm/March 27 — Islamabad, Pakistan — Western borders to remain closed for another two weeks
Special Assistant to the Prime Minister on National Security Division and Strategic Policy Planning Moeed Yusuf tweeted on Friday that Pakistan had decided to keep its western borders, as well as the eastern one with India, closed for two more weeks. The decision was taken in light of the spread of the coronavirus in the country and the region.
---
7:03pm/March 27 — Lahore, Pakistan — General stores to close at 8pm throughout Punjab
Chief Minister Punjab Usman Buzdar said that starting Saturday, grocery stores across the province will close at 8pm. He said that the stores will remain open from 8am to 8pm throughout the province.
Buzdar further said that in accordance with the instructions of PM Imran, goods transport will be allowed to operate from tomorrow.
---
6:30pm/March 27 — Karachi, Pakistan — CM Murad orders closure of shops at 5 pm from Friday
Chief Minister Sindh Murad Ali Shah has said that the operating hours of groceries shops and stores will be curtailed by three hours from Saturday.
The CM issued the order while presiding over a meeting at the CM House. The meeting was attended by Minister Health Dr Azra Pechuho, Chief Secretary Mumtaz Shah, DG Rangers Major General Omar Bukhari, Home Secretary Usman Chachar, Brigadier Sami of Corps 5 and Dr Bari of Indus Hospital.
---
For March 27 coronavirus updates click here.
For March 26 coronavirus updates click here.