Coronavirus updates, March 29: Latest news on the coronavirus pandemic from Pakistan and around the world
Nation-wide tally of confirmed cases goes past 1,500; Global coronavirus death toll surges past 30,000
Updated Sunday Mar 29 2020
KARACHI / LAHORE / ISLAMABAD / PESHAWAR / QUETTA: The number of confirmed COVID-19 cases in Pakistan rose to 1,597 on Sunday after new cases were reported across the country.
The province-wise break up of the total number of cases as of 11:50pm, March 29, is as follows:
---
Total confirmed cases: 1,597
• Sindh: 502
• Punjab: 593
• Khyber Pakhtunkhwa: 192
• Balochistan: 138
• Islamabad Capital Territory: 43
• Gilgit-Baltistan: 123
• AJK: 6
Deaths: 16
• Khyber Pakhtunkhwa: 5
• Sindh: 3
• Balochistan: 1
• Gilgit-Baltistan: 2
• Punjab: 5
---
More than 30,000 deaths have been recorded globally, of which most have been in Europe since the virus first emerged in December.

More than 662,000 virus cases have been registered in 200 countries and territories of which the majority have been in Europe, the worst-hit continent.
The countries with the most deaths include Italy with 10,023 deaths out of 92,472 declared infections, Spain with 5,982 deaths out of 73,235 cases, mainland China with 3,300 deaths out of 81,439 cases, Iran with 2,517 deaths out of 35,408 cases, and France with 2,314 fatalities out of 37,575 cases.

Read on for the latest updates from Pakistan and around the world.
Disclaimer: There may be some discrepancy in the number of confirmed cases reported at the country level due to differences in figures quoted by federal and provincial authorities.
Geo News is constantly gathering fresh information from concerned authorities and striving to keep our readers up to date with the most accurate information available.
Orange: All general updates coming in from Pakistan
Red: All reports on new cases in Pakistan
Maroon: All reports on new deaths in Pakistan
---
END OF LIVE UPDATES FOR MARCH 29
Live updates for March 30 will continue here.
---
11:50pm — Lahore, Pakistan — Punjab tally rises to 593
According to an update by Musarrat Cheema, the Punjab government's spokesperson, the province's total of confirmed infections now stands at 593.
Cheema confirmed that more than 14,000 tests have been carried out so far.
---
How people in Mali are greeting each other
A photograph from Mali shows how people have thought up new ways to greet one another as they avoid handshakes to safeguard against the spread of the coronavirus.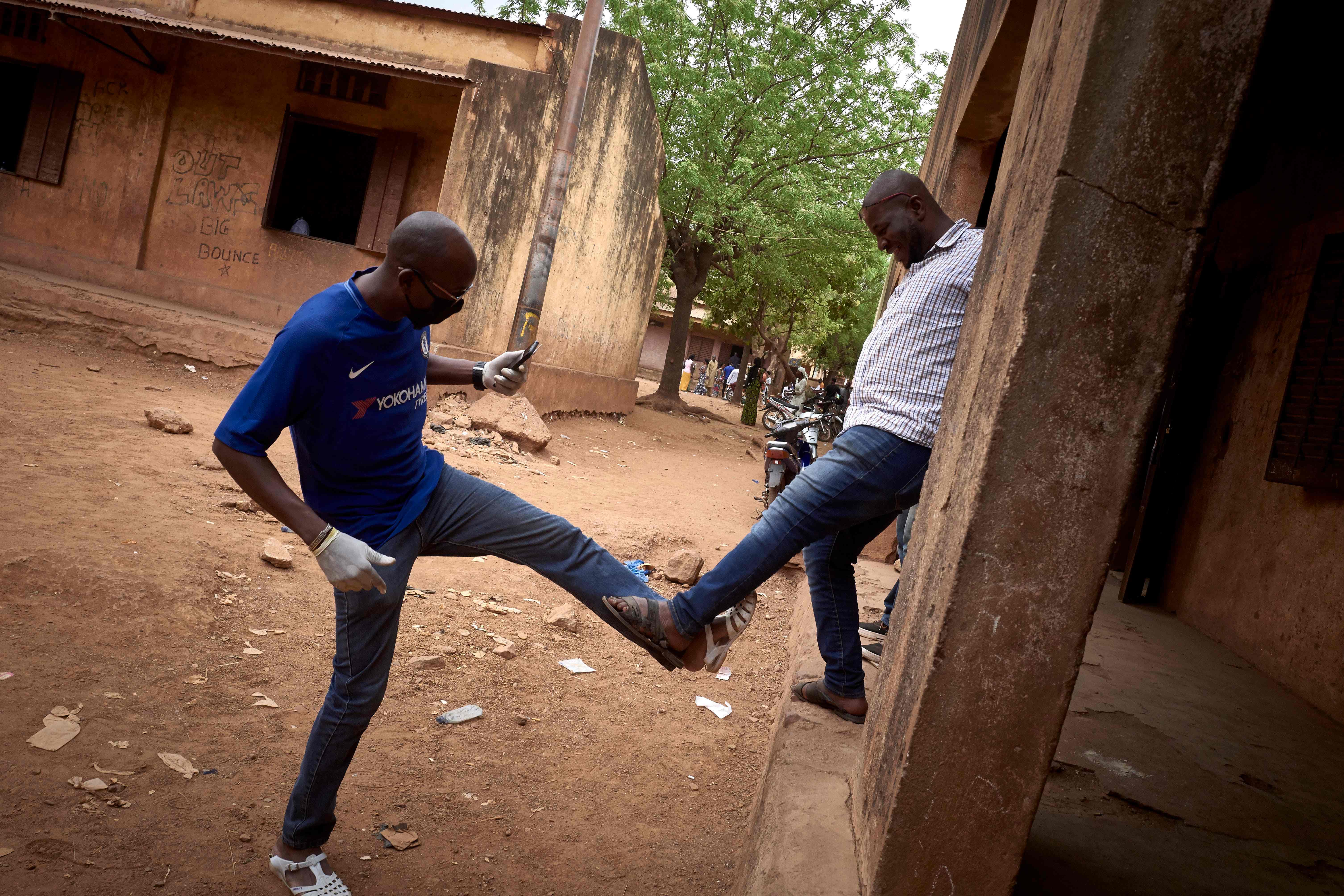 10:46pm — Karachi, Pakistan — Sindh releases notification reminding employers to pay workers by March 31
The Sindh government has issued a notification under the Sindh Payment Act, reminding the owners of all private organisations and factories to disburse their workers' salaries by March 31.
"All organisations will be bound to pay their daily wage workers, contractual employees and permanent employees," said the notification.
It further stated that a SESSI (Sindh Employees Social Security Institution) emergency cell has been established to deal with all grievances and inquiries.
---
10:30pm — Hunza, Gilgit-Baltistan — One more death takes region's tally to 2
One more death has been reported in Gilgit-Baltistan, taking the total number of deaths in the region to two.

According to Shams Mir, the region's information adviser, a healthcare worker from Nagar had died from the disease and buried with full state honours.
According to Mir, 12 new cases had been confirmed today, taking the tally to 123 in the region.
Out of 27 new tests, 15 came back negative.
Four patients have been discharged from the isolation ward after a full recovery.
"A high-level government delegation will visit the coronavirus-stricken red zone in Nagar tomorrow," he said.
---
10:22pm — Karachi, Pakistan — 33 test positive out of 1,135 tests
The Sindh health department has reported that a total of 33 cases were found in Sindh from among 1,135 samples tested over the last 24 hours.



---



09:40pm — Islamabad, Pakistan — Dr Mirza warns against paying heed to wrong advice by doctors
The prime minister's aide on health, Dr Zafar Mirza has warned everyone that no medicine can be used with a view to prevent the onset of COVID-19.

"Some local Drs are recommending use of specific medicines for prevention of #COVIDー19. Not right!" he wrote.
He went on to share the WHO's views on the matter, which has clearly said: "there is no evidence that current medicine can prevent or cure the disease. WHO does not recommend any medicine as a prevention or cure for COVID-19".
---
09:17pm — Peshawar, Pakistan — Rise in KP numbers takes tally to 192, one more death reported
According to the Khyber Pakhtunkhwa health department, four new cases have emerged in the province, taking the total to 192.
Of the new cases, two are from Peshawar and one each from Lower Dir and Abbottabad.

A death was also reported from Abbottabad, taking the total death toll in the province to 5.
---
08:28pm — Islamabad, Pakistan — Punjab tally up by one to 571
According to an 8:04pm update on the national dashboard, Punjab's tally of infected cases now stands at 571.
---
08:03pm — Karachi, Pakistan — PDMA Sindh dispatches Chinese masks to hospitals
Sindh's disaster management authority has distributed over 100,000 N-95 masks donated by China to various hospitals in the city.
Over 70,000 personal protection items were also sent to the hospitals, Radio Pakistan has reported.
---
7:43pm - Quetta, Balochistan — 49 ventilators arrive in BMC
Medical Superintendent of the Bolan Medical Complex has said that the hospital has received 49 ventilators.
The MS added that the ventilators have been activated and earlier the province's biggest hospital did not have a ventilator before the outbreak of the coronavirus outbreak.
---
7:32pm - Expats in Singapore dispatch protective equipment for health workers: NDMA
---
7:25pm - Islamabad, Pakistan — Disinfection drives carried out in federal capital
Islamabad Metropolitan Corporation on Sunday carried out disinfection drives in various areas of Islamabad, said Mayor Sheikh Ansar Aziz.
According to the mayor, close to 30 tankers took part in the drive. He added that in the first phase the business centres were being sprayed and given a chlorine wash.
---
7:15pm - Karachi, Sindh — Nation-wide tally rises to 1,563
The national-wide tally positive cases rose to 1,563 after 21 new cases were reported by Sindh's Health Department.
According to the latest data, the emergence of new cases takes the provincial tally of the confirmed cases to 502. The department stated that the new cases were reported from Karachi, the worst affected city in the province.
---
6:55pm - Muzaffarabad — AJK, AJK PM sets up monitoring cell in PM House
Azad Jammu Kashmir Prime Minister Raja Farooq Haider Khan has ordered that a monitoring cell should be set up at Prime Minister House in Muzaffarabad, reported Radio Pakistan.
The cell will monitor the ongoing situation and government agencies' performance in combating the coronavirus in the region.
The Prime Minister has also directed to connect the monitoring cell with all the divisional and district administration through video-link system to keep eye on day to day operations of the government institutions.
---
6:52pm - Karachi, Pakistan — Petrol pumps to close down at 5pm in Sindh
Sindh government on Sunday ordered the closure of petrol pumps from 5pm onwards to ensure people stay in their homes.
According to a notification, the pumps will now be allowed to operate from 8am to 5pm only. 
---
6:48pm - Five Pakistanis stranded in India return home
Five Pakistanis stranded in India due to the closure of border because of the coronavirus pandemic have returned to the country via the Attari-Wagah border today, reported Radio Pakistan.
According to a press release of Pakistani High Commission New Delhi, they came to India on medical visas and were stranded in New Delhi due to coronavirus - related restrictions.
Earlier, four stranded Pakistan nationals were repatriated via Attari-Wagah border on March 20.
---
6:37pm - London, United Kingdom —UK coronavirus death toll rises to 1,228
The number of people who have died after testing positive for coronavirus in the United Kingdom rose to 1,228, according to figures released on Sunday, an increase of 209.
The figures are accurate up to 1700 local time on March 28.
The previous increase saw the death toll rise by 260 people.
---
6:29pm - Spanish Princess Maria Teresa becomes first royal to die from coronavirus
Spanish Princess Maria Teresa of Bourbon-Parma has become the first royal who passed away from the novel coronavirus after her death was reported on Sunday.
The 86-year-old princess was the cousin of Spanish King Felipe VI. Her brother, the Duke of Aranjuez, announced her death via a Facebook post. Her funeral will be held on Friday in Madrid. 
Read more here.
---
6:25pm - Riyadh, Saudi Arabia — Saudi Arabia's coronavirus death toll doubles to eight: spokesman
Saudi Arabia recorded four new fatalities from the coronavirus, bringing its death toll to eight, the health ministry spokesman told a news conference on Sunday.
The kingdom has also registered 96 new infections, taking its total to 1,299, the highest among the Gulf Arab states.
---
6:23pm - Peshawar, Pakistan — KP police seize 56 drums of fake hand sanitizers
Khyber Pakhtunkhwa police on Sunday seized 56 drums of fake hand sanitizers being transported in the province.
According to the police, the fake sanitizers were being smuggled to Lahore, adding that two people have been arrested. They added that the suspects were also carrying fake no-objection certificates with them.
The law enforcement agency said that they have contacted Sheikhupura police to apprehend the main culprit behind the case.
---
6:21pm - Montevideo, Uruguay — Uruguay confirms first coronavirus death, cases hit 303
Uruguay confirmed the country's first death related to coronavirus late on Saturday as total cases climbed above 300 in the South American grains and cattle producer, which has a population of around 3.5 million people.
The country's health ministry said in a report that a 71-year-old former electoral court minister, Rodolfo González Rissotto, had died after contracting the virus that has infected nearly 700,000 people globally and killed over 30,000.
A 82-year-old Uruguayan woman who died earlier in March was found to have had the virus, but her death was attributed to the terminal cancer she was suffering.
---
6:20pm - Amsterdam, Netherlands — Dutch coronavirus cases pass 10,000: health authorities
The number of confirmed coronavirus cases in the Netherlands passed 10,000 on Sunday, health authorities said, adding that the rise in deaths and hospitalizations continued to show signs of slowing.
In its daily update, the Netherlands' National Institute for Health (RIVM) said confirmed cases rose by 1,104 to 10,866, an 11% increase. There were 132 new deaths, bringing the number of fatalities to 771.
"Just as in the preceding days, the number of hospitalized patients and the number of deaths are increasing less quickly than would have been expected without measures," the RIVM said.
---
5:57pm - Peshawar, Pakistan — KP govt withdraws inquiry against doctor 
The Khyber Pakhtunkhwa government on Sunday announced that it was withdrawing an inquiry against a doctor who wore a plastic bag over his head to register a protest against shortage of face masks. 

Taking to Twitter, KP health minister Taimur Jhagra said that he was taking back the inquiry against the doctors as it would "send the wrong message".
The inquiry report stated that Dr Amir had confessed that he had recorded the video in which he wore the plastic bag deliberately as the hospital had turned down his request for transfer.
Read more here 
---
5:55pm - Singapore — Singapore reports 42 new coronavirus cases, taking tally to 844
Singapore reported 42 new coronavirus cases on Sunday, its health ministry said, taking total infections to 844.
The Southeast Asian city-state suffered its third coronavirus-related death earlier on Sunday. 
---
5:52pm - Lahore, Pakistan — PML-N leaders donates protective equipment to Grand Health Alliance
Saira Afzal Tarar and other party leaders donated protective equipment for doctors to the grand health alliance on behalf of the PML-N, said the party on Sunday.

---
5:47pm - Islamabad, Pakistan — DC dismisses rumours regarding lab in city 
Deputy Commissioner Islamabad has clarified that no lab or area near Islamabad Laboratory DHA is infected with the coronavirus.
In a tweet, he also clarified that nothing was being closed down in the city.
---
5:44pm Islamabad, Pakistan — PM Imran discusses step being taken to stop spread of virus 
---
5:17pm - UK paramedic's neighbours thank her for her service
---
5:00pm - Dubai, UAE — UAE opens drive-through coronavirus testing site
The United Arab Emirates has launched a drive-through coronavirus testing facility as part of the Gulf state's efforts to fight the disease, the Abu Dhabi government's media office announced.
The facility, inaugurated by Abu Dhabi Crown Prince Sheikh Mohammed bin Zayed, will provide safe screenings within five minutes, using state-of-the-art equipment and a highly-qualified medical team, it said.
"A new drive-through testing facility for COVID-19 has launched ... to offer safe testing procedures," the office said on Twitter Saturday.
According to official state news agency WAM, the facility can serve 600 people a day, with priority given to senior citizens, pregnant women and those with chronic illnesses.
---
4:49pm - Tokya, Japan — Country confirms 68 new cases 
Tokyo has confirmed 68 new coronavirus cases, a record daily increase, public broadcaster NHK reported on Sunday, as the Japanese capital scrambles to prevent a jump in infections.
The outbreak has infected more than 1,800 people in Japan, with 55 deaths as of Sunday afternoon, excluding 712 cases and 10 deaths from a cruise ship moored near Tokyo last month, NHK said.

Tokyo Governor Yuriko Koike has asked the tens of millions of people in the city and surrounding regions to avoid non-essential, non-urgent outings until April 12, as the city has become the center of Japan's coronavirus epidemic.
Of the 68 new cases in Tokyo, more than 20 are linked to a hospital in the eastern Tokyo ward of Taito, where many patients and staff have already tested positive, NHK said.
---
4:46pm - Islamabad, Pakistan — 150 passengers from Thailand test negative for virus  
Deputy commissioner Islamabad announced that 150 Pakistanis that arrived from Thailand last night have been tested negative for the coronavirus.
The official said that the returning Pakistanis were tested for the disease once they arrived their results came out as negative. He added that the passengers were kept in a quarantine centre and have been given permission to go to their homes.
---

4:40pm — UNICEF Pakistan explains social distancing 
---
4:37pm - Karachi, Sindh — PDMA orders medical equipment through World Bank programme
Provincial Disaster Management Authority in Sindh has ordered 100 ventilators, 200 patient monitors, 15 mobile x-ray units, personal protection kits for over 15,000 medical professionals and over 150,000 surgical masks through World Bank assisted Sindh Resilience Project, said a press release issued by the department

According to a press release, the equipment would be handed over to the provincial health department, for use at various hospitals, medical centres and quarantine facilities.
---
4:27pm - Faisalabad, Pakistan — 63 more pilgrims arrive at quarantine centre  
District administration in Faisalabad has said that 63 more pilgrims have arrived in the quarantine centre. The new addition makes the total number of pilgrims in the quarantine centre set up in the agriculture university to 223.
The district administration added that tests of 160 pilgrims have already been sent to the laboratory for tests.
---
4:09pm - Vatican City — Pope backs UN chief's call for global ceasefire to focus on coronavirus
Pope Francis on Sunday backed a call by United Nations Secretary-General Antonio Guterres for a global ceasefire so the world can focus on fighting the coronavirus pandemic.
Speaking at his weekly blessing, Francis appealed to everyone to "stop every form of bellicose hostility and to favour the creation of corridors for humanitarian help, diplomatic efforts and attention to those who find themselves in situations of great vulnerability".
Guterres made the appeal on Monday.
---
4:02pm - Zurich, Switzerland — Swiss govt says 257 dead from coronavirus, 14,336 tested positive
The Swiss death toll from coronavirus has reached 257, the country's public health agency said on Sunday, up from 235 people the previous day.
The number of confirmed cases also increased to 14,336 from 13,213 on Saturday, it said.
---
3:47pm - Islamabad, Pakistan — Masks made compulsory for passengers heading to Gilgit, Skardu  
PIA has made it compulsory for passengers travelling to Gilgit and Skardu on the national airline to wear masks, said a spokesperson of the carrier.
The spokesperson also asked the passengers to adopt the precautions before coming to the airport. The airline added added that passengers without masks will not be given a boarding pass.
---
3:30pm — Kuala Lumpur, Malaysia — 150 new cases, seven deaths reported
Malaysia reported 150 new coronavirus cases on Sunday, taking the total to 2,470, the highest in Southeast Asia.
The number of deaths from the virus outbreak rose by seven to 34, the health ministry said.
---
Police officer gets injured while on duty at quarantine centre in Layyah, Punjab
---
3:15pm — Tehran, Iran — Death toll from virus reaches 2,640
Iran's death toll from the coronavirus has risen to 2,640 and the number of infected people has reached 38,309, a health ministry official tweeted on Sunday.
"In the past 24 hours we had 123 deaths and 2,901 people have been infected, bringing the total number of infected people to 38,309," tweeted Alireza Vahabzadeh, an adviser to Iran's health minister. 
---
3:00pm — Islamabad, Pakistan — 200,000 N-95 masks given to Sindh: NDMA
A spokesperson for the National Disaster Management Authority (NDMA) on Sunday said they have distributed the N-95 masks to all the provinces.
"200,000 masks given by the Jack Ma Foundation have been given to Sindh, 75,000 to Punjab, and 50,000 each to Islamabad and Balochistan," the spokesperson said.
The spokesperson added that 15,000 masks have been given to AJK.
---
Prince William, Kate Middleton urge mental health well being during outbreak
Britain's Prince William and his wife, Duchess Kate, urged people on Sunday to take care of their mental health during the coronavirus outbreak.
"The last few weeks have been anxious and unsettling for everyone. We have to take time to support each other and find ways to look after our mental health," read a post on their Kensington Palace Twitter feed.
"By taking simple steps each day we can all be better prepared for the times ahead." 
---
2:45pm — Madrid, Spain — Death toll rises by 838 overnight to 6,528
Spain's coronavirus death toll rose by 838 cases overnight to 6,528 the health ministry said on Sunday, marking the highest daily rise in fatalities.
The total number of those infected rose to 78,797 from 72,248 on Saturday. 
---
Punjab passes 'Infectious Disease Prevention & Control Ordinance 2020'
---
2:30pm — Wellington, New Zealand — First death reported in the country
New Zealand recorded its first death related to the new coronavirus on Sunday as the number of people infected with the virus rose by 63 in the country.
The country has recorded a total of 514 cases.
---
2:15pm — Lahore, Pakistan — Punjab doctors, nurses to work six-hour shifts
Doctors, nurses and other medical staff involved in curing the coronavirus patients will work six-hour shifts and sent on a 15 day leave after a week's duty, a notification issued by Punjab government said.
---
2:00pm — Global coronavirus death toll passes 30,000
More than 662,700 people have been infected by the novel coronavirus across the world and 30,751 have died, according to a Reuters tally.
Infections have been reported in more than 200 countries and territories since the cases were identified in China in December 2019.
---
1:45pm — Karachi, Pakistan — Sindh reports 2 more deaths, provincial tally rises to 3
The Sindh Health Department on Sunday confirmed two more deaths in the province, taking the nation-wide toll to 15.
Minister of Health and Population Welfare Dr Azra Fazal Pechuho said the two deaths occurred late on March 28.
"We received the lab reports of both patients after they had passed away and we found out that the cause of death in both cases was pneumonia along with COVID-19," she said.
The patients were 83 and 70 years old, the provincial health minister added.
---
1:30pm — Islamabad, Pakistan — Pandemic to come under control soon in Pakistan: Chinese envoy 
Chinese Ambassador to Pakistan Yao Jing has said the medical team visiting from China will share its knowledge and expertise with their Pakistani counterparts to deal with the threat of coronavirus, reported Radio Pakistan.
Addressing a ceremony in Islamabad on Sunday, Jing expressed hope that the pandemic would soon come under control in Pakistan.
---
1:15pm — Riyadh, Saudi Arabia — Saudi Arabia shuts entry and exit into Jeddah
Saudi Arabia shut down entry and exit into the Jeddah governorate and brought forward a curfew there to begin at 3pm local time (1200 GMT), state news agency SPA said on Sunday.
The curfew in Jeddah previously began at 7pm Saudi Arabia applied the same measures to Riyadh, Mecca and Medina last week.
---
1:10pm — Frankfurt, Germany — Confirmed cases rise to 52,547
The number of confirmed cases of the coronavirus in Germany has risen to 52,547 and 389 people have died of the disease, statistics from the Robert Koch Institute (RKI) for infectious diseases showed on Sunday.
Cases rose by 3,965 compared with the previous day while the death toll climbed by 64, the tally showed.
---
1:00pm — Lahore, Pakistan — Punjab reports 12 new cases, provincial tally rises to 570
Punjab reported 12 new cases on Sunday taking the provincial tally to 570.
The number of confirmed cases in Pakistan now stands at 1,542.
---
Chinese health experts visit National Institute of Health
---
12:30pm — Muzaffarabad, AJK — Two new cases reported
Two more cases of coronavirus were reported in Azad Jammu and Kashmir on Sunday taking the tally to six in the region.
The number of cases in Pakistan now stands at 1,530.
---
12:15pm — Islamabad, Pakistan — China has written a new chapter in public health: Dr Zafar Mirza
Special Assistant to Prime Minister on National Health Services Dr Zafar Mirza on Sunday said China has written a new chapter in the history of public health after it placed 60 million people under quarantine to combat the spread of the virus.
"The world has learnt a lot from China regarding the prevention and control of the disease," Mirza said while briefing a team of Chinese doctors at the National Institute of Health in Islamabad.
The SAPM expressed hope that Pakistani health professionals would learn from their Chinese counterparts to stem the tide against coronavirus.
He also thanked China for extending cooperation to Pakistan in this difficult time by supplying essential medical aid, sharing expertise and training health professionals in the country.
---
12:00pm — Islamabad, Pakistan — One more death reported, tally rises to 13
Pakistan on Sunday reported one more death from the novel coronavirus in the country, taking the national tally to 13.
According to Commissioner Hazara Syed Zaheerul Islam, the patient was admitted into a local hospital two days ago with symptoms associated with Covid-19.
"The patient was with a preaching mission a week ago," the commissioner said, adding that 10 others part of the gathering had been quarantined at a local hotel.
---
11:45am — Islamabad, Pakistan— 22 new cases reported, nation-wide tally rises to 1,528
The national dashboard reported 22 new cases of coronavirus across the country, taking the nation-wide tally to 1,528.
According to the breakdown, four new cases were reported in Islamabad, 12 in Sindh, five in Gilgit-Baltistan and one in Punjab.
---
11:30am — Muzaffarabad, AJK — Two new cases reported
Two new cases of coronavirus were reported in Azad Jammu and Kashmir on Sunday taking the tally to four in the region.
The number of cases in Pakistan now stands at 1,506.
---
11:15am — Beijing, China — 45 new cases reported
China reported 45 new coronavirus cases in the mainland on March 28, down from 54 on the previous day, with all but one involving travellers from overseas, the health authority said on Sunday.
A total of 3,300 people have now died in mainland China from COVID-19.
---
11:00am — Phnom Pehn, Cambodia — Border restrictions tightened after one new case reported
Cambodia reported one new case of the coronavirus on Sunday, bringing the tally to 103 as the country prepares to tighten entry requirements for foreign nationals to try to curb the spread of the virus.
Cambodia's Foreign Affairs Ministry said on Friday it cancel visas on arrival for foreign nationals for one month, effective midnight of March 30, to curb the spread of the coronavirus.
---
FACT: COVID-19 is NOT airborne
---
10:30am — Bangkok, Thailand — 143 new cases reported
Thailand has 143 new coronavirus cases, bringing the total of cases since the outbreak to 1,388, the spokesman of the government's Center for COVID-19 Situation Administration (CCSA) said on Sunday, giving the latest daily update.
The country also recorded one new fatality, bringing the total of death since the outbreak to 7.
---
10:00am — Islamabad, Pakistan — Notification for resumption of international flight operation withdrawn
The federal government has withdrawn a notification regarding the resumption of international flight operations after reservations from the Sindh government.
According to the notification by the Prime Minister's Office, the government had allowed resumption of flight operations at Karachi, Lahore, Multan, Faisalabad, Quetta and Peshawar airports from April 5.
Responding to the decision, Sindh Information Minister Nasir Hussain Shah said the provinces should have been taken on board on this.
"No way, it's too early to decide on this. Such a decision needs to made by the consent of provincial governments as each province is struggling very hard to contain the spread of coronavirus We can't afford any risk at this point," Shah tweeted.
---
9:45am — Milan, Italy — Coronavirus death toll surges past 10,000
The death toll from coronavirus in Italy barrelled past 10,000 on Saturday, a figure that made an extension of a national lockdown almost certain.
Officials said 889 more people died in the previous 24 hours, the second-highest daily tally since the epidemic emerged on February 21, and that total fatalities reached 10,023.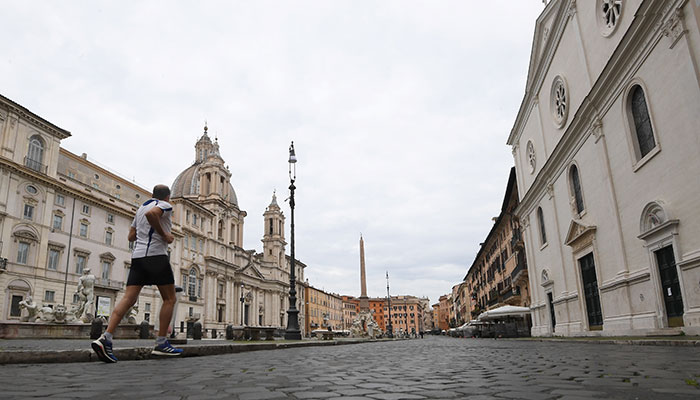 Confirmed cases rose by about 6,000 to 92,472, the second-highest number of cases in the world behind the United States.
The Lombardy region, which has borne the worst of the contagion, recorded 542 new deaths, bringing the total there to 5,944.
---
9:30am 

— Riyadh, Saudi Arabia — Flight suspension extended
Saudi Arabia said on Sunday it was extending indefinitely the suspension of international passenger flights and workplace attendance in both public and private sectors among efforts to contain the spread of the coronavirus.
Domestic flights, trains, buses and taxis also remain suspended, the Interior Ministry said in a statement.
---
9:15am — Islamabad, Pakistan — Plane carrying medical supplies arrives in Pakistan
Another plane carrying medical supplies from China arrived in Pakistan on Sunday.
Ventilators, face masks and other medical supplies were handed to Chairman NDMA Lieutenant General Muhammad Afzal by the Chinese ambassador to Pakistan at the airport.
---
9:00am — Karachi, Pakistan — Sindh information minister says too early to decide on lifting flight ban
Sindh Information Minister Nasir Hussain Shah has said it is too early to decide whether the government should lift the ban on international flights into the country.
"No way, it's too early to decide on this. Such a decision needs to made by the consent of provincial governments as each province is struggling very hard to contain the spread of coronavirus. We can't afford any risk at this point," Shah tweeted.
---
Global coronavirus death toll passes 28,000
More than 615,600 people have been infected by the novel coronavirus across the world and 28,316 have died, according to a Reuters tally.
Infections have been reported in more than 200 countries and territories since first cases were identified in China in December 2019.
Read more here. 
---
8:45am — Washington, US —  Trump drops idea of New York lockdown as death count crosses 2,000
President Donald Trump said on Saturday that he would issue a travel warning for the hard-hit New York area to limit the spread of the coronavirus, backing off from an earlier suggestion that he might try to cut off the region entirely.
"A quarantine will not be necessary," he said on Twitter.
Trump's announcement came as the US death count crossed 2,100, more than double the level from two days ago. The United States has now recorded more than 122,000 cases of the respiratory virus, the most of any country in the world.
---
8:30am — Winnipeg Canada — Air, travel to be denied to anyone with COVID-19 symptoms: Trudeau
Canada will not allow anyone displaying symptoms of the COVID-19 respiratory illness to board domestic flights or intercity passenger trains, Prime Minister Justin Trudeau said on Saturday, the latest travel restriction aimed at curbing the coronavirus outbreak.
Trudeau's government has long urged Canadians feeling ill to stay at home, but he told reporters at his daily press conference outside his residence that Transport Canada had now formalised travel rules as COVID-19 cases steadily rise.
Canada's domestic travel restrictions will take effect on Monday at noon EDT.
Canada has confirmed 5,153 cases of coronavirus and 55 deaths, health officials said.
In the province of Quebec, the number of cases jumped by 24% in the past day to nearly 2,500, more than double any other province. Four additional deaths raised Quebec's death toll to 22.
---
8:15am — Tokyo, Japan — Delayed Olympics likely to open in July 2021
The International Olympic Committee (IOC) and Japanese organisers are in final stages of talks to set the opening date for the Tokyo Games in July next year, Japanese media said.
The Tokyo event, postponed last week due to the coronavirus pandemic, will most likely have its opening ceremony in 2021 on July 23 and closing ceremony on August 8, each a day earlier on the calendar than the original 2020 plan, said public broadcaster NHK on Sunday, citing unnamed sources.
---
8:10am — Seoul, South Korea — 105 new coronavirus cases reported
South Korea had confirmed 105 new coronavirus cases as of midnight Saturday, bringing the country's total now to 9,583, the Korea Centers for Disease Control and Prevention said on Sunday.
---
09:30pm/March 28 — Islamabad, Pakistan — Govt to allow international flights to operate from April 5
The government will allow international flights to bring home stranded Pakistanis w.e.f. April 5, 2020. According to a notification issued from the Prime Minister's Office, the passengers will be brought into the country where they will be screened for the coronavirus and suspected patients of the virus will be quarantined at designated hotels.
The flights will operate at Karachi, Islamabad, Lahore, Multan, Peshawar, Quetta and Faisalabad airports.
---
07:55pm/March 28 — Rawalpindi, Pakistan — Pak Army provides nationwide deployment details
In a statement issued by the Inter-Services Public Relations (ISPR), the Pakistan Army has provided a break up of "troops deployed across the country in aid of civil power under article 245".
The troops are assisting federal and provincial governments in Azad Jammu and Kashmir, Balochistan, Gilgit-Baltistan, Islamabad, Khyber Pakhtunkhwa, Punjab and Sindh in "ensuring enforcement measures", "contact tracking, tracing to identify and isolated suspected individuals" and in managing the 182 quarantine facilities set up across the country.
---
For March 28 coronavirus updates click here.
For March 27 coronavirus updates click here.