Coronavirus updates, May 19: Latest news on the COVID-19 pandemic from Pakistan and around the world
Nationwide death toll near 990, confirmed cases breach 45,000; global coronavirus deaths exceed 317,000
Updated Tuesday May 19 2020
The number of confirmed COVID-19 cases in Pakistan rose to 45,776 on Tuesday after new infections were confirmed in the country.
The province-wise break up of the total number of cases as of 12:18am, May 20, is as follows:
Total confirmed cases: 45,776
• Sindh: 17,947
• Punjab: 16,685
• Khyber Pakhtunkhwa: 6,554
• Balochistan: 2,885
• Islamabad Capital Territory: 1,034
• Gilgit-Baltistan: 556
• AJK: 115
Deaths: 986
• Khyber Pakhtunkhwa: 345
• Sindh: 299
• Punjab: 290
• Balochistan: 38
• Gilgit-Baltistan: 4
• Islamabad Capital Territory: 9
• AJK: 1
---
Officials have recorded more than 4.8 million cases and more than 317,000 deaths since the virus emerged in China in December.
Read on for the latest updates from Pakistan and around the world.
---
Disclaimer: There may be some discrepancy in the number of confirmed cases reported at the country level due to differences in figures quoted by federal and provincial authorities.
Geo News is constantly gathering fresh information from concerned authorities and striving to keep our readers up to date with the most accurate information available.
---
Orange: General updates coming in from Pakistan
Red: Reports on new cases in Pakistan
Maroon: Reports on new deaths in Pakistan
Green: Reports on recovered patients in Pakistan
---
END OF LIVE UPDATES FOR MAY 19
Live updates for May 20 to continue here.
---
12:18am (May 20) — Lahore, Pakistan — Punjab reports 17 deaths, 709 new cases
The Punjab disaster management authority has reported 17 more deaths, taking the total to 290 in the province.
The total number of cases rose by 709 to 16,685.

---
WEF president 'looking forward' to hear PM Imran's address today

---
12:06am (May 20) — Karachi, Pakistan — Sindh's cases for May 19 at a glance
---
11:43pm — Quetta, Pakistan — Balochistan reports 65 new cases



The Balochistan health department has reported 65 new cases in the province, taking the total to 2,885.
There are a total of 2,239 active cases in the province. So far, 608 people have recovered.

---
11:30pm — Muzaffarabad, Pakistan — AJK PM announces changes in business hours
Azad Jammu and Kashmir (AJK) Prime Minister Raja Farooq Haider announced changes in the business timings after a meeting with a delegation of traders' central association.

The markers will now remain open from 5am-12am, he said, adding that the traders will be responsible for implementation of SOPs.
The AJK PM said that the decision was taken in the light of the problems  the business community was facing. 

---
11:20pm — Lahore, Pakistan — Punjab to keep malls, plazas open all week long as it implements SC orders
Provincial Minister of Punjab for: Industries, Commerce, Investment, Skill Development Mian Aslam Iqbal expressed satisfaction over implementation of SOPs in malls and plazas.
Meanwhile, he said that in the light of the Supreme Court's decision businesses will be allowed to run on Fridays, Saturdays, and Sundays and that the cabinet was considering to extend the timings.
---
11:05pm — Tehran, Iran — Over 2,100 new virus cases reported
Iran reported no new coronavirus deaths in nearly a third of its provinces for 24 hours but said there were more than another 2,100 cases of infection nationwide.
The virus spread rapidly to all 31 of Iran's provinces soon after the country's first cases were announced three months ago.
"Ten provinces have reported zero deaths in the past 24 hours and six others only one," said health ministry spokesman Kianoush Jahanpour.
---
10:28pm — Quetta, Pakistan — Balochistan extends 'smart lockdown' till June 2
---
WATCH: EU backs WHO after Trump threatens pull-out

---
09:58pm — Washington, USA — Trump: WHO must clean up its act or US will no longer be involved
US President Donald Trump has said the World Health Organisation has to improve how it treats the United States and other countries or Washington will pull out.
"They have to clean up their act. They have to do a better job. They have to be much more fair to other countries, including the United States, or we're not going to be involved with them anymore," Trump told reporters at the White House.
The president's comments came after he released a letter to the WHO on Monday saying it had to make improvements in the next 30 days or he would make a temporary freeze on US funding to the organization.
---
09:24pm — Stockholm, Sweden — Sweden tops Europe COVID-19 deaths per capita over last seven days

Sweden, which has opted for a more open strategy in combating the virus than other European countries, has the highest number of deaths in Europe per capita from the COVID-19 disease over the last seven days, data has shown.
Sweden has kept most schools, restaurant and businesses open during the pandemic. While deaths are on the decline Sweden had 6.25 deaths per million inhabitants per day in a rolling seven day average between May 12 and May 19, according to Ourworldinsata.org. That was the highest in Europe and just above the United Kingdom, which had 5.75 deaths per million.
Over the course of the pandemic Sweden still has fewer deaths per capita than the United Kingdom, Spain, Italy, Belgium and France, which have all opted for lockdowns, but much higher than Nordic neighbours Denmark, Norway and Finland.
Sweden's strategy, mostly based on voluntary measures regarding social distancing and basic hygiene, has been criticised by some as a dangerous experiment with peoples lives but also been put forward as a future model by the WHO.
Sweden's open strategy seems to have softened the blow on the economy, with growth shrinking much less than in Denmark and Norway in the first quarter.
---
08:56pm — Karachi, Pakistan — Ban on pillion riding in Sindh, family members only exception

The Sindh government has notified a ban on pillion riding with the only exception accorded to members of a family residing in the same household.
"There shall be no exception to this order for Law Enforcement Agencies (LEAs), journalists/media persons, co-workers, office staff, etc," reads the notification.

---
08:33pm — Karachi, Pakistan — Sindh govt issues SOPs for shopping malls
The Sindh govt has issued the standard operating procedures to abide by in the reopening of shopping malls.
The SOPs were issued after approval by Chief Minister Sindh Murad Ali Shah.
According to the notification, no one will be allowed to enter without masks. At the entrance, hand sanitisers must be provided to customers to use before they enter.

A thermal gun will be used to check the temperature of people before they enter. Those exhibiting symptoms or who have a temperature will not be allowed inside.
Children and people aged over 55 will not be allowed in the mall premises.
---
07:48pm — Gilgit, Gilgit-Baltistan — Region reports six more cases
The Gilgit-Baltistan health department has reported six more cases in the region, taking the tally of infected to 556.
With the increase in cases, Pakistan's tally breached 45,000 to 45,002.

On the upside, the region saw 22 more recoveries, bringing the total number of recoveries in GB to 390.

---
7:12pm — Doha, Qatar — Coronavirus death toll reaches 15
Qatar reported 1,637 new infections taking the overall cases to 35,606, while the country's death toll stands at 15.
Meanwhile, Kuwait reported 1,073 new cases bumping the infections toll to 16,764.
---
7:06pm — Islamabad, Pakistan — Pakistan thanks China for cooperation amid COVID-19
The Government of Pakistan highly appreciates the efforts of the Government and people of China for extending full support and co-operation to our students, as the Wuhan city defeated COVID-19, a statement from the Foreign Office read.
---
7:00pm — Jakarta, Indonesia — Capital extends coronavirus measures until June 4
Indonesia's capital city Jakarta extended its large-scale social curbs until June 4, maintaining restrictions that limited public transportation and gatherings in a bid to contain the spread of the coronavirus.
Indonesia has allowed regional health authorities to impose their own measures if the health ministry finds sufficient evidence of a rise in coronavirus cases.
"The more people stay at home, the less transmission there is," Jakarta governor, Anies Baswedan, said in a video conference. "These could be the final (restrictions), if we're disciplined."
The city of about 10 million people has recorded 6,155 coronavirus infections and 470 deaths. Indonesia has reported 18,496 infections and 1,221 fatalities so far, the highest death toll in Southeast Asia.

---
6:54pm — Madrid, Spain — Country lifts ban on flights from Italy, but tourism still off cards
Spain lifted a ban on direct flights and ships from Italy but retained a block on cruise ships and a quarantine for inbound travellers as a survey showed the coronavirus outbreak had also put locals off travelling.

A reduced death rate from COVID-19 has encouraged Spain, with the world's fourth highest number of infections, to begin easing one of Europe's strictest lockdowns.
But the tourism-dependent economy is likely to have to wait until late June to welcome holidaymakers back.
Madrid surprised its European partners by introducing a two-week quarantine last week. Flights from Italy had been blocked since March 11.
---
6:48pm — London, UK — England reports far fewer COVID-19 deaths in care homes than European states
England has reported the lowest level of deaths in nursing homes as a share of total COVID-19 fatalities compared to other European nations, a document from the European Centre for Disease Prevention and Control (ECDC) showed.
The EU report compared figures made available by national authorities in European countries. It did not explain why the number of deaths in facilities for elderly largely varied across Europe but stressed under-reporting of COVID-19 cases in care homes "has been a common feature" throughout the pandemic.
As of May 9, the national statistics office of England, which makes up the majority of Britain's population, recorded nearly 7,000 deaths related to COVID-19 in care homes, which amounted to 21% of the more than 33,000 fatalities linked to the disease.
In Wales, the percentage rose to 25%, while in Scotland the share of COVID-19 deaths in care homes was 45% of the total of more than 3,200 COVID-19 fatalities as of May 10.
In other European countries for which ECDC had data, the share of deaths in nursing homes varied from 37% of all reported COVID-19 fatalities in Germany to 66% in Spain, where nearly 18,000 deaths were officially reported in long-term care facilities as of May 11.
---
6:42pm — Washington, US — US praises Taiwan's coronavirus response, hails 'shared vision'
U.S. Secretary of State Mike Pompeo on Tuesday congratulated Taiwan's President Tsai Ing-Wen on her re-election, praised the country's coronavirus response and called it a reliable partner, in a statement that sharply contrasted with recent US criticism of China, which claims Taiwan as a province.
"We have a shared vision for the region - one that includes rule of law, transparency, prosperity, and security for all, Pompeo said in a statement. "The recent COVID-19 pandemic provided an opportunity for the international community to see why Taiwan's pandemic-response model is worthy of emulation."
---
Countries turn to technology to monitor spread of coronavirus
---
6:30pm — Doctor who put off retirement dies of COVID-19 
---
6:22pm — Islamabad, Pakistan — Railways minister thanks Japan for its support to Pakistan amid coronavirus 
---
6:15pm — Casablanca, Morocco — Inside the Oukacha prison 
---
6:10pm — WHO states agree to independent probe of coronavirus response
World Health Organisation member states agreed to an independent probe into the UN agency's coronavirus response as US criticism mounted over its handling of the pandemic.
Countries taking part in the WHO's annual assembly, being held virtually for the first time, adopted a resolution by consensus urging a joint response to the crisis.
The resolution, tabled by the European Union, called for an "impartial, independent and comprehensive evaluation" of the international response to the pandemic, which has so far infected more than 4.8 million people and killed over 318,000.
It said the investigation should include a probe of "the actions of WHO and their time-lines pertaining to the COVID-19 pandemic".
The United States did not disassociate itself from the consensus as some had feared after Washington chastised the WHO on the first day of the assembly Monday and lashed out further against China over its role in the outbreak.
---
6:04pm — Jerusalem, Palestine —  Al-Aqsa mosque to reopen after Eid holiday
Jerusalem's Al-Aqsa mosque will reopen to worshippers after the Eid holiday, a statement from its governing body said, two months after closing due to the coronavirus.
"The council decided to lift the suspension on worshippers entering the blessed Al-Aqsa Mosque after the Eid al-Fitr holiday," a statement from the Waqf organisation said, referring to the three-day holiday expected to begin this weekend.
---
05:43pm — Peshawar, Pakistan — KP reports 11 deaths, 324 new cases
Khyber Pakhtunkhwa health department has reported 11 more deaths in the province, taking the grim total to 345, the highest in the country.
The tally of infected also rose by 324 to hit a total of 6,554.

---
05:39pm — Islamabad, Pakistan — Chinese experts visit NCOC, share experience which helped China contain pandemic
---
05:15pm — Islamabad, Pakistan — Pakistan looking to outsource airports: Shibli Faraz
Information minister Shibli Faraz, in a post-Cabinet meeting media briefing, has said that the country is looking to outsource its airports to an international firm which has experience in running world class airports, to bring them up to international standards.

---
04:34pm — Karachi, Pakistan — Sindh governor orders container of PPEs sent to Larkana, Hyderabad after YDA protest

After a protest by Young Doctors Association in Sindh, Governor Imran Ismail has ordered that a container of personal protection equipment (PPE) be sent to Chandka Medical College in Larkana and Liaquat University Hospital in Hyderabad.
"Doctors and medical workers are frontline soldiers in the fight against coronavirus. We will do whatever we can to ensure the supply of protective gear for them," said the governor.

---
Manchester United urge fans to stay away from stadiums
Manchester United have urged fans to stay away from their Old Trafford stadium should the venue be used for behind closed doors games during the Premier League's resumption of play.
In an email to supporters, United confirmed they will refund season ticket and ticket holders for games held behind closed doors and made a plea for supporters to stay away from matches.
"We share your disappointment that you will not be able to watch United in person from within the stadium, but we would encourage you to give your continued loyal support from the comfort and safety of your home," the club said.
"We also ask for your co-operation not to travel to any stadiums at which we are playing on matchdays. By supporting from home and following government guidance, you will be playing your part to keep your friends, your family and all United fans safe."
---
3:50pm — Geneva, Switzerland — WHO expects to have "more clarity" on Trump letter later in day
The World Health Organisation (WHO) spokeswoman said on Tuesday that the agency had no immediate comment on a letter from US President Donald Trump, but expected to have "more clarity" and a reaction later in the day.
"I saw the letter, for now I don't have any reaction. We are very busy trying to finalise our agenda for the World Health Assembly," WHO spokeswoman Fadela Chaib told a UN briefing in Geneva on Tuesday, reffering to its ongoing virtual assembly.
"I am sure in the course of the day we will have more clarity and a reaction to this letter," she said
---
3:40pm — Madrid, Spain — Spain lifts direct ban on flights from Italy
Spain on Tuesday lifted a ban on all direct flights and ships from Italy since March 11 during its coronavirus lockdown, according to the government gazette.
Travellers from Italy will have to comply, however, with a two-week quarantine like other foreign visitors, while a state of emergency is in place.
A much-reduced death rate from COVID-19 has encouraged Spain to begin easing one of Europe's strictest lockdowns, but the tourism-dependent economy is likely to have to wait until late June to welcome holidaymakers back.
---
3:30pm — Moscow, Russia — Russian PM Mishustin back to work after testing positive
Russian Prime Minister Mikhail Mishustin is back at work after being diagnosed with the new coronavirus, the Kremlin said on Tuesday.
The Kremlin said Russian President Vladimir Putin had signed a decree cancelling a temporary transfer of Mishustin's duties to First Deputy Prime Minister Andrey Belousov, who had been Russia's acting prime minister since April 30. 
---
Protection in style: Chinese designer makes silk coronavirus masks
Adorned with intricate designs of orchids, camellias and Chinese characters symbolising good luck, the stylish silk masks created by Chinese fashion designer Zhou Li have become coveted items during the coronavirus outbreak.
Zhou, whose Dejin fashion brand recently exhibited at China Fashion Week, has been making embroidered silk masks equipped with high specification N95 air filters since February, providing the fashion-conscious with protective options.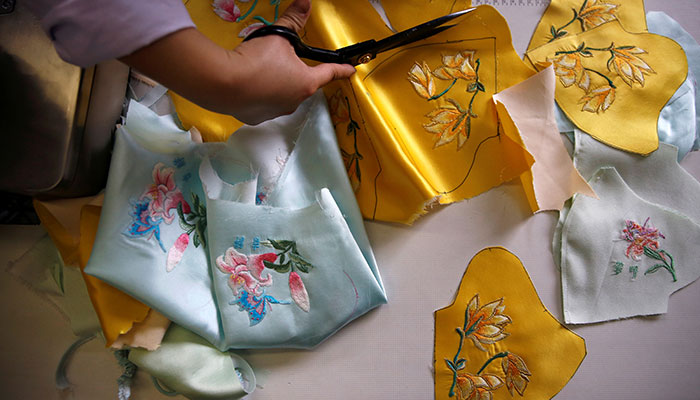 ---
NIH, DAFPAK Public Sector Service Delivery conducts virtual training for doctors
---
3:10pm — Karachi, Pakistan — Not in a position to open schools yet: Saeed Ghani
Sindh Education Minister Saeed Ghani has said the province was not in a position to open schools as even if they tried as parents would be reluctant to send their school as yet.
"We feel even if we open the school parents would not be willing to send their children to school," Ghani told a press conference in Karachi.
"The Sindh Education and Literacy Department is launching an app which is our first step into the world of digital classroom," he said.
The education minister added they were in talks with service providers to provide fast connections. "We are also in talks with cable operators to come up with an education channel," he added.
---
2:55pm — Dubai, Abu Dhabi — Etihad Airways cuts hundreds of jobs: sources
Abu Dhabi's Etihad Airways has laid off hundreds of employees this month, including cabin crew, after the coronavirus pandemic forced it to ground flights, according to industry and company sources.
The state-owned airline, which had 20,530 employees as of August 2019, grounded passenger flights in March and a month later said it had made a large number of staff redundant.
Two sources said hundreds of staff had been laid off this month with employees being let go on an almost daily basis. More job cuts were expected, they said.
An Etihad spokeswoman told Reuters there had been redundancies across several areas of the airline.
---
ADB approves $300mn loan to Pakistan to help mitigate COVID-19 impact
The Asian Development Bank (ADB) has approved a $300 million emergency assistance loan to strengthen Pakistan's public health response to the novel coronavirus disease (COVID-19) pandemic and help meet the basic needs of vulnerable and poor segments of society.
"The COVID-19 pandemic is having a significant detrimental impact on the health and economic prospects of the people of Pakistan," said ADB Vice-President Shixin Chen. 
---
In a single day, 51 healthcare workers tests positive for COVID-19 in Punjab
The number of healthcare workers infected with coronavirus in Punjab has risen to over 200, as more medics and healthcare professionals are tested in the province.
As per the May 18 report of Punjab's primary and secondary healthcare department, 235 healthcare workers have tested positive for the virus in Pakistan's most populous province.
The number is up from May 17, when 184 healthcare providers were recorded to have contracted the disease. Which means that 51 healthcare workers tested positive for the virus in a single day.
The report notes that 1,877 medics, doctors and nurses have been tested in the province to date, of which 12.5 per cent tested positive.
As of May 19, Punjab has recorded 15,976 confirmed cases and 273 deaths.
---
2:15pm — Beijing, China — China says US trying to shift blame and smear Beijing over WHO
China has said the United States was trying to shift the blame for Washington's own mishandling of the COVID-19 crisis, responding to President Donald Trump's letter threatening to halt funding to the World Health Organisation (WHO), reported Reuters.
Trump threatened on Monday to reconsider the United States' membership of WHO if the organisation did not commit to improvements within 30 days, and said the body had shown an "alarming lack of independence" from China.
Chinese Foreign Ministry spokesman Zhao Lijian told reporters on Tuesday that the United States was trying to smear China and had miscalculated by trying to use China to avoid its own responsibility.
---
WATCH: Storyteller in Gaza and his daughter keep children entertained under lockdown during Ramadan
---
1:55pm — Karachi, Pakistan — Sindh reports highest single day death toll
The death toll from the novel coronavirus rose to 958 after 19 more deaths were reported in Sindh.
"We recorded the first death on March 19 and the [daily] death toll is the highest today," said CM Sindh Murad Ali Shah

Sindh's death toll from the virus now stands at 299.
---
1:55pm — Karachi, Pakistan — Positive cases cross 44,000
Confirmed cases in the country rose to 44,672 after new cases were detected in Sindh. 
According to Sindh Chief Minister Murad Ali Shah, 706 cases were recorded in the province in the last 24 hours, taking the provincial tally to 17,947.
He added there were 12,907 patients under treatment in the province at the moment, adding that 4,741 patients had recovered from the virus in the province.
---
1:45pm — London, UK — Ventilator consortium says scaling up in case of COVID-19 second spike
A consortium of British aerospace, automotive and medical companies said they were ramping up ventilator production to make sure there were enough available should there be a second spike in the novel coronavirus outbreak.
"We are continuing to scale up our production capabilities to make sure that there is always a ventilator available when a patient needs it should a second wave strike the UK," said Dick Elsy, Chairman of VentilatorChallengeUK and CEO of the High-Value Manufacturing Catapult
---
Lockdown storytime: Roald Dahl with Meryl Streep, Benedict Cumberbatch and more
Oscar-winning New Zealand filmmaker Taika Waititi has lined up some of his Hollywood's biggest names by videolink from their living rooms for a coronavirus lockdown charity reading of Roald Dahl's classic "James and the Giant Peach".
---
India delay call on Sri Lanka tour amid travel restrictions
The BCCI has said it will wait for more clarity on international travel restrictions before making a call on the limited-overs tour of Sri Lanka in July, a top board official told Reuters.
Virat Kohli's team are scheduled to play three one-dayers and the same number of T20 Internationals in Sri Lanka but the series is under threat due to measures imposed to battle the COVID-19 pandemic.
"Nothing has been decided as yet because we are not sure what would be the travel restrictions then," BCCI treasurer Arun Singh Dhumal said.
Read more here.
---
1:20pm — Islamabad, Pakistan — Another consignment of medical aid arrives from China
Another consignment of medical aid arrived in Pakistan from China today, reported Radio Pakistan.
According to the National Disaster Management Authority's spokesperson, the PAF aircraft brought sixteen ton of medical equipment including twenty biosafety cabinets.
The medical equipment includes 50 ventilators, 300,00 testing kits, 65,000 N-95 masks and 10,000 surgical gowns
---
Chinese Embassy provides care packages for needy families in Peshawar and Rawalpindi
---
1:10pm — Lahore, Pakistan — Anyone found violating SOPs will be fined Rs500, says DS Railways
DS Railways Amir Nisar has said 30 trains will run in the first phase of the operation after railway operation resumes from tomorrow.
"We have completed our homework on the resumption of train operation and will have a full dress rehearsal today," he said.
He added the first train Pakistan Express will depart from Rawalpindi from Karachi at 6am, while the second one will leave from Lahore for Rawalpindi at 7am.
"SOPs will be strictly followed during the train service," Nisar said, adding passengers have been asked to arrive one hour before departure.
He added passengers will be provided with face masks, gloves and sanitizers at the station. "Anyone found violating SOPs will be fined Rs500, while Rs1,000 will be imposed if found violating safety precautions for a second time. The third time passengers will be asked to disembark the train," he added.
---
1:00pm — Moscow, Russia — Russia's confirmed cases total nears 300,000
Russia said on Tuesday that 9,263 new cases of the novel coronavirus had been reported in the last 24 hours, pushing its nationwide tally to 299,941.
The daily rise in cases was below 10,000, a threshold that it has been above for much of May, for the fourth day in a row.
Russia's coronavirus taskforce said 115 people had died overnight, bringing the death toll to 2,837
---
12:45pm — Islamabad, Pakistan —  Govt to contribute Rs4 to every rupee donated in relief fund: PM Imran
Prime Minister Imran Khan has said the government will contribute Rs4 to every rupee donated in COVID-19 Relief Fund.
In a post on Twitter, the prime minister said the relief fund has been fixed for the deserving people who have been laid off due to the lockdown.
"For every rupee donated, government will give 4 more. Ehsaas data and transparency rules apply fully," he said.
---
12:30pm — Islamabad, Pakistan — Pakistani students stranded in Wuhan return home
More than 250 Pakistani students stranded in the Chinese city of Wuhan returned home via a special PIA flight on Tuesday.
Chinese President Xi Jinping in his letter to the students had hailed the Pakistani students accomplishments and had assured them of providing all the necessary help.
---
WATCH: Drone operator swaps takeaway orders for delivering medicines and critical supplies for elderly
---
12:05pm - Karachi, Pakistan — Private schools association demands reopening of schools 
All Private Schools Management Association Chairman Tariq Shah has appealed to the Sindh Education minister to reopen schools from Eid.
"By the constant closure of schools smalls schools are facing financial stress," said Shah, while addressing a press conference in Karachi.
Shah also asked why are schools closed if markets have been opened in the country. 
---
12:00pm - New Delhi, India — India coronavirus infections surge past 100,000, deaths top 3,000
Coronavirus cases in India reached 100,000 on Tuesday, matching its number of intensive care beds, and the rate of increase of new infections showed little sign of slowing.
India reported 4,970 new cases over the previous 24 hours, taking its total to 101,139. Deaths rose by 134 to 3,163.
India's number of cases has easily outstripped that of China, where the virus emerged late last year and which has been one of Asia's infection hot spots.
China has reported nearly 83,000 cases but has kept its daily rise in new infections to single digits for the past week.
---
11:55am - London, UK — UK jobless claims jump to highest since 1996 as COVID crisis hits
A measure of the number of people claiming unemployment benefits in Britain soared to its highest level since 1996 in April, the first full month of the government's coronavirus lockdown, data published on Tuesday showed.
The claimant count rose by 856,500 — the biggest ever month-on-month leap — to 2.097 million, a 69% increase, the Office for National Statistics said.
A Reuters poll of economists had produced a median forecast for a leap of 676,500 in the claimant count with forecasts ranging widely from just over 56,000 to as high as 1.5 million.
The surge would have been even sharper without a government programme to pay 80% of the wages of workers put on temporary leave by their employers, who do not count towards the unemployment total.
"While only covering the first weeks of restrictions, our figures show COVID-19 is having a major impact on the labour market," the ONS's Deputy National Statistician, Jonathan Athow, said.
Experimental data for jobs in April, based on tax figures, showed the number of people on companies' payrolls fell by 1.6% from March and were 1.2% lower than a year before.
"Vacancies were sharply down too, with hospitality again falling steepest," Athow said.
---
11:45am - Lahore, Pakistan — GHA demands protective equipment 
The Grand Health Alliance has demanded the government that the doctors should be provided with all the relevant protective equipment so they could save lives.
"Two months have gone by since the lockdown and we have only received 750 N-95 masks," said Dr Zeeshan while talking to the media at the Punjab Institute of Cardiology. He also alleged that the government has not finalised the SOPs for dealing with patients that die due to the coronavirus.
"No one has done anything for government hospitals," claimed the doctor.
---
11:35am - Berlin, Germany — Germany's confirmed coronavirus cases rise by 513 to 175,210
The number of confirmed coronavirus cases in Germany rose by 513 to 175,210, data from the Robert Koch Institute (RKI) for infectious diseases showed on Tuesday, with new infections accelerating after decelerating the previous four days.
The reported death toll rose by 72 to 8,007, the tally showed.
---
11:30am - Multan, Pakistan — Transporters in Multan protest against reduced fares 
Transporters in Multan are protesting at the city's general bus stand against the Punjab government's decision to reduce fares because of the coronavirus.
The transporters have also demanded the government provide masks and sanitizers to those coming in the busses. 
---
11:20am - Paris, France — France reports fewer new coronavirus deaths, uptick in cases
France reported a small dip in the daily tally of new coronavirus deaths on Monday, though it also saw a slight uptick in confirmed cases, a week after authorities started easing lockdown restrictions.
France's death toll is the fourth highest worldwide, after the United States, Britain and Italy, and its health ministry, announcing the latest figures, urged people to remain cautious and to respect social distancing rules.
It reported 131 further fatalities over the past 24 hours from COVID-19, the respiratory disease caused by the virus, or a slowing increase of 0.5%, bringing the total death tally to 28,239.
A surge in fatalities in retirement homes pushed up France's daily death toll to 483 on Sunday. But over the last 24 hours, those homes only registered eight new deaths.
---
11:10am - Lahore, Pakistan — Minister assures minorities are following SOPs in Punjab
Punjab Minister for Minorities Ijaz Masih informed the provincial chief secretary that the minority communities are ensuring that government announced SOPs are followed.
During the meeting, the chief secretary also assured the minister of full cooperation to his ministry.
---
11:00am - London, UK — Long-lasting global recession likely due to COVID-19, says World Economic Forum report
Risk managers expect a prolonged global recession as a result of the coronavirus pandemic, a report by the World Economic Forum showed on Tuesday.
Two-thirds of the 347 respondents to the survey — carried out in response to the outbreak — put a lengthy contraction in the global economy top of their list of concerns for the next 18 months.
Half of risk managers expected bankruptcies and industry consolidation, the failure of industries to recover and high levels of unemployment, particularly among the young.
"The crisis has devastated lives and livelihoods. It has triggered an economic crisis with far-reaching implications and revealed the inadequacies of the past," said Saadia Zahidi, managing director of the World Economic Forum.
Environmental goals risk being discarded as a result of the pandemic, the report said, but governments should try to carve out a "green recovery".
"We now have a unique opportunity to use this crisis to do things differently and build back better economies that are more sustainable, resilient and inclusive," Zahidi said.
The report was compiled by the World Economic Forum's Global Risks Advisory Board together with Marsh & McLennan Companies Inc and Zurich Insurance Group.
---
10:55am - Multan, Pakistan — Wafaq ul Madaris urges scholars to organise themselves
The Wafaq ul Madaris called on the religious leadership to sit together and organise themselves from scratch, vowing that the ulema will always play their part in promoting the role of religion on society and defeating efforts to stoke sectarianism in the country.

The coronavirus pandemic has been used to stoke sectarian tensions and provoke people, said a joint press release from the Wafaq ul Madaris Al Arabia Pakistan on Wednesday.
The ulema said that the behaviour exhibited by government officials and representatives as well as the targeting of the religious leadership was condemnable.
"Coronavirus was used to stoke sectarian tensions and provocations," read the press release, giving credit to the country's religious leadership for its efforts to make those efforts in vain.
---
10:40am - Washington, USA — Trump says he is taking hydroxychloroquine
President Donald Trump on Monday made the surprise announcement that he is taking hydroxychloroquine, an anti-malaria drug that his own government experts say is not suitable for fighting the novel coronavirus.
Trump, noting that he has tested negative for the virus and shows no symptoms, said he'd been taking the drug as a preventative measure for about a week and a half.
"I take a pill every day," he said, adding that he combines this with zinc.
Asked why, he said: "Because I think it's good. I've heard a lot of good stories."
Trump has shown interest for weeks in promoting the use of hydroxychloroquine, even if some doctors think it does not work for coronavirus patients and US government regulators warn it has "not been shown to be safe."
House Speaker Nancy Pelosi said it's "not a good idea" for Trump to be taking the drug as a potential treatment for the coronavirus.
"I would rather he not be taking something that has not been approved by the scientists, especially in his age group and in his, shall we say, weight group, which is morbidly obese, they say," Pelosi said during an appearance on CNN's "Anderson Cooper 360."
"So, I think that it's not a good idea," she added.
Senate Minority Leader Chuck Schumer called Trump's decision to take the drug "reckless."
"It gives people false hope, has people avoid real medical attention, and can actually cause them trouble. It is just dangerous what he did," Schumer said on MSNBC.
Trump's latest remarks came out of the blue, immediately grabbing headlines on a day when US deaths from COVID-19 topped 90,000 people — almost a third of the total world toll.
"You'd be surprised at how many people are taking it, especially the front-line workers, before you catch it. The front-line workers — many, many are taking it. I happen to be taking it," he let slip to reporters attending a White House meeting devoted to the struggling restaurant industry.
"I'm taking it, hydroxychloroquine, right now, yeah. A couple of weeks ago, I started taking it," he said.
---
10:25am - Sao Paulo, Brazil — Brazil jumps to third in COVID-19 cases worldwide
Brazil has the third-highest number of novel coronavirus cases in the world, according to official figures released on Monday, a troubling surge for a country struggling to respond to the pandemic.
With 254,220 confirmed cases, Brazil has now surpassed Britain, Spain and Italy in the past 72 hours on the list of total infections, and is behind only the United States (1.5 million) and Russia (290,000).
Brazil has registered 16,792 COVID-19 deaths, the sixth-highest toll in the world.
But experts say under-testing means the real figures could be 15 times higher or more.
The giant South American country of 210 million people is torn by a political battle over how to respond to the virus.
---
10:20am - Beijing, China — Scientists in China believe new drug can stop pandemic 'without vaccine'
A Chinese laboratory has been developing a drug it believes has the power to bring the coronavirus pandemic to a halt.
The outbreak first emerged in China late last year before spreading across the world, prompting an international race to find treatments and vaccines.
A drug being tested by scientists at China's prestigious Peking University could not only shorten the recovery time for those infected, but even offer short-term immunity from the virus, researchers say.
Sunney Xie, director of the university's Beijing Advanced Innovation Center for Genomics, told AFP that the drug has been successful at the animal testing stage.
"When we injected neutralising antibodies into infected mice, after five days the viral load was reduced by a factor of 2,500," said Xie.
"That means this potential drug has (a) therapeutic effect."
The drug uses neutralising antibodies — produced by the human immune system to prevent the virus infecting cells — which Xie's team isolated from the blood of 60 recovered patients.
A study on the team's research, published on Sunday in the scientific journal Cell, suggests that using the antibodies provides a potential "cure" for the disease and shortens recovery time.
Xie said his team had been working "day and night" searching for the antibody.
---
10:10am - Washington, USA — Trump threatens permanent freeze on WHO funding in 30 days
President Donald Trump threatened to permanently freeze US funding to the World Health Organisation unless "substantive improvements" were made within the next 30 days.
Washington suspended payments to the WHO in mid-April, accusing it of being too close to Beijing and covering up and mismanaging the coronavirus pandemic.
On Monday, Trump tweeted images of a letter he sent to WHO Director-General Tedros Adhanom Ghebreyesus, saying the letter was "self-explanatory".
In the letter, Trump lists what he says are examples of the WHO's shortcomings in managing the pandemic, including ignoring early reports of the emergence of the virus, and being too close to China.
"It is clear the repeated missteps by you and your organization in responding to the pandemic have been extremely costly for the world. The only way forward for the World Health Organisation is if it can actually demonstrate independence from China," Trump said in the letter.
---
10:05am - Bangkok, Thailand — Thailand reports two new coronavirus cases, no additional deaths
Thailand on Tuesday confirmed two new coronavirus cases and no additional deaths, bringing its total to 3,033 infections, a senior official said.
The two new cases were in the south in a province bordering Malaysia, Taweesin Wisanuyothin, a spokesman for the government's Centre for COVID-19 Situation Administration, said at a daily briefing.
There have been 56 deaths since the outbreak began in January and 2,857 patients have recovered.
---
10:00am - Sydney, Australia — New Zealand reports no new coronavirus cases for second straight day
New Zealand recorded no new coronavirus cases for the second straight day on Tuesday, but authorities said it was premature to discuss moving the country to "level one" in its scale of alert.
The Pacific nation, home to more than 5 million, moved to "level 2" last week, allowing cafes, shops and restaurants to reopen under strict social distancing rules.
"We are only just into alert level two; we still need to settle into the full alert level two parameters," Director-General of Health Ashley Bloomfield told a news conference in Wellington.
Bloomfield said there was "still a long way to go" for the country to move into alert level one, which means the virus has been contained in the country.
"Even at this point, when we got zero or no cases that we can identify, that doesn't mean we are out of the woods," Bloomfield told reporters.
Like neighbouring Australia, New Zealand has so far escaped a high number of casualties. The country has had just over 1,500 infections and 21 deaths, aided by a nationwide lockdown that lasted for more than a month.
---

Watch: France gets on its bikes
---
9:50am - Islamabad, Pakistan — PM meets laid off labourers 
---
9:40am — Islamabad, Pakistan — Coronavirus death toll hits 939
Death toll from the novel coronavirus climbed to 939 after new deaths were reported across the country.
According to the national dashboard, two new deaths were reported in Islamabad and one in Balochistan in the last 24 hours.
---
9:50am — Islamabad, Pakistan — Islamabad, AJK, Balochistan report new cases
Confirmed cases in the country rose to 43,966 after new cases were detected in Islamabad, Balochistan and Azad Jammu and Kashmir.
According to the national dashboard, 128 new cases were recorded in Balochistan, while 37 new cases were recorded in the federal capital, and 3 new cases were recorded in AJK.
So far 17,241 cases have been recorded in Sindh, 15,976 in Punjab, 6,320 in Khyber Pakhtunkhwa, 2820 in Balochistan, 1,034 in Islamabad, 550 in Gilgit Baltistan and 115 in Azad Kashmir.
---
English Premier League teams to begin practicing in 'small group' sessions from today 
---
IMF chief warns full global economic recovery unlikely in 2021
Head of the International Monetary Fund has said the global economy will take much longer to recover fully from the shock caused by the new coronavirus than initially expected.
Managing Director Kristalina Georgieva said the Fund was likely to revise downward its forecast for a 3% contraction in GDP in 2020, but gave no details. That would likely also trigger changes in the Fund's forecast of a partial recovery of 5.8% in 2021.
In an interview with Reuters, she said data from around the world was worse than expected. "Obviously that means it will take us much longer to have a full recovery from this crisis," Georgieva said in an interview. She gave no specific target date for the rebound.
In April, the global lender forecast that business closures and lockdowns to slow the spread of the virus would throw the world into the deepest recession since the 1930s Great Depression. 
---
8:40am — Sydney, Australia — Australia's coronavirus death toll reaches 100: local media
Australia's death toll from the novel coronavirus reached 100 on Tuesday, according to a Reuters tally of official data, a fatality rate much lower than in North America and Europe despite the Pacific country's earlier exposure to the pandemic.
The 100th recorded death was a 93-year-old woman who was a resident at an aged care home outside of Sydney, which was responsible for a cluster of cases, local media reported.
Australia reported its first cases of COVID-19 on Jan. 25, just a couple of weeks after China, the epicentre of the outbreak, recorded the first infections.
The rate of new daily infections peaked on March 23 with 430 cases, according to the Reuters tally. New cases have averaged about 15 a day over the past week.
---
8:30am — Geneva, Switzerland — Russia hopes to start COVID-19 vaccine trials soon, says health minister
Russia has taken measures to prevent "exponential growth" of the coronavirus epidemic and hopes to start clinical trials of a vaccine within weeks, its health minister said on Monday.
"We are already developing drugs to treat people throughout all stages of the disease and those are already being used. We are working very hard on developing a vaccine and hope to start clinical trials within a month or so," acting health minister Mikhail Murashko told the World Health Organisation (WHO) annual assembly being held online.
Russia, whose 290,678 confirmed infections is the second-highest number of coronavirus cases behind the United States, has been testing vaccine prototypes on animals.
---
11:59pm/May 18 — New Delhi, India — Capital reopens public transport
India's capital New Delhi and some other state governments ordered the re-opening of public transport in a further easing of a nearly two-month coronavirus shutdown, Reuters reported.
Under the new rules, buses, taxis and three-wheelers will return to the streets but with restrictions. Buses will not carry more than 20 passengers, each of whom will be screened before boarding, Delhi Chief Minister Arvind Kejriwal said.
"Corona will stay, and we will also survive," Kejriwal said, outlining the new guidelines for the city of 20 million people that has one of highest numbers of coronavirus cases in the country.
---
11:50pm/May 18 — Abu Dhabi, UAE — Govt to expand nightly curfew after increase in coronavirus cases
The United Arab Emirates will extend a nightly curfew by two hours starting this week after reporting an increase in the number of novel coronavirus cases, an official said, Reuters reported.
The curfew, which currently runs from 10pm-6am, would start at 8pm as of Wednesday until further notice, Saif Al Dhaheri, spokesman for the National Emergency Crisis and Disaster Management Authority, told a news conference.
The UAE on Monday reported 832 new infections and four deaths from the virus to take its count to 24,190 cases with 224 deaths.
---
11:39pm/May 18 — Washington, US — China's $2 billion WHO pledge a 'token,': US
The United States said China must pay more than the $2 billion it committed to the World Health Organization, calling the pledge a token to distract from what the Trump administration claims was Beijing's failure to properly alert the world to the coronavirus outbreak.
China's commitment "is a token to distract from calls from a growing number of nations demanding accountability for the Chinese government's failure to meet its obligations ... to tell the truth and warn the world of what was coming," White House National Security Council spokesman John Ullyot said in a statement.