Reports are abound once again on social media that coronavirus has been found in chicken and that the government of Punjab has banned poultry consumption and production.
These reports were earlier circulated on the Internet claiming that a private TV channel had broadcast it as a "breaking news". In fact, a doctored notification was also shared through social media and WhatsApp groups.

These reports are false.
An image doctored to look like a notification from the government of Punjab reads: "I am directed to draw your attention towards a very sensitive issue and order immediate blanket ban on all poultry products in your respective districts under your administration."

Earlier, a doctored image showing "breaking news" of a private TV channel was being circulated on different WhatsApp groups which claimed that the provincial government was mulling to impose a ban on poultry due to COVID-19.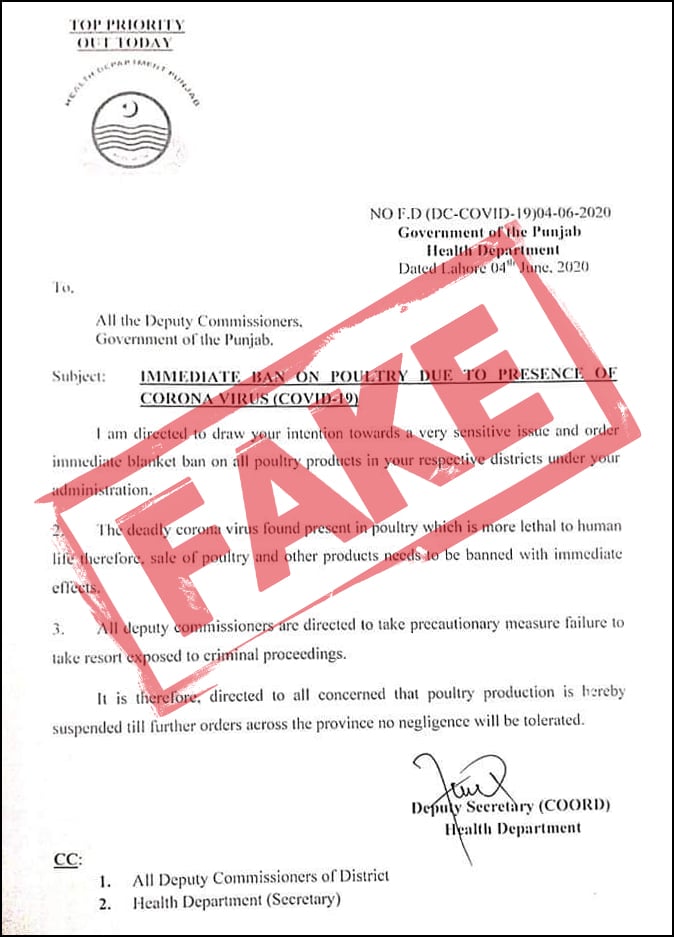 However, the Pakistan Poultry Association (PPA), the Punjab government's Specialized Healthcare and Medical Education Department (SHC&ME), and the spokesperson of the University of Veterinary and Animal Sciences (UVAS) have all termed such reports as fake and false.

UVAS spokesperson Prof Dr Tahir Yaqoob stressed that coronavirus was fundamentally not a virus of poultry.
"There is no evidence that it is transmitted to poultry. So there is no question of transmission of coronavirus to humans from poultry," Dr Yaqoob said.
Former UVAS vice chancellor Prof Dr Talat Pasha said the news is not correct about the presence of the coronavirus in poultry. "COVID-19 is only found in mammals not birds," he said.
"There is not a single case in the world that it could affect birds," said Pasha, who holds doctorate degree in poultry.
In a June 3 press release, titled "Chicken meat safe to eat," the PPA condemned the social media posts over coronavirus health bodies in poultry and underscored that nutritionists have recommended using poultry without any fear.
The PPA's vice chairperson for the Northern region, Ch Muhammad Fargham, termed it "baseless propaganda against the poultry products" and said the "rumours are totally fake and baseless".
Fargham said the coronavirus "has not been reported in any chicken product in any part of the country".
"Besides, poultry has not been reported to be linked in transmission of virus to human so far in any part of the world," he said. 
A misleading rumour was being circulated on social media regarding the presence of the novel coronavirus in chicken with the warning to general public to avoid use of chicken meat, he added.
The PPA official informed that a large number of health associations and nutrition experts "have recommended to use poultry products without any fear as it is absolutely safe, having high quality of animal proteins as present in fish, milk and eggs".
The health and nutrition experts included University of Health Sciences (UHS) Lahore Vice-Chancellor Dr Javed Akram, University of Education Vice-Chancellor Professor Talat Naseer Pasha, Institute of Public Health (IPH) Dean Prof Zurfishan, Pakistan Medical Association (PMA) President Prof M Ashraf Nizami, Pakistan Pediatric Association (PPA) President Prof Masood Sadiq, Pakistan Academy of Family Physicians (PAFP) President Dr Tariq Mahmood, Pakistan Society of Internal Medicine (PSIM) General Secretary Dr Somia Iqtidar, and Pakistan Society of Food Sciences and Technology (PSFST) General Secretary Dr M Nasir.
Fargham noted that the livestock wing of the Ministry of National Food Security and Research and Poultry Research Institute, Punjab, had also already refuted the propaganda through official notifications.

"Therefore, chicken meat is healthy, nutritious, and safe for the consumers," he said. "The chicken lovers may continue to consume chicken meat without any fear."
Fake notification
Separately, the secretary of the Punjab government's SHC&ME Department, Nabeel A Awan, said nothing could be more fake than this.
"There is no department in Government of Punjab with the name of Health Department. There is either Primary and Secondary Healthcare Department (P&SHD) or Specialized Healthcare and Medical Education Department (SHC&ME)," Awan clarified.
"Before joining this department, I was Secretary Livestock. I checked it from there too. Do not worry. It's fake," he confirmed.