COVID-19 and 'Bakra Eid': Eid ul Adha brings new trends to Karachi
While traditional cattle vendors struggle amidst the economic fallout of the coronavirus, new ventures are seizing the opportunity
Updated Thursday Jul 30 2020
This is the first year Fateh Khan, who runs an ancestral animal husbandry business with his brother Sardar Khan, had to purchase animals from a third party to sell for Eid ul Adha.
Khan, 50, hails from Sahiwal. Every year, he eagerly looks forward to the 'Bari Eid' (Greater Eid) — also called 'Bakra Eid' (a mispronunciation of Baqr Eid) in Pakistan. 
Every year for the past 20 years, he has taken his family and a herd of sacrificial animals (reared all year with the help of his five children) all the way from Sahiwal, Punjab to the many livestock markets in Karachi that pop up ahead of Eid ul Adha.
"After coronavirus cases appeared in my own family, we had to sell almost all of our animals to make ends meet. This is the first time I have travelled all the way from my native city to Karachi all alone to sell animals that I had to purchase from a friend," he said, grieving about the impact of the virus on his business during the past few months.
"Usually, I sell my animals at the Sohrab Goth mandi [livestock market] and PIB Colony [a neighbourhood in Karachi's District East], but due to government restrictions on animal markets inside city premises, we only managed to sell animals at the main market this time," Khan said. 

Fortunately for him, the coronavirus did not seem to have dampened the spirit of the festival. 
Khan said there had been no drastic change in the prices of his animals, as, to his knowledge, interested buyers are still bidding on animals as per their requirements despite the general impression that the coronavirus might have adversely affected the purchasing power of the masses.
The most expensive animal he sold this year was a calf that went for Rs180,000.
But local cattle vendor Muhammad Farrukh Ansari, who sells his animals near Maskan Chowrangi, disagreed. He said the market had been hugely affected due to the prevailing virus situation as the purchasing power of the people had been greatly reduced.
Speaking to Geo.tv, Ansari said: "People who used to buy animals for more than Rs100,000 [a piece] this time purchased animals for less than Rs100,000."
"Last year, I sold almost 100 animals and the majority of those were worth more than Rs100,000. However, this year, I have only sold 60 animals to date and a major chunk of those was around Rs60,000 to Rs90,000 [a piece]," Ansari added.
Digital start-ups on the run
As with other businesses, the coronavirus pandemic has also opened the doors for emerging startups providing services to customers at their doorsteps.
Talking to Geo.tv, the founder of one qurbani-related start-up, Muhammad Aqib Mughal, shared that the response of the people has been great so far, even if business targets have not been achieved completely. He said the outcome has been satisfactory and the business seems promising for the coming years.

"We have had customers not only from Karachi, but overseas as well. Overseas Pakistanis have purchased animals from us using online modes of payment," Mughal said.
"We started our business this year with an aim to continue it throughout the coming years, as people need animals for sadqa every now and then. 
We also plan to take pre-orders for cows and goats," he said, adding that if a person wants to buy a baby cow or goat six months before Eid, they can approach the platform for this purpose too.
Maintaining that the customer can rely on the details provided on his business's site, Mughal underscored: "It is our responsibility to ensure that we provide the same animal that we display online. In case there's miscommunication from our side, we replace the animal right away."
For reasonable rates, animals are also delivered to the doorstep of customers to add to their convenience. Mughal said the animals can be sold online at market competitive prices as the medium uses minimal resources and time.
The young entrepreneur highlighted that due to a lack of trust in online ventures from the general masses, the major hurdle has been to gain trust, which he expects to happen eventually, over time.
Increase in online bookings and 'Ijtemaai Qurbani'
In light of safety concerns and because of the imposition of varying degrees of lockdowns for over four months, which have impeded activities in general, more people have opted for online booking and ijtemaai qurbani (collective sacrifices) this year.
According to Jafferia Disaster Management Cell (JDC) Public Relations Officer Oun Abbas Jafferi, the organisation has received a 100% increase in bookings of sacrificial animals as compared to last year.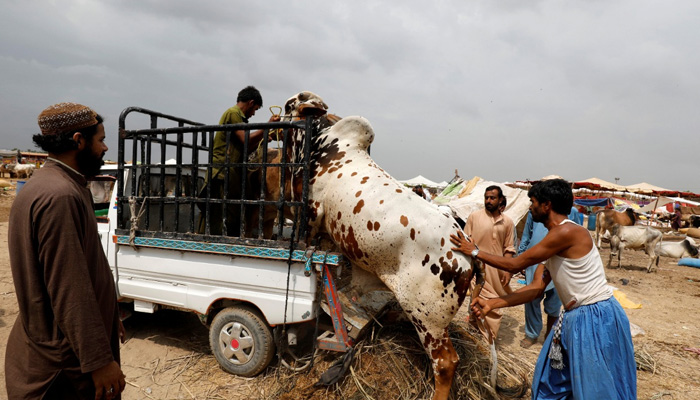 The organisation's collective sacrifice is for the needy — all the meat from the sacrifice goes to those who cannot afford it, he added.
The JDC representative said that to date, they have also received over 100 animals, including cows, goats, and camels, as donations from well-wishers around the world.
Elucidating on how the organisation is implementing safety measures amid coronavirus fears, he said that the animals have been tied at a distance from each other. Moreover, circles are drawn on the ground for social distancing for visitors who come to see the animals to stand in.
"We launched this service so that the poor could also enjoy the same quality of meat as we do," Jafferi added. He said that the spirit of helping the needy, which was seen in abundance when the lockdown was first imposed, is being exhibited for Eid ul Adha as well. 

"People are donating a lot," he said.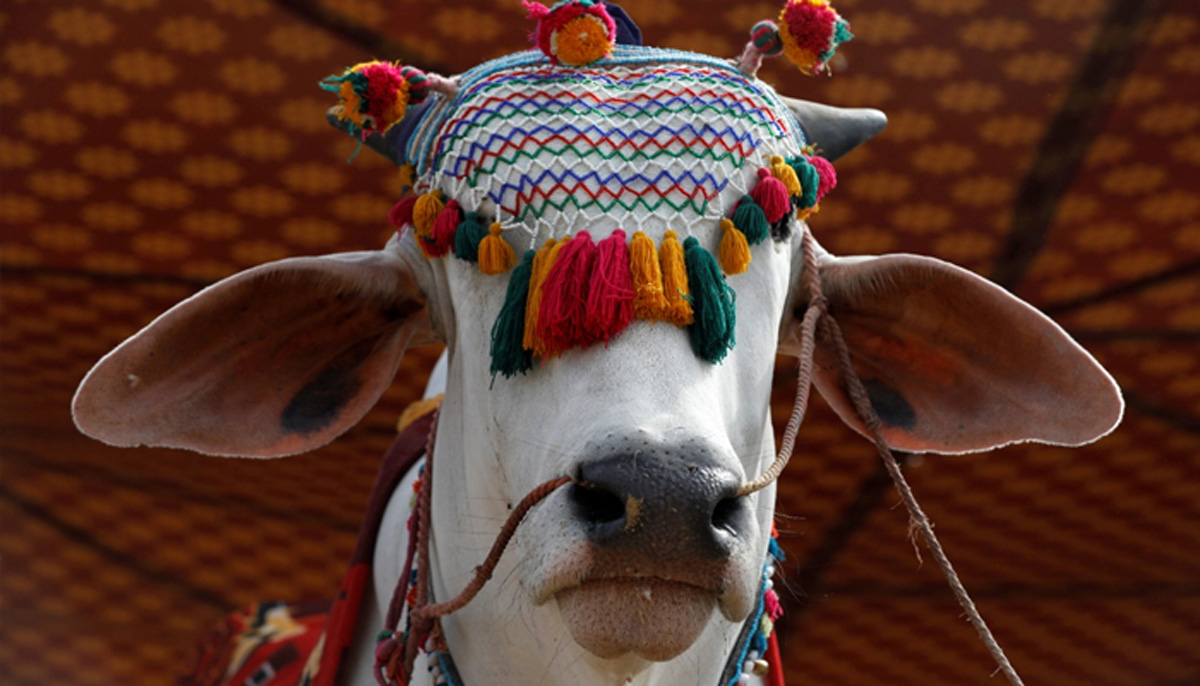 A representative of welfare organisation Al-Khidmat, Syed Khizer Baqi, said that a lot of people have switched to collective sacrifice this year due to safety measures, but majorly because of the economic crisis. 
"Not everyone can afford an animal during the coronavirus," he explained. 
Speaking about whether their animals were cheaper than those available in the market, he said: "It is our resolve to facilitate the people, and we provide healthy animals at reasonable rates."
Comparing statistics with last year, he said that the welfare foundation witnessed an increase of nearly 30 to 40% in bookings this year.
"About 350 cows and 500 goats have been booked in Karachi's Gulshan-e-Iqbal alone a week before Eid," he said, adding that last year they had booked 200 cows and 350 goats altogether.
"We aim to follow all safety measures prescribed by the government, and even our butchers will be provided masks and gloves," Baqi said.
Breaking through the glass ceiling
Amidst all the new ventures and precedents being set this Eid, 22-year-old Ayesha Ghani has also made quite an impression. She is selling 36 animals this year in the mandi herself.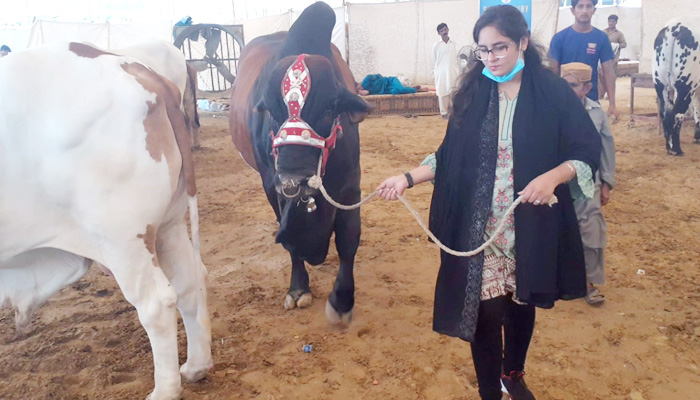 " I had always felt the need to break the stereotypes that mandis and animal markets are not places for women," Ghani shared, describing that the experience of dealing with customers and bargaining on the prices of animals is an enlightening and interesting process all in all.
When Geo.tv spoke to Ghani, she, along with her team, had sold about 16 animals of her animals thus far. They ranged in price between Rs100,000 to Rs700,000. 
Having been fond of animals since her childhood up in Punjab, Ghani shared that she had grown up taking care of livestock. 
She said she often reflects on gender roles in our society.
"Keeping in mind my pleasant experience of selling animals in the market this year, I plan to bring animals to these cattle markets every year," she added.
---
Header image: Livestock vendors decorate their camels ahead of the Muslim festival of Eid al-Adha, at a cattle market in Rawalpindi on July 28, 2020. —AFP/ Aamir Qureshi