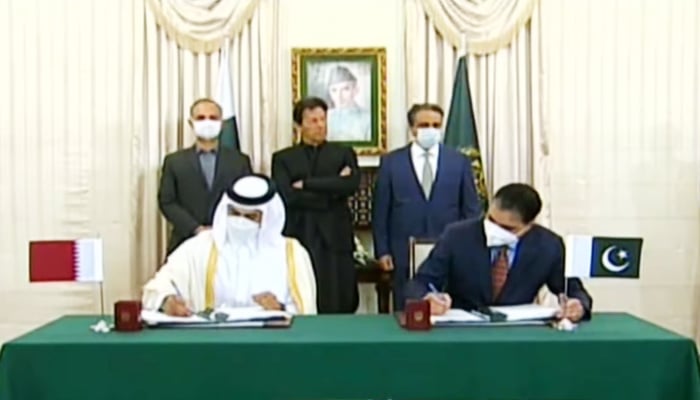 Qatar to provide three million tonnes of LNG for ten years
PM Imran Khan oversees the signing of the agreement

Qatar official confident of accord boosting bilateral ties
---
ISLAMABAD: Pakistan and Qatar Friday signed a ten-year Liquified Nitrogen Gas (LNG) agreement following which Doha will provide Islamabad three million tons of the gas for ten years.

According to Radio Pakistan, Prime Minister Imran Khan witnessed the signing ceremony of the agreement. Meanwhile, Qatari Energy Minister Saad Sherida al-Kaabi termed the LNG agreement historic for both countries.
The energy minister, according to the publication, was confident that the accord would lead to the promotion of cooperation between the two countries.
Read more: Pakistan to save $300mn annually from Qatar LNG deal, says PM Imran Khan
Similarly, Special Assistant to PM on Petroleum Nadeem Babar said the new agreement signed with Qatar was supportive and met the country's needs.
"The agreement is a start of a new era and [will] take the bilateral relations between the two countries to new heights," the special assistant said.