Slip-ups, gaffes, false claims from PTI ministers and officials
A large number of ministers and government officials from the ruling party have fallen for false and misleading claims
Updated Tuesday Sep 07 2021
Since the Pakistan Tehreek-e-Insaf government came to power in 2018, its government officials have exploited and weaponized the term "fake news" to discredit working journalists, media organizations and opponents.
The offending language is often used to distort the truth and to undermine journalism, which aims to keep the powerful in check.
When in reality those handing out the label of "fake news" have occasionally stumbled themselves, especially when communicating with the public. A large number of ministers and government officials from the ruling party have fallen for false and misleading claims.
In some instances, clarifications are issued, but in others, no corrections have been made to date.
Here is a running list of such false and misleading information, which came all the way from the very top:

Note: Geo.tv will not label these claims as "fake news", as the term suggests that the spread of misinformation is deliberate, purposeful and with the intent to mislead. We will not pass judgement on anyone's intent.
---
Minister of State Ali Muhammad Khan misquotes history by claiming that Quaid-e-Azam went to jail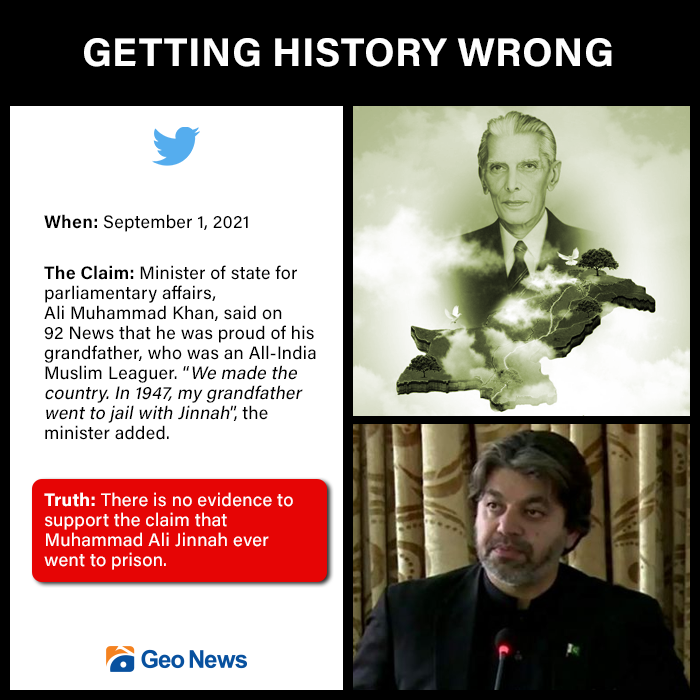 ---
A report by the ministry of information incorrectly flags pro-state tweets as 'anti-state'
---
Minister of State Zartaj Gul claims that COVID has 19-points 
---
PTI leader Khurram Sher Zaman insists COVID-19 is a "weak kind" of coronavirus
---
PTI parliamentarian Riaz Fatyana wants the government to research if eating locusts can fight the coronavirus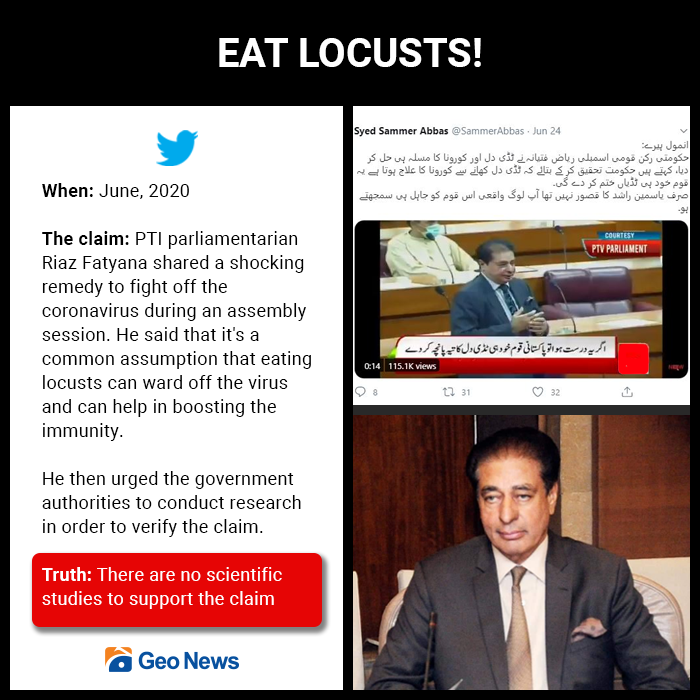 ---
Prime Minister Imran Khan misquotes Allama Iqbal 
---
Minister Murad Saeed insist the governor of New York wants to follow Pakistan's model of contact tracing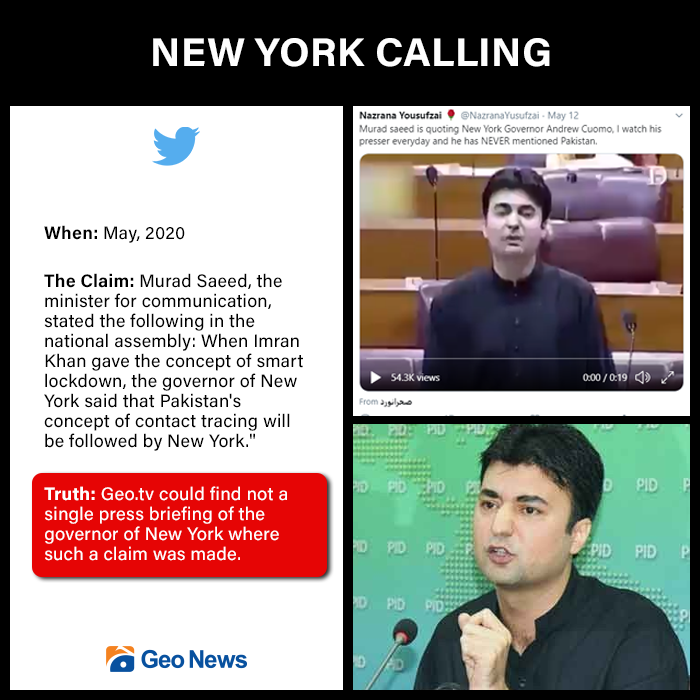 ---
President Arif Alvi shares a video that is later removed by YouTube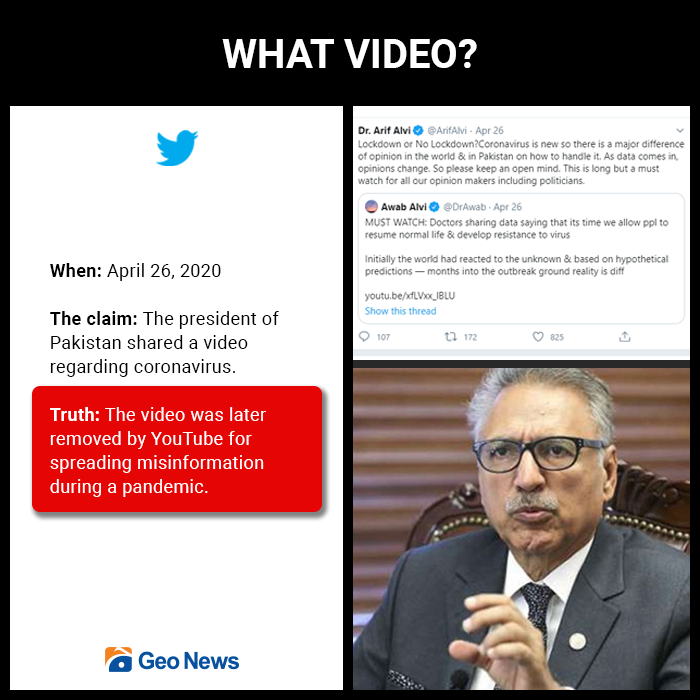 ---
Balochistan's chief minister Jam Kamal Khan shares a cure for the coronavirus 
---
The former special assistant to the prime minister, Firdous Ashiq Awan, claims the coronavirus is not dangerous
---
Governor Punjab Chaudhry Sarwar advises people to drink hot water to kill COVID-19 
---
Minister Shireen Mazari shares an incorrect video
---
Minister Ali Zaidi shares a video of India claiming it is Indian-occupied Kashmir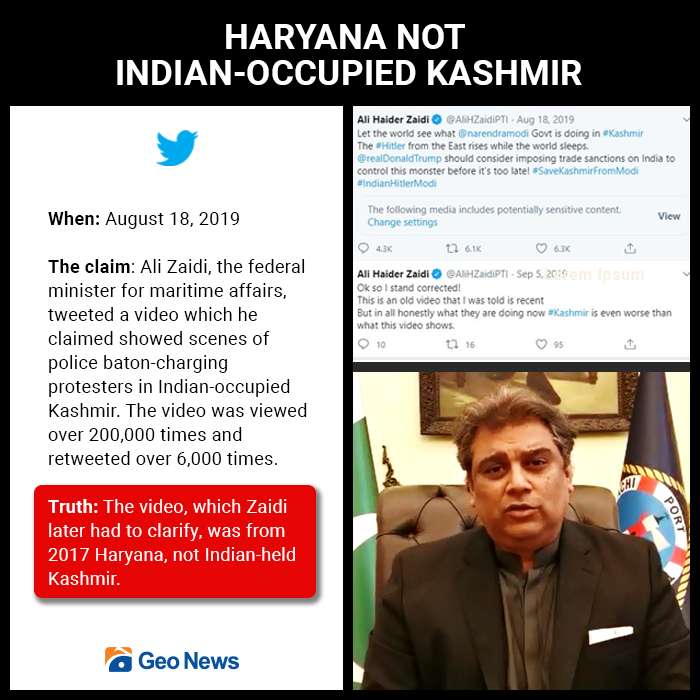 ---
PTI leader Shehryar Afridi insists he has video evidence of drugs being recovered from Rana Sanaullah's car
---
Minister Fawad Chaudhry claims that the Hubble telescope was sent into space by Suparco
---
PTI leader Shehryar Afridi wrongly quotes a UNODC report
With additional reporting by Fatima Rehman