KARACHI: The Pakistani rupee closed at a historic low of Rs169.97 against the US dollar on Tuesday, according to data released by the State Bank of Pakistan (SBP).
With a fresh fall of 0.22%, the local currency breached the lowest level of Rs169.6 registered yesterday (Monday).
The Pakistani currency closed at 169.97 against the greenback, a decline of 52 paisas or 0.31%, the central bank's data showed.
Speaking to Geo.tv, Arif Habib Limited (AHL) Head of Research Tahir Abbas said: "The pressure on the currency is import-driven."
The analyst also cited geopolitical concerns — the ongoing uncertainty in Afghanistan — and the increase in international commodity prices as major reasons behind constant depreciation in the rupee value.
The rupee has cumulatively shed 11.62% (or Rs17.7) since its recent high of Rs152.27 recorded on May 14.
Since June, it has lost around 7.89% or Rs12.43.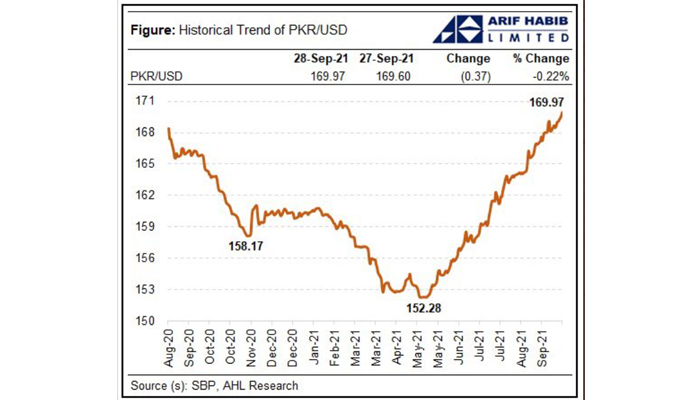 Abbas said the government and the central bank are taking "proactive measures which will help the currency consolidate, going forward".
The central bank recently amended laws of consumer financing which will help moderate demand growth in the economy, leading to slower import growth and lending support to the balance of payments.
"The government is also working on policies to curb the import of luxurious goods," he added.
The analyst predicted that the currency will now stay within the range of Rs169-170, going forward.
"As Pakistan is about to begin talks with the International Monetary Fund (IMF) from October 4, and likely we will resume the $6 billion programme, the pressure on the currency will ease," Abbas elaborated.
Moreover, with things settling in neighbouring Afghanistan, the currency parity is expected to improve.