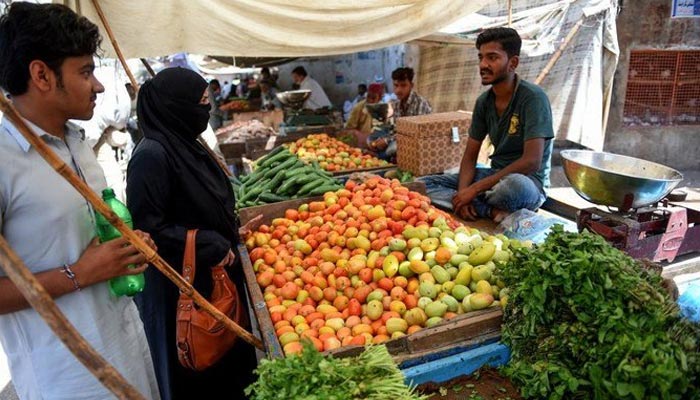 On a month-on-month basis, inflation receded by 0.02%.
According to AHL, inflation for December was highest in 21 months.
The average inflation rate for Jul-Dec of FY22 clock in at 9.81%.
---
December 2021 once again saw a double-digit increase in the prices of consumer items as inflation edged up to 12.3% from 11.5% in November 2021, data released by the Pakistan Bureau of Statistics (PBS) showed on Saturday.

Analysts had already anticipated the inflation to be double-digit, as the current CPI inflation was in line with their expected targets.
On a month-on-month basis, inflation remained "flattish", slightly declining by 0.02% owing to a significant decline in food inflation.
According to Arif Habib Limited (AHL), the inflation for the month of December is the highest in 22 months (February 2020: 12.40%).
Speaking to Geo.tv, an analyst from AHL Sana Tawfiq said that the inflation rate is in line with the market expectation.
Tawfiq said: "The year-on-year increase was fueled by non-food items — household equipment. Moreover, the base inflation last year was lower."
"A slight decrease of 0.02% on a month-on-month basis came on the back of an improvement in food inflation," she said.
Tawfiq elaborated that a decrease in food group month-on-month was as expected "and was reflected in the weekly sensitive price index (SPI)."

The national data-collecting agency has reported the latest inflation figures before the Monetary Policy Committee meeting this month. The meeting is expected to maintain a status quo at 9.75%.
The Wholesale Price Index (WPI), which captures prices in the wholesale market, also rose sharply by 26.2% in December compared to 9.5% in the same month a year ago.
The PBS reported that the overall inflation rate recorded an increase in both the urban and rural areas. The inflation rate in urban areas edged to 12.7% in December and rural areas surged to 11.6% over the same month of the last year. In December last year, the inflation rate in urban areas was 7% meanwhile, in rural areas it stood at 9.5%.
The food inflation rate in villages and cities dropped to 9% and 11.7% on a yearly basis. In December 2020, food inflation for villages and cities clocked in at 13.4% and 12.6% respectively.
The non-food inflation rate was recorded at 13.4% in urban areas and 14% in rural areas compared to 3.8% and 6.1% in the same month of last year.
Core inflation — calculated by excluding food and energy items — rose by 8.3% in urban areas and by 8.9% in a rural area during the month under review, reported the national data collecting agency
The food group saw a price increase of 10.33% in December from the same month a year ago. Within the food group, prices of non-perishable food items surged by 14.18% on an annualised basis meanwhile the prices of the perishable goods were effectively reduced by 10.23% year-on-year.
The inflation rate for the housing, water, electricity, gas, and fuel group — having one-fourth weight in the basket — rose by 16.56% (year-on-year) in the last month.
Average prices for the clothing and footwear group increased by 11.24% in December. Prices related to transportation surged by 24.07% (year-on-year).
On a month-on-month basis, the price of pulse masoor skyrocketed to 8.64%, followed by an increase of 6.58% surge in pulse mash, 6.02% increase in cooking oil, over 5.27% in pulse gram, according to the PBS. The prices of fruits, gram whole, milk and fish recorded an increase of 4.81%, 4.71%, 2.83% and 1.54% in the outgoing month.
The average inflation rate for the first half of the current fiscal (July - December) year came in at 9.81%, according to the PBS.
Tawfiq predicted that in the next monetary policy, scheduled to be held on January 24, the central bank is expected to maintain a status quo.
"Going forward, inflation is expected to remain high year-on-year because of base inflation being low last year, however, it depends on three factors; electricity prices, rupee-dollar parity and international commodity prices," the analyst added.
Meanwhile, Tariq predicted that due to the measures taken by the government to reduce food inflation, month-on-month inflation will record a decrease next month.
"Overall inflation will decline after January," she said, adding that the State Bank of Pakistan (SBP) should adopt a "wait-and-watch" strategy before taking a deciding the interest rate.
She said that clarity regarding the International Monetary Fund (IMF) loan tranche and current account balance should be monitored before the final decision.