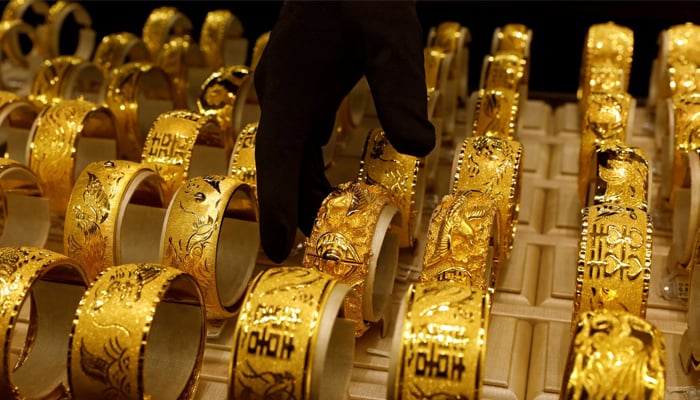 Gold prices fall by Rs100 per tola and Rs86 per 10 grams.
International gold price recedes by $19 to close at $1,801.
Silver prices in the domestic market remain unchanged.
---
KARACHI: Gold prices in Pakistan were confined to a small range in seasonally-quieter trading on Thursday due to a declining Pakistani currency.

The precious commodity lost Rs100 per tola and Rs86 per 10 grams — the exact same gains recorded a day earlier — to settle at Rs126,150 per tola and Rs108,153 per 10 grams, respectively.
The international gold price receded by $19 to close at $1,801 today, as minutes of the US Federal Reserve's December meeting signalled quicker increases to interest rates, boosting the dollar and Treasury yields.
Pakistan meets almost all its gold demand through imports, and traders follow its international price in setting rates in the country. Jewellers import the metal against the US dollar and UAE dirham before converting its price into rupees.

Hence, it is worth mentioning that gold dealers have rejected the government's decision to raise GST on the gold industry, urging the government withdraws the decision in the larger interest of their badly affected workers and industry.
In the supplementary finance bill, which was introduced in the Parliament last week, the government had proposed an increase in the GST on silver and gold from 1% to 17%.
However, earlier Senate Standing Committee on Finance rejected the proposal to increase the sales tax on this industry, directing officials to take measures to curb illegal smuggling of the precious commodity.
Meanwhile, silver prices in the domestic market remained unchanged today at Rs1,460 per tola and Rs1,251.71 per 10 grams.
It is pertinent to mention here that the gold price in Pakistan is Rs2,000 under cost compared to the rates in the Dubai market.