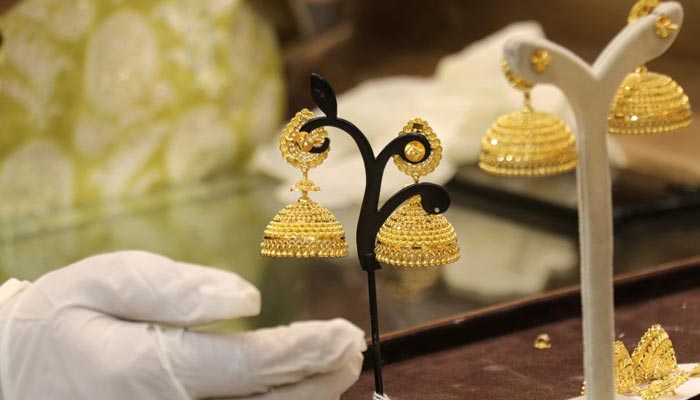 Gold price rise by Rs300 per tola to close at Rs126,650.
Price in the local bullion market up by Rs257 per 10 grams.
Dealers say price hike is a reflection of rise in global market.
---
KARACHI: The gold price maintained its uptrend in the domestic market and rose by Rs300 per tola to close at Rs126,650 per tola on Tuesday in line with the surge in the international bullion market.

Gold prices in the local bullion market jumped Rs257 per 10 grams to reach Rs108,582. A day earlier, the precious commodity closed at Rs126,350 per tola and Rs108,325 per 10 grams. 
Gold dealers suggest that prevailing uncertain economic conditions have sparked a flight from risky commodities towards safer commodities as gold is considered one of the safest investments; hence, its price is skyrocketing as an investment is pouring in at a rapid pace.
As the dollar continues to strengthen day after day, investors' confidence in the currency has tumbled and they have diverted their investment to gold.
The dealers told Geo.tv that the price hike is a reflection of the persistent rise in the international price of gold.

They said that the return of inflationary days in Pakistan and around the world has once again invited investors' attention towards the yellow metal as at such a time, safer commodities turn attractive.
While the increase in prices is inviting attention from investors, it is negatively affecting the local demand, a gold dealer said.
"Overall, lack of purchasing power has disrupted the local demand for gold," he said.
Gold price in the international remained unchanged at $1,838.
It is pertinent to mention that the gold rates in Pakistan are around Rs1,000 below cost compared to the gold rate in the Dubai market.
Meanwhile, silver prices in the domestic market remained unchanged at Rs1,470 per tola and Rs1,260.28 per 10 grams today.