Q&A: Slow pace of CPEC lost Pakistan $40 billion, says Ahsan Iqbal
"We will first need to stabilise our economy to make a strong case urging China to relocate industries to Pakistan," Iqbal says
Updated Wednesday Apr 20 2022
Prime Minister Shehbaz Sharif has been in office barely ten days and his first order of business has been to resume work on the multi-billion dollar China-Pakistan Economic Corridor (CPEC) to regain China's confidence, which was reportedly shaken during the tenure of the Pakistan Tehreek-e-Insaf (PTI) government.

After the PTI took power in 2018, the then commerce adviser, Abdul Razak Dawood, told a British publication that the CPEC "unfairly benefitted Chinese companies" as compared to their Pakistani counterparts. He further added that the PTI would review Pakistan's deals with China and would put everything on hold for a year or so.
The remarks, as per media reports, alienated Beijing. Also, in the last three years, construction on the regional corridor was progressing at a snail's pace as well.
Now that the PTI government is out and a new government is in, what does it plan to do differently?
Geo.tv spoke to the incoming minister for planning and development, Ahsan Iqbal, about how he plans to power through the CPEC and win back Chinese investments. Some of the questions have been edited for brevity and clarity. Excerpts:
Q: There was much concern about the pace of work on the CPEC in the last three and a half years. What went wrong?
Ahsan Iqbal: The infrastructure projects of the CPEC were completed to a great extent till 2018 and only big-scale projects were left to be started, such as the Railway's ML-1. The initial work on that began in 2018 — when PML-N was in power — but they [PTI] could not even lay its foundation stone despite being in power for over three years.
They did not start work on the $8 billion project as they ended up cutting the development budget by up to 50%. So, it would be a challenge for us to revive the ML-1 project now.
But the real opportunities, 2020 onwards, were the nine special economic zones (SEZs) that should have been built on the developed infrastructure.
Had these zones been completed, it would have laid down the base for an industrial revolution in Pakistan, where we would have seen industries being set up and employment and exports increasing. But it's 2022 now and not one special economic zone has been set up so far in line with the infrastructure. A big challenge for us will be to bring in investment from China and complete work on these zones.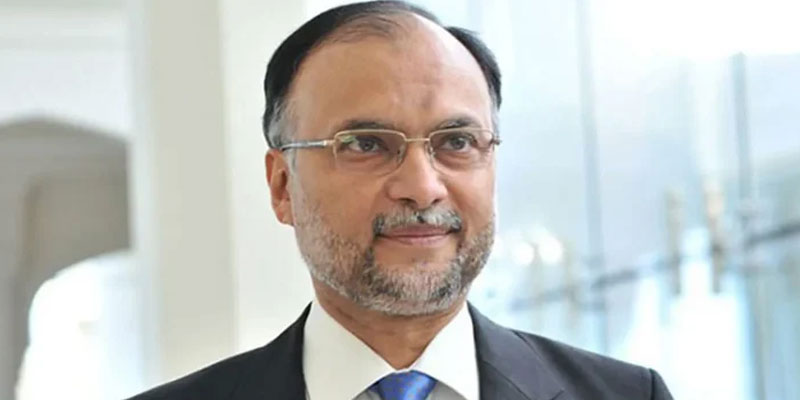 Now to ask for investment, the economic indicators must be positive, but the previous government left us with an unstable exchange rate, high inflation and other debts. We will first need to stabilise our economy to make a strong case urging China to relocate industries to Pakistan.
Q: Was it a lack of will or lack of capacity that slowed down CPEC's development?
Ahsan Iqbal: It was both. For the first two years, the PTI-led government kept criticising and levelling baseless allegations against the project. But when they realised CPEC's potential, they were unclear about what to do with it.
Read more: Who are the 19 first-timers in Shehbaz Sharif's cabinet?
So, even when they had established a CPEC authority, I had said then that this cannot take the project forward, rather it would be a cause for its destruction. I was proven right as the CPEC authority had also become inactive after some time.
Q: So Pakistan has missed the deadlines by?
Ahsan Iqbal: We are at least five years behind the deadlines that were set initially.
Q: Did you get to talk to Chinese officials during the last three years. What were they thinking?
Ahsan Iqbal: They [the Chinese] had so many expectations from the CPEC, but they were perplexed after seeing the PTI-government's attitude and policies. They would say privately that we want to help Pakistan, but we have no idea what the government was trying to achieve.
Read more: PM Shehbaz's cabinet — who will be handling which ministry?
I believe that the PTI government has done injustice to Pakistan as this was a game-changing project which they politicised.
Q: What is the way forward now?
Ahsan Iqbal: We will complete the work that is incomplete, and in cooperation with China. We will ensure the revival of CPEC.
Q: Which areas will you prioritise?
Ahsan Iqbal: The biggest priority will be the SEZs. Then it will be the ML-1 and the agricultural and technological sector.
Q: How much in terms of monetary losses did Pakistan incur due to the slowing down of CPEC in three years?
Ahsan Iqbal: In my opinion, we lost approximately $40 billion in foreign investment, which would have been possible had the special economic zones been completed. This money has now been diverted to Laos, Vietnam, Cambodia, and some other countries.