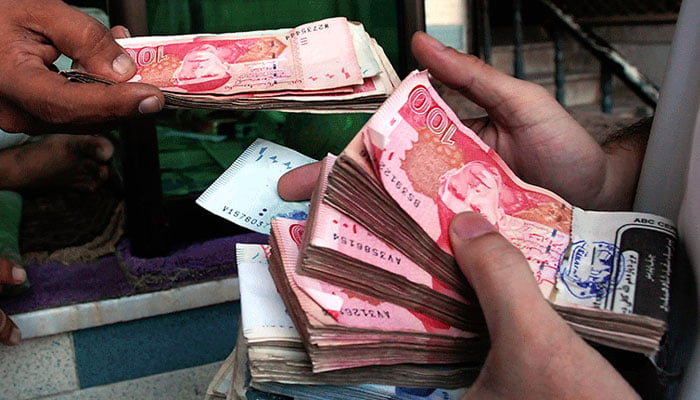 Rupee closes at 204.85 against US dollar after gaining 0.13%.
Since July 1, to date, rupee has collectively dropped by a massive 30.03%.
Currency dealers say local unit extend gains due to increase in supply of dollars.
---
KARACHI: The Pakistani rupee continued its recovery against the US dollar on Thursday and appreciated 0.13% as dollar selling by exporters boosted sentiment, although month-end dollar demand from oil firms restricted some of the gains.
According to the State Bank of Pakistan (SBP), the local currency closed at 204.85 against the US dollar after registering a fresh gain of 0.13% due to improved spirits. Rupee closed at 205.12 against the greenback.
Currency dealers said the local unit extended gains for a third consecutive session due to an increase in the supply of dollars and easing demand from importers.

"There have been some good dollar supplies as exporters sold greenback in the market who fear losses in case the rupee appreciates further as Pakistan is inching close to secure the funding from the International Monetary Fund (IMF)," a currency dealer said, adding that this supported the domestic currency.
"We didn't see a significant demand for the dollars from importers, showing that they had already covered their fiscal year-end payments," the dealer added.

Since the beginning of this fiscal year (July 1, 2021) to date, the rupee has collectively dropped by a massive 30.03% (or Rs47.31) compared to the previous fiscal year's close at Rs157.54.
A day earlier, speaking to Geo.tv, Pakistan-Kuwait Investment Company Head of Research Samiullah Tariq said that the local currency is recovering because of positive news from the IMF.
"Although the MEFP document received from the IMF has some tough conditions and hints towards further tightening the market is hopeful that the government will accept those conditions after slight negotiations," he added.
Arif Habib Commodities' Managing Director and CEO, Ahsan Mehanti, identified three reasons behind the recovery of the rupee against the greenback.
Hopes that IMF release $2 billion instead of $1 billion
Receipt of $2.3 billion from China
Expectations of improved inflows in remittances on account of Eid ul Adha.
The analyst further added that speculations are in favour of the Pakistani rupee, therefore the market expects the currency to continue its winning streak.
The rupee has maintained a downward trend for the last 13 months. It has lost 34.53% (or Rs52.58) to date, compared to the record high of Rs152.27 recorded in May 2021.