Finding home away from home: The plight of Afghan journalists in exile
Afghan journalists in exile share struggles of fleeing their country to avoid curbs on press freedom, escaping motherland in hopes of safe futures
Updated Tuesday Oct 25 2022
As the time for the closure of Torkham Border's gate between Pakistan and Afghanistan approached on a crisp March evening, an Afghan man in his thirties — standing amidst the Hindu Kush mountains — asked his family to race toward the gate before the clock struck nine. The 35-year-old father of three was prepping his youngest child to run as fast as he could.

"Baba, will we have to live on the streetside if the gates close?" the little boy asked his father, who nodded in agreement.
That night, despite the odds, the family made it from Afghanistan to Pakistan. They successfully journeyed through the historic trade route and border that draws a line between two of the most strategically significant countries in the Asian region.
Following the successful attempt to cross the border, the Afghan man shed tears of pain and joy — something he hadn't done in a long time.
"In Afghanistan, men are discouraged to cry. It is fed into our minds [not to cry]. But that night, I cried a lot — for my children," said Ahmad Shakir Ahmadzai — an Afghan journalist who was forced to flee his motherland seven months after the fall of Kabul.
Speaking over the phone with Geo.tv, the journalist recalled how he, along with his family, had to leave for Torkham on March 4.
"When we arrived at Torkham, there was a long queue. We waited there on foot for almost seven hours. Those seven hours were the most difficult hours of my life because my children had never imagined witnessing such a situation," he dejectedly remembered after sharing how he brought up his children with immense love and care.
Now, living almost 228 miles away from the Afghan capital, Ahmad is settled in the hub of Pakistan's governmental activities in Islamabad, where he jointly runs an Afghan cuisine restaurant with his friend from Kabul.
But, does he feel safe?
"Honestly, I cannot sleep at night and remain anxious during the day. There is a feeling of anxiety all the time," Ahmad shared, echoing the sentiments of several Afghan journalists who've had to fly out of the country while being clueless about their future under the Taliban regime.
The Centre for Protection of Journalists (CPJ), in its special report marking the one-year anniversary of the fall of Kabul, found that the "Taliban takeover has been devastating for press freedom and Afghanistan's once-thriving media environment. Journalists who remain in Afghanistan have faced imprisonment, alleged torture, beatings, and threats".
CPJ's programme director Carlos Martinez de la Serna via an email interview with Geo.tv talked about the challenges and threats that Afghan journalists have encountered abroad.
"Many Afghan journalists who fled to neighbouring Pakistan have told the CPJ that they still feel at risk because of the Taliban as they worked for the media, and thus find it unsafe to continue their work," he said.
The Freedom Network's 'Lives in Limbo' report on Afghan journalists in Pakistan found that among the 63% of survey respondents — the majority of them being experienced journalists — felt they had inadequate skills to continue working in the profession outside of their home country, de la Serna added. 
Reporters Without Borders (RSF), an organisation working to safeguard press freedom, stated that owing to reasons like the lack of access to information, being intimidated, and financial and security-related challenges — journalists are facing various problems.
"The space for the free press [in Afghanistan] has tremendously shrunk compared to the pre-August period. The new security regime, accompanied with fear, has resulted in self-censorship and editorial censorship. The situation is worse for the media and journalists, but the media are still operating despite all these challenges [sic]," wrote RSF's spokesperson Pauline Ades-Mevel.
On the other hand, Zahra Joya — the founder of an award-winning independent news outlet Rukhshana Media, which is largely comprised of female staff — also reiterates the struggle.
Joya has persisted against repression by continuing her work as a journalist. She currently resides with her sisters in the United Kingdom as an Afghan refugee but manages the outlet remotely with reporters secretly working on the ground. 
"When I created Rukhshana Media, I had never imagined that I would have to leave Afghanistan one day and manage it from abroad. We decided to work for women within the country," she told Geo.tv via email.
"It is very difficult to work in these conditions. Our colleagues work secretly. Access to information is very reduced. People fear for their safety. Many times, people do not agree to be interviewed because they are afraid of the Taliban," Joya added, sharing the struggles her colleagues faced while reporting from the field in Afghanistan.
Paying the price of truth
After the fall of Kabul in August 2021, Ahmad was hounded by the Taliban for months and went into hiding for some days. He was subjected to threats for operating Dastras Media — a local portal for news updates focused on covering various projects and raising social awareness. It has now been paused following threats.
"The Taliban did not like our work, which is why they became a threat to us. We had no option but to leave Kabul," he told Geo.tv.
In Afghanistan, Ahmad co-founded Dastras Media with his partner, who also managed to escape to another country. But Ahmad chose Pakistan.
"We had the option to go to Tajikistan, Uzbekistan, and Iran but I was already familiar with Pakistan and found it to be an appropriate place to live," he shared.
Ahmad, along with his family, wanted to live in a safer country. From Kabul, they were taken to Mazar-e-Sharif and waited there for three months to get a flight to either Qatar, Abu Dhabi, or the United States, but all the flights were cancelled. His second option was to stay in Kabul and wait for the immigration flight, which also never happened. Ahmad, therefore, eventually chose Pakistan because it was not the first time he was coming to the country. He grew up here.
"In the 1990s, we came to Pakistan. We lived here for 15 years, while I completed my school and college. But then we went back to Kabul in 2005. I know the people, and the culture, and I can speak the language [Urdu]. That's why I selected Pakistan," Ahmad said, sharing that his earlier stay in the country was a result of the fight between local Taliban leaders in Kabul. 
He, however, said that coming to Pakistan this time was different from when he arrived as a kid in the 1990s. Now, he is accompanied by his wife and three children. Adjusting here has been challenging for the kids.

"When I admitted my children in school, they cried a lot because the school would only admit them in the nursery section and not from where they left their studies back in Kabul. Both my elder son and daughter kept crying because of the demotion. I'm hopeful they will adjust to it," Ahmad shared with Geo.tv. 
"In Kabul, they were stuck in the house all day because we wouldn't allow them to go out and play due to threats. They enjoyed living in Peshawar because the security of the apartment where we lived was good and they could play there. Even in Islamabad, they are fine," he said.
Meanwhile, Zahra remains worried for her colleagues back home.
"I always worry about the safety of my colleagues and family members. Because I have received threatening messages. For this reason, I always tell my colleagues that no news story is worth their lives. I have requested them to take care of themselves," she said while responding to a question on coping with the psychological pressure and trauma faced following the obstructions.
CPJ, in its special report, states that journalists who remain in Afghanistan have faced imprisonment, alleged torture, beatings, and threats.

Dealing with red tape in search of a safe abode
After crossing the Torkham border in March this year, Ahmad lived in Peshawar for two months and moved to Islamabad later with plans to eventually move to a much safer country where he can live with his family in peace. For now, Ahmad considers Pakistan his home.
But everything hasn't gone according to his plans following a delay in his application at the United Nations High Commissioner for Refugees (UNHCR), despite giving a couple of interviews. The process, however, is very slow and Ahmad's asylum application is currently under review.
"When I had my second interview with the UNHCR, I asked why it was taking so long to process the asylum. Unlike me, who had some of his financial issues sorted, some [asylum-seeking] families here cannot even afford rent or food. I asked why we were not getting a card or a document," Ahmad said, further sharing that the UNHCR informed him about facing some "technical problems with the National Database and Registration Authority (NADRA) and Pakistan's Ministry of Interior Affairs who are not allowing them to issue the cards".
"This is the problem right now that every Afghan is facing while waiting to get their immigrant cards issued from the UNHCR," the Afghan journalist explained.
Meanwhile, Joya urged governments and organisations to issue humanitarian visas to Afghans seeking safety.
"No one will leave their country until their lives are in danger. They are forced to seek refuge in a safe country. I ask all organisations and countries to give them humanitarian visas."
For Joya, too, living in another country with unfamiliar surroundings has been full of challenges.
"Life in a second country is difficult. It is very difficult to get used to it. Every day is tied with longing. Nothing is familiar to you. Even water and bread are tasteless. I have been crying for my country, friends, and family members for a long time. But I am happy that the UK government has granted shelter to me and my sisters," she shared.
Commenting on the challenges of rebuilding lives abroad, Carlos shared that Afghan journalists report immense difficulties.
"In particular, many Afghan journalists who have fled to Pakistan have sought assistance from CPJ, saying they are experiencing issues with visa renewal, and cannot get jobs because they don't have work authorisation," he wrote in his reply to Geo.tv.
RSF stated that the process is not easy.
"The journalists in their communication with RSF always highlight the challenges they face in securing visas. Receiving a residence permit is another big hurdle and a very lengthy process. Different countries have different rules and regulations for outsiders," the organisation's spokesperson said.
Journalist-turned-restaurateur
When Ahmad came to Pakistan, he carried roughly $800 and some Afghan currency in his pocket, which he feared would soon exhaust given the country's increasing inflation and sky-high rent charges. Living off of savings wasn't a choice. Ahmad, for as long as possible, wanted to begin a life in the country that gave him shelter.
While looking to rent a home in Islamabad, Ahmad was exhausted and hungry. He went around an area to find food but wasn't satisfied with the taste. This search for food gave Ahmad the idea to start a restaurant and make a living for his family. With a friend, who also shifted from Peshawar to Islamabad, Ahmad — after arranging funds amid challenges and much-needed help from local friends — partnered to lay the foundation of a modest restaurant which took around a month to set up.
From the day the restaurant began serving, Ahmad said he has not been disappointed. "People love our food and appreciate it a lot," he said, adding that most of his customers comprise of Pakistanis.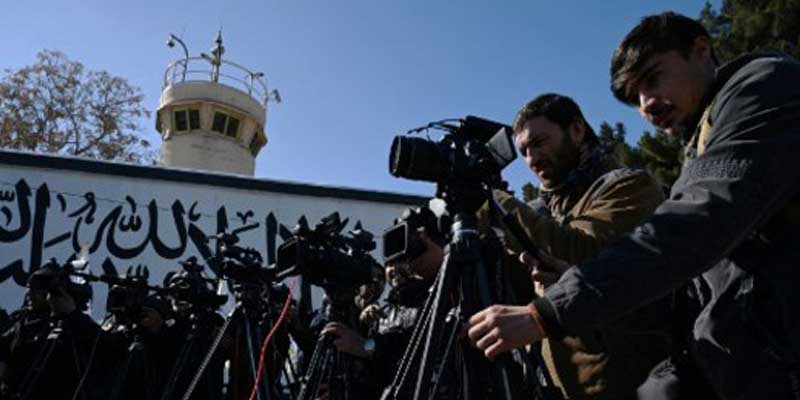 "When I think of my children, I think otherwise. I will have to leave for another country for the safety and security of their future. Even if that happens, I have decided to come to Pakistan in the future and work here," Ahmad hoped.
Several journalists, after the fall of Kabul, were reportedly found trying to switch their profession like Ahmad.
When responding to a question on information known to RSF highlighting similar cases, the spokesperson stated: "We have seen reports that some Afghan journalists are working as labourers and retailers in Afghanistan. Some journalists have returned to their villages in rural Afghanistan after losing their jobs. Most of them are now disconnected from the outside world due to lack of telecommunication technologies in the remote areas."
Pauline, in an email interview to Geo.tv, wrote that reports indicating some journalists are feeding themselves via working as labourers in neighbouring countries have also surfaced. She shared an instance of an Afghan journalist's death while working at a construction site in Iran.
"His death, reportedly, was due to technical failures in the construction. However, some other Afghan journalists who have fled to the neighbouring countries and have managed to stay in contact with some international organisations, including RSF, have been helped to the extent these organisations have been able to," she said and added that the RSF, however, is not in a capacity to provide detailed figures yet.
Giving up journalism
Managing the restaurant meant Ahmad's distance from journalism immensely grew because had to give up the work he did like many journalists have been doing for their safety.
When asked if he is still pursuing journalism, Ahmad said: "I'm actually not. I have been away from journalism because of all the engagements I've been busy with [including the restaurant]."
After living in Peshawar for two months, Ahmad joined a group of Afghan journalists called Afghan Journalists in Exile in Islamabad to stay close to the community. He mentioned that around 70 to 80 Afghan people, including journalists — both male and female — who've found shelter in Pakistan, are trying to find a safer country to relocate to and Ahmad is aiding whoever comes to him with their matters.
"Pakistan is safer than Afghanistan for us at this point. But everyone is worried about going to a safer location, which also includes journalists — both male and female," Ahmad shared.
Speaking about his own work as a journalist before the Taliban's takeover of Kabul, Ahmed said: "I have worked, I haven't committed a sin."
For Joya, too, working with the team hasn't been easy. But the staff of Rukhshana Media are findings ways to speak the truth with a focus on highlighting the plight of women.
"We are working with a team of male and female reporters after the Taliban took power. The majority of our colleagues are female journalists. But in some provinces, it is not possible to find a female reporter. It is particularly difficult in the southern provinces of Afghanistan. My colleagues are working while using pseudonyms. We have no other way to do that because we need to amplify women's voices," Zahra informed Geo.tv.
When asked if she ever thought of quitting journalism, she said that she wanted to continue her work as a journalist.
"It was never easy. It was very difficult. For more than a year, I have not been free from the situation in Afghanistan for a single day. I can't forget the situation there," she remarked, reflecting on her responsibility toward Afghan women, particularly to "strengthen their voice".
Zahra also realises the difficulties that other Afghan journalists have faced, which left them with no option but to quit the profession.
"Some of my colleagues left Afghanistan, while others were forced to stop being journalists. They left their jobs," she said, adding that some of her colleagues want to work despite the challenges.
"They say they like journalism," she told Geo.tv.
CPJ's views on the issues of female journalists in present-day Afghanistan reflect apprehension for their safety.
"Since the Taliban takeover, women journalists have largely disappeared from the profession, particularly outside urban areas. In May 2022, the Taliban ordered women on-air to cover their faces below the eyes. At the same time, some women journalists have persisted in continuing their work, though not without challenges. For example, TOLO News has hired more women journalists since the Taliban takeover," Carlos replied.
RSF, too, paints a grim picture in their latest report.
"Women have suffered most in the carnage inflicted on Afghan journalism in the past year and have disappeared completely from the media landscape in 11 of Afghanistan's 34 provinces – Badghis, Helmand, Daikundi, Ghazni, Wardak, Nimroz, Nuristan, Paktika, Paktia, Samangan, and Zabol. Of the 2,756 women journalists and media workers employed in Afghanistan prior to 15 August 2021, only 656 are still working. Of these, 84.6% are working in the Kabul region," the RSF's spokesperson said, further adding that 76.19% of women journalists are no longer working in the country.
Wading through murky waters
"When I came to Pakistan initially, there was only one grey hair in my beard. Now, my beard is 30 per cent grey. My friend asked what sort of stress had sped up the ageing process. He asked why I was dyeing my hair at this age and why was my beard hair greying?" Ahmad said while elaborating on the toll that the relocation has taken on his well-being.
"Apart from me, no one else is here for my children. I don't want my children to go through the same difficulties that I have experienced [in life]," he said in a concerned tone, recalling the days when he had to sell a glass of water for Re1 when he came to Pakistan as a child.
"I sold water to pay the fees for my studies and left for Afghanistan later to work at a coveted position. These were Pakistan's favours on me. But I don't want that life for my children, so there is fear while I live here," Ahmad sadly remarked during a phone call with Geo.tv.
For Zahra, on the other hand, leaving her hometown was not something she had already imagined.
"I never imagined that one day I would leave my country and become an immigrant. When I was at the airport to flee the country, there were so many people fleeing. I followed the story of a single mother who fled with her daughter," she said, adding that Rukhshana Media is trying to publish women's stories every day.
Sharing her observations on the future of journalism and journalists in Afghanistan, Zahra said: "There is no future for journalists and free media under the rule of the Taliban. Freedom of speech is practically dead in the country. No one has the right to freely report."
Zahra lamented that media organisations in Afghanistan are forced to operate "according to the policy of this group".
"Freedom of expression no longer exists in Afghanistan," she wrote.
According to RSF, its survey leaves little doubt about the massive impact that the fall of Kabul and the creation of the Islamic Emirate of Afghanistan have had on the media. 
"Afghanistan had 547 media outlets prior to 15 August 2021. One year later, 219 ceased their activities. And of the 11,857 journalists tallied prior to 15 August 2021, there are only 4,759 now. Women journalists have been impacted most – 76.19% of them have lost their jobs," the spokesperson wrote.
When responding to Geo.tv's question on how well-connected the Afghan journalists have been to the wider community on the global level and what kind of support have they been receiving now, RSF's spokesperson wrote: "The journalists who have been evacuated to the European countries are now receiving the necessary support for everyday life from the respective countries. They are registered in the host countries and most of them have applied for asylum. They are at least safe and will sustain themselves and their families."
The RSF further added that most of these journalists are active, at least at the individual level, and covering Afghanistan through their personal social media pages.
What organisations advocating for press freedom are doing?
According to CPJ, the Journalists in Distress Network — a group of 24 organisations, including CPJ — that provide emergency assistance and safety support to journalists and media workers in crises globally, called on US Secretary of State Antony Blinken in August this year to take every possible step to expedite the processing of Priority 2-referred Afghans under the US Refugee Admissions Programme (USRAP) and Special Immigrant Visa applications (P-2 and SIV) for at-risk Afghan citizens, and in particular journalists.
"The groups noted that 'the need remains immense and time is of the essence, particularly for those who are now stranded in a third country and facing the imminent possibility of being forced to return to Afghanistan.' For precisely this reason, CPJ has long advocated globally for emergency visas for journalists forced into exile by the threat of arbitrary detention, physical violence, or other forms of reprisal for their work," said Carlos.
RSF, meanwhile, shared that it has continuously advocated for Afghan journalists, prepared lists of journalists in exile, mainly in Pakistan, and facilitated the evacuation of a number of journalists to European countries.
"Evacuating all the Afghan reporters has been a task that RSF alone is not able to do. We are in contact with the journalists in exile, we continuously provide them with the necessary advice and advocate for them. RSF has provided financial support to at-risk journalists. However, there are hundreds of journalists and RSF alone cannot cover them all, but we are doing everything we can to support them to the extent possible," Pauline wrote, adding that the organisation has been working with foreign affairs representatives in different countries to facilitate the evacuations.
What lies ahead?
With the International Day to End Impunity for Crimes against Journalists approaching on November 2, it is necessary to reflect on the suppression journalists and press freedom encounter under authoritative regimes around the world. Like Ahmad and Zahra, several Afghan journalists are forced to live in exile with or without their loved ones — miles away from their homeland — only to be left at the mercy of red tape and fears for their future.
The last time Ahmad was in Kabul, he received a message from one of the Taliban's local groups.
"We [journalists] only write the truth. We neither side with the government nor stand with terrorist groups. But writing about their wrongdoings threatens our lives… We would get such threats every day. Earlier, we could call on the 119 helpline in Kabul. But now, we didn't know who our enemy was, who will kill us, and who could one complain to," Ahmad remarked, dwelling on the persecution he and numerous other Afghan journalists are currently coming to grips with.