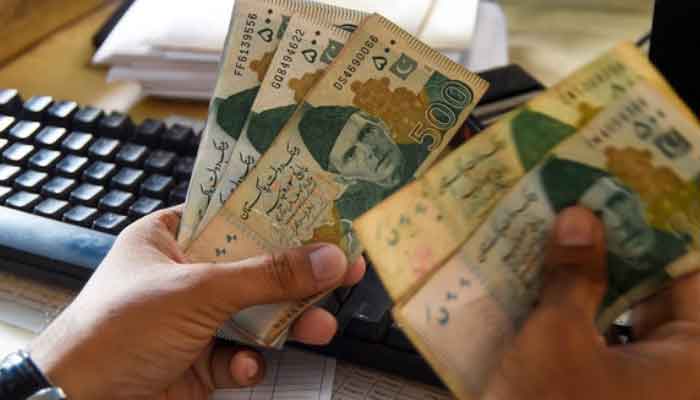 A holdup in IMF's ninth review remains a cause of concern for investors. 
Tahir Abbas says rupee shed 0.7% during the week.
High default risks, low forex reserves sapped the market sentiment.
---
KARACHI: The uncertainty over surrounding the date of the ninth review of Pakistan's economy by the International Monetary Fund (IMF) under its loan programme has resulted in the rupee sliding for the sixth consecutive session.

The local unit closed the week at 223.17 against the US dollar in the interbank market after losing 0.22% compared to Thursday's closing value of 222.67 as high default risks and low foreign exchange reserves sapped the sentiment.
A holdup in the ninth review of the IMF loan programme remained a cause of concern for investors. 
Though a date has not yet been set, the IMF staff mission is anticipated in Islamabad by end of the current month, as the fund requires Pakistan to take mandatory actions.
The government has urged the IMF to grant it some exceptions because of flood losses, but the fund is pushing Pakistan to maintain the agreed tax-to-GDP ratio of at least 11%.
Speaking to Geo.tv, Arif Habib Limited Head of Research Tahir Abbas said the currency is under pressure and dropped by 0.7% week-on-week to close at 223.17.

Abbas cited three major reasons which were building pressure on the local currency, those include:
Ambiguity with respect to the IMF's ninth review
Gap between interbank and open market rate
Roll over of commercial borrowing
According to AHL, a number-crunching brokerage house, the country's credit-default swaps (CDS) spiked to 75.5% on Wednesday from 56.2.
"With country's default risk on the rise, foreign exchange reserves thinning, and political noise growing louder and louder, marred the sentiment," a money dealer said.
Meanwhile, the SBP's foreign exchange reserves edged up by $3 million to $7.96 billion as of November 11, 2022.
According to data released by the central bank on Thursday, total liquid foreign reserves held by the country stood at $13.8 billion. Net foreign reserves held by commercial banks clocked in at $5.84 billion.
Remittances sent home by overseas Pakistanis fell over 9% month-on-month to $2.2 billion in October owing to a widening exchange rate differential in the open and interbank market and a global slowdown.