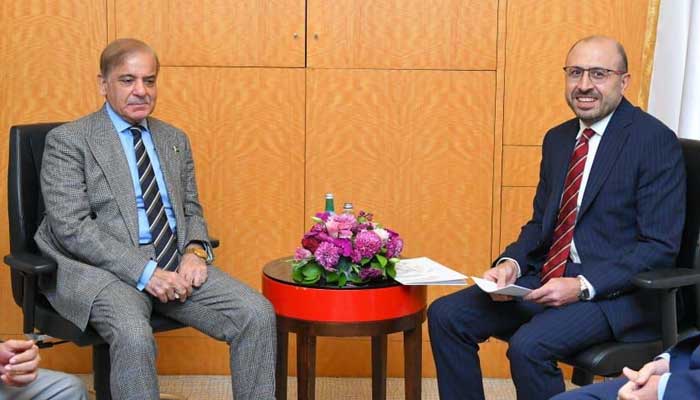 ECO Trade and Development Bank announces to provide €150 million soft loan to Pakistan.
Bank president says financial package will contribute to flood relief efforts.
PM Shehbaz departs for his homeland after completing two-day official visit to Turkiye.
---
ISTANBUL: In a major development, the Economic Cooperation Organization (ECO) Trade and Development Bank on Saturday announced to provide financial assistance worth €150 million to Pakistan.
The development came during a meeting between Prime Minister Shehbaz Sharif and ECO Trade and Development Bank President Yalcin Yuksel in Istanbul.
Yuksel said the financial package will contribute to the flood relief efforts as well as financial support for the import of fuel. He maintained that overall financial assistance to Pakistan since the inception of the bank would touch approximately one billion dollars, after the disbursement of this committed amount.
Speaking on the occasion, PM Shehbaz thanked the ECO Trade and Development Bank and appreciated the important role of the bank in meeting the development-related pursuits of member countries.
He underlined that the provision of financial assistance by the ECO Bank at a time when Pakistan faces economic and environmental challenges is highly appreciated by the government and the people of Pakistan.
The prime minister said that ECO Bank has been an important entity in the overall institutional framework of ECO member countries and its long-standing relations with Pakistan are commendable.
PM Shehbaz briefed on tourism in Turkiye
Turkiye Trade Minister Dr Mehmet Mus briefed PM Shehbaz on his country's tourism policy and investment opportunities for Pakistani businessmen.
During the briefing, heads of Turkish tourism sector companies were also present.
Matters relating to the promotion of tourism in the coastal areas of Pakistan, joint ventures and enhancing bilateral cooperation in the tourism sector also came under discussion.
The participants of the meeting also deliberated on the possibilities of joint ventures for the promotion of tourism in Pakistan's northern areas, Sindh and Punjab.
PM departs for Pakistan

PM Shehbaz departed for his homeland after completing his two-day official visit to Turkiye.
At the airport, the prime minister and his delegation were seen off by the senior diplomatic officials of Pakistan and Turkiye.
The prime minister paid a two-day visit to Turkiye at the invitation of Turkish President Recep Tayyip Erdogan mainly to co-launch the third of the four MILGEM Corvette Ships for the Pakistan Navy, PNS Khaybar.
During the visit, the prime minister held a one-on-one meeting with President Erdogan, held delegation-level talks, and interacted with the business community members.
---
Addition input from APP.