Women, politics & patriarchal roadblocks to parliament
Being the only woman featured among the male politicians, presidents, and prime ministers of Pakistan, Benazir exerted an extraordinary influence against the prevalent and dominant patriarchal political landscape
Updated Monday Dec 05 2022
Coming of age in Pakistan at a time when the country was in the constitutionalised clutches of Gen (retd) Pervez Musharraf, and Benazir  Bhutto was in exile, I was always awed by the raw power and uncanny charisma the latter exuded to the masses with unmatchable grace.

Being the only woman featured among the male politicians, presidents, and prime ministers of Pakistan, Benazir exerted an extraordinary influence against the prevalent and dominant patriarchal political landscape of the country, while emboldening the concept of what a woman can achieve in politics.
Her pictures, as a prime minister, of holding young Bilawal by his hand while carrying baby Bakhtawar and a teddy bear in her arms will forever be ingrained in the minds of Pakistanis who wish to see a vocal, fierce, and blunt female legislator who can advocate and curate rules that are more gender neutral. But Benazir, like Fatima Jinnah and Begum Rana Liaquat Ali, got an already ornate centerstage set by her father.
However, what set Benazir apart was her struggle against the misogynist dictatorship of that time. Sharing the presidentship of Pakistan's biggest political party of the time with her mother, the mother-daughter duo, with backing from the core leadership of the PPP fought and advocated for their causes and eventually made Pakistan the first Muslim country to ever have a female prime minister.
PPP with its quasi-socialist and part-progressive policies during the time positioned itself as the champion of equal rights for the political participation of women. 
Electing the first-ever female minister was supposed to pave way for more women to enter the political and legislative arena of the country but four decades later, instead of moving forward, Pakistan seems to have taken five steps backwards. 
While Benazir's party has somewhat upheld the principle of gender neutrality in providing important policy-making and ministerial positions to its female members, other parties seem to be far behind in this pursuit.
Women, despite their higher population as compared to men, are still far behind in many social aspects of the country. But while those social aspects are challenged time and time again by rare prodigies, novel instances of Nobel peace prize and Oscar award winners, the ground reality especially in politics and other departments directly associated with and impacting women is continuously depressing. 
With every discrepancy, we wish that only more women could enact well-thought-out and gender-neutral policies —but to fulfil this wish— what we're doing is abysmally low.
An internationally recognised and recommended way to encourage women to enter parliamentary bodies and take part in the legislative and policy-making of the country is by allocating or reserving seats for them in the respective assemblies. 
To ensure gender neutrality in parliament, Pakistan took its first step some 20 years ago before the 2002 elections, when President Pervez Musharraf allocated 20% seats in the national assembly for women which translated into 60 seats out of an assembly of 342 members. Though this 20% quota was still 10% less than the United Nation's mandated target for women's representation in all public and elected houses. 
This was to be the first step in encouraging women in the legislative business of the country while mandating male political heads to ensure female participation.
But what was supposed to be a stepping stone turned out to be another wasteful effort where during the next consecutive three elections —2008, 2013, and 2018— these reserved seats were reserved for the affluentials and were used to dole out political favours and to bestow kith and kin. Rotating these reserved seats between, sisters, daughters, nieces, and wives do not even raise any eyebrows.
Discerning this discrepancy, new clauses were added in the election act 2017, which mandated all political parties to award at least 5% tickets to female candidates in general elections and to declare polling in that constituency null and void, which has female voter participation lower than 10%.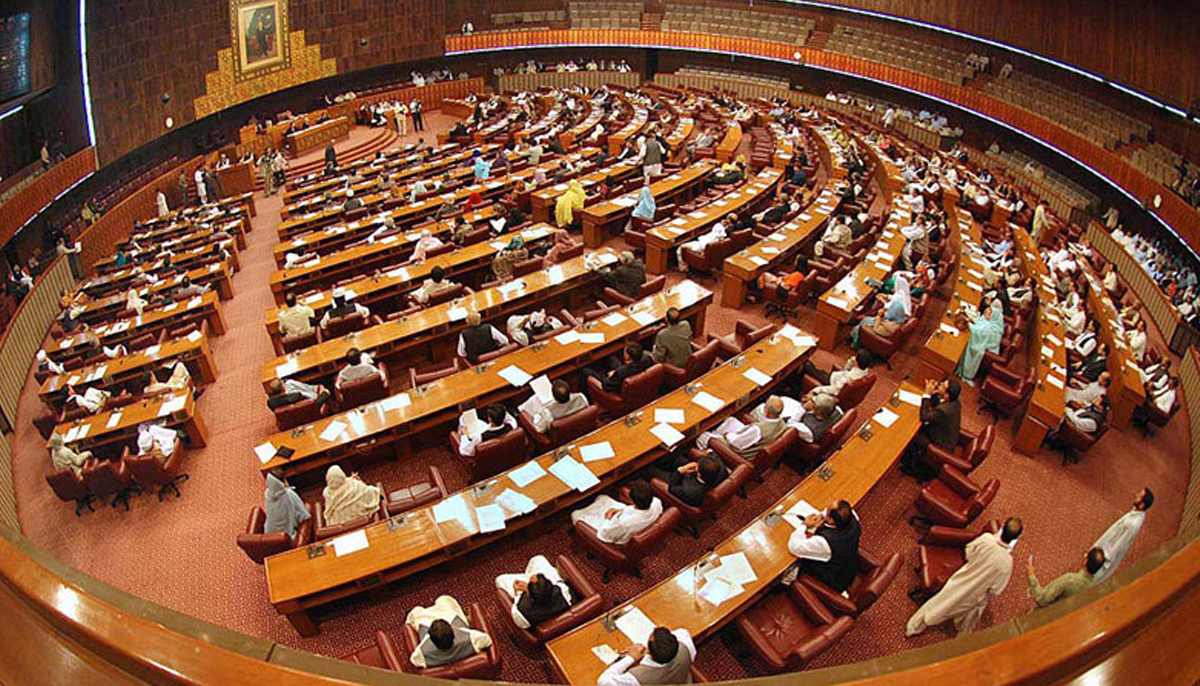 According to Section 206 of the Election Act, "A political party shall make the selection of candidates for elective offices, including membership of the Majlis-i-Shoora (Parliament) and Provincial assemblies, through a transparent and democratic procedure and while making the selection of candidates on general seats shall ensure at least 5% representation of women candidates." 
This section mandated political parties to award tickets for contesting general seats to women also whereas section 9 (1) of the said act stated: "Notwithstanding anything contained in this Act, if, from facts apparent on the face of the record and after such enquiry as it may deem necessary, the Commission is satisfied that by reason of grave illegalities or such violations of the provisions of this Act or the Rules as have materially affected the result of the poll at one or more polling stations or in the whole constituency including implementation of an agreement restraining women from casting their votes, it shall make a declaration accordingly and call upon the voters in the concerned polling station or stations or the whole constituency as the case may be, to recast their votes in the manner provided for by-elections."
Explanation of the said section provides that if the turnout of women voters is less than 10% of the total votes polled in a constituency, the ECP may presume that the women voters have been restrained through an agreement from casting their votes and may declare polling at one or more polling stations or election in the whole constituency as void.
Apart from this provision, Section 170 of the Act provides that if a person is guilty of exercising undue influence if he prevents any woman from contesting an election or exercising her right to vote. Under section 167 of the Act, it amounts to corrupt practice if a person exercises undue influence. The crime is punishable by up to three years imprisonment or with a fine of Rs100,000, or both.
Before these provisions, the ECP was facing a handicap in declaring an election void on the grounds of women disenfranchisement.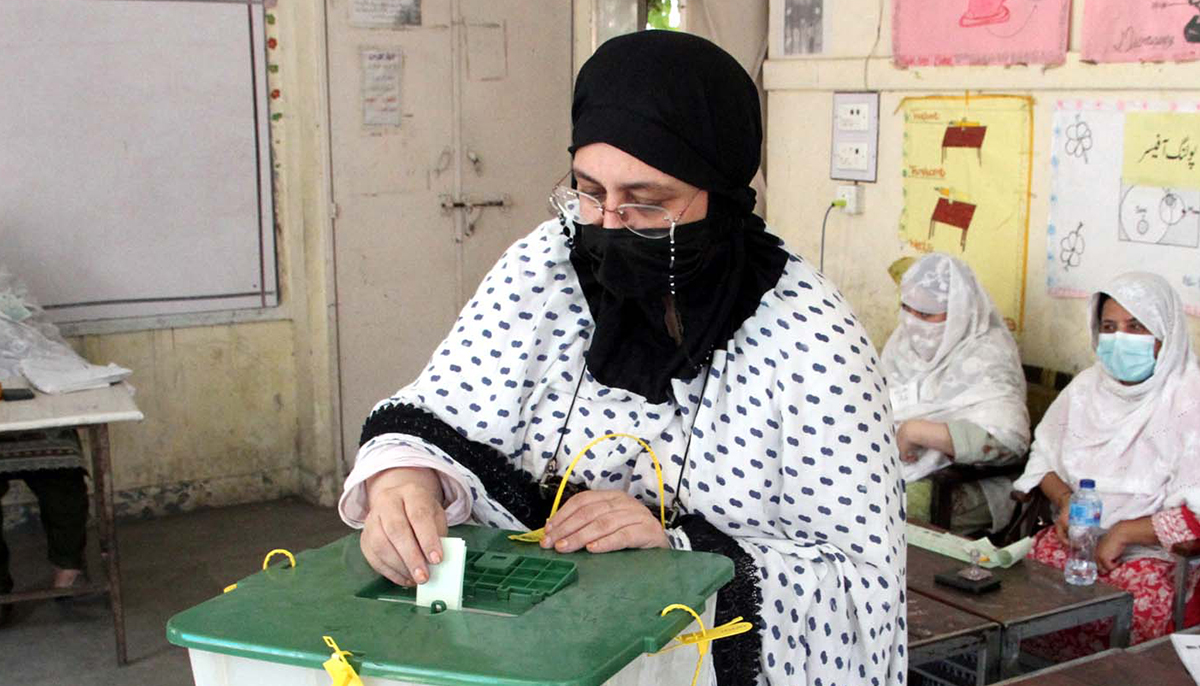 This act failed in ensuring what it was made to promise in its very first test as almost 45% of political parties which participated in the 2018 elections did not field a single female candidate. While other political parties fielded their women candidates in constituencies which were already not their strongholds.
According to ECP, 305 female candidates participated in the 2018 election on general seats out of which only 5.2% belonged to political parties. And out of these only 8 women managed to reach the lower house (National Assembly).
Before this law, in the 2013 general elections, only nine female candidates could win out of the 161 women contesting general seats for the lower house of parliament. This reduced the women's strength to 70 or 20.5% in the National Assembly. 
Whereas in 2008, 64 women contested general seats out of which a record 16 won. With 60 reserved seats, 76 women became part of the National Assembly constituting 22.2% of the total membership of the house. This translates that passage of this law instead of ensuring more women legislators in the National Assembly proved to be a bad omen and remained inefficient in changing the already downward sliding trend.
After the election in 2018, when the failure to ensure female participation was called out and lamented, it was then believed that the election commission would further tighten its rules and ensure this malpractice won't repeat next time now that the loopholes and cracks in the system are so apparent. But it was all in vain. 
Just this year alone, by-elections were held in 13 national assembly seats which also included the famous 8 seats vacated when PTI decided to resign en masse. 
A total of more than 110 candidates contested these by-elections out of which only two candidates were females —one was Mehr Bano Qureshi, daughter of former foreign minister and vice president of PTI, who contested for NA 157 (a seat vacated by her brother Zain Qureshi) against Ali Moosa Gillani, son of former prime minister Yousaf Raza Gillani. 
While the other candidate was Shezra Mansab Ali, daughter of an ex-minister of labour and overseas Pakistanis. Both women lost to their male rivals.
Whereas on the provisional level, when 25 seats (20 general, 5 minorities) fell vacant in Punjab Assembly this year after the Supreme Court verdict, not a single candidate was nominated by any political party to contest the general seats.
Internationally gender parity and equal participation of women are emphasised to ensure women have a right to say, vote, and provide input in policy matters that directly or indirectly impact women and minorities at large. 
But the political landscape at home is becoming grimmer, misogynist and patriarchal by the day and the election commission of Pakistan and the political parties do not seem concerned by it as we descend towards a culture of name-calling, body-shaming, ridiculing, and minimising the efforts and input of our female legislators in parliament.
And when a culture of targeting and harassing women based on their gender is propagated by the famous mainstream political parties themselves, they indirectly broaden the gender gap and dissuade women from their rightful agency to participate in politics.
To make sure that history does not repeat itself in the upcoming general elections, Election Commission and policymakers will have to devise a way to implement the current election rules.
---
Header image: (From left to right) The iconic Fatima Jinnah, Pakistan's former prime minister Benazir Bhutto, and Begum Rana Liaquat Ali — Geo archive
Uroosa Jadoon is a staff member of Geo News.