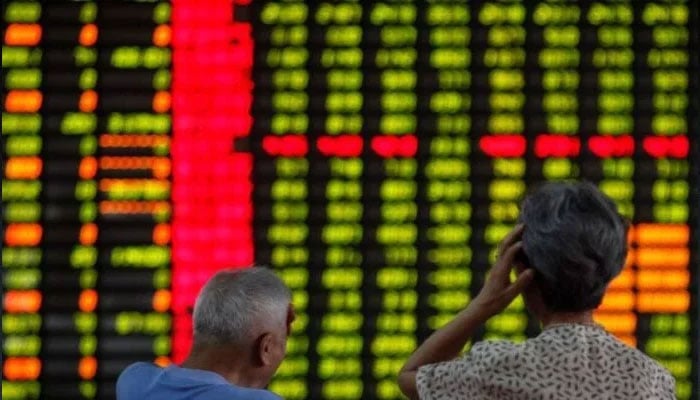 IMF's 9th review stalemate weighs on investor morale.

Unstable economic conditions remain top concern.
Analysts say stocks likely to remain under pressure.
---
Stocks landed hard on Monday as a stalemate deepened on the ninth review of the International Monetary Fund (IMF) programme that is tied to the release of the next tranche, critical for the foreign exchange reserves-deficient Pakistan.
Pakistan Stock Exchange's (PSX) benchmark KSE-100 Shares Index lost 537.43 points (1.28%) to close at 41,612 points after hitting an intraday low of 635 points.
Topline Securities in its daily market report said after a slightly positive opening, the market succumbed to sweeping profit-taking.

"This selling spree can be attributed to investor anxiety over a holdup in IMF's ninth review and the subsequent approval of a $1.2 billion loan tranche," the brokerage said.
The report said these worries compounded by unstable economic conditions and poor foreign reserves weighed on investor confidence.
Major pressure came from System Limited, Lucky Cement, Engro Corp, Millat Tractors, and Cherat Cement Company Limited as they cumulatively dented the Index by 194 points.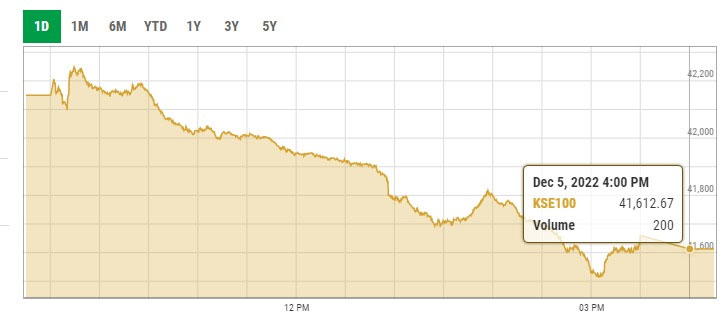 Arif Habib Limited in its market wrap said a bloodbath session was recorded at the PSX.
"The market opened in the green, but lack of investor participation and redemptions caused the index to deep in the red," the brokerage said.
Volumes in the mainboard dried up notably as a result of political noise in the country, and third-tier companies continued to lead the volume board, the Arif Habib analysts said.
JS Research said the fear of further delay in the conclusion of IMF's ninth review and the decline in cement dispatches led to selling pressure.

"Going forward, the index may continue to trade under pressure, however, long-term investors could accumulate selective stocks that have strong fundamentals with high dividend yields," JS analysts advised.
Sectors that did the major damage included cement (-127.1 points), technology and communication (-9 points), commercial banks (-76.2 points), fertiliser (-50.6 points), exploration and production (-42.4 points).
Volumes decreased from 143.2 million shares to 126.3 million, down 11.8%. The average traded value also decreased by 36.4% to $14.5 million as against $22.8 million.
Stocks that contributed significantly to the volumes are WorldCall Telecom, Fauji Cement Company Limited, Hascol Petroleum, K-Electric, and DS Industries Limited.
Topline Securities in a report on the current economic challenges said Pakistan's economy was passing through one of the toughest times in its 75-year history.
"Large external financing gap, challenging global financial markets, devastating floods and local political instability has increased the risk of timely external debt payments," it said.
"Falling foreign exchange reserves and rising external funding gap is worrisome."
The report added that though, the current account deficit was coming down after currency devaluation and other tightening measures, the biggest worry was external debt repayment.