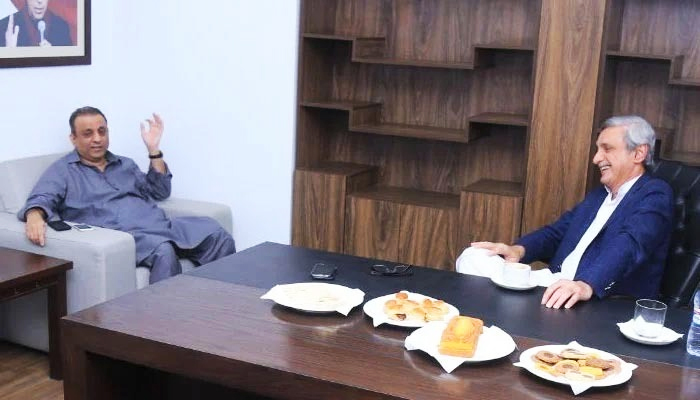 Jahangir Tareen, Aleem Khan being contacted.
Possibilities of seat adjustment with PPP and PML-N.
Party will try to win at least 15 to 20 seats in the NA.
---
Former leaders of the Pakistan Tehreek-e-Insaaf (PTI) — who defected from the party — are preparing to form a new political party and have started negotiations, sources told Geo News Saturday.
According to sources, some eminent politicians from Central and South Punjab are likely to join the new party. Jahangir Tareen, Aleem Khan and people from the Chaudhry Sarwar group are being contacted, they said.
"The new party will contest in elections with a new election symbol, and there are possibilities of seat adjustment of the new party with Pakistan Peoples Party (PPP) and Pakistan Muslim League (PML-N)," the sources noted.
The sources said that the dissident group would comprise PTI defectors and it will eye winning 40 to 45 seats in the Punjab Assembly and 15 to 20 seats in the National Assembly.
Preparations for launching the new party consisting of defected members of PTI are underway. A series of contacts and meetings for the consultation of its formation under the leadership of the former PTI leaders and other political parties have also started.
The new party will be led by a prominent former leader of PTI from Punjab, and will field its candidates in the strong constituencies of PTI in the province.
The divide
Both Aleem and Tareen had been two of the most prominent PTI leaders in the PTI's early years, especially during its rise to power in 2018. Internal differences, however, got in the way with Tareen first and then Aleem parted ways with the PTI chief.
In May 2022, the former prime minister revealed the reason behind his differences with both leaders and said that both were seeking "illegal benefits from him."
Speaking during a podcast, Khan claimed that differences with both estranged leaders developed when he refused to entertain their requests.
"Aleem Khan expected me to legalise his 300-acre land near Ravi", Khan said, adding "from then onwards, I developed differences with him."
While talking about Tareen, khan said: "Tareen stood with those who are the biggest dacoits in the country. When I ordered a probe into the matter [sugar scandal], differences developed with Tareen."