Pakistan has a total of $10.2bn in reserves.
Reserves held by commercial banks amount to $5.8bn.
Reserves will now only provide import cover worth 0.82 months.
---
Pakistan's central bank forex reserves have plunged to lowest level since February 2014 after a decline of 22.11%, posing for a serious challenge for the country in financing imports.
Thursday's announcement by the State Bank of Pakistan (SBP) came as the country is in dire need of foreign aid to reduce its current account deficit as well as ensure enough reserves to pay its debt obligations for the ongoing financial year.
Coupled with another $5.8 billion held by commercial banks, the nation has $10.2 billion in reserves — enough to pay for just three weeks of imports.
During the week ended on January 6, the central bank's forex reserves fell $1,233 million, or 22.12% to $4,343.2 million, a statement from the central bank said, down from last week's reserves of $5,576.5 million.
Pakistan's economy has crumbled alongside a simmering political crisis, with the rupee plummeting and inflation at decades-high levels, but devastating floods and a global energy crisis have piled on further pressure.
The reserves, which hit their lowest level since February 2014, will now only provide import cover worth 0.82 months, as the country tries to lessen imports amid a greenback shortage.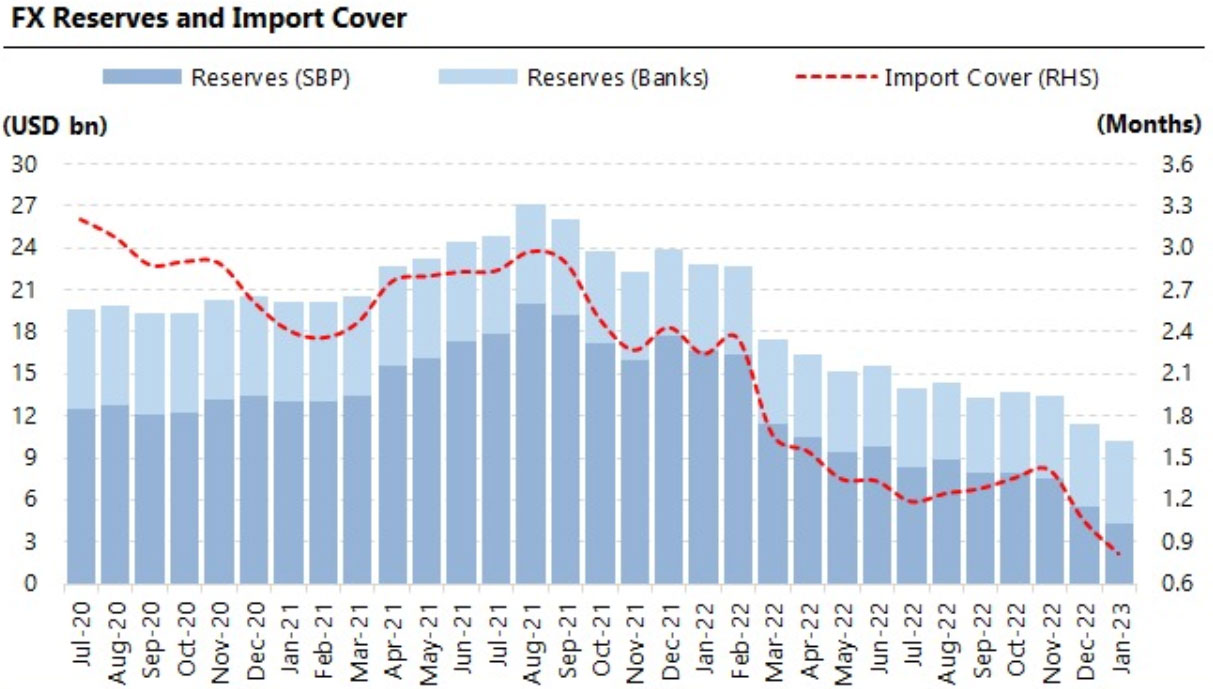 Last week, Federal Minister for Finance and Revenue Senator Ishaq Dar said that Pakistan's foreign exchange reserves would "strengthen" in the coming days as he banked on friendly countries for inflows.
The central bank mentioned that the country repaid $1,233 million in external debt. This repayment has been reflected in the data released today.
The reserve position is expected to stabilise in the upcoming days as the United Arab Emirates (UAE) today agreed to roll over the existing loan of $2 billion and provide an additional $1 billion loan.
Meanwhile, the country, with a $350 billion economy, also inked an agreement with Saudi Arabia to finance oil derivatives worth $1 billion which will also aid the dwindling reserves
On January 9, Pakistan managed to secure pledges worth $9.7 billion at the one-day International Conference on Climate Resilient Pakistan in Geneva which is expected to materialise within three years.
The government is also eyeing to pass the ninth review of the International Monetary Fund (IMF) to secure a $1.1 billion bailout package, but both sides have made no substantial headway in recent days.