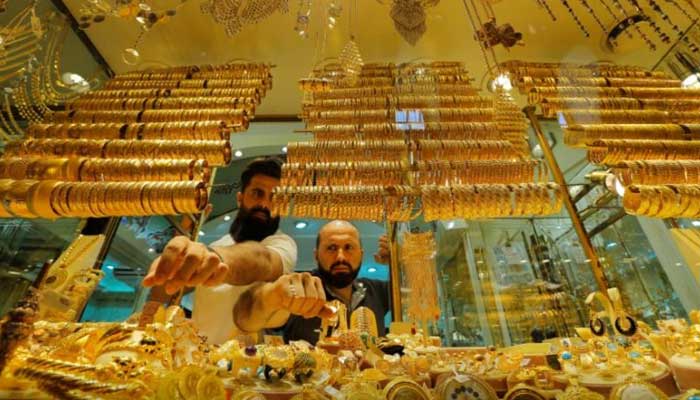 Gold price settles at Rs202,500 per tola in Pakistan.
Goldsmiths cite record breaking rupee devaluation as major reason.
Silver prices reach all-time high of Rs2,200 per tola.
---
Gold price continued to make and break records on Friday as it surpassed the major Rs200,000 per tola threshold for the first time in the history of Pakistan.
Data released by the All-Pakistan Sarafa Gems and Jewellers Association (APSGJA) showed that the price of gold (24 carats) soared by Rs7,000 per tola and Rs6,000 per 10 grams to settle at Rs202,500 per tola and Rs173,610 per 10 grams, respectively.
Goldsmiths, who were already eyeing the 200,000 per tola rate since the current price hike spree, cited record-breaking rupee devaluation and a steep decline in the foreign exchange reserves in the country as major factors contributing towards the massive price hike in the bullion market.
Cumulatively, the gold price rose by Rs17,200 per tola since January 20 as rupee continued to tumble against the US dollar.
Investors were, however, purchasing only gold bars, not jewellery, which had not only reduced goldsmiths' profit margins but the labour force was also at the stake of losing jobs, as jewellery makers were moving towards other professions in absence of work, The News reported on Friday.

"There was a decline in purchasing power of the people as more people now use artificial jewellery," a goldsmith said, adding that the majority of the gold makers are also moving towards artificial jewellery.
Gold prices increased by Rs18,600, or 10.11% to Rs202,500 per tola, from Rs183,900 per tola on December 31, 2022.
In the international market, gold rates declined by $6 to $1,930 per ounce as robust US economic data was seen as fodder for the Federal Reserve to keep interest rates high for longer, but caution ahead of inflation data and the policy meeting next week put a floor under bullion prices.
Financial pundits said the gold was scaling new peaks every day because investors have gone gaga over it because another safe bet — the dollar — was currently hard to come by owing to a myriad of reasons ranging from allegedly artificially maintained exchange rate and a massive disparity between legal and illegal money markets.
They added that the precious metal generally tracks world prices, which were under pressure due to the US Federal Reserve's hawkish measures.
Pakistan, the world's fifth-most populous nation is dealing with a range of economic challenges, including a shortage of dollars and a delay in the International Monetary Fund's loan programme for the country.
"Gold prices are likely to increase further, as investors remained cautious of a record decline in the foreign exchange reserves," a goldsmith envisaged.
Meanwhile, silver prices in the domestic market surged by Rs50 per tola and Rs42.86 per 10 grams to settle at an all-time high of Rs2,200 and Rs1,886.14, respectively.