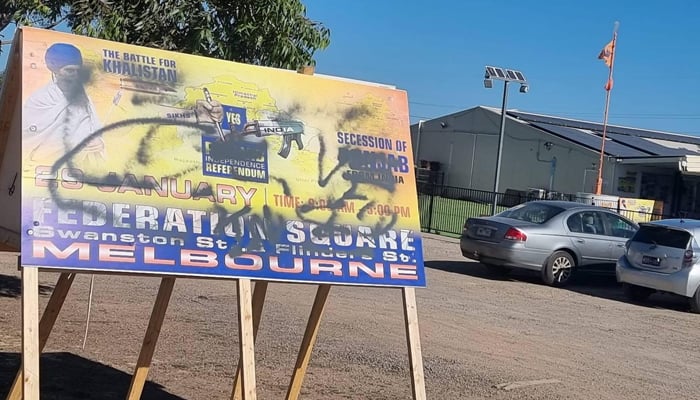 Sikh campaigners accuse Indian govt of sponsoring attacks.
Khalistan is a political opinion and not terrorism, says SFJ leader.
Indian Hindu community says temples defaced with anti-Hindu slogans across Australia.
---
MELBOURNE: Tensions have risen among the Australian Sikh community over a series of graffiti attacks on pro-Khalistan banners and Sikh figures, including the revered Shaheed Bhindranwale, who symbolises Khalistan activism.
The Khalistan Referendum, organised by Sikhs For Justice (SFJ), is set to take place on Sunday, January 29, in Federation Square Melbourne. However, before the voting, several reports of attacks on Khalistan Referendum banners and posters of Sikh leaders hanged by the Indian authorities surfaced.

Sikh campaigners have accused the Indian government of sponsoring attacks on Khalistan Referendum posters and Sikh figures to incite trouble.
The Indian Hindu community said the Hare Krishna Temple in Albert Park, Melbourne, was defaced with anti-Hindu slogans with graffiti saying "Hindustan Murdabad", "Sant Bhindrawale is Martyr" and "Khalistan Zindabad".
It said a similar attack took place on the Shri Shiva Vishnu Temple in Carrum Downs and the Shree Swaminarayan Temple in Mill Park.
Gurpatwant Singh Pannun, general counsel for Sikhs for Justice, said the group had no information that the recent acts of vandalism were linked to the Khalistan Referendum. The Sikh leader released CCTV footage showing vandalism of Khalistan banners in different areas of Melbourne.
"Through this referendum, we aim to quantify the will of the Sikh people on the question of Khalistan and debunk the Indian government's narrative that demand for Khalistan is unpopular and subscribed to by a small and fringe faction of Sikhs," he said.
"Through the referendum we wish the world to know that Khalistan is a political opinion and not terrorism and advocating for Khalistan through a referendum is peaceful, democratic and non-violent."
Pannun said an overwhelming number of Sikhs had been forced to flee their homeland due to persecution by Indian authorities. He said that the Indian government has routinely used scare tactics to divert attention from the Khalistan activism in diaspora communities.
The New York-based attorney and campaigner said that the Punjab independence referendum was named after Satwant Singh and Kehar Singh, who were executed for their involvement in the assassination of Indian prime minister Indira Gandhi in October 1984.
Gurpatwant Singh Pannun said that the SFJ aims to use the results from votes around the world to pressure the United Nations into recognising a separate Sikh state called Khalistan.
He said there was evidence which showed that the Indian govt was carrying out attacks against Sikhs in the Australian city to stop Sikhs from taking part in a peaceful voting process.
The video released by Pannun showed men vandalising Shaheed Bhindranwale and Khalistan posters. Pannun said in his video statement: "For the last month, these Hindu supremacists backed by the Modi regime are vandalising Shaheed Bhindranwale and Khalistan Referendum banners."
Pannun said that the men linked to vandalism on holy Sikh figures were from hardline Hindutva groups, backed by India, defacing the posters and pictures.
He continued in the video: "This Indian regime is trying to use the old terror tactics against calling pro-Khalistan Sikhs as terrorists. Remember Modi and remember Hindus in Australia: this is not 1990 when you will label pro-Khalistan Sikhs as terrorists and they will go home."
"These Hindu nationalists in Australia are the offspring of those who committed genocide of Sikhs, who distributed sweets when Indira Gandhi attacked the Golden Temple. These men are offsprings of those extremist Hindutva elements. The SFJ believes in ballots, not bullets, unlike this Indian regime which has used bombs and bullets to silence Sikhs. Indian regime, you have failed in Canada and you will fail in Australia."
Tensions started locally around three months ago when banners appeared across Melbourne and a car rally on January 15 marked the 34th martyrdom day of Satwant Singh and Kehar Singh who were hanged on 6th January 1989 for assassinating the former Indian Prime Minister Indira Gandhi to avenge Operation Blue Star against holiest Sikh shrine - the Golden Temple of Amritsar.
Thousands of Sikhs, who have migrated from Indian Punjab to Australia, have been seen campaigning for the Khalistan Referendum over the last two months and they have held several events attracting thousands of Sikhs to these events, calling for secessionist break-away state for Sikhs in India.