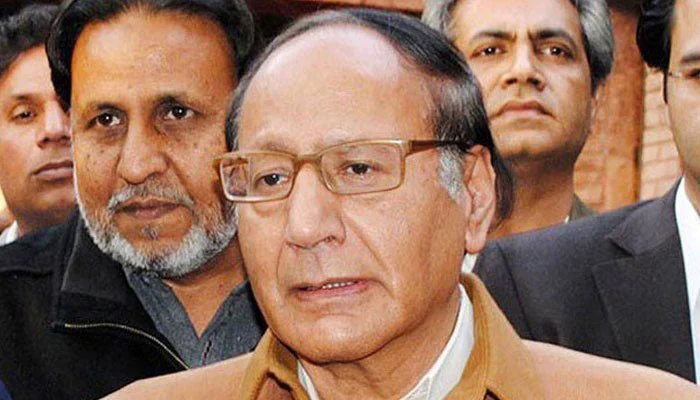 Shujaat had approached ECP after a CWC meeting removed him as PML-Q president.
He was removed last July after row over Punjab CM election.
Verdict was reserved by ECP on Aug 18, 2022.
---
ISLAMABAD: In a major legal victory for Chaudhry Shujaat Hussain, the Election Commission of Pakistan (ECP) on Tuesday declared the veteran politician as the president of the Pakistan Muslim League-Quaid (PML-Q).

The ECP announced its verdict on a petition filed by the former prime minister amid an ongoing tussle with his cousin Parvez Elahi over the party leadership.
Elahi, the former chief minister of Punjab, had orchestrated the removal of Shujaat as party president.
In July of last year, PML-Q's Central Working Committee (CWC) decided to release Shujaat from the duties of party president, citing health concerns.

The decision to remove Shujaat from the party command was taken at a CWC meeting headed by Senator Kamil Ali Agha.
"It has become necessary to isolate Ch Shujaat to save the party from destruction," said Kamil Ali Agha while talking to the media after the CWC meeting. 
The meeting had also decided to oust Federal Minister Tariq Bashir Cheema from the party, The News had reported. 
Back then, the CWC also constituted an election body to hold intra-party polls.
However, Shujaat approached the ECP over the matter and it had retained the former prime minister as the president of the party till the petition was dealt with.
The electoral body after hearing the plea reserved the verdict in the case on August 18, 2022.
The PML-Q got divided into two camps over the issue of joining hands with the PTI and PML-N. 
Pervez Elahi, his son Moonis and most of the party leader sided with the PTI while Chaudhry Shujaat, Salik Hussain and Tariq Bashir Cheema supported the PML-N.
'Fascist mindset defeated'
Reacting to the development, Information Minister Marriyum Aurangzeb congratulated Shujaat Hussain on this legal victory.
"The fascist mindset which tried to take away PML-Q from him was defeated. The order of the Election Commission is a message that the decisions will now be made in the light of the Constitution and the law, not in the fog of Daska," the minister said, in a reference to the disappearance of poll officials during a by-election in Punjab.