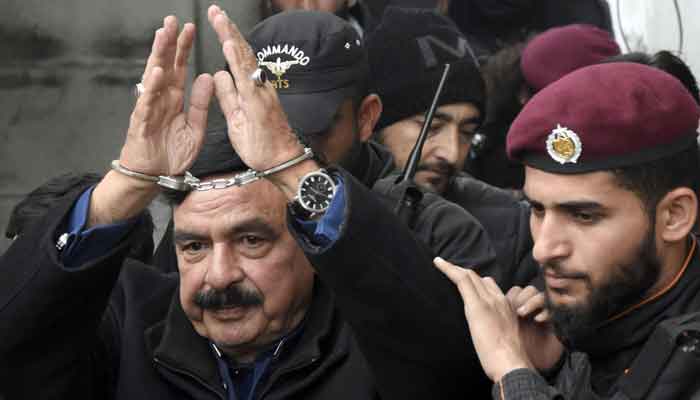 FIR registered at Karachi's Mochko Police Station on PPP's complaint.
FIR says former minister's comments created a law and order situation in Karachi.
Sources say AML chief to be shifted to Karachi today.
---
KARACHI: Already named in two cases in Murree and Islamabad, former interior minister Sheikh Rashid found himself in hot water Friday when he was booked in another case for using foul language against Foreign Minister Bilawal Bhutto in Karachi.

The former federal minister, according to the first information report, made "immoral" and "nasty" comments which infuriated the public and created a law and order situation in the city.
The FIR has been registered by Karachi's Mochko Police Station on a complaint from a local Pakistan Peoples Party (PPP) leader.
Sheikh Rashid — who is currently in police custody on a two-day physical remand in a case filed for hurling 'murder plot' allegations towards PPP co-chairman — was nominated in a case by Islamabad Police for threatening police personnel on Thursday.
According to sources, a Karachi police team, including the station house officer (SHO) and deputy superintendent of police, has reached Islamabad to take him into custody. The AML chief will be shifted to Karachi today, they said.
The case
The FIR registered against Rashid includes four sections of the Pakistan Penal Code (PPC), including 500 (Punishment for defamation), 506 (punishment for criminal intimidation), 504 (intentional insult with intent to provoke breach of the peace) and 153-A (promoting enmity between different groups).
According to the FIR, the AML chief used "highly offensive and disgusting" words against party chairman Bilawal during a media talk at the Polyclinic Hospital which led to anarchy among thousands of PPP workers.
"A large number of people took to the streets and I, along with other members including Pir Buksh, son of Ali Murad, Muhammad Bux, son of Mola Buksh, and others, tried hard to stop them," added the FIR.
It also said that the AML chief deliberately conspired to subvert peace, tried to instigate conflict and bloodshed and attempted to spread disorder.
"Legal action should be taken against him (Sheikh Rashid)," it said.