Death toll 31,643 in Turkey, more than 5,700 in Syria
Rescue phase 'coming to a close', says UN in Syria
At least eight people reported rescued on Monday
---
KAHRAMANMARAS/ANTAKYA: Rescuers in Turkey pulled several people alive from collapsed buildings on Monday, a week after the country's worst earthquake in modern history, but hopes of many more survivors were fading and criticism of the authorities grew.
In hard-hit Kahramanmaras, rescuers were attempting to reach a grandmother, mother and daughter, all from one family, who appeared to have survived the 7.8 magnitude February 6 quake and aftershock which killed more than 37,000 in Turkey and Syria.
But others were bracing for the inevitable scaling down of operations as low temperatures reduced the already slim chances of survival, with some Polish rescuers announcing they would leave on Wednesday.

In the shattered Syrian city of Aleppo, UN aid chief Martin Griffiths said the rescue phase was "coming to a close", with the focus switching to shelter, food and schooling. Syrian President Bashar al-Assad had agreed to allow more UN aid to access the war-torn country from Turkey, diplomats said late Monday.
There were still glimmers of hope. A 13-year-old was pulled out alive after spending 182 hours under the rubble of a collapsed building in Turkey's southern Hatay province on Monday, his head braced, and covered for warmth before he was moved into an ambulance.

A young girl named Miray was recovered alive in the southeastern Turkish city of Adiyaman, officials said, while state broadcaster TRT Haber said a 10-year-old girl was rescued in Kahramanmaras.
At least two other children and three adults were also reported to have been rescued.

Three generations trapped 
In the city of Kahramanmaras, rescuers said they had contact with a grandmother, mother and baby trapped in a room in the remains of a three-storey building. Rescuers were digging a second tunnel to reach them after a first route was blocked, and a human chain was formed to carry out the rubble in buckets.
"I have a very strong feeling we are going to get them," said Burcu Baldauf, head of the Turkish voluntary healthcare team. "It's already a miracle. After seven days, they are there with no water, no food and in good condition."
On the same street, emergency workers covered a body in a black bag. "This is your brother," one grieving woman said, with another wailing, "no, no."
The Turkish toll now exceeds the 31,643 killed in a quake in 1939, the Disaster and Emergency Management Authority said, making it the worst quake in Turkey's modern history.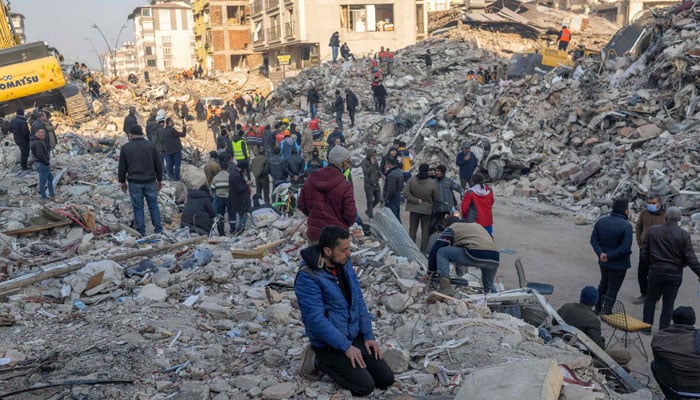 The total death toll in Syria, a nation ravaged by more than a decade of civil war, has reached 5,714, including those who died in both the rebel enclave and government-held areas.

It is the sixth most deadly natural disaster this century, behind the 2005 tremor that killed at least 73,000 in Pakistan.
Turkey faces a bill of as much as $84 billion, a business group said. Turkey's Urbanisation Minister Murat Kurum said some 42,000 buildings had either collapsed, were in urgent need of demolition, or severely damaged across ten cities.
Dozens of residents and overwhelmed first responders who spoke to Reuters expressed bewilderment at a lack of water, food, medicine, body bags and cranes in the disaster zone, with many criticising an overly slow and centralised response by Turkey's Disaster and Emergency Management Authority (AFAD).
"God knows what will happen next," said Ismail Yuvarlak, 42. He said he was living in a tent after his house in Kahramanmaras had been condemned by authorities who in his words had left his family to figure things out on their own.
Said Qudsi travelled to Kahramanmaras from Istanbul and buried his uncle, aunt and their two sons, while their two daughters were still missing.
"People are not dead because of the earthquake, they are dead because of precautions that weren't taken earlier," he said.
Turkish President Tayyip Erdogan, who faces an election scheduled for June that is expected to be the toughest of his two decades in power, acknowledged problems in the initial response but said the situation was now under control.
Syria aid 
The earthquake has fanned resentment among some Turks towards the millions of Syrian refugees who have fled their country's civil war in recent years to relocate to Turkey. Syrians said they had been accused of looting, kicked out of camps, and called names.
Syria's rebel-held northwest has received little aid. A source from Hayat Tahrir al-Sham (HTS), an Islamist group which controls much of the region, told Reuters the group would not let in shipments from government-held areas and aid would come from Turkey.
Assad has agreed to allow three border crossings to operate between Turkey and Syria for a three-month period, UN aid chief Martin Griffiths told a closed-door Security Council meeting on Monday, according to diplomats. To date, there has been only one open, which has slowed the flow of necessary aid.