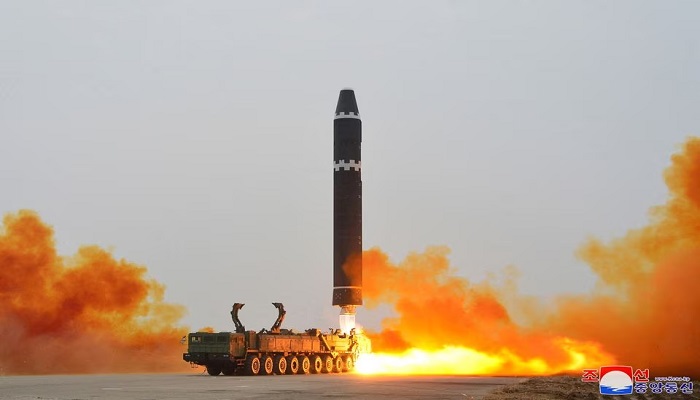 North Korea fired two short-range ballistic missiles into the sea off its east coast on Tuesday, South Korea's military said, the latest of several weapons tests as the South and the United States conduct their largest joint military drills in years.
The missiles were fired about 7:40 a.m. (2240 GMT on Monday) from South Hwanghae province, near the country's west coast, and flew about 620 kilometres, South Korea's Joint Chiefs of Staff (JCS) said.
The South Korean military was on high alert and maintaining a full readiness posture in close coordination with the United States, the JCS said in a statement.
Japanese Prime Minister Fumio Kishida said Japan was collecting information on the missile, and that they have not confirmed any damage within the country related to the launch.
Japanese chief cabinet secretary Hirokazu Matsuno said the missiles have not been confirmed to have flown into Japan's territory or exclusive economic zones.
"We see there is a possibility that North Korea will step up further provocative actions, including missile launches and nuclear tests," Matsuno said. "We will continue a close cooperation with the U.S. and South Korea over North Korea's military moves, and gather and analyse information with surveillance."
U.S. Indo-Pacific Command said the latest launches did not pose an immediate threat to U.S. personnel or territory, or to its allies, but said the North's unlawful weapons programmes had a destabilising effect.
South Korea's military "strongly condemned" North Korea, calling the repeated missile launches a grave provocation threatening the region's peace and security, and a U.S. State Department spokesperson criticised the launches as a violation of multiple United Nations Security Council Resolutions.
"The South Korea-U.S. alliance will carry out our exercises and training as planned even if North Korea tries to hamper our Freedom Shield drills with provocations," a spokesperson for South Korea's defence ministry told a briefing.
The launch comes two days after North Korea test-fired what it called two strategic cruise missiles from a submarine, and less than a week after North Korean leader Kim Jong Un ordered the military to intensify drills to deter and respond to a "real war" if necessary.
South Korean and American forces began 11 days of joint drills, dubbed "Freedom Shield 23," on Monday, which will be held on a scale not seen since 2017 to counter the North's growing threats. North Korea has long bristled at the allies' drills as a rehearsal for invasion.
On Sunday, North Korean state media KCNA reported the country has decided to take "important practical" war deterrence measures, saying, "war provocations of the U.S. and South Korea are reaching the red-line."
U.S. National Security Adviser Jake Sullivan said on Monday the U.S. would not let "any steps North Korea takes deter us or constrain us from the actions that we feel are necessary to safeguard stability on the Korean Peninsula."
The United States will hold an informal meeting of United Nations Security Council members on Friday on human-rights abuses in North Korea.
North Korea's foreign ministry has denounced the planned meeting as "the most intensive expression" of U.S. "hostile policy" against Pyongyang, and warned it will take "the toughest counteraction."