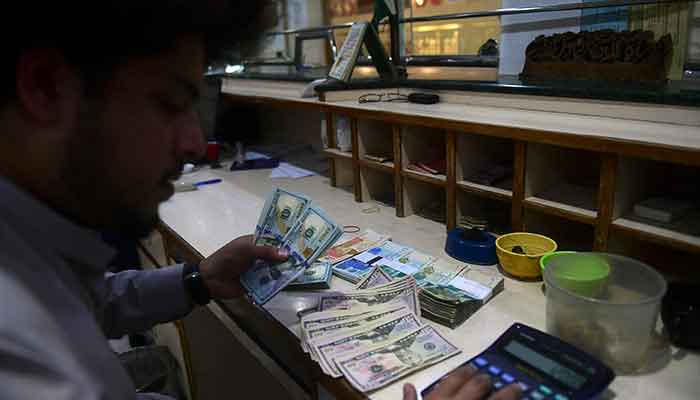 Rupee will trade within existing ranges: trader. 
Local unit traded in range of 281-282 against dollar this week.
Most recent transfer is second $500m disbursement from China. 
---
KARACHI: Chinese inflows and insignificant demand for dollars from importers will ensure the rupee trade's range-bound against the greenback in the coming week, The News reported Sunday citing trades. 
The local currency traded in the range of 281-282 against the dollar during the outgoing week. It ended at Rs281.61 on Monday and Rs281.71 on Friday.
"We expect that the rupee will trade within the existing ranges due to routine importer demand for dollars. Pakistan's declining foreign exchange reserves will be bolstered by a loan tranche from China, easing pressure on the rupee," said a forex trader.
In a tweet posted on Friday evening, Finance Minister Ishaq Dar confirmed that the State Bank of Pakistan (SBP) had received $500 million from the Industrial and Commercial Bank of China (ICBC).
"State Bank of Pakistan has received today in its account from Chinese Bank ICBC US$500 million. It will shore up forex reserves of Pakistan," the finance minister said.
The most recent transfer is the second $500 million disbursement for Pakistan as part of a $1.3 billion rollover facility from China's ICBC, for which documentation was finished earlier in the outgoing week.
The first $500 million instalment from the ICBC was transferred to the central bank earlier this month as part of the friendly nation's attempts to assist Pakistan to avoid an impending default on its foreign debt while it battles the ongoing financial crisis.
Yet, the government is still battling to secure a bailout deal from the International Monetary Fund (IMF). In order to sign a staff-level agreement and release the next tranche of around $1.2 billion, the Fund has asked Pakistan to increase and maintain net foreign reserves up to $10 billion.
Meanwhile, Saudi Arabia is nonetheless more interested in investing than depositing cash as a temporary solution. According to analysts, helping Pakistan out is also a matter of foreign policy.
"Reading between the lines, it seems like the friendly countries save China has not yet given reassurances of requisite funding. The message is that it could take 1 day, 1 month, or 1 year," said Tresmark in a note.
"Needless to say, these reassurances will not come without any strings attached. Everyone, except the governing lot, realise how Pakistan as a sustainable economy has lost its luster," it added.
According to the note, the confidence of crises is so obvious that not even a dollar has been invested in bonds/T-bill in March. "Overall, the situation doesn't look very promising and unfortunately, no one seems to have a plan B."
Tresmark noted that swaps had witnessed a significant rebound with one and three-month swaps going up from 20 and 210 to 200 and 410 paisas respectively.
"This is because of better liquidity in the market and of course a sharp hike in interest rates. It's also been relatively quiet in the grey market as investors want to wait for the IMF outcome before taking fresh positions," said.