Held constructive talks for developing ties between two countries, says UAE president.
Abu Dhabi normalised relations with Syria in 2018.
Arab states' relations should be "fraternal", says Assad.
---
DUBAI: Syrian President Bashar al-Assad met on Sunday with Emirati leaders in Abu Dhabi, his second Gulf visit since last month's earthquake in his country prompted renewed efforts to bring Damascus back into the Arab fold.

The trip — Assad's second to the oil-rich United Arab Emirates (UAE) in as many years — comes after a visit to Oman last month, his only official engagement in Arab countries since the start of Syria's war in 2011.
The UAE's president, Sheikh Mohamed bin Zayed Al Nahyan, greeted Assad and his wife Asma in the capital, the official news agency WAM said, before high-level meetings at the presidential palace.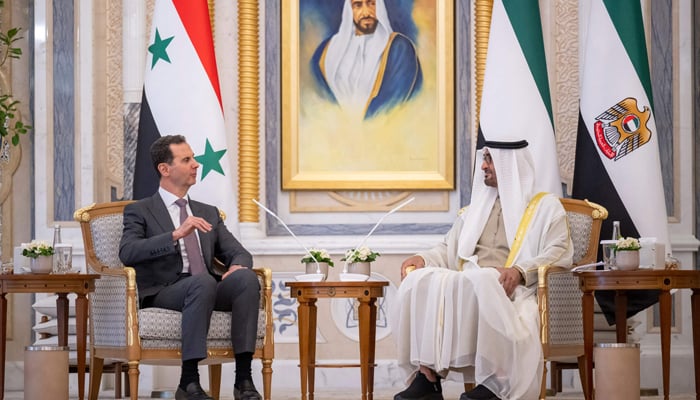 "We held constructive talks aimed at developing relations between our two countries," the Emirati president said in a statement.
"Our discussions also explored ways of enhancing cooperation to accelerate stability and progress in Syria and the region," Sheikh Mohamed added.
Abu Dhabi, which normalised relations with Assad's internationally isolated government in 2018, has led aid efforts in the aftermath of the February 6 earthquake that struck southeastern Turkey and northern Syria, killing tens of thousands.
Analysts say the diplomatic momentum generated in the quake's aftermath could bolster Damascus's relations with Middle Eastern countries that have so far resisted normalisation after more than a decade of war.
"The UAE's approach and efforts towards Syria are part of a deeper vision and a broader approach aimed at strengthening Arab and regional stability," said senior Emirati presidential adviser Anwar Gargash.
"The UAE's position is clear regarding the need for Syria to return to" its place in the Arab world and regain legitimacy in the region, Gargash said on Twitter.
"This was confirmed by His Highness Sheikh Mohammed bin Zayed during his meeting today" with Assad, the adviser added.
During Sunday's meeting, Assad praised the UAE's role in strengthening relations between Arab countries, according to a statement by the Syrian presidency.
The Syrian president criticised the policy of severing of ties between Arab states as an "incorrect principle in politics," arguing that relations should be "fraternal," the statement said.
Time to normalise ties
The UAE had pledged more than $100 million in assistance to quake-hit Syria, by far the largest sum from any single nation.
It had also dispatched a search and rescue team, provided thousands of tonnes in emergency relief items and provided medical treatment for Syrian quake victims in Emirati hospitals.
And the UAE's foreign minister, Sheikh Abdullah bin Zayed Al Nahyan, last month became the first senior Arab official to visit Syria since the quake.
Emirati analyst Abdulkhaleq Abdulla said Abu Dhabi "is convinced, along with many Arab states, that the time has come to reconcile with Assad... and see Syria return to the Arab League and the Arab fold".
Assad has been politically isolated in the region since the start of Syria's war, triggered by the government's suppression of pro-democracy demonstrations, and was expelled from the Cairo-based Arab League.
During the war, Assad had rarely gone abroad, with the notable exception of trips to allies Iran and Russia — where he visited again this week and met with President Vladimir Putin.
"The UAE is spearheading efforts to reconcile with enemies of the past and transform them into the friends of tomorrow," Abdulla told AFP.
Sunday's UAE visit is Assad's first official trip abroad accompanied by wife Asma in more than a decade.
It also comes on the heels of a Chinese-brokered announcement earlier this month to end a seven-year diplomatic rupture between regional powerhouses Iran and Saudi Arabia, who had backed rival sides in Syria's war.
On Thursday, Iran's top security official Ali Shamkhani met the Emirati president in Abu Dhabi and held talks with UAE national security adviser Sheikh Tahnoun bin Zayed Al Nahyan, who on Sunday attended the welcoming ceremony for Assad.
The foreign minister of Saudi Arabia, which has also sent quake aid to Syria, said last month a consensus was building in the Arab world that a new approach to Damascus would be needed to address humanitarian crises including the quake.